One of the challenges every business owner faces is client management. This includes cancellations.
Businesses want to accommodate clients and their needs to the greatest extent possible. This, though, is not always achievable.
Sometimes, it is impossible to provide a new suitable time. Also, trying to accommodate each client to the extreme may not be cost-effective.
Having a clear and straightforward salon cancellation and no-show policy is helpful.
This will decrease the number of frustrated or upset clients. It also prevents the loss of income due to eleventh-hour changes.
This article contains a compilation of cancellation policy examples and templates. The following samples are for use by different B2C businesses, among them salons.
Examples of Salon Cancellation Policies
The 24-Hour Policy
The 24-hour policy is one of the simplest and most common cancellation policies.
It requires the client to give 24-hours notice of a cancellation or change in an appointment. Failure to do so incurs a penalty fee.
To make this policy work, the salon needs to obtain the client's credit card information when scheduling an appointment. This can be done either in person, by phone, or over an online booking software.
The Tiered Policy
The basis of the tiered policy is the 24-hour policy. But the tiered policy offers more options and is more flexible.
The available options depend on the type of service scheduled by the client.
Applying this type of policy will minimize misunderstandings with clients. This is especially true if the salon provides last-minute or group bookings (such as for parties, bridal showers, etc).
Though more extensive, a tiered policy should be clear and simple. If the terms and conditions are too detailed, this could be confusing for clients and staff.
Instead of listing different notice times for each service, try stating only the specific services that require a different notice.
A Guide to Creating an Effective Cancellation Policy
Clients do notice and value the effort you put into running the business.
For the cancellation policy to be successful, it needs to:
determine a clear time frame
specify a consequence (a fine, an obligatory class, etc.)
be conveyed in a clear manner to all clients (in a written and oral form)
Select the wording carefully. Make it clear, concise, and firm.
Cancellation policy terms are non-negotiable. Avoid using words that make the rules optional, such as "kindly," or "we ask."
Instead, employ phrases that sound strong and firm. For instance, "do not," "will not," "not accept" "for any reason," "under no circumstance," and "no exceptions."
Next, consider where to display the cancellation policy. Think of a place that is accessible and visible, without appearing aggressive.
Display important information and general terms and conditions in several places. More specific rules will be best placed where they are relevant.
It is possible also to include the cancellation policy in the greeting, hold, and voicemail message. For example: "If you are calling concerning your appointment, please keep in mind that we request at least 24-hours' notice for any cancellation."
It is also beneficial to post the cancellation policy on the salon's website and social media. Add a link to it on appointment reminder emails and text messages.
Another good idea is to provide a hard copy for each new client. They can then sign it at the time of making their first appointment.
Before creating a cancellation policy, consider these three questions:
Does the salon charge a booking fee? If so, should the customer get a refund upon cancellation?
How long in advance should customers provide notification of cancellation?
Will a cancellation fee be imposed if they fail to cancel the appointment in time?
Best Cancellation Policy Templates
Knowing where to begin in creating a cancellation policy can be difficult. To help with this, here are some cancellation policy templates.
Cancellation Policy for Beauty Salons and Similar Services
Your appointments and convenience are of high importance to us. We realize that at times unexpected circumstances may require schedule adjustments. If you need to cancel an appointment, we respectfully require that you provide at least [Time Period] notice.

Our Policy:

A cancellation or request to reschedule made less than [Time Period] in advance will invoke a cancellation fee. The amount charged will be equal to [Percentage] of the booked services or [Amount], whichever is more.

Should you arrive more than [Time Period] late for your appointment, we cannot guarantee that we will provide the service. If we cannot accommodate you, the same cancellation fee will be charged. We will try our best to reschedule your appointment for another time that suits you.

A credit card is required to make an appointment. Cancellation fees will be charged to the card you provide.

In case of a true, unforeseen, and unavoidable emergency, a cancellation fee will be charged, but part or full amount of it may be deducted from your future appointment cost.

We realize that emergencies occur. If you do need to cancel or reschedule your appointment, we simply request that you inform us at least [Time Period]in advance. If the booking was made for the same day, we require at least [Number] hours' notice.

Cancellations that do not meet the above requirements will result in a [Amount] fee charged to the credit card on file or added to your next booking.


Strict and Imposed 24-Hour Cancellation Policy
We ask you to realize that when you forget your appointment or fail to cancel with enough notice in advance, we miss out on an opportunity to fill that time slot, and our standby clients miss the chance to receive our services.

Since we realize that it is easy to forget an appointment made months in advance, all our appointments are confirmed 48 hours in advance.

Cancellation fees will apply and we will require you to provide your credit card information.

1} Less than 24 hours' notice will result in a fee of 100% of the reserved service price.
2) "No show" will likewise be charged 100% of the booked service price.
3) Cancellation of an appointment made within 24 hours prior will require at least 4 hours' notice. A failure to provide it will result in a fee equal to 50% of the reserved service cost.
4) Multiple services not canceled at least 24 hours prior to the appointment will be charged 100% of the reserved services' cost. To schedule an appointment for multiple services, 50% of the total cost may be charged to your credit card.

The purpose of this cancellation policy is to enable us to inform our standby clients of any availability, keep our schedule filled, thus providing better service for each one of our established and future clients.

Thank you for viewing and supporting our cancellation terms and conditions.


"Short and Sweet" Cancellation Policy
Cancellation Policy - [Company Name]

Cancellations made [Time Period] or less before the appointment will incur a fee of [amount or percentage].

Cancellations made via email [email address] at least [Time Period] in advance will be applied without a penalty.
Short and Easy Cancellation Policy
We understand your time is valuable. And so is ours. Out of respect for our staff and clients, we request you give us at least [Time Period] notice should you need to cancel an appointment.

The first time a client misses an appointment, a note in their file will be made.

All following missed appointments will result in a [Amount or Percentage] fee.
Concise and Straightforward Cancellation Policy
Cancellation Policy - [Company Name]

Please be notified that any cancellations made up to [Time Period] before the time of the appointment via [email/phone call, etc.] will be applied without a penalty.

Cancellations made less than [Time Period] in advance will incur a fee of [Amount of Percentage]. This same penalty will apply if our service provider cannot access the property, is turned away, or the client is absent or unavailable.

[Company Name] reserves the right to cancel an appointment. Should such a cancellation occur within 48 hours before the appointment time, a new appointment will be scheduled without any additional fees, subject to availability.
Get more bookings with the right tool for the job
Staying organized has never been easier.
You can now manage your business and grow your brand with a single, powerful software that keeps all of your appointments in line, your clients organized and your business booming.
Trafft is the perfect salon appointment software for business owners who need to streamline their booking experience both for their staff and their clients.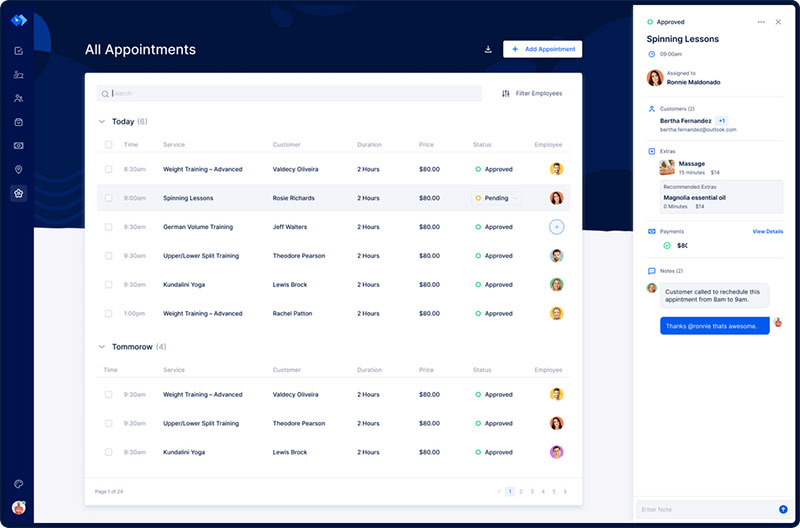 Trafft handles everything for you, even sending automated email or SMS reminders to your clients. No-shows? Not anymore!
The Trafft booking software adapts to different industries for a blissful online booking experience and employee management.
Want to know more? Check out Trafft's awesome features to see what you are missing.
FAQs about a salon's cancellation policy
1. What is the salon's cancellation policy?
Although different salons have different cancellation rules, most salons have a rule requiring customers to give a particular amount of notice before canceling or rescheduling an appointment. This window of time is often 24 to 48 hours before the appointment. A cancellation fee can apply if not enough time is given for cancellation.
2. How far in advance do I need to cancel my appointment to avoid a cancellation fee?
Depending on the salon, a different length of time may be needed to cancel an appointment without being charged. Although some salons just need a 24-hour notice, others may need up to 48 hours. To prevent paying any penalties, it is crucial to confirm the salon's exact cancellation policy.
3. Is there a fee for canceling or rescheduling my appointment?
If an appointment is canceled or rescheduled without enough notice, the majority of salons charge a fee. According to the salon's cancellation policy, the charge amount will vary, but it is often a percentage of the treatment price.
4. Can I cancel my appointment online or do I need to call the salon?
Although many salons offer online appointment cancellation, it is still advisable to contact the salon in question to find out how it operates specifically. Customers at some salons might need to call or email to cancel an appointment.
5. What happens if I need to cancel my appointment due to an emergency?
It is crucial to get in touch with the salon as soon as you can to reschedule the appointment in the event of an emergency. Many salons may waive the cancellation charge in case of an emergency, but it is vital to check with the salon to verify their individual policy.
6. Can I change the time of my appointment without incurring a cancellation fee?
If the salon's policy requires notice for changes, changing the time of an appointment may be regarded as rescheduling and result in a cancellation fee. It is crucial to confirm the salon's unique cancellation and rescheduling policies.
7. What happens if I don't show up for my appointment?
The majority of salons impose a no-show fee on customers who do not arrive for their scheduled appointment. This fee, which the salon may decide to impose, is often a percentage of the service cost. It is crucial to inquire about the salon's exact no-show policy before making a reservation.
8. How do I avoid being charged a cancellation fee?
When canceling or rescheduling an appointment, clients should be sure to give enough notice to avoid being assessed a cancellation fee. To avoid any surprises, it's also crucial to familiarize oneself with the salon's individual cancellation policy.
9. Are there any exceptions to the salon's cancellation policy?
In exceptional scenarios, like emergencies or unforeseen events, salons may make exceptions to their cancellation policy. It is crucial to inquire about the salon's specific policy about exceptions.
10. What is the process for canceling or rescheduling my appointment?
Each salon has a different policy regarding appointment cancellation and rescheduling. Some salons might insist that customers cancel or reschedule appointments by phone or email, while others would let them do so online. It is crucial to inquire with the salon about their specific cancellation or rescheduling policy.
Ending thoughts on choosing the best cancellation policy for your salon
A clear and appropriate cancellation policy can minimize no-shows and last-minute cancellations. It also allows salons to fill open time slots when cancellations occur.
What if you already have a salon cancellation policy? It is good to ensure that your scheduling software can communicate this effectively.
A suitable salon appointment scheduling system is not a costly investment. Return on investment is fast and it can rapidly help increase profits.
It enables users to manage all aspects of running a business with equal care and ease. This includes clients, employees, and administration.
If you enjoyed reading this article with salon cancellation policy examples, you should also read this one about how much salon owners make.
We also wrote articles about similar subjects like how to get more clients in a salon, salon dimensions, salon insurance, salon lighting ideas, spa quotes, hairstylist quotes, and spa menu examples.