Every barbershop business will eventually need to develop a marketing strategy to attract new customers. Free haircuts and printed flyers will only get you so far.
If you feel this doesn't work anymore, it's time to think outside the box and implement a field-proven barbershop advertising strategy that'll take your business to the next level.
The ultimate goal? To turn potential customers into recurring customers.
Let's see how!
Table of Contents
Know Your Target Audience
Conducting market research
If you want to know who your target audience is, you should conduct market research. In fact, this research should be done as soon as you decide to start a barbershop and start writing your business plan.
Among other things, this includes conducting focus groups, analyzing demographic data, and surveying existing clients. Information from other social media accounts and online reviews can be helpful too. All in all, you should look for patterns among your current clients. Take notice of their ages, gender, interests, and income level.
When you understand your target audience, you can figure out how to talk to them. You can also turn potential customers into new clients. Learn exactly what content to share on your social media feeds and improve your social media marketing strategy. Offer them promotions that are appealing and cover their needs.
However, the question of defining a target audience is not without debate. While some will tell you to start from the market, others will advise you to start from the business. In general, everyone will tell you to use something called segmentation.
In simple words, this is about defining different groups of customers according to their behaviors. One of the keys to promoting barbershops is knowing what motivates your clients to hire your services. For example, people decide to schedule an appointment in hair salons because they want to look beautiful for a special event.
Thus, segmentation becomes key in your barbershop marketing strategy because it helps you create your buyer personas. You will build the biography of your potential customers and can plan your barber shop advertising accordingly. Thanks to this, you can adjust your services, prices, landing page, loyalty programs, business cards, and branding.
How to develop a customer persona
Before getting to customer management and actually working with clients, you first have to develop your customer persona, so you know what people to target in your barber shop advertising efforts.
Once you define your personas, you can reach a larger audience and provide a better customer experience. Remember that the happy customer is the one who returns.
What makes an audience a "target" for your barbershop? The answer is simple—the things they have in common. Now you have to create a product-market fit. This means you need to focus your barbershop services on your target audience's needs.
For example, it could work like
Location: Local businesses must consider where their potential customers live (how near or far from the barbershop).
Age: How old are your model customers, and what trends do they follow?
Income: What kind of income do they receive? How much are you willing to charge for your services? Can your audience afford them?
Demographics: Consider the type of hair that you'll be cutting or styling.
Lifestyle: What habits and way of life are your customers accustomed to?
Standard customer personas for a barbershop marketing plan
Busy professionals: They are typically males between 25 and 45. Their income is high, but their schedules are tight. If you want to attract new customers of this kind, consider offering premium services and fast solutions. They can afford them and are willing to pay extra to save some time.
Style-conscious millennials: You can get great marketing ideas if you think about this group. Usually, they are between 18 and 35 years old and are interested in appearances. They are willing to try bold new styles and are influenced by social media marketing. A Facebook page would be a good way to reach this audience.
Budget-conscious family heads: They are usually between 30 and 50 years old and don't have much money to spare. They will look for affordable prices and a community-oriented environment.
Traditional Marketing Strategy Options for Barber Shop Advertising
Here are some barbershop marketing ideas to help you boost your local business.
Print barbershop marketing
Print advertising includes traditional ads in magazines, newspapers, and other media outlets.
In all cases, ads must be appealing to the eye and have the essential details of your barbershop business. This includes services, the name of the business, referral programs, and contact details. Offering discounts in these ads is also a good option.
TV and radio advertising
Local businesses find a powerful source of promotion in these outlets.
You can place an ad during peak listening or viewing times. Include a call to action and all your business information.
Remember that your main objective is that listeners can contact you easily.
Sending direct emails
Every new business can start with this simple strategy. Send flyers to your existing customers to let them know about your promotions.
This is a great way to offer a free service and get more customers. You can also send them to other local businesses with complementary services.
Moreover, you can send them direct emails. In this case, make sure that the subject is catchy and makes them want to open it.
Offering discounts and promotions
While word-of-mouth marketing is still powerful, the modern digital era offers other options.
Prepare special deals for your subscribers, and share them on your social media.
In many cases, discounts are a great way to expand your email database because you can offer them a promotion in exchange for their data. Referral programs also work well.
Digital Strategies to Develop Your Barbershop Marketing Ideas
Having an online presence is vital nowadays, as it allows you to communicate with your customers. The main challenge is how to make your barbershop stand out and become more appealing than other shops. Here are a few tips to help you in accomplishing that.
Web design and optimization
With a website, you can present your services to the world. It's your opportunity to get more clients and go beyond the limits of your neighborhood.
Taking your business online allows you to reach a wider audience and enable your barbershop name and logo to go viral. Moreover, a website gives you plenty of room to share your expertise, together with the most important business information. Here are some guidelines:
Include a portfolio with pictures of your best work.
Include contact details and ensure it's easy for new customers to contact you.
Make your price list available.
Include your promotions.
Add a blog section where you can share your expertise.
Search engine marketing ideas
If you want people to find you, you must have a good position on search engines. Optimizing your SEO means that your potential customers can find you on the most popular search results. In this regard, having a Google Business page will be quite helpful.
The point is that when someone googles "barbershops near me", they find you among the search results.
Sharing content on social media regularly also helps your SEO. A good blog and Youtube channel will also help you get better positions.
Make sure you add detailed information so that visitors understand what you do and how you can help them.
PPC (Pay Per Click)
PPC is an excellent tool for barbershop marketing.
It consists of publishing ads on search results and paying for each click you get. Besides optimizing your marketing costs, this helps you attract relevant clients.
Each ad must include a call to action so that people contact you or visit your website.
Social media ads
Social media ads are very effective to promote barbershops. It's much cheaper than handing out flyers or running advertisements on TV. These ads are more focused, so your product will reach your target audience.
Imagine that your customer persona is a male from 25 to 55 years of age. He is a working professional who lives in Boston. With social media advertisements, you can put your promotion right in front of that person.
Remember that ads must have an appealing design and a clear CTA.
Email marketing for a barbershop
Even though it was out of fashion for a while, now email marketing is more alive than ever. It's quite popular among business owners and clients.
Through an email, you can invite your audience to take action, like access an online booking system (such as Trafft, for example), buy a product, or visit a page. Emails, too, must be visually appealing and have a call to action.
If you are going to send your promotions through SMS, make sure the message is concise. Don't forget to include relevant links, like your website or online scheduling page.
Advertise Your Barber Shop in Your Local Search Results
Structure your content properly and you will increase your chances to appear on Google's local search results. The key to barbershop marketing is to choose your demographics carefully. Also, keeping the audience within a 30-mile (50-kilometer) radius of your store is a good idea.
Here are three reasons why you should invest time and money in SEO barbershop marketing:
Say goodbye to the yellow pages: Before you could place your barbershop in the yellow pages and get results, now Google searches are the key. Local search has become so popular that there is a 900% increase in searches that include the phrases "near me" or "close by", and Google is the most popular search engine.
Get free traffic: If you have a small business, you may find it expensive to invest in advertising. However, by optimizing your SEO you can get free traffic. Then, there's the challenge to convert these visitors into leads.
Zippy results: International companies have a harder time when it comes to ranking on Google. A local barbershop, on the other hand, only competes with businesses in the area, not the ones across the country.
Optimizing your local SEO results
Choose your keywords
Firstly, write down a set of words that describe your services. Go for phrases like: barber, hair salon, hair coloring, or haircuts nearby. Once you do this, set up your Google Adwords account.
Optimize your keywords
Now you can optimize your keywords on Google My Business and your website. The former is like a small website that helps you appear on Google Maps. By establishing this you'll improve your online presence and will have a description ready for everyone who finds you online. Also, your Google My Business site ranks more easily than regular websites.
Optimize your website
Make sure your main pages look stunning. They must have the relevant information and load fast. This includes a service page, a homepage, an about page, and a contact page. Other options are a FAQ section and a blog. This will be your website's structure, which you must optimize carefully.
Positive Reviews and Backlinks
With backlinks and reviews, you can optimize your site. In a way, this is Google's way of verifying your reputation. If you have good reviews and good sites linking back to your webpage, Google will rank you higher.
This barbershop marketing strategy consists of getting backlinks from reputable domains. This is your way of proving that you're trustworthy.
Something similar happens with positive reviews. Encourage your clients to leave a Google review. This will only take them seconds, and it will help you build a significant relationship with your current customers. Do this and you'll be surprised at the results.
Collaborative Barbershop Marketing Ideas
Focus on collaborating with other barbershops to increase your visibility. You can partner with local businesses, sponsor events, and establish a referral marketing campaign. You'll find that this is a great way to get new clients.
Partnering with local businesses
All business owners are after the same thing, success. So, why not collaborate to help each other achieve mutual goals?
At this point, you must find a business category that's related to your services without offering the exact same thing. For example, you can connect with grooming product stores. Contact them and offer them an agreement. While you offer their products in your barbershop, they can promote your shop at their stores. You can even offer coupons for one another's clients.
Sponsor events
This is another great way to promote your shop. Build valuable networks with other players in your area by sponsoring or holding events. For instance, sponsor a charity event. Another option is to host a competition related to your services, like a beard and mustache competition, to create brand awareness.
Offer referral programs
No matter how happy your clients are, they are not likely to recommend you to their friends and family. They need an incentive. Thus, referral programs will encourage customers to refer friends to you, and you will reach more people.
The essence of this strategy is that prospective customers tend to rely more on people they know than on flyers.
Barbershop Marketing Through Influencers
Influencers take the concept of word of mouth to the next level. While one customer can reach three or four people, an influencer can reach hundreds. So, make deals with social media influencers or popular YouTube channels to get more brand exposure.
Anyway, make sure that you contact the right people. The influencer must have a good reputation and fit your business spirit. Ideally, they have to speak to the same audience and be in the same area as you.
How to identify relevant influencers and partner with them
Research is step one. They can be YouTubers, Instagramers, or bloggers, but they should speak to an audience that's interested in your services.
Once you identify them, you can reach out to them and propose a partnership. For instance, you can offer them free haircuts in exchange for a post in their feeds.
Leverage influencers to grow your barber shop advertising ideas
Content: They can help you create amazing content. Sometimes brands struggle to create the amount of content their social media needs. Your influencer partner can help you strengthen your online presence.
SEO: Provide them with discounts or freebies, and ask them to include a link to your website. Including this in a blog entry is a good idea because more people will be able to find you.
Attend events: By partnering with influential people, you can make yourself known within the community. For example, go to product launches, and make sure your brand is visible.
Brand awareness: An ongoing collaboration will be helpful for your barbershop marketing, especially when you work with local influencers. If your barbershop is located in Los Angeles, offer top LA influencers free treatments in exchange for ongoing posts. Offer influencers free treatments in exchange for ongoing posts.
Events and Community
Hosting community events is a good marketing idea. You can organize gatherings or support charity causes. Either way, you'll make your brand visible so that everyone in the community recognizes it.
All in all, the purpose of these gatherings must be to entertain people while they get to know your barbershop.
Here are a few marketing ideas that may inspire you:
Organize board game gatherings and invite people to have a good time. Healthy competition is a great way to promote companionship. Make sure there are snacks and beverages for everyone.
Organize a haircut event to drive customers into your shop. You can relate the event to popular occasions like the FIFA world cup, Christmas, Father's Day, etcetera. If the football championship is about to start you can offer a Messi-style haircut at a discount.
Host get-togethers for matches like the Super Bowl or the NBA playoffs. Such a strategy will bring you a lot of returning clients, especially if they have a good time.
Organize charity events or fundraisers. For example, you can host a head-shaving event and gather funds for victims of cancer.
Any of these barbershop marketing ideas will help you promote your brand and get new clients.
Benefits of community outreach
The essence of these events is that they enable you to build connections. By becoming a trusted member of the community, you can expect to have a loyal audience.
Increase your visibility and reach new areas of your community, thus reaching new potential clients. Community outreach can also work wonders for your reputation because people will view you as generous.
All you have to do is make sure that attendees have an amazing time at your event. Also, make sure you provide value to the community. In between, you can always offer referrals, promotions, discounts, and free haircuts.
Measure Your ROI
A powerful marketing strategy has to bring benefits. Hence, you must make sure you get your investment back.
Ideally, a campaign should bring you more money than you invest. The minimum ROI must be one dollar for every dollar you spend.
The importance of having measurable goals
When you create a campaign, the first thing you must set up is your objective. The more measurable it is, the better. Choosing your objective first is the foundation on which to build all the other campaign details.
Here are some questions that might help you:
What is the timescale for this project?
What financial result do you want to achieve?
What non-financial gains will you obtain?
What's the budget that you can allocate to this campaign?
Track and analyze your data
Estimating your ROI is quite simple. Take the value of your investment and subtract how much it costs, then divide it by the investment cost.
Simply speaking, you must take the revenue your campaign brings and subtract the expenses. The result is divided by the cost. Thus, you'll know the return you get per dollar that you spend.
With this simple procedure, you can quickly understand what works and what doesn't. The next step is to adjust your marketing strategy to get better results.
The result of your analysis is the basis on which you must build the next marketing steps. Among other things, this involves changing the message, targeting other audiences, or investing more money in certain channels. All in all, making decisions based on analytics will help you optimize your marketing efforts. Also, you can avoid unnecessary expenses.
Automation Tools
Automation tools help facilitate various business processes that eat away your time and impact your productivity.
Besides reducing the time you spend on routine marketing tasks, these solutions can help you manage online booking and scheduling (an essential part of every service business out there), streamline employee management, and handle payment processes.
This translates into better use of your time and a better experience for customers, which does wonders for word-of-mouth marketing.
Get a good automation resource for your barbershop, and you'll see immediate results.
Barbershop Marketing Automation
Marketing automation is a great way to optimize your barbershop marketing efforts. Why waste time doing everything manually when you can automate the entire process, kick back, and watch your customer base grows over time.
You've probably heard about Mailchimp and SendFox – awesome software designed to help you create automated email campaigns. There's also Google Analytics and Meta Pixel (previously known as Facebook Pixel) to help analyze customer behavior and fine-tune your content and your ads.
While all these tools work great on their own, what if we told you that there is a way to have access to them all via a single solution?
This solution is called Trafft.
What is Trafft?
Trafft is primarily a booking software developed with the service industry in mind.
Designed to address all the common pain points that appointment-based business face on a daily bases, Trafft provides a seamless, hassle-free booking experience for both you and your customers and it is incredibly easy to use.
However, Trafft is much more than a simple booking solution.
It enables you to manage your customers, employees, payments, invoices, and taxes. In addition, Trafft automates your marketing efforts through integrations with the most popular marketing automation tools, such as Mailchimp, SendFox, Meta Pixel, Google Analytics, WhatsApp, and Zapier.
With Trafft, advertising your barbershop business is easier than ever before. Interact with your customers directly, send them appointment confirmations, reminders, discounts, and coupons, build a meaningful relationship with them, boost their loyalty, capture leads, and turn them into returning customers – all this with a single, but powerful tool.
And when it comes to online booking, a must-have for every barbershop business today, here's what Trafft brings to the table.
Online booking with Trafft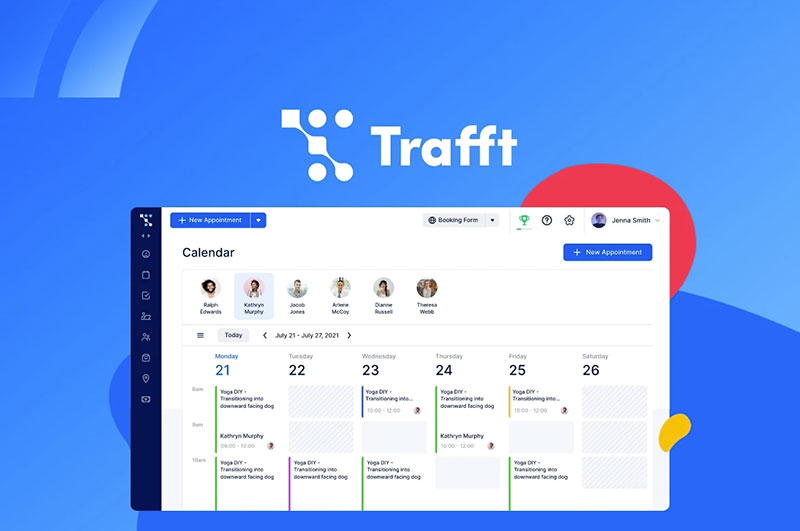 Trafft is a cutting-edge app designed to streamline your scheduling process and enhance your clients' experience. Say goodbye to double bookings, missed appointments, and tedious manual work, as Trafft's intelligent system takes the hassle out of managing your barbershop appointments.
With Trafft's intuitive user interface, you can easily set up your services, staff availability, and business hours.
Clients can book, reschedule or cancel appointments online 24/7, receiving automated reminders to keep them on track. This reduces no-shows and ensures a smooth experience for both you and your clients.
You can maximize your efficiency with Trafft's real-time calendar, which allows you to monitor bookings and staff workload at a glance. Plus, the app's built-in analytics provides insights to help you identify trends and make informed decisions for your business.
In addition to its powerful features, Trafft offers integrations with popular payment gateways and marketing tools, creating an all-in-one solution for your barbershop.
So why wait?
Embrace the future of appointment management with Trafft and watch your barbershop flourish like never before!
FAQs on barbershop marketing
What are the most effective advertising channels for a barbershop?
Social media (Facebook, Instagram, and Twitter), Google AdWords, local newspapers, and radio are some of the best offline and online advertising options for a barbershop.
To get your name out there, you should run advertising that specifically targets your demographic and maybe even shows up at some local events.
How can I create a unique and memorable brand for my barbershop?
Establish your barbershop as a distinct entity by giving it a one-of-a-kind logo, color palette, and layout.
Give your customers your whole attention and work to create a memorable in-store experience. Introduce yourself and what you stand for to potential customers, and make sure your marketing messages all sound like they came from the same person.
What is the ideal budget for barber shop advertising?
Depending on the scope and location of your barbershop, different marketing strategies will yield different results.
As a first step, set aside a sum of money (between 5 and 10 percent) to spend on advertising. Keep an eye on your campaigns' performance and make any necessary changes to your spending to get the best return on investment.
How can I leverage social media platforms to promote my barbershop?
Use social media to your advantage by producing interesting material like behind-the-scenes videos, fashion advice, and customer endorsements.
Get in front of local consumers by placing tailored adverts.
Followers should be interacted with through the use of comments and direct messages, and customers should be prompted to share their experiences with others online.
What are the best practices for targeting local customers through advertising?
Advertise online using location-based targeting and attend events in your area to meet potential clients face-to-face.
Make cross-promotional deals with other neighboring establishments.
Boost your visibility in local search results by using search engine optimization techniques to tweak your website and social media profiles for your target area.
How can I use online reviews and testimonials to enhance my barbershop's reputation?
Inspire happy clients to share their experiences on social media and search engines.
Highlight positive reviews on your website and social media pages. A commitment to client satisfaction can be demonstrated by how you handle both good and negative feedback.
What are some creative promotional ideas to attract new clients to my barbershop?
First-time customer discounts, "men's night" and "ladies' day" events, partnerships with local influencers, and limited-time deals are all examples of ingenious methods of barbershop marketing.
Promotions such as loyalty programs, referral bonuses, and freebies can help you spread the word about your business.
How can I track the success of my barbershop marketing campaigns and measure their return on investment (ROI)?
Create quantifiable objectives and use analytics software to monitor the efficacy of your advertising initiatives. Track important indicators including traffic, sales, and participation.
Return on investment (ROI) can be determined by comparing the price of campaigns to the money they bring in.
Should I hire a professional marketing agency or handle advertising in-house for my barbershop?
Whether you employ the services of a marketing firm or handle advertising in-house is a decision that needs to be made with consideration given to your resources, your knowledge, and your availability.
While doing advertising in-house could potentially save money, outsourcing to an agency would mean missing out on the specific knowledge and experience that such a team would bring.
Think about what you want and what you have available in order to make the greatest selection for your barbershop.
How important is maintaining a consistent brand image across all advertising channels for my barbershop?
If you want your brand to be trusted and recognized, it's important to keep your marketing messages consistent across all platforms.
Maintaining a constant visual style, voice, and messaging is essential to building a memorable and unique brand identity for your barbershop that will resonate with your target demographic.
Final Thoughts on the Best Barbershop Marketing Strategies
These guidelines constitute a solid base for you to start your barbershop marketing campaign.
If you love styling and hair care, you'll enjoy having your own barbershop business. However, running a business is not a walk in the park, hence, you need all the help you can get. For those who are starting, everything will seem difficult, but things get better as you get more experience.
You can choose to continue with traditional advertising methods like print ads, billboards, and direct emails; you may find these approaches useful. Nonetheless, a digital strategy can help you grow your business and reach new levels. For this, you'll have to get familiar with social media, website optimization, email marketing, and analytics.
Don't be afraid to reach out to other local businesses or influencers. Events, coupons, and referral systems can also be of great help. To launch a good barber shop advertising campaign, make sure to set your objectives clearly. Then establish what steps you need to take to reach the said objective, and, before you know it, you'll reach it. The more you get into it, the easier it will be over time.