If you're looking for barbershop name ideas, you're in the right place!
This article provides a list of great barbershop names. They will serve to inspire those looking for a hair salon name.
It has many masculine, cool, and funny barbershop names. Also included in the list are nickname ideas for those who want to create a more personal brand name.
It covers many categories from cool to clever, and clever to classic.
Establishing a Barbershop Name
A barbershop is a great choice for those thinking of starting their own business. It is a sustainable income because people will always need haircuts.
Starting any business takes time, energy, and dedication. Running a barbershop also requires good people skills.
The name of a business is the business identity. It should identify what the business is and how customers should feel about it.
For longevity purposes, make sure to choose a good, suitable name.
Consider all aspects of the business and brand before choosing a name. It's more than just a name, it's the whole brand and idea of the company.
So, what should owners keep in mind when choosing a barbershop name?
Informative of Services
Try to appeal to the customer. Use words associated with a barbershop, like shave, haircut, and style.
A business name will let customers know the services provided and the core values of the brand. Brainstorm some keywords or phrases that would suit the hair salon industry.
The focus should be to create a name that would come to mind when thinking of this industry.
Memorability
Using alliterations or rhythms is a great way to be memorable. Slogans and names with these aspects are very brandable too.
A simple way to do this is to have two words that start with the same letter. It will roll off the tongue, like Coca-Cola.
Using a personal name for a cool barbershop name is always a safe bet.
Analyze Competitors
Try to understand why a competitor's name works for them. Consider the competition's success and use the knowledge gathered to your own advantage.
Name the Business Don't Describe It
Many business owners name the brand too literally. It may seem like a good idea but it can be boring to customers.
A name should convey the services provided and values. Give the business a name with a story behind it.
This will intrigue customers and show that the business is unique.
Begin Brainstorming
This part of the process is the most fun. There are many ways to brainstorm for a barbershop name.
Below are some ways to get the brainstorming rolling to find the best barbershop name.
Make a list of keywords for the new business name. Picture the kind of business you want to create and anything else that goes along with a barbershop.
It can be a cool and funny barbershop name or a serious one. As long as it conveys the idea of the business, you're good to go!
You can even use a business name generator to brainstorm ideas and automatically check available website domains.
Get Feedback
Remember who the target market is. It's important to ask customers what they think of the barbershop name ideas.
Don't be shy to ask more specific questions. Ask things like:
Does it sound like a trustworthy brand? What quality of service or product would you expect from this business?
Avoid Combining Words
Avoid combining words to make a unique barbershop name. This is another common mistake made by business owners.
If their desired name ideas are already taken, often they'll make a bad combination of words as a name instead. Barbershop names that are combinations of words can be confusing and hard to remember for clients.
Coming up with a creative barbershop name can be difficult but is best in the long run.
Positive Mind Associations
Make a name that will create positive thoughts in the mind of customers when they see or read it. Creative barbershop names can have a positive effect on consumers.
It will be good to have three or more unique barbershop names in mind in case one is already in use. Use the Business Name Search online to do this.
This allows owners to see if the salon name is available in their state/country. It's also important to check if the barbershop name is available to Trademark.
Cool Barbershop Names
The hair salon should attract male customers. Not to sound stereotypical, but men usually prefer cool and funny barbershop names.
Listed below are some 250 cool and funny barber names that have a masculine nature.
A Cut Above
Backyard Barbers
Barber House
Birds Barbershop
Brooklyn Barbers
Bulls & Barbers
Butch
Combing Attractions
Cool Cuts
Corner Barber
Cut Me Loose
Dapper
Fade Zone Barber Shop
Razor Cuts
Game Day Barber
Get a Haircut
Golden Touch Haircuts
Gotta Cut
Groomify
The Grooming Lounge
Hot Rod Barber Shop
Lads Lounge
The Legend Room
Lionico
Mohican
Mop Top Shop
Muscle Cuts
NYC Barber Shop
Rebel Rebel
Sideburns
Straight Razors
Smooth Cuts
Smooth Razors
Smooth Shave
Urban Shave
York Barber Shop
Unique Barbershop Names
Business names and more specifically, barbershop names should be memorable and unique. Here are some more name ideas.
Vogue Cuts
Old Town Barbershop
Muscle Cuts
No Grease
Social Barbershop
Revive Hair Studio
SmartStyle Haircutting
American Hair Lines
Bald Eagle Barbers
Barbers Bazaar
The Blue Camel Salon
The Assembly
Esprit De Cut
Barber Republic
Haircuts Legends
Picture Perfect
Dressing Shop
The Cutter's Love
Copper Cat Salon
Bushy Barber Shop
Bangs
Justache
Color Me Crazy
Stylofy
White Barber
Stylofista
Hair Port
Rusty Blade
Chop Shop
Mobile Barber
Soul Scissors
Sport Clips Haircuts
Hestory
Game Day Barber Shop
Barberia
Urban Shave
Clippers Haircuts for Men
Tailored
Buzz Barber Shop
Razor King Barber Shop
Funny Barbershop Names
When it comes to making barbershop names, funny ones are a good choice. Funny barbershop names are more memorable than others.
A funny barbershop name allows customers to feel comfortable. This is because they'll know you don't take yourself too seriously.
Jack of all Fades
The Men's Mane
Hair Affair
Corner Clips
Heads Up Barber
Dangy Barbers
Praise the Cut
The Barber Bunch
Bob The Barber
The Barber Bro
Head Office
The Barber Chop
Twisted Scissors Barber Shop
The Man Cave Barber
Shears to You
With Comb and Brush
Snip and Shave
The Men's Room
Gang of Barbers
Curly Manly
Hair Brotherhood
Band of Barbers
Jack The Clipper
Cheers Grooming
Headcase Barbers
The Trim Haus
Mr. Cut
Director's Cut
Haus of Hair
Crazy Curls
Twisted Scissors
Cut 'N' Shave Barber
From Hair to Eternity
Sideburn Curls
Cuts & Bruises
Get more bookings with the right tool for the job
Staying organized has never been easier.
You can now manage your business and grow your brand with a single, powerful software that keeps all of your appointments in line, your clients organized and your business booming.
Trafft is the perfect barbershop software for business owners who need to streamline their booking experience both for their staff and their clients.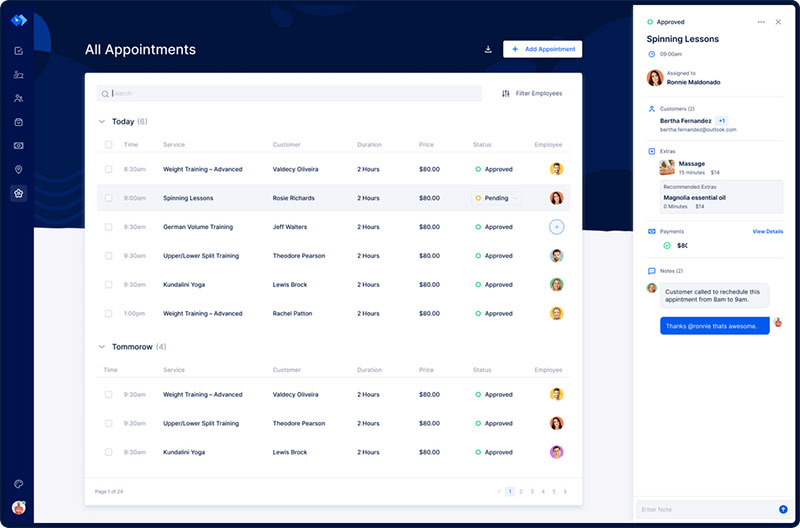 Trafft handles everything for you, even sending automated email or SMS reminders to your clients. No-shows? Not anymore!
The Trafft booking software adapts to different industries for a blissful online booking experience and employee management.
Want to know more? Check out Trafft's awesome features to see what you are missing.
Catchy Barbershop Names
Catchy barbershop names are easy to remember and they stick in the customers' minds. Putting rhymes and words that fit well together will yield a name that people won't forget.
Lookin' Sharp Barber
Get Buzzed Barber
Fade O'Clock Barber
Barber Bandits
Gold Comb
Next Level Luxury
The Comb Over
Hair Drive
Blind Barber
Buzzed Basters
The Mug & Brush
Eclips
Good Cassa
Flat Top Barbers
Below the Grain
Naughty Cuts
Hair Flair
Razor Kings
Barber Brothers
Blades of Gold
One-Stop Barber
No Rusty Blade
My Cut Shop
Twisted Scissors
All New Razors
Sharper Ideas
Clippings and Cuts
The Snippers
The Cutting Dudes
Cutting House
Trendy Man's Hub
All of the Trimmings
Epic Barber Shop
Mango Merry Style hub
Esquire Barber Shop
Gotta Comb
Next Level Cuts
Fade Factory
Freshly Faded Barber
Heyday Hairing
Twin Scissors Barber
Clippers and Scissors
Crew Cuts
Young House Barber
Cut Creations
First Flex Barber
Tidy Hairs
Cut Creations
Empire Cuts
Creative Barbershop Names
Cutting hair is creative and involves design, almost like an art. Choosing a creative name will show the creativity involved and the values of the barber.
Going for a creative name is always a safe bet.
Creative Cuts
Snip to Snip
Sunset Barber
The Urban Shave
A Cut Above the Rest
Style Cave
Sharper Styles
Gold Medal Barber
Old Glory Barbershop
Barbers R Us
Buzz Cuts
Comb and Brush
Clip and Fix
The Pure Cuts
Buzz Cuts Barber
Daddy's Barber Shop
Hairitage
Brother's Barber Shop
American Barber's
Barber Shop Village
The Raze Books
Legends the Barbershop
PrimePlay
Style Clippers
UrbanShadow
Dazzle
Cutting Edge
Classy Barbershop Names
For a high-end and luxurious hair salon, the ideas listed below should inspire.
A classy barbershop has a story or history behind the brand. They have a higher reason for being in existence.
Sideburns Barber
Barbershop Deluxe
Blessed Barber
Odyssey
Zeon
Blade Craft
Style Atmos
Empire Cuts
The Straight Edge
The Jazz Man
Old Fashioned Barber
Blades of Gold Barber Shop
The Mustached Man
The Renaissance Barbershop
Noah Allen Gentlemen's Salon
Classic Cuts
Golden Crown
The Art of Fine
Liberon
Good Looks Lounge
The Pristine Barber
Old Glory Barbershop
The Humble Barber
Barber's Style
Burgundy's Men's Fine Grooming
Gentlemen's Barber Shop
The Art of Grooming
Superior Cuts
Classy Hair Salon
Madison St. Barber Shop
Old Days Barbers
FAQs about barbershop names
1. What are some creative and catchy names for a barbershop?
Barber's Paradise, Hair Raising, Clip Joint, The Cut Above, The Mane Event, The Gentlemen's Quarters, Buzz Cutz, or The Blade Runner are a few imaginative and memorable names for a barbershop. These names will make your barbershop distinctive and memorable to prospective clients.
2. How important is the name of a barbershop in attracting customers?
For a barbershop to draw in customers, its name is crucial. It can convey the brand, the services provided, the company's personality, and its core principles. A barbershop can become more known and draw in more clients by having a catchy and memorable name.
3. Should a barbershop name reflect the style or services offered?
The name of a barbershop should ideally convey the type of cuts and services provided. For example, a barbershop that specializes in traditional haircuts and hot shaves might have a name like The Classic Barber, while a modern, trendy barbershop might be called The Fade Factory. While selecting a name, it's crucial to keep in mind your target market and the impression you want to communicate.
4. Can a barbershop name be changed after it's been established?
A barbershop's name can be changed after it has been established, but the process can be challenging. A name change can confuse current customers and necessitates intensive rebranding efforts. To avoid having to modify it later, it's crucial to choose a name carefully right away.
5. How can I choose a unique name for my barbershop that stands out from the competition?
Think about having a brainstorming session with friends or coworkers, looking up the names of other popular barbershops in the region, and considering the services or fashions that make your business stand out when coming up with a name for your barbershop. Having a distinctive and memorable name will make your barbershop stand out and draw in more clients.
6. Are there any legal restrictions on naming a barbershop?
The naming of a barbershop is subject to legal restrictions, such as avoiding names that are already trademarked or that can be construed as derogatory. When deciding on a name for your company, it is crucial to do some legal study into the rules and regulations that apply in your region.
7. How can I ensure that my barbershop name is easy to remember and pronounce?
If you want to make sure that the name of your barbershop is simple to remember and pronounce, think about choosing a name that is short and straightforward, staying away from terms that are challenging to spell or tricky word combinations, and utilizing straightforward words or phrases.
8. Is it better to use my name or a generic name for my barbershop?
Depending on the impression you want to make, you should either use your name or a generic name for your barbershop. While a generic name can imply professionalism and knowledge, using your name can personalize the company and aid in the development of your personal brand.
9. Should I use puns or humor in my barbershop name?
Puns and humor can be useful in coming up with an interesting and distinctive name for a barbershop, but it's crucial to avoid being overly corny or insulting. Your barbershop may stand out and draw consumers with a sense of humor by using a clever and subtle pun.
10. How can I conduct market research to determine the best name for my barbershop?
If you want to undertake market research to find the perfect name for your barbershop, think about polling potential clients to get their opinions on various name suggestions, researching other successful barbershops' names, and testing various names on a focus group. This study can assist you in selecting a name that appeals to your target market and clearly conveys the nature and scope of your company's offerings.
A Name Can Make or Break the Brand
No matter the industry, a business's name is very important. It can determine the success of the company.
The name should tell potential customers what services or products are provided. In this case, it's a barbershop.
This list of great barbershop names will help owners to find a name that best suits their salon. The right barbershop name will attract the attention of the target customers.
Choosing a name based on these tips will help your barbershop to be successful.