Customers expect that a beauty or hair salon will offer different treatments, so their first question will be, "What treatments does this place offer?" It is kind to give the client a friendly response, but it may be more practical to have a list that shows what the salon offers, using a salon menu.
When people know what treatments they can get, they want to know how much they cost. That is a very important aspect for most. With more information, clients can choose exactly what they want.
All of that is important information to put on a hair salon prices list, but not all menus or price lists are the same. The most important is to present the information in an attractive way.
This article will show how to make an eye-catching menu with salon prices. The first part will focus on why a good price list is a necessity and how it helps businesses to grow.
Why a Hair Salon Prices List and Menu?
To Inform People
A salon menu's primary function is to show prospective clients what services the salon offers. It lists and describes the treatments they can get. It makes sure that a client knows what the treatment entails and what to expect.
Invite Clients to Spend More
Besides complete treatments, a good salon offers smaller and faster ones that they can add to another treatment. This will stimulate customers to spend more money on the same appointment.
Showcase the Brand
A service menu shows the client what style and feeling the salon represents. The design, and the way it was produced, will reflect the quality of the services that the salon provides. These kinds of visual representations will leave a strong impression.
Attract New Clients
The internet makes searching for a specific kind of treatment very easy. So, putting these kinds of unusual treatments on the menu will attract those clients that are looking for them. If there is only one salon that offers that special treatment, people will gladly travel long distances to get it.
Top Considerations for Creating a Salon Menu
An important item people look for on a menu is the pricing. Make sure there are no mistakes in the costs of treatments. Some other guidelines follow.
Menu Items
Arrange items alphabetically and order them by nature and relevance. Organize them in columns with clear and understandable subheadings. Use boxes and categories to divide them.
First Impression
The front cover is what the customer sees first. Use inviting expressions like 'Salon Menu' or 'Salon Price Guide'. Avoid 'Price List', which sounds a little crude. A salon is a place of personal care and pampering.
The term 'Price Guide' gives the idea of flexibility, both for the client and for the salon owner. A little extra can be added to the bill if more work and effort were put into the experience.
Classics and basics
People expect a hair salon to offer certain treatments. These include coloring, haircuts, and other basic hair procedures. A spa on the other hand usually offers different kinds of massages and a nail salon, manicures, and pedicures. Make sure that all these basic treatments are on the list.
Simplicity
Keeping it simple might not seem the right way to go, but it usually is the best thing to do.
A long price list with many options and suboptions is very confusing for the client. Also, employees may get confused when billing the customer, so they could charge incorrectly.
It is not necessary to give a separate price for each customized option. A wet cut, dry, rough dry, and blow dry can fall under the same price.
Pricing
In choosing a treatment, the price is a key consideration for customers. Usually, the menu displays prices.
When determining the right price, two factors should be considered. These are the cost and the margin. A business wants to make a profit, but there are also costs involved in keeping the salon running. Costs can be divided into materials and labor. Make sure not to lose money on any treatment.
An additional consideration is a local market. A local market dictates certain prices for specific treatments. Have a look at what the competition is charging and adjust accordingly. Of course, the feelings of the clients must also be a consideration.
Clear Service Titles
A smart and funny service description sometimes works but it could achieve the opposite of what is intended. From the treatment names, it should immediately be clear what it entails, rather than make people guess.
Improve the Design
Put the core services at the top of the list. For a hair salon, it is best to put haircuts at the top, instead of in the middle.
A hair salon can use special eye-catching and colored boxes to highlight packages for special events, like bridal parties. If the salon mainly tends to male customers, color schemes can be adjusted to be attractive for both men and women.
The Power of 9
Psychological studies have shown the inviting power of the number 9. Prices like $29 or $69 make it easier for people to spend their money. This principle is especially powerful when it comes to new services. Pricing a new service at $49, instead of $50, will likely result in higher sales.
Branding
A menu should make it very clear what the salon is all about, in other words, what the brand is. This means that the salon's colors, design, and logo are prominently featured on the menu.
Does the brand convey a minimalist, to-the-point kind of personality, or is it big and bold? A spa can be classy or trendy. These questions and a free logo maker will help in designing a logo.
Avoid Jargon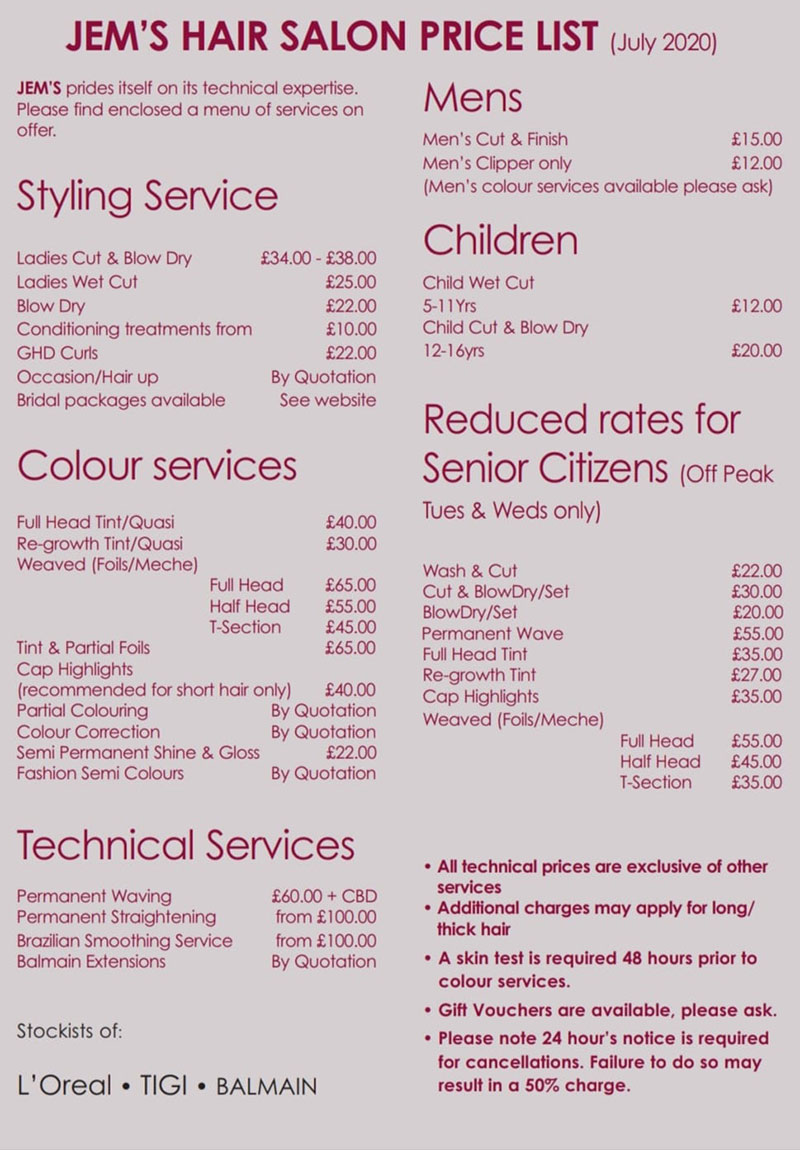 Good copywriting is very important for a website or a brochure. It is even more important, and more difficult, for a clear and concise salon menu. The language needs to be strong and concise. It will help to make sales. If you make grammatical mistakes, you can use ChatGPT anonymously to check your text and make it correct.
As an example, take the term 'Technical Services.' A hair professional knows that it refers to hair-dying treatments. The average customer, however, has no idea what it is. So, on the menu, it is better to use the term 'Coloring Services' or something similar.
Get Creative with the Title
Using the term 'Hair Salon Prices List' on the front makes its purpose clear, but it is neither inviting nor creative. Instead, using the salon's name and 'Salon Menu' or or 'Menu of Services' sounds much more interesting and inviting. Combine the name with appropriate design and colors.
Functionality
When designing the salon price list, think about how the menu is going to be used. Will the customers pick up a copy and page through it in the salon? Or will they be in the form of handbills or brochures that people can take home? The way the menu is used affects the design. It is maybe necessary to design different price lists for different purposes.
Hair Salon Price List and Menu Design Examples
The services that a hair salon offers always cost money. The business needs to make a profit to buy products and pay the workers. But if the services are good and the environment pleasant, the experience will be relaxing and worth the money.
Below is a sample list of hair salon price lists that will give inspiration to anyone in the hairstyling business.
Petrilli Parrucchieri
A beautiful design that gives the idea of a party flyer. This young and hip design was purposefully made to rebrand an old hair salon in Italy.
It gives the idea that this is a place for young people who want a new special hairstyle. The colorful front page catches the eye and invites to browse through the rest of the menu. The clear list is to the point and is short for clarity. It gives a potential client the idea of what to get.
Beautifully Designed Salon Price List

Tease Salon & Spa
The Tease Salon & Spa needed rebranding as it wanted to appeal to a younger audience, which involved renaming the salon and introducing a new logo. This was a complete make-over, with new brochures, business cards, and a website.
A-Touch Salon

BLOOM
The BLOOM salon for women uses a unique multifold design with bright colors.
Hair Bear Salon

Reflection Hair Salon
Here is an example that shows the importance of colors in designing a hair salon prices list. This one showcases a salon that invites people to try something bold. These people show how to do it and get the color just right.
K's Hair Boutique
The Gentlemen's Barber
Forever Beautiful Hair Salon
Young Man Barber Shop
Eskape Hair Salon
D & Y Hair Design
Style Salon
Beauty Hair Salon
W & M Hair Studio
Merilyn Hair and Beauty Salon
Caitlyn Freeman Hair Stylist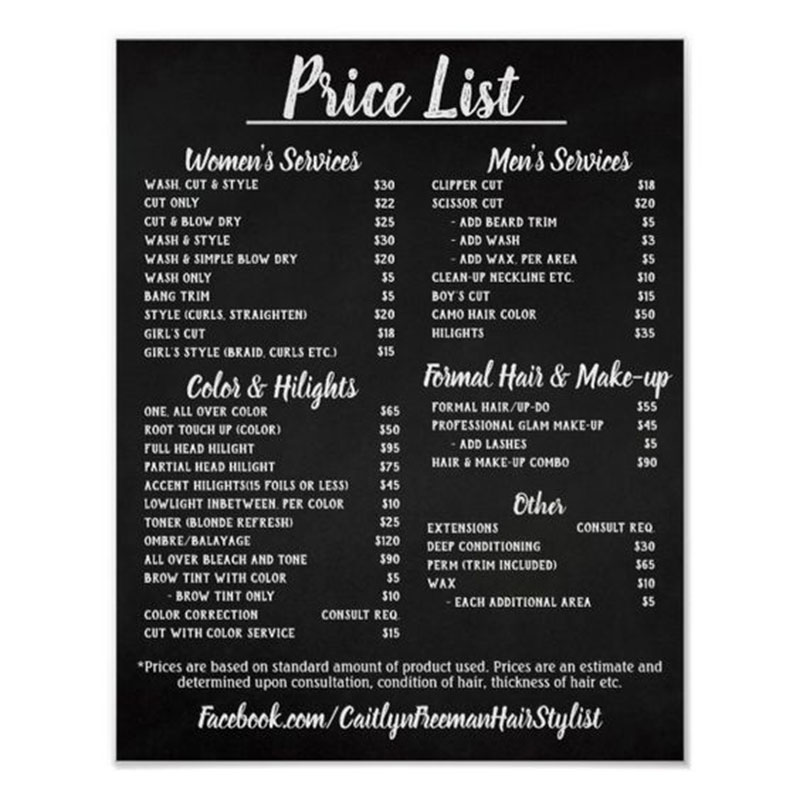 Simple Salon Price List
Natalie Lissaris Hairstylist
Barbershop Price List
Black and White Salon Price List
Stacie Simpson
Moshaz Beauty Salon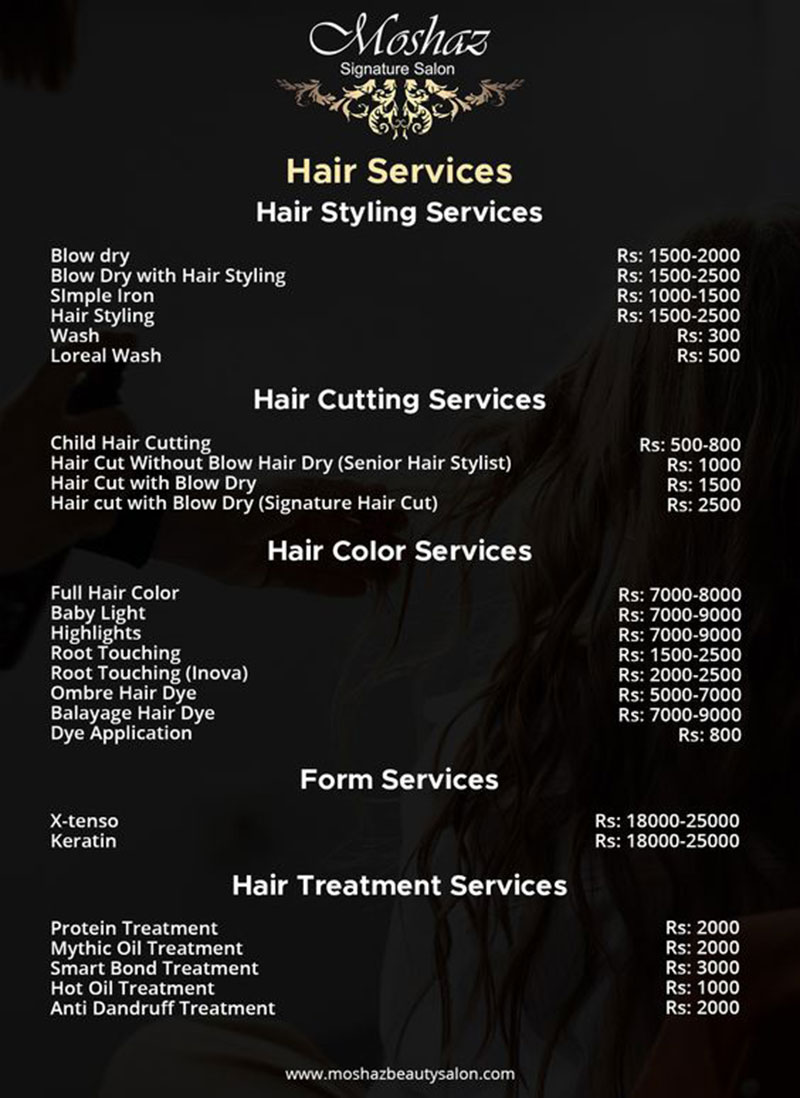 Hair Candy
Angela's Hair Studio
Barbershop Flyer Pricelist
Barbershop 1994
Inspired Gear
Get more bookings with the right tool for the job
Staying organized has never been easier.
You can now manage your business and grow your brand with a single, powerful software that keeps all of your appointments in line, your clients organized and your business booming.
Trafft is the perfect salon software for business owners who need to streamline their booking experience both for their staff and their clients.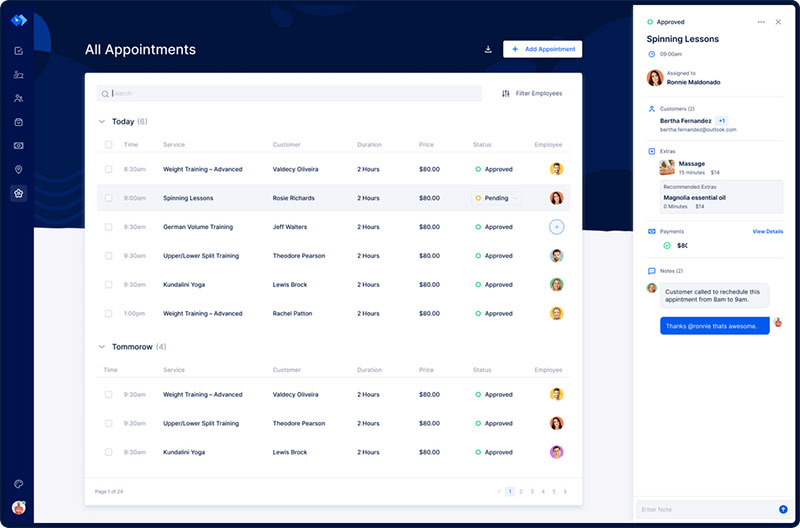 Trafft handles everything for you, even sending automated email or SMS reminders to your clients. No-shows? Not anymore!
The Trafft booking software adapts to different industries for a blissful online booking experience and employee management.
Want to know more? Check out Trafft's awesome features to see what you are missing.
R D Salon
Beauty Changes Lives
Snippets Hair Salon
Hair's Beauty Salon
Stones Hair
Hair Color Prices Salon
David & David Hair Salon
FAQs about hair salon price list
1. What are the prices for a haircut and blowout?
Depending on the salon and the caliber of the stylist providing the service, the cost of a haircut and blowout can change. A haircut and blowout typically cost between $40 and $100. Nonetheless, some upscale salons could charge a disproportionately higher price for these treatments.
2. How much does it cost to color or highlight hair?
The cost of coloring and highlighting hair can also vary depending on a number of variables, including the color chosen, the length and thickness of the hair, and the stylist's level of expertise. Color and highlights can run you anywhere from $75 to $250 or more.
3. Do you offer discounts for children's haircuts?
For haircuts for kids, several salons provide discounts. The cost can change depending on the child's age and the services offered, but 10–20% off the standard price is a frequent reduction.
4. Are there additional fees for long or thick hair?
Long or thick hair may incur additional expenses at some salons. Depending on the salon and the particular service being provided, these costs can range from $10 to $50 or more.
5. What is the cost of a perm or other chemical treatments?
The length, thickness, and complexity of the procedure can all affect how much a perm or other chemical treatment will cost. These services might run you anything from $75 to $200 on average.
6. How much does it cost to add extensions or weaves to hair?
Depending on the type of extensions and the quantity of hair added, the cost of adding weaves or extensions to hair might also differ. The price can be anywhere between $200 and $1000 or more.
7. Are there different prices for men's and women's haircuts?
Depending on the pricing policy of the salon, men's and women's haircuts may cost differently. Men's haircuts typically cost between $20 and $50, while women's haircuts can cost anywhere between $40 and $150. In general, men's haircuts are less expensive than women's haircuts.
8. How much does a bridal hair and makeup package cost?
A bridal hair and makeup package's price can vary depending on a number of elements, including the degree of service and the difficulty of the hairdo and makeup. These bundles typically range in price from $300 to $1000.
9. Are there any specials or promotions currently available?
Salons may run specials and promotions to draw in new clients or advertise particular services. These bargains could be discounts on services, free extras, or bundle offers.
10. What is the cost of a deep conditioning treatment or hair mask?
The cost of hair masks and deep conditioning treatments can range from $30 to $80 or more. By the provision of hydration, nourishment, and repair, these treatments can aid in enhancing the health and appearance of the hair.
Ending thoughts on creating a hair salon prices list
Because customers always want to know prices beforehand, a price list or menu design is very important. To invite customers, it is necessary to have an appealing list of items that clearly shows the prices. It should be easily accessible by laying them out in strategic places in the salon, such as in the waiting area.
In this way, the salon price list can do its work of promoting services to the clients, while they wait their turn. It is also a useful tool when customers make a consultation on what the recommended treatment is for them. It is a guide for the client when showing what a treatment entails, so they know what they will be paying for.
Designing and printing a professional menu is quite simple, and doesn't require a big budget. People usually check the internet before going anywhere, so have the list clearly visible on the salon's website.
There are two reasons for having a menu with prices on a website. It sets expectations for the prospective clients and they will know the cost. It also helps to define the client base of the salon. People that search for specific treatments on the internet will find the place that offers that treatment on their website. So, when they choose yours, you will have gained a new customer.
If you enjoyed reading this article about the hair salon prices list, you should also check out this article about hair salon statistics.
We also wrote articles on similar topics, like hair salon business cards, hairdressing consultation tips, hair salon logo examples, famous hair stylists to follow online, hair stylist apps, and how to recruit hair stylists for your salon.