Instagram and other social media are huge marketing platforms in the beauty industry. There are endless ideas and inspiration that hairstylists, beauty enthusiasts, can draw from. A hairstyle can make or break a whole look. Hair can be a major priority for many. That's why many Instagram accounts have gained such a large following.
Hairstylists can be influential on our personal style and the latest trends. The influence of some of these hair stylists is so great, they are called hair icons.
Listed below are several of the most famous hair stylists. Their posts always provide hair inspiration. Some have become the favorite of many celebrities. These hairstylists have become the best in the beauty business and mastered the art of posting to Instagram.
Here are some of these famous hairstylists
Guy Tang
Guy Tang is one of the famous hair stylists out there and has gained a following of 2.2 million on Instagram. He has some 1.8 million YouTube subscribers. His likable personality was instrumental in gaining such a following. His most popular hair styling youtube video titled An Ombre Step By Step Tutorial has over 6 million views.
His Instagram portrays the same style and his follower count is continually growing.
Adir Abergel
Adir Abergel has prepped hair for Reese Witherspoon for numerous big events. Some of these include the Oscars, the Golden Globes, and SAG Awards. Adir makes countless beautiful, sleek looks from retro waves to a flawless braided crown à la Dianna Agron. He also styles Kristen Stewart's iconic cropped pixie.
Jennifer Yepez
Yepez's clients include many of the popular and notable names we see in fashion today. Supermodels such as the Hadid sisters, Hailey Bieber, and Emily Ratajkowski count on her to pull together an iconic look. If you love some of the looks sported by these women, such as Bella Hadid's micro-braids and EmRata's curls, you should be following Yepez.
Owen Gould
Gould's technique and style have a wide range. He can do anything from the seemingly effortless girl-next-door look to an editorial. Many of his looks are more red-carpet than everyday wear. However, a lot of his styles, such as the ones on Rachel Brosnahan and Barbara Palvin are at-home attainable.
Neal Farinah
Farinah has created so many iconic hairstyles for famous black women. His ability to sculpt and create looks with natural hair is unmatched. It was the famous and iconic styles that he sculpted for Beyoncè's "Black is King" film that put him at the top of the hair industry.
Jenny Cho
If you've been obsessed with a hairstyle on the red carpet in the past couple of years, chances are, it was designed by Cho. Cho's whimsical and innovative looks have made her part of the new wave of Hollywood's go-to hairstylists. Jenny Cho is one of the famous hair stylists that has been adorning everyone with her creations from Charlize Theron and Lucy Boynton to Katherine Langford and Scarlet Johansson.
Kristin Ess
This hairdresser has worked with many celebrity clients. Some include Lucy Hale, Lauren Conrad, and Jenna Dewan Tatum. She is a master of the beach wave. You can check out many of her amazing and aesthetic looks on her Instagram. Not only is she a famous hairstylist but, she has also created her own line of cruelty-free hair care products. You can even see her aesthetically pleasing taste in the line's packaging.
Rita Hazan
Rita Hazan is a very well-known hair colorist from New York. She owns and operates her own haircare line and NYC salon. This celebrity hairstylist is mostly known for her work with Beyoncè and Oprah. Her haircare line has also made appearances in many popular beauty and hair magazines.
Kim Kimble
Kim Kimble has a hairstyling motto, "beautifying the world, one head at a time." She certainly proves this to be true. She is behind the hairstyles of many popular names in the beauty business. Some examples of her celebrity clients are Zendaya, Beyoncè, and Taraji P Henson. Her portfolio is outstanding and very inspiring. Following Kimble on Instagram is a must. She doesn't just show her stunning celebrity designs, but she also shares the best hair care tips and tricks.
Lacy Redway
Lacy Redway is an extremely inventive and iconic hairstylist. Goop named her the most inventive in the world. Her hairstyles have been featured on the front page of many popular beauty magazines like Elle, Marie Clare, and Essence. She is an expert with relaxed and textured hair.
Jayne Edo Salon
On the west coast, Jayne Edo has gained an incredible following. Her approach to cutting hair is to razor cut by hand. It's gained so much popularity that she does training sessions and appearances across the United States. Many women wait a long time to be able to see her. Following her on Instagram is worth it. She shares what's popular around California and video tutorials on haircuts that continue to look good long after the cut.
Vernon Francois
Across Vernon Francios' portfolio, you can see that he is dedicated to training, celebration, and education. This is especially true when it comes to textured hair. His commitment to magical hairstyles is like none other. By using beauty, creativity, and insight, Francios shows his followers how to define their curls. Another one of his many accomplishments is weaving finger wave braids for the amazing Amandla Stenberg.
Aura Friedman
Aura Friedman is not only a hairstylist, but she is also a salon owner, hair colorist, creative director, and visionary. She has made so many looks featured in magazines such as Louis Vuitton, Vogue Japan, Marc Jacobs, Modern Luxury, and many, many more.
She has one of the best profiles on Instagram for hair styling. On her profile, you'll be able to find celebrities, creative photographs, hairstyle inspiration, and so much more.
Get more bookings with the right tool for the job
Staying organized has never been easier.
You can now manage your business and grow your brand with a single, powerful software that keeps all of your appointments in line, your clients organized and your business booming.
Trafft is the perfect salon software for business owners who need to streamline their booking experience both for their staff and their clients.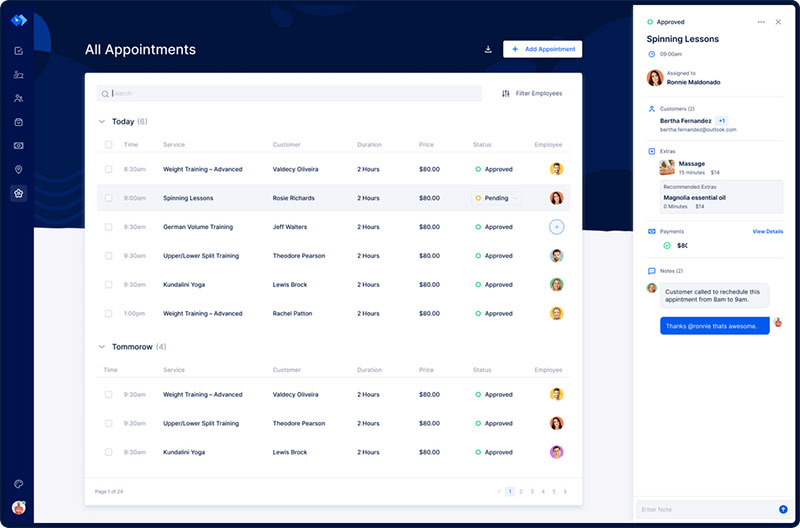 Trafft handles everything for you, even sending automated email or SMS reminders to your clients. No-shows? Not anymore!
The Trafft booking software adapts to different industries for a blissful online booking experience and employee management.
Want to know more? Check out Trafft's awesome features to see what you are missing.
Mara Roszak
The owner of Mare Salon, Mara Roszak is responsible for the hairstyles of many celebrities. To name a few, Olivia Wilde, Emma Stone, and Brie Larson. Her outstanding portfolio is displayed on Instagram. You can see her talent through the many awe-inspiring photos of red carpet hairstyles and celebrity up-dos. So if you want some inspiration for your next glam hairstyle, Mara is your girl.
Andy Lecompte
Andy Lecompte is one of the most sought-after hairstylists for celebrities. He has a reputation for providing high-end salon experiences. Using his Instagram, he showcases hairstyles that he has done for celebrities like Salma Hayek, Miley Cyrus, and Madonna.
Marissa Marino
Marino is Selena Gomez's go-to hairstylist for hair looks like the updated "Rachel" style that she recently showed off. Marino also styles hair for numerous other celebrities like Anna Camp and Dove Cameron. Most featured photos on her Instagram with beachy waves or bouncy curls.
Leysa Carillo Forever Curls
If you've been blessed with curly hair, you'd know that until recently, inspiration for textured hair has been difficult to find. Over the past couple of years, many stylists have strived to change that. Leysa Carillo has done just that by providing inspiring looks for textured hair.
Kayley Melissa
Kayley Melissa is a great hairstylist who maintains a fantastic Instagram profile. She also has a YouTube channel that shares the same energy and content. She is one of the best hairstylists to follow on Instagram right now. This is so not only because of her great skill and creativity but she also has a fun and likable personality.
She uses Instagram as a platform to reach her 107k following. Kayley Melissa shares styles for both long and short hair. With tons of curls and braids, her creativity is shown even more through each post.
FAQs about famous hair stylists
1. Who are some of the most famous hair stylists in history?
The most well-known hairdressers in history include Frederic Fekkai, Paul Mitchell, Vidal Sassoon, and Oribe Canales. With their cutting-edge methods and goods, these stylists not only transformed the field but also rose to the status of cultural icons in their own right.
2. What are some of the signature hairstyles created by famous hair stylists?
While Paul Mitchell is well-known for co-inventing the Farrah Fawcett shag, Vidal Sassoon is famed for his distinctive geometric hairstyles. Elegant updos are a specialty of Frederic Fekkai, while enormous curls and waves by Oribe Canales helped define the popular hairstyles of the 1980s and 1990s.
3. How did famous hair stylists get their start in the industry?
Most well-known hairdressers learned their trade from more seasoned professionals while working as assistants or apprentices in salons. After that, they moved on to work in other salons where they finally cultivated a devoted clientele and created their own distinct style.
4. What are some of the most popular hair products created by famous hair stylists?
Famous hair stylists have created some of the most popular hair products in the industry, including Vidal Sassoon's line of hair products for everyday use, Paul Mitchell's Tea Tree line of hair care products, and Oribe Canales' line of luxury hair products.
5. Who are some of the most famous celebrity clients of famous hair stylists?
Many well-known hairdressers have worked with famous people, such as Farrah Fawcett, Jenifer Aniston, Madonna, and Lady Gaga. These hairdressers are frequently requested to design famous hairdos for red carpet occasions, music videos, and photo sessions.
6. What are some of the most important skills that a successful hair stylist should have?
A successful hair stylist should possess a blend of technical expertise, originality, and top-notch client service. They must be able to pay attention to their clients' needs, provide guidance and suggestions, and design looks that complement their clients' particular tastes and lifestyles.
7. How do famous hair stylists keep up with the latest hair trends and techniques?
Celebrity hair stylists stay up with the latest hair trends and methods by visiting hair exhibitions, workshops, and seminars. They work with other stylists to share expertise and ideas, and they follow other industry leaders on social media.
8. What are some of the biggest challenges faced by famous hair stylists in the industry?
Famous hair stylists in the profession often encounter difficulties managing their time and workload, dealing with challenging clientele, and developing continually to stay up with new trends and styles.
9. How have famous hair stylists contributed to the evolution of hairstyling over the years?
Notable hairdressers have influenced the development of hairstyling by coming up with new methods and looks, manufacturing cutting-edge hair products, and imparting their expertise to other hairdressers. By developing iconic looks that have come to be associated with particular eras and people, they have also contributed to influencing popular culture.
10. What advice do famous hair stylists have for aspiring hairstylists?
A lot of well-known hairdressers urge aspiring stylists to have patience, perseverance, and passion for their work. They exhort stylists to keep evolving and learning, to stay abreast of new styles and methods, and to constantly prioritize the demands of their clientele.
Ending thoughts on these famous hair stylists
Instagram and other social media are huge marketing platforms in the beauty industry. Hairstylists can be very influential on our personal style and the latest trends. Some influential hairstylists are known as hair icons.
If you're looking for some hair inspiration or stylists for celebrities, consider the hairdressers on this list. The people on this list have styled hair for people like Anne Hathaway, Julia Roberts, Megan Fox, Angelina Jolie, Chrissy Teigen, and so many others.
The hairstylists listed have provided so much hair inspiration through their posts. These hairstylists have become the best in the hair business and mastered posting to Instagram. Following these famous hairstylists or salon profiles is a great way to find inspiration for your next hairstyle.
If you enjoyed reading this article on famous hair stylists, you should also check out this article about hair salon statistics.
We also wrote articles on similar topics, like hair salon business cards, hairdressing consultation tips, hair salon logo examples, hair stylist apps, hair salon prices list, and how to recruit hair stylists for your salon.