Beauty and Hair Salon Statistics That You Might Not Know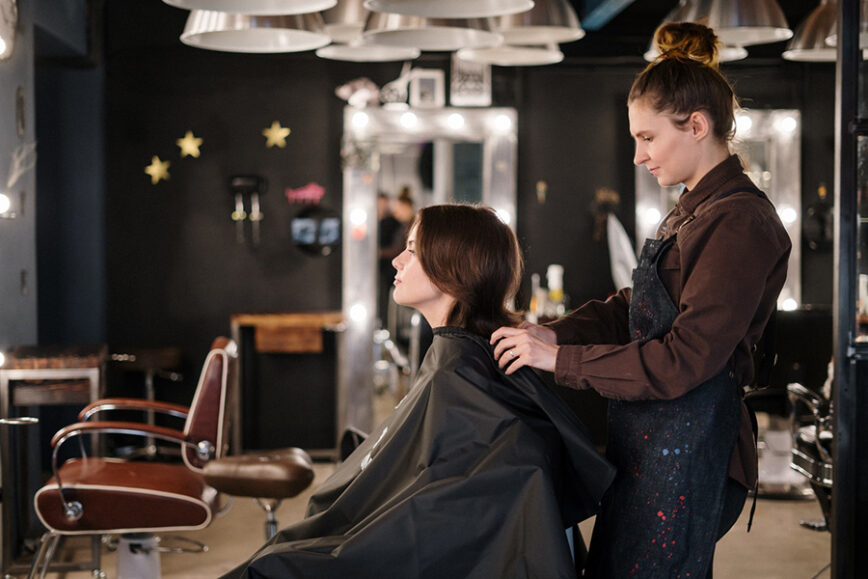 The haircare and beauty industry is dynamic and continues to grow at a rapid pace. Some estimate that the global haircare market size will rise from $69 billion USD in 2016 to $87 billion USD in 2023. This article takes a closer look at the industry and presents some recent hair salon statistics.
Consumers are always looking for the latest trends and the best hair care products and services. Their needs are always changing. In order to meet these demands, the hair industry continues to develop and evolve.
The latest trends promote natural products that are alcohol-free, skin-friendly, hypo-allergenic, or allergen-free. Consumers also prefer haircare that is eco-friendly, organic, and made without animal testing. The market has become more diverse, with smaller brands providing more personalized ranges. They offer niche solutions to their customers' unique needs.
The way consumers obtain their products has also changed. They can purchase tailored haircare solutions from their local grocery, drug, and mass retailers.
In this article created by our team at Trafft (a great booking app for any salon), we present some interesting hair salon statistics that may prove surprising.
Hair salon industry statistics
Hair and Beauty Salon Startup Costs
The premises
When buying a salon that's already operating, the cost of premises can be anywhere from $40,000 to $250,000. Prices vary depending on the location, size, and condition of the premises, and equipment. Building a brand new place incurs costs ranging between $100,000 to $500,000.
The equipment
These costs will vary depending on the type of salon and the available budget. A full hair salon equipment fitting will cost about $27,000 in total. That comprises everything from hood dryers to scissors and clippers. Choose from a wide range of styling stations with chairs at prices that suit any budget. Market prices range between $200 and $1,000.
Other operating costs
If leasing a property, expect to pay a security deposit and a couple of months of rent upfront. The rent, insurance, deposits, and other utilities can cost up to $7,000. These costs are significantly reduced if you choose to run a home-based business.
Additionally, it's advisable to set aside some money to cover legal fees. These fees can arise from hiring an attorney to review the rent contract or the franchise agreement. Attorney rates start at about $200 an hour.
Hair and Beauty Industry- Some Interesting Facts
The US industry revenue was $46.5 billion in 2019. It comprises more than 80,000 businesses.
The next biggest revenue generator in the haircare market (after the U.S.), is Japan.
The 50 largest beauty salon operators generate about 15% of the revenue in the US industry. The 50 largest barbershop operators represent about 30% of revenue.
Beauty salons make up about 95% of US hair and beauty industry revenue. Barbershops account for the rest.
The premises size of a typical establishment is 1,000 to 1,500 square feet.
Hair and beauty salons usually need hairstylists, colorists, and assistants who help with hair washing and drying. They may also offer beauty treatments, nail care, and skin care services. The sale of hair and beauty specialized products is another source of revenue. Margins are higher for hair care products than for services.
The operating costs can take up to 80% of revenue, mostly for rent and labor. The salon owner is part of the workforce in most independently owned salons.
Stylists often depend on commissions from their regular clients. These extra tips make up to 50% of service revenue. The receptionists can earn commissions for selling a hair or beauty product to a client.
The median hourly wage for hairdressers, hairstylists, and cosmetologists was $12.54 in May 2019. For barbers, it was $14.50.
Barbers, hairdressers, and cosmetologists held about 766,100 jobs in 2018. 75% of barbers were self-employed. Almost half of all hairdressers, hairstylists, and cosmetologists were self-employed. According to the Professional Beauty Association, 60% of salons in the US are owned by women.
The majority of barbers, hairdressers, and cosmetologists work in a barbershop or salon. Others are employed at spas, hotels, or resorts.
The employment of barbers, hairdressers, hairstylists, and cosmetologists is projected to grow by 7% from 2018 to 2028.
45.5% of industry revenue comes from haircutting and styling. A further 17.1% results from hair coloring and tinting.
Haircutting and styling services are the single largest service group for beauty salons in the US. They accounted for around 55.2% of total revenue in 2019.
More than 90.0% of companies in the industry belong to hairstylists and nail technicians who rent their booths from hair and nail salons.
Merchandise sales account for around 7.2% of industry revenue.
Retail of professional-grade hair and cosmetic products within hair salons forms 14.3% of the industry's revenue. Shampoo holds the largest market share in the haircare segment. The sales are expected to rise to $30 billion USD by 2023, compared to $24 billion USD in 2016.
82% of the top global hair and beauty brands have been on the market for more than 60 years.
The revenue from nail care services is estimated to be 15.9% of industry revenue.
Skincare seems to be quite stagnant at 4.2%. Services may include temporary makeup, cleansing facials, masks, and body wraps.
Interesting Consumer Facts
Consumers aged 25 to 34 account for about 16.5% of the market. Due to a lower disposable income level, they are less likely to purchase expensive salon products. They usually choose basic hair and nail services.
The largest segment of the market are consumers between the ages of 35 and 44. They seem to be more interested in personal care items. They tend to buy services like hair coloring and permanent hair modifications, such as keratin treatments.
Consumers between the ages of 45 and 54 account for an estimated 23.0% of industry revenue. They spend on average $96.00 more on personal care products than a typical US consumer. Their disposable income tends to be higher, allowing them to purchase more costly services.
Consumers who are 55 and older represent 25.4% of the industry's revenue. They purchase more hair services than nail services. They tend to choose less costly hair treatments.
Women consistently account for a higher number of sales at hair salons, partly because they buy more expensive treatments such as perms or straightening.
Women represent up to 97% of all clients in nail salons in the US.
The average American spends about $89.95 USD on hair care products in a year.
Buyers who are African American spent $473 million on haircare in 2017. The amount represented 8.8% of sales that year.
Hair industry reports show that 52% of consumers prefer to buy natural or organic shampoo.
50% of consumers around the world prefer hair and beauty products that will save them time.
63% of people who buy beauty and hair care products have greater trust in brands they can find on Instagram. 52% of them say they are more likely to purchase a product if they see ads for it on Facebook.
Millennials are 40% more likely to use Instagram for inspiration than those aged 35 to 64.
About 70% of women in the United States use hair coloring products.
Only 12% of people who color their hair at home and at the salon follow the recommendations of their hairstylist.
"Blow-dry bars" that have been introduced in the past decade have been gaining a lot of popularity. These are hair salons in the US that exclusively offer blow-dry services.
Demand for more advanced hair care services will continue to rise. This includes hair coloring, hair straightening, and other services.
It has been shown that the hair and beauty market relies on such factors as population growth. An increase in population leads to greater demand for basic hair care services.
Smaller companies have been successfully competing with mega-brands. They focus on providing a superior quality of service and luxury treatments. They're often found in favorable locations.
Social media has become a successful marketing platform for the industry. Influencers have formed partnerships with brands and businesses.
Instagram has reported more than 1 billion monthly users and 500 million daily users. This makes it a unique advertising space.
Percentile wage estimates for this occupation:
| | | | | | |
| --- | --- | --- | --- | --- | --- |
| Percentile | 10% | 25% | 50%(Median) | 75% | 90% |
| Hourly Wage | $8.86 | $10.05 | $12.54 | $17.66 | $24.94 |
| Annual Wage | $18,420 | $20,900 | $26,090 | $36,730 | $51,870 |
States with the highest employment level in this profession:
| | | | | | |
| --- | --- | --- | --- | --- | --- |
| State | Employment | Employment per thousand jobs | Location quotient | Hourly mean wage | Annual mean wage |
| California | 37,210 | 2.14 | 0.81 | $15.73 | $32,720 |
| Texas | 31,150 | 2.51 | 0.95 | $12.99 | $27,030 |
| Florida | 25,840 | 2.94 | 1.12 | $14.62 | $30,410 |
| New York | 24,590 | 2.58 | 0.98 | $16.39 | $34,080 |
| Pennsylvania | 24,270 | 4.11 | 1.57 | $13.12 | $27,290 |
States with the highest concentration of jobs in this industry
| | | | | | |
| --- | --- | --- | --- | --- | --- |
| State | Employment | Employment per thousand jobs | Location quotient | Hourly mean wage | Annual mean wage |
| New Jersey | 19,280 | 4.72 | 1.8 | $17.98 | $37,400 |
| Delaware | 1,880 | 4.16 | 1.58 | $17.47 | $36,330 |
| Pennsylvania | 24,270 | 4.11 | 1.57 | $13.12 | $27,290 |
| New Hampshire | 2,610 | 3.96 | 1.51 | $14.26 | $29,660 |
| Maryland | 10,020 | 3.71 | 1.41 | $16.53 | $34,380 |
Top paying States for this occupation:
| | | | | | |
| --- | --- | --- | --- | --- | --- |
| State | Employment | Employment per thousand jobs | Location quotient | Hourly mean wage | Annual mean wage |
| Massachusetts | 10,530 | 2.91 | 1.11 | $21.11 | $43,920 |
| Washington | 9,390 | 2.83 | 1.08 | $20.79 | $43,240 |
| District of Columbia | 870 | 1.2 | 0.46 | $20.58 | $42,800 |
| Colorado | 8,000 | 2.99 | 1.14 | $18.10 | $37,640 |
| New Jersey | 19,280 | 4.72 | 1.8 | $17.98 | $37,400 |
Get more bookings for your salon with the right tool
Staying organized has never been easier.
You can now manage your business and grow your brand with a single, powerful software that keeps all of your appointments in line, your clients organized and your business booming.
Trafft is the perfect salon appointment software for business owners who need to streamline their booking experience both for their staff and their clients.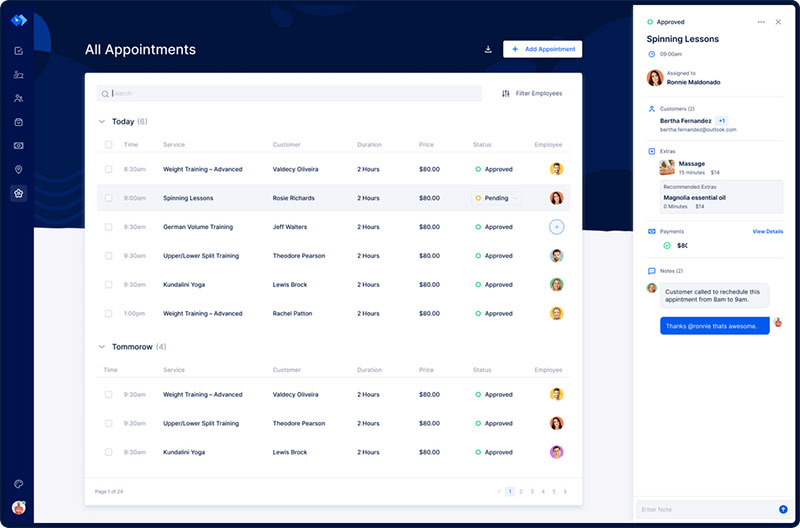 Trafft handles everything for you, even sending automated email or SMS reminders to your clients. No-shows? Not anymore!
The Trafft booking software adapts to different industries for a blissful online booking experience and employee management.
Want to know more? Check out Trafft's awesome features to see what you are missing.
If you enjoyed reading this article about the hair salon industry statistics, you should also check out this article about hair stylist apps.
We also wrote articles on similar topics, like hair salon business cards, hairdressing consultation tips, hair salon logo examples, famous hair stylists to follow online, hair salon prices list, barbershop design ideas, hair stylist quotes, and how to recruit hair stylists for your salon.