Beauty & hair salon industry statistics aren't just plain numbers but offer valuable insights to better understand the industry, operations, and consumer preferences.
From the impact of social media to the rise of eco-conscious practices, there are many factors that influence and shape the current landscape in the salon industry.
Let's examine what these salon industry statistics tell us and the meaning behind the numbers. Once we understand the context, we'll not only get a glimpse into the industry's current state but also shed light on its growth, emerging salon industry trends, and evolving preferences of consumers.
Salon Industry Statistics Overview
The beauty salon industry is dynamic and continues to grow at a rapid pace. The global market for the salon industry was estimated at US$215.65 billion in 2022 and with a 7.55 CAGR (compound annual growth rate) it's projected to reach US$383.8 billion by 2030. 
Startup costs in the salon industry statistics
Depending on which salon you want to open, the price can vary. Other factors that influence startup costs in the salon industry are your location, number of employees, renovations, etc. It also depends if you want to buy an existing salon or build your own from scratch.
Due to the COVID-19 and high inflation rate, startup costs are higher than they were years ago. Before COVID-19, the cost of buying an existing salon was in the range of $40,000 to $250,000. The cost of building your own salon was anything from $100,000 to $500,000. 
How much does it cost to open a salon in 2023?
It's hard to tell. The ballpark figure for buying an existing salon is $50,000 to $300,000 due to the higher cost of living and inflation. The price of properties has also gone up, meaning you'll need from $120,000 to $600,000 to open a new salon in 2023.
Salon insurance is also a vital part of opening a salon, but it can also get costly. Depending on your specific circumstances and the number of employees, you're looking at anything from $50 per month to $1000 per month. 
If leasing a property, expect to pay a security deposit and a couple of months of rent upfront. The rent, insurance, deposits and other utilities can cost up to $7,500 and sometimes even more. These costs are significantly reduced if you choose to run a home-based business.
Additionally, it's advisable to set aside some money to cover legal fees. These fees can arise from hiring an attorney to review the rent contract or the franchise agreement. Attorney rates start at about $200 an hour.
The biggest cost of running a salon are wages (46.7%), while on average you'll spend less on purchases (6.9%), and rent & utilities (3.4%). 
Don't forget about the equipment
From hood dryers, waiting room chairs, shampoo bowls, manicure and pedicure equipment, clippers, and scissors the cost of salon equipment will vary depending on the type of salon and your available budget. You can always start small and build your way up. For example, a full hair salon equipment fitting will cost about $27,000 in total. Let's see the breakdown:
The market price for styling stations with chairs starts from $250.

Styling tools and products can cost from $300 to $700 per service provider.

Furniture and other necessary equipment can cost from $1000 to $3000 per service provider.
It's not the same when you want to open a small salon and when you want to go big right from the start. It's important to consider all the factors and build a salon business plan that focuses on financing. 
Hair Salon Industry Statistics Overview
Hair salon industry statistics show that hair care is one of the salon industries that generate the most revenue. Reports estimate US$91.23 billion in revenue in 2023. From 2023 to 2027, the hair salon market is expected to have a steady 3.03% compound annual growth rate (CAGR).
Hair salon industry statistics: wages
Understanding the trends and figures when it comes to wages in the hair salon industry is crucial if you want to grow your business and offer competitive hair salon prices. Let's shed light and see the average earnings, and factors that influence wages as well as opportunities for growth. 
There are 298.050 employed service providers in the hair salon industry (excluding self-employed). Let's see the overview of their wages:
The mean hourly wage in the hair salon industry is $18,71.

The mean annual wage in the hair salon industry is $38910.
Percentile wage estimates statistics for the hair salon industry:
| | | | | | |
| --- | --- | --- | --- | --- | --- |
| Percentile | 10% | 25% | 50%(Median) | 75% | 90% |
| Hourly Wage | $10.48 | $13.17 | $16.01 | $21.698 | $28.88 |
| Annual Wage | $21.800 | $27.400 | $33.290 | $45.710 | $60.080 |
States with the highest employment level in the hair salon industry:
| | | | | | |
| --- | --- | --- | --- | --- | --- |
| State | Employment | Employment per thousand jobs | Location quotient | Hourly mean wage | Annual mean wage |
| Texas | 27350 | 2.10 | 1.04 | $14.74 | $30660 |
| California | 23170 | 1.31 | 0.65 | $21.64 | $45020 |
| Pennsylvania | 20870 | 3.59 | 1.78 | $16.55 | $34430 |
| Florida | 20410 | 2.22 | 1.10 | $16.84 | $35040 |
| New York | 18160 | 1.99 | 0.99 | $20.68 | $43010 |
Top paying states for the hair salon industry:
| | | | | | |
| --- | --- | --- | --- | --- | --- |
| State | Employment | Employment per thousand jobs | Location quotient | Hourly mean wage | Annual mean wage |
| District of Columbia | 590 | 0.85 | 0.42 | $33.78 | $70260 |
| Massachusetts | 9920 | 2.78 | 1.38 | $23.42 | $48710 |
| Washington | 6570 | 1.93 | 0.96 | $23.06 | $47970 |
| Maine | 1140 | 1.86 | 0.92 | $22.74 | $47300 |
| Colorado | 7620 | 2.76 | 1.37 | $22.28 | $46340 |
Salon retail sales statistics
Only a small percentage (8%) of revenue comes from salon retail sales. Where does the rest of the hair salon revenue come from? 92% of revenue in the US hair salons comes from services provided. The highest revenue-generating services are haircutting and styling (62%), while hair coloring generates 23% of the revenue. 
More than 90.0% of companies in the salon industry belong to hairstylists and nail technicians who rent their booths from hair and nail salons.
Retail sales of professional-grade hair and cosmetic products within hair salons form 14.3% of the industry's revenue. Shampoo holds the largest market share in the haircare segment and the sales are expected to rise to $30 billion USD by 2023, compared to $24 billion USD in 2016.
Hairdressing & Beauty Treatment Market
Let's see who accounts for the largest segment of the salon market and how you can tailor your services to get more clients in a salon:
Consumers aged 25 to 34 account for about 16.5% of the market

. Due to a lower disposable income level, they are less likely to purchase expensive salon products. They usually choose basic hair and nail services.

The largest segment of the market is consumers between the ages of 35 and 44. They seem to be more interested in personal care items. They tend to buy services like hair coloring and permanent hair modifications, such as keratin treatments.

Consumers between the ages of 45 and 54 account for an estimated 23.0% of industry revenue

. They spend on average $96.00 more on personal care products than a typical US consumer. Their disposable income tends to be higher, allowing them to purchase more costly services.

Consumers who are 55 and older represent 25.4% of the industry's revenue

. They purchase more hair services than nail services. They tend to choose less costly hair treatments.

Women consistently account for a higher number of sales at hair salons, partly because they buy more expensive treatments such as perms or straightening.

Women represent up to 97% of all clients in nail salons in the US.
Remember: Managing a salon successfully is easier when you know all about the hairdressing and beauty treatment market
What is the growth rate of the hair salon industry?
Is the hair salon industry growing? The growth rate of the hair salon industry is 3.03% annually. As long as hair salons take an innovative approach and offer personalized services, the industry will continue to grow and even thrive. 
How many hair salons are there in the US?
There are 952,619 hair salons in the US in 2023. 
Hairdresser demographics in the United States
More than 90 percent of hairdressers in 2022 in the United States were women, and their average age is 40 years. 
Insights into Consumer Preferences in the Salon Industry
You can't understand the salon industry if you don't take into account consumers' preferences.
Consumers are always looking for the latest trends and the best hair care products and services. Their needs are always changing. In order to meet these demands, the salon industry continues to develop and evolve.
The latest salon trends promote natural products that are alcohol-free, skin-friendly, hypo-allergenic, or allergen-free. Consumers also prefer haircare that is eco-friendly, organic, and made without animal testing. The market has become more diverse, with smaller brands providing more personalized ranges. They offer niche solutions to their customer's unique needs.
The way consumers obtain their products has also changed. They can purchase tailored haircare solutions from their local grocery, drug, and mass retailers.
What do the latest beauty & hair salon statistics reveal?
Hair industry reports show that

52% of consumers prefer to buy natural or organic shampoo

.

50% of consumers around the world prefer hair and beauty products that save time.

63% of people who buy beauty and hair care products have greater trust in brands they can find on Instagram. 52% of them say they are more likely to purchase a product if they see ads for it on Facebook.

Millennials are 40% more likely to use Instagram for inspiration than those aged 35 to 64.

About 70% of women in the United States use hair coloring products.

Only 12% of people who color their hair at home and at the salon follow the recommendations of their hairstylist.
"Blow-dry bars", i.e. hair salons in the US that exclusively offer blow-dry services, have been gaining a lot of popularity. 

Demand for more advanced hair care services will continue to rise. This includes hair coloring, hair straightening, and other services.

The hair and beauty market relies on population growth. An increase in population leads to greater demand for basic hair care services.

Smaller companies have been successfully competing with mega-brands. They focus on providing a superior quality of service and luxury treatments. 

Social media has become a successful marketing platform for the industry. Influencers have formed partnerships with brands and businesses.

Instagram has reported more than 1.35 billion monthly users and 500 million daily users. This makes it a unique advertising space and an awesome

salon marketing tool

.
By analyzing consumer preferences in the salon industry, we can see that salon owners need to take an innovative approach and go over and beyond to enhance customer experience. From using scented shampoos and massaging oils to offering neck & shoulder treatments and using steamed towels, salons that care for their customers will experience exponential growth. 
Salon booking preferences
If you don't want to leave money on the table, salon booking is something you need to take into consideration as well. With the growing popularity of online booking, consumers expect it from every service provider. Let's see the salon industry statistics for scheduling appointments:
Clients book 40% of appointments after business hours. 

94% of people would choose a new service provider if they offered online booking. 

Clients make 82% of online bookings through their mobile phones. 
Online booking will facilitate the growth of the salon industry and help you track customer preferences to offer personalized treatment. Another big advantage is easily promoting your booking website across marketing channels. And not to mention all that time you'll save by automating all booking-related processes. 
Get more bookings for your salon with the right tool
Keeping your bookings in line, your calendar well-organized, your customers satisfied, and your business booming has never been so easy.
Trafft is not just a simple booking solution – it handles all time-consuming tasks for you, so you can focus on growing your salon business. It's like having an assistant that never stops!
With Trafft, you can:
Save time by automating your bookings, payments, and reminders;
Manage your customers, staff, and multiple locations with ease;
Boost profits and hit your customers' sweet spot by analyzing their behavior and preferences;
Grow your business by monitoring your KPIs and making informed decisions based on data.
All this with the help of this powerful software.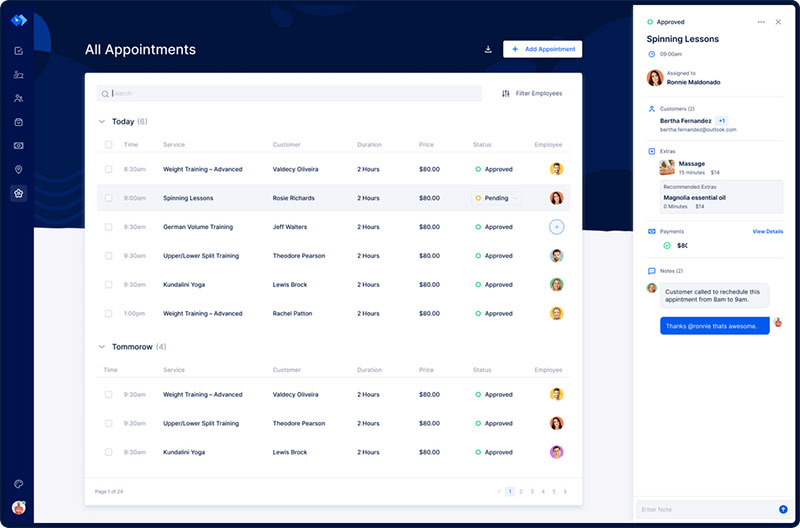 Trafft is the perfect salon appointment software for business owners who wish to offer a premium booking experience to their clients and their staff.
Want to know more? Check out Trafft's awesome features to see what you are missing.
Final Thoughts on Salon Industry Statistics and How to Use Them to Your Advantage
Numbers may not mean much, but when you put them in context, salon industry statistics can greatly help you to make informed business decisions. Let's see how you can use these salon statistics to run a successful salon:
You can analyze the market and better understand customer preferences, demands, and trends in the industry.

By analyzing your competitors, you can find the gaps and untapped segments that can help you to differentiate your salon.

Salon industry statistics can help you create a pricing strategy for your salon and employee wages. You want to retain top talent, and by offering them enough money, they won't quit and go to competitors.

Refine your marketing strategy by analyzing salon industry statistics that tell you about in-demand services and consumer preferences.

By analyzing employment statistics in the salon industry, you can train your staff to perform in-demand services and attract skilled professionals who are going to put your salon on top.

Improve customer experience in your salon by identifying areas of improvement based on real-life data. You can add more services, improve the quality, change the salon ambiance, and reduce wait time based on feedback from customers.

Salon industry statistics can help you expand and grow your business by offering insights about top locations, consumer behavior, and new services.