How to recruit hair stylists? Is it easy, is it difficult?
Let's find out all the details about this process.
A hair salon, no matter the location, decor, or anything else, is nothing without the stylists. It's the stylists that make a salon great. There is a lot of competition in the beauty salon industry and the turnover is quite high. It may, therefore, be a challenge to recruit and retain good hairdressers, and there's a great deal at stake.
Recruiting new staff has become more difficult in the recent couple of years. The salons are increasingly more competitive and the number of talented and experienced professionals has been diminishing.
You may be a hair artist attempting to start your own business, or in the business of investing in the beauty industry. Either way, hiring qualified professionals and keeping talented stylists are crucial skills for salon owners.
The best stylists don't reach out to just anyone offering employment. They know their worth so they compare and evaluate available options before making the final decision.
To successfully recruit highly qualified staff for your salon you need to think like them and cater to their requirements. Below are three main things to keep in mind when looking for high-quality stylists.
Make Your Employment Offer Worthwhile
The Salary
How to recruit hair stylists easily? Don't be stingy. If you look for talent and experience, you need to offer a fitting salary in exchange. Avoid giving in to the temptation to try to save on new staff wages. For reference, the average salary of a hair stylist in the US is $42,386.
You must recognize that your salon's success and your profit depend on your stylists' professionalism. Disproportionate salaries may lead to frustration and burnout, causing them to look for greener pastures.
Apprenticeship Program
First-time employees often want to further increase their knowledge and sharpen their skills. An apprenticeship program may provide an attractive development opportunity for fresh graduates.
In addition, it allows you to set the salon values and high standards that your employees will learn to uphold and follow.
Extra Incentives
There are many additional stimuli that a salon owner can use to attract capable professionals. Among those are, for example:
Work-life balance guarantee
Opportunities to show off their skills in public
A chance to get involved and assist in organizing events
Keep in mind, though, that there may be a fine line between promoting your employees and promoting your business. Make sure both you and your employees get that right.
Conduct Extensive Yet Targeted Search
An employment opportunity announcement on your website or Facebook profile is most likely not enough to find a high-quality stylist.
It would probably result in you receiving lots of messages and resumes but not from the people you are actually looking for. Consider the following suggestions for reaching out to and getting responses from capable professionals.
Pay a Call on Local Beauty Schools
Direct conversations with soon-to-be graduates from a beauty school are the best method of recruitment. You don't need to deliver a formal presentation. You can go and chat with each one, observe them, provide constructive criticism and useful tips, ask about their ambitions and plans, and answer questions.
Doing so will help you to start building a relationship and find out more about potential recruits. You will see if they are willing to listen and learn, if they accept advice, and what their reaction is to constructive criticism. You will also get the first-hand experience of observing their work and see both their flaws and potential,  which will significantly help with the selection.
Take Advantage of Social Media 
Instagram is one of the best social media platforms you can utilize to present your job advertisement to the right people. Both students and fresh grads use Instagram as their main way to showcase their work.  You can contact the hair stylists that impress you the most directly via Instagram instant messenger.
You also need to use Instagram to broadcast your salon to potential employees. Make sure that hair stylists can easily find you and that the content they see attracts them.
Connect With Your Professional Network
Many hair professionals are present on professional networks. It's flattering when one pro reaches out to another to express direct interest in their work. Approaching a stylist via their professional profile creates a more business-like atmosphere that may encourage conversation and a favorable response.
Get more bookings with the right tool for the job
Staying organized has never been easier.
You can now manage your business and grow your brand with a single, powerful software that keeps all of your appointments in line, your clients organized and your business booming.
Trafft is the perfect salon software for business owners who need to streamline their booking experience both for their staff and their clients.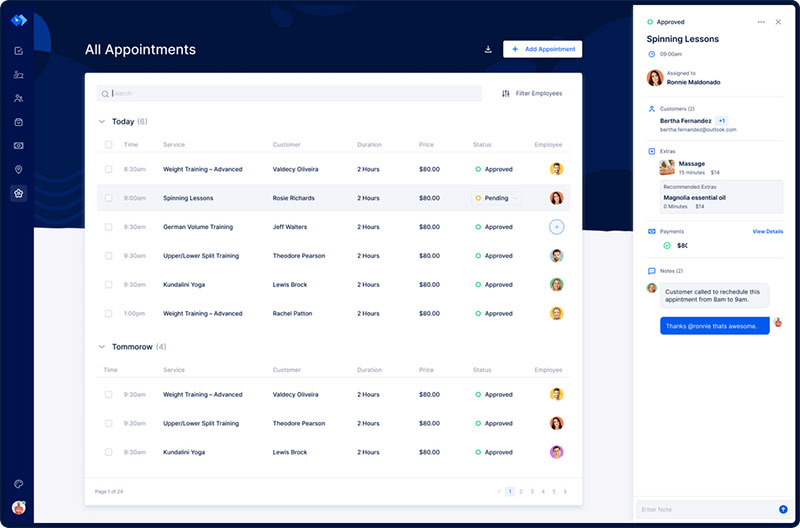 Trafft handles everything for you, even sending automated email or SMS reminders to your clients. No-shows? Not anymore!
The Trafft booking software adapts to different industries for a blissful online booking experience and employee management.
Want to know more? Check out Trafft's awesome features to see what you are missing.
Tips For Creating a Hiring Process
We have established how to attract high-quality stylists and where to look for them. Below are six things you need to pay attention to when designing a hiring process for your hair salon.
Creating a Job Ad
Your job ad should be as diverse as the hairstyles you offer. It also needs to make clear the benefits of working at your salon.
The job description should answer as many potential questions as possible. Here are a few examples of what applicants may ask:
How much do you make as a hair stylist at your salon?
Do your policies and procedures support me as a staff member and to what extent?
How many stylists work at your salon and what are their styles?
What makes working for your salon better or more attractive than working for other ones?
Post your job advertisement on your website and social media profiles. The more exposure you get, the more candidates will apply, thus increasing your chances of finding the right staff.
Solid Brands Attract Better Professionals
Your aim should be to make your hair salon so famous and respected that the best quality professionals will knock on your door asking for a job without you even advertising it.
True, building a strong brand and solid reputation does not happen overnight. It is an undertaking that involves both hard work and successful marketing, so don't give up. It is a journey that's worth embarking on.
A reputable brand will also benefit your recruitment in additional ways:
Working for a famous hair salon is often attractive and exciting enough. You don't need to worry about overpaying your employees to keep them working for you.
Your brand will advertise for you, allowing you to save on recruitment costs, like hiring expensive agencies or paying for costly adverts.
Consistency Does Not Go Unnoticed
Consistency is needed to make a reputable name for your salon. Being consistent with your hiring approach will allow you to build up and maintain momentum.
Even if you are not currently recruiting new staff, consistently making your salon brand popular among the best stylists out there will make your future hiring process faster and more successful.
Make sure that your brand is always in the back of their mind. This is how: Appear at beauty school career fairs, sign up for hair styling contests, take part in trade shows, post on job boards, make smart, strategic use of your social media presence, roll out a talent recruitment reward system for your current staff members.
Promote Your Hair Salon Culture Daily
The best way to retain hair stylists is to make them feel fulfilled and proud of working for your salon. Communicate your salon culture every day, ensure that each of your staff members feels that they play an important role in your salon's collective mission.
Express and show appreciation for your hair professionals. Make your stylists feel like part of the furniture. Remind them that you expect them to perform at a high level because you are sure that they are capable of reaching it and being proud of it.
If you manage to build a strong brand and create an environment in which hair artists want to work, the best stylists will automatically be drawn to your salon. This will help attract new clients which will, in turn, further strengthen your position in the market and boost your revenue.
Keep An Eye On Engagement and Performance
Once your stylists or any other staff members are hired, you need to make sure that you keep track of their engagement level and performance quality. You may realize that they do not possess the abilities you thought they did, or that they create a less than ideal atmosphere for the staff or customers at your salon. Do not be afraid to acknowledge it. The faster you realize and admit you committed an unwitting mistake, the quicker you will deal with the problem and replace a disappointing hire with a suitable replacement.
The quality of service depends on the skill set of an employee and also on their level of engagement. If you notice that a stylist becomes disengaged you know that a drop in quality will follow. Long-term capacity comes into question, too. To counteract the situation, try to have an honest conversation with the disengaged employee and figure out a way to help them improve their attitude if they are willing to do so.
Know Your Attribution Model
'Conversion Funnel' is a visual showing the process a person goes through before taking an 'action' (in your case, submitting a job application at your salon). The stages are:
Awareness – people searching for a job need to find out about the career opportunity. This part of the funnel is the most extensive one as you want to reach out far and wide and create awareness of your brand and job opportunity.
Interest – making potential hires aware of the opportunity means nothing if they don't show interest in it. Your website, social media profiles, gaining knowledge of the training and development opportunities, as well as what product lines you use and endorse can increase their interest.
Action – Your aim is to make the job seeker engage with you. There are a variety of actions they may take, including sending you an email, submitting an application through a job board, parsing the relevant information concerned with their resume through a resume parser, or dropping off their resume at your salon in person. It can help you a lot in the hiring process and allow you to source the most talented and well-experienced workers for your business.
FAQs about recruiting hair stylists
1. What are the necessary qualifications for a hairstylist?
State and country-specific requirements for becoming a hair stylist vary but often demand the completion of a state-approved cosmetology program and a high school diploma or equivalent.
Hair stylists must also complete a licensing exam in certain states. A great sense of inventiveness and attention to detail are also essential traits for hair stylists, as are exceptional communication and customer service abilities.
2. What are some common interview questions for hair stylist applicants?
Interview questions for prospective hair stylists frequently ask about experience and education, familiarity with various hair types and textures, knowledge of hair color theory and application, and customer service philosophy.
Also, hiring managers could inquire about a candidate's stylistic strengths and shortcomings, customer-handling approaches, and eagerness to pick up new skills.
3. How do you assess the technical skills of a hair stylist during an interview?
During an interview, hiring managers could want candidates to provide a demonstration or present a portfolio of their work in order to gauge a hair stylist's technical proficiency. To determine the candidate's degree of skill, they may also ask specific questions about hair cutting, styling, and coloring methods.
To confirm a candidate's technical abilities, hiring managers may also request references from prior customers or employers.
4. What qualities do you look for in a successful hair stylist?
A successful hair stylist combines technical expertise with creativity, customer service, communication, and other skills. They should be able to pay attention to their clients' needs, offer tailored advice, and stay current with emerging trends and methodologies.
Moreover, good hairdressers should be upbeat, have excellent work ethics, and be able to function well under pressure.
5. What training opportunities do you offer your hair stylists?
For its hair stylists, salons may provide a variety of training possibilities, such as internal training sessions, continuing education programs, industry events, and workshops. Stylists can benefit from these chances by staying current on the newest styles and methods as well as honing their skills in management and customer service.
6. How do you ensure that your hair stylists stay current with the latest hair trends and techniques?
Salons may offer in-house training sessions, encourage participation at industry events and workshops, provide access to periodicals and internet resources, and encourage stylist attendance to ensure that they are up to date with the most recent hair trends and methods.
Furthermore, certain salons might promote experimentation and urge stylists to try out novel methods and looks.
7. How do you motivate and retain your hair stylists?
Salons may provide a variety of perks and incentives, including flexible scheduling, competitive pay, performance-based bonuses, and career progression possibilities, to entice and keep their hair stylists.
Salons may also encourage open communication and teamwork among employees while fostering a positive and encouraging work environment.
8. What is the career path for a hair stylist at your salon?
Depending on the size and layout of the salon, a hair stylist's career path can change. Opportunities for progression to jobs like a lead stylist or salon manager may be available in some salons.
In addition, some stylists might decide to focus on particular disciplines, such color, extensions, or bridal styling. In the end, a hair stylist's career path at a salon will depend on their personal objectives and interests.
9. What kind of schedule and working hours can hair stylists expect at your salon?
Depending on the salon's operating hours and the stylist's availability, the timetable and working hours for hair stylists at a salon can change. While some salons may allow stylists to work flexible hours to accommodate their personal responsibilities, others can insist on them working evenings, weekends, or holidays.
Also, a stylist's schedule and working hours may be impacted by how much time they spend with each customer. At busy times, such as prom or wedding season, stylists might need to put in extra hours, while they may have more freedom during calm times.
10. What is the compensation and benefits package for hair stylists at your salon?
The pay and perks offered to hair stylists at a salon might change based on the salon's size, location, the stylist's performance, and experience level.
Some salons pay their employees on an hourly basis, while others may pay on a commission basis, both, or none.
Additionally, salons could provide perks like paid time off, retirement plans, and health insurance. Talented hair stylists can be attracted and retained by offering competitive pay and benefits packages.
Ending thoughts on how to recruit hair stylists 
You can use the flow of online traffic to find and hire a top-of-the-shelf stylist for your salon. Create a Career Opportunities section on your website and link it to your Facebook, Instagram, and other social media platforms. This will improve your Google ranking and reduce advertising costs.
Maintain your website in the best possible state. Keep it interesting, fresh, attractive, and always up-to-date. Remember that your website will most likely be the first thing a potential hire will look at first.
After you have hired the best stylists for your hair salon, prime them, coach them, and build their trust and loyalty. While money may be their primary motivation to work for you, their loyalty is what will keep them at your salon.
If you enjoyed reading this article on how to recruit hair stylists, you should also check out this article about hair salon statistics.
We also wrote articles on similar topics, like hair salon business cards, hairdressing consultation tips, hair salon logo examples, famous hair stylists to follow online, hair salon prices list, and hair stylist apps.