Good service should be the priority for any kind of business, including hair salons. But a client will only know the quality of a salon's service when they get their first haircut. So, a hair salon owner must think about how to convince prospective clients that your salon is the right choice for them.
An eye-catching way is to create a great hair salon logo. A logo is recognizable and represents the brand of the salon. Creating a logo requires some consideration regarding the kind of message that the logo should convey. Of course, changing it is always possible, but choosing the right one from the start is much better.
A logo is important because it is something clients see first and it is what they remember. Designing one, especially for a small business, can be a challenge. Often, these smaller salons have neither expertise nor experience in logo design.
This article will help It answers frequently asked questions. It gives seven tips that help to navigate around common pitfalls, and there are 33 ideas for hair salon logos.
Components of a Logo

Image source: Luz Diaz
Before getting inspiration for a hair salon logo design, this article will first deal with the technical aspects. What is a logo and what are its most important elements? All these definitions will focus on the fashion and beauty industry
Simply put, a logo is a recognizable symbol that is used to promote a business, an organization, or a product. Often, it is an abstract symbol, rather than a photograph.
An important logo element is a font. Make sure that it is readable and harmonious with the theme of the logo. Scripts and handwriting are often used for hair salon logos to create a feminine look. When done right it gives a delicate and lovely effect. Bold and modern type fonts, like Serif fonts, give a more robust impression.
It is well-known that colors affect feelings and even behavior. Therefore, the color of the logo design is an essential aspect.
As mentioned, the three main elements are the symbol, font, and color. That sounds manageable, but using each of these effectively is not as easy as it sounds.
Tips for Creating Great Hair Salon Logos
Here are some tips and suggestions for designing a hair salon logo.
Simplicity
Image source: Dragisa Trojancevic
A practical factor to keep in mind when making a logo design is that it should be easy to replicate. Probably the logo will be used in different sizes and on different surfaces. It will be prominently featured on the shop front, but also on a website, on business cards, etcetera.
Using a lot of colors, complicated shapes, and fonts is not very practical. Also, a logo should convey what the brand is about in simple signs and symbols.
Uniqueness
Simplicity and originality work well together.
Observe what other hair salons in the area use as their logo. This is a source of inspiration but also shows what an outstanding logo needs.
Think about questions such as: What impression do I want to make on my customers? What is unique about my hair salon? The answer to these questions helps to make an exceptional logo.
Versatility
Image source: Plint
The logo should go on anything related to the business, such as the website, hair products, business cards, social media platforms, the interior, and aprons.
When making the logo it is a good idea to give it a vector file. That ensures that the quality of the logo does not depend on the size. A logo needs to be versatile to be used in anything and any place. For this purpose, you can always use the help of vector graphic software.
When the salon grows and becomes more popular it is likely that it will feature in magazines and brochures. These may not always have the best quality or even be in color. So, design a logo that looks good in color and black and white.
Reflect the Salon's Style
A logo says much about the style of the hair salon. Sharp angles and strong dramatic colors convey a very different feeling than more subdued colors and rounded edges,
The former design is more suited for a salon with a hip and urban style. The latter is suitable for a suburban salon with a sophisticated or organic feel. A logo does not only reflect the type of services but also depends on the location of the business.
Intelligent Color Use
Image source: Tony Lockhart
This will require some thought, so here are some pointers. If the salon offers both hair and beauty services, including organic spa treatments, green colors work very well.
If the hair salon caters mainly to the needs of people in the city, a trendy black and white salon logo will appeal more.
If the place does hair but also makeup services, brown and jewel tones are a good combination.
Try to avoid an outdated color scheme, like neon colors. Do not make it tacky or too bright with too much red. It should integrate into a design but not overpower it.
Design for the Brand
There is no formula for making the ideal logo for any brand. A logo should represent the particular character of a brand.
The famous Coca-Cola logo, bold and red, perfectly suits that brand and product very well. But it would not work for a spa or a beauty salon.
A barbershop that focuses on businessmen will likely have a different logo design than a salon that caters to the many needs of young women.
To make a unique salon logo, first, think about what makes the salon different and special. Identifying the selling points of the salon is the first step in making a logo design that expresses them.
Timeless, Not Trendy
Image source: Corey Reifinger
It makes sense to make a trendy salon logo that meets the fashion of the moment. However, that same logo will likely look outdated in only a few years' time, so choose a timeless logo.
A classic hair salon logo that does not need changing after some years, gives the impression that the brand is likewise solid and timeless.
An added advantage of a timeless logo is that it saves money. Designing a new one is costly and think of all the materials that also need to be reprinted and the media that will need updating. An important risk is that the hair salon could lose its recognizability.
Hair Salon Logo Examples
Bristle & Bear
Image source: Brian Wiens
Beautiful Hair Salon Logo Template

Image source: Alex Broekhuizen
Logo: Atelierul de frumusețe
Image source: Alexander Slash
LI TAITAI
Image source: Tosha Vitorin
Before and After logo concept
Image source: Jessie Maisonneuve
Chantelie – Hair design logo
Image source: Dawid Noculak for DWG
The Hive logo
Image source: Jesse Vankurin
Forge Studio Logo
Image source: Sarah Thomas
Studio Cuts 2
Image source: Corey Reifinger
Hair Shed Logo
Image source: Jacob Proffer
Eclips Logo Concept
Image source: Jessie Farris
Sarah Linton logo concept
Image source: Curt Crocker
Floral Beauty Logo Design
Image source: MD HABIBUR RAHMAN
Freebird Hair Studio Branding
Image source: Charles Honig
Sarah Linton Logo
Image source: Curt Crocker
Twisted Scissors
Image source: Melanie Riley
Extensions Hair Salon Logo
Image source: Alex Broekhuizen
Hair
Image source: Dragisa Trojancevic
Stefani Hair Studio
Image source: Dragisa Trojancevic
The Vinery
Image source: RobModus
Minimalist logo design
Image source: Pranto Datta
The Hair House
Image source: Tara Victoria
Logo design for the hair salon "Tsam"
Image source: Nare : Kocoloz Arts
Platinum Hair Salon
Image source: Donat Gashi
Logo Design – Hairter Hair Salon
Image source: Direct Design
The Color Studio Hair Salon Logo
Image source: Kiki Bakowski
Bravo – Hair Salon
Image source: Joe Carmagnola
Hair salon logo
Image source: Alexandar David
Studio Cuts
Image source: Corey Reifinger
Smooth Hair Studio Final
Image source: Helena Olson
new hair touch salon logo
Image source: Ui_bakester
Great Clips Logo Design
Image source: Nikhil Malu
Ross Circle
Image source: Sahab Uddin
Ending thoughts on hair salon logo designs
The priority is to consider the clientele of the salon. This is so important in the beauty and grooming industry. Are they looking for a boutique salon treatment? Do they only want a haircut, or do they want a more complete experience? Are the customers looking for traditional haircuts, or do they want a purple mohawk?
Then think about the brand identity. Try to capture that identity in a few keywords. Ask who you want to be. Should it be urban or more down-to-earth, refined or quirky? The answers to such questions will determine the lettering, shapes, and colors of the hair salon logo.
If the marketing is done right, a salon can be a place where people can relax, but also change their appearance to the person they want to be. It is a place for style, with a personal touch.
Get more bookings with the right tool for the job
Staying organized has never been easier.
You can now manage your business and grow your brand with a single, powerful software that keeps all of your appointments in line, your clients organized and your business booming.
Trafft is the perfect salon scheduling software for business owners who need to streamline their booking experience both for their staff and their clients.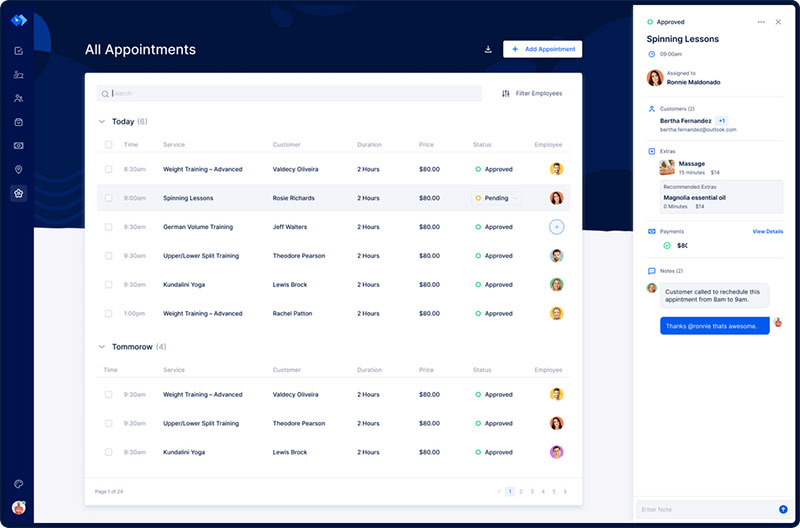 Trafft handles everything for you, even sending automated email or SMS reminders to your clients. No-shows? Not anymore!
The Trafft booking software adapts to different industries for a blissful online booking experience and employee management.
Want to know more? Check out Trafft's awesome features to see what you are missing.
If you enjoyed reading this article on hair salon logo designs, you should also check out this article about hair salon statistics.
We also wrote articles on similar topics, like hair salon business cards, hairdressing consultation tips, hair stylist apps, famous hair stylists to follow online, hair salon prices list, and how to recruit hair stylists for your salon.