Keeping track of all the transactions is crucial in any business. A salon POS system will help the owner to know the time and place of the retail transaction.
That will prepare an invoice for the customer, and present the payment options for them.
Manicurists, aestheticians, beauticians, hairdressers, and massage therapists need a professional system to organize their services. Compared to other types of services, salons need a robust scheduling tool.
Interacting with customers in a personal way enhances the relationship with them. With the right management, this increases future clients and potential customers.
POS is essential to reaching financial goals. It also helps salons to be more organized in managing clients.
So it's important to find a salon POS system with a database. This enables salons to send SMS reminders and emails to clients.
It would be best to choose one that is specifically for salons and spas. That provides access to powerful tools for growing the business.
The following will show the top point-of-sale systems for beauty salons and spas.
The Factors of The Ideal Salon POS System
POS for spas and salons have similar features. They include tracking customer information, sales data, and managing client transactions.
A regular POS system focuses only on online booking.
However, a salon POS system has specific functionalities. These include client-facing account management tools, online booking, and appointment scheduling.
While the pandemic is ongoing, this type of system is essential for safety and regulatory reasons.
The features every salon needs:
Prepayment
Allowing pre-payment or down payment will prevent no-shows or unprofessional customers. Requiring down payment upon booking ensures that clients follow the agreed schedule.
Commission Program For Individual Employees
Giving commission to an employee for every service they book moves them to work harder. Further, they will encourage more people to purchase the salon's services.
It is also a way to show gratitude for them.
Socially-Distanced Features
Due to the pandemic, contactless transactions are essential. These include online payment, online appointments, eCommerce websites, and eGift cards.
Staff Scheduling
Employees' schedules should match the booked services. Assign an employee to be responsible for each client.
Loyalty Programs
This program shows gratitude to the loyal customers who keep coming back. Give discounts, gift cards, and points.
Clients can save up their points and purchase products or services.
Reporting and Analytics
In every business, reporting and analytics are crucial. They provide salon owners and employees with insights into the business.
It will also help them to learn whether they have a deficit or not.
Mobile Invoicing
This is ideal for salons providing mobile services, such as wedding makeup and other event setups.
POS Appointment Booking
This allows online appointment that integrates with the POS.
Other Essential Features Every Salon POS System Should Have
When looking for a salon POS system, it is important to consider other essential features before making a final decision. Here are the factors for consideration:
Fees
Ensure that the POS cost is upfront and there are no hidden charges. 
Know the monthly subscription fees and customer services. See if the salon can cover the costs for the considered POS system.
Scalability
Every salon should look for a POS because it supports the business and helps it to grow. Pick the one with features that complement the needs and preferences of the salon.
Convenience
The salon POS system should be easy to use. Its features should be convenient and allow non-techy persons to operate it with ease.
Here Are The Best Salon POS Systems to Choose From:
In 2021, Fresha is one of the most popular salon POS systems. Some may already be familiar with this POS under its previous name of Shedul.
It is currently available in more than 120 countries. About 250,000 therapists and stylists, and more than 50,000 beauty businesses use Fresha.
The advantage of this POS is that it is specifically for salons, spas, and therapists. It is fully flexible and easy to use.
Its payment processing software has the complete tools for marketing, analytics, and inventory tracking. It also provides retail sales capabilities.
This one is free for team members and is non-techy friendly. The only downside is the lack of customization options.
All the bookings or booking page's design will stay the same, as it is a default on the website. But it's not a big issue since Fresha's design looks great.
Main Features
Reporting
Team Management
Marketing and Client Retention
Retail Features
Appointment Setters and Reminders
Appointments
POS
Advantages
It comes with automated appointment reminders via email or SMS messaging.
Fresha has a modern minimalistic design interface.
It is easy and convenient to use.
Fresha comes with a marketplace to let more clients or customers discover the salon.
Fresha's processing fees are affordable.
Free software
Disadvantages
Slow Response From The Customer Support
Limited Design
Zero Intake Forms
Salon Iris
This one has complete features and functionalities with its POS capabilities. It supports beauty professionals and its widgets are specifically made for these individuals.
Compared to other salon-specific software solutions, this has a richer point of sale experience.
It comes with various features for salon businesses. These include credit card reader solutions and a physical POS system.
Salon Iris gives salon owners the freedom to edit and add more features to their websites.
This is an all-in-one salon software that offers flexibility to the users. The only downside of this software is that it has limited credit card processors.
Users can only choose from CardConnect and XCharge. Neither of these is highly rated.
Main Features
Advanced Business Reporting
Employee Scheduling and Tracking
Marketing and Client Retention
Retail Features
POS
Appointments and Online Booking
Advantages
Easy to learn via tutorial videos
Robust scheduling features
Walk-in kiosk options
Customizable or editable booking pages and widgets
It comes with resource booking tools
Disadvantages
It is only compatible with Boot Camp, Mac, and other Windows emulators.
This requires application and integration to enable payment processing.
It has higher fees for individual therapists.
Lightspeed Retail
Lightspeed Retail is an excellent choice for salon and spa businesses. It comes with an intuitive and enticing interface.
What's more, it has a powerful cloud-based POS system for easier use. Although primarily for retail shops, it is useful for other shops and businesses.
It can serve service-based businesses like salons and spas. One of its main features is appointment scheduling named Booxi.
Lightspeed Retail has strong integration capabilities with more specialized tools. Although it doesn't offer appointment management, it does integrate with third-party solutions.
If the salon or spa sells products, this software is an ideal option. It comes with excellent inventory features.
Lightspeed is compatible with iPad or desktop setup. Before clients walk out the door of a spa or salon, they can sign on smartphones and laptops.
It is available in several countries and is a good alternative for salon POS systems with limited geographical support.
Main Features
Global or wide geographical support
Intuitive, flexible, and easy to use
Rich online store
Integration with third-party applications and other tools
Advantages
Integrates with outside platforms or other payment processors
24/7 customer support and personalized onboarding
Retail inventory management features enabling product selling in-person and online
Support multiple geographical locations
Disadvantages
Requires third-party integration for appointment scheduling
Requires additional fee when integrating own payment processor
Acuity Scheduling
With this software, the spa or salon owner can set up online booking for their customers or clients. They can also provide prepayment options.
Acuity allows integration with other applications to enhance its functionalities. Owners can also set up other payment processors.
This is ideal for those who prefer customized POS solutions.
This salon POS system provides unlimited design customization options. It is possible to brand the booking page and website widget according to the spa's or salon's preferences.
It comes with a flexible appointment manager. Clients can book through third-party software.
Integrating Acuity with other software results in a powerful setup for both the clients and spa owners.
Main Features
Free
Advanced appointment reporting
Comes with specialized consultants to assist with the advanced setups
Gift cards and other packages
Drag-and-drop features
Calendar
Flexible and easy to use
Available in various locations
Integrates with accounting, marketing leading software, POS direct or via Zapier
Unlimited customization options for website booking widgets, SMS, and email reminders
Advantages
Organized and flexible POS system dashboard
For solo stylists, Acuity provides a non-stop free trial
Enables users to set up a loyalty program for clients, and provide gift cards or other types of rewards
Disadvantages
Limited inventory management features
Doesn't allow credit card processing
Basic salon management software
Vend
Vend is cloud-based and an all-in-one feature. The developers made this for retail stores, but it is also suitable for other types of business.
Users can create customized receipts, process refunds, offer store credit, and process returns. It is available in different locations.
This application accepts all major payment types, including credit cards. Spas or salons can set up a down payment or split payments in a single transaction.
These integrated payment solutions can improve business revenues, especially in getting regular sales. The credit cards available in Vend are Visa cards, MasterCard, and American Express.
It is compatible with both web and mobile devices for different kinds of users. Despite not having an internet connection, this salon POS system will work just fine.
But before installing, ensure that the existing hardware is compatible with Vend.
Main Features
Unlimited customization option for prices and taxes
Automated Promotions
Inventory management
Retail POS payments
Advantages
Vend is flexible and user-friendly. It works on any device, as long as the device has a web browser
Comes with diverse payment processing options
Retail options for salons and products for sale
Allows unlimited users
Disadvantages
Compared to other salon POS systems, Vend is less robust
The price is higher
Required integration with Timely for improved features
Get more bookings with the right tool for the job
Staying organized has never been easier.
You can now manage your business and grow your brand with a single, powerful software that keeps all of your appointments in line, your clients organized and your business booming.
Trafft is perfect for business owners who need to streamline their booking experience both for their staff and their clients.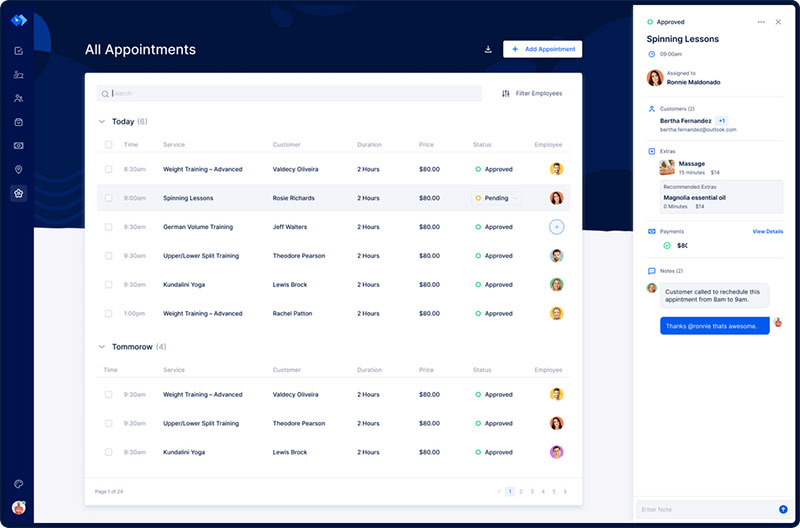 Trafft handles everything for you, even sending automated email or SMS reminders to your clients. No-shows? Not anymore!
The Trafft booking software adapts to different industries for a blissful online booking experience and employee management.
Want to know more? Check out Trafft's awesome features to see what you are missing.
Vagaro
This salon POS system is ideal for fitness, salon, and spa businesses. Its features help to provide a better customer service experience.
Salon owners can manage product sales, inventory, and resource booking.
It comes with a drag-and-drop appointment calendar. It also provides management tools for managing membership and recurring billing.
Businesses need to access several documents, forms, and waivers. Vagaro makes it easier for them by having these inclusions in the system.
Some of its main features are in-app notifications, SMS text, and email. These features remind customers about their bookings.
It will also show reminders to employees, helping them to keep track of their tasks and daily duties.
This system is ideal as a payment processor and email marketing tool. For an all-in-one solution, Vagaro should be on the top list.
Main Features
Reporting
Employees' data for schedule and tracking
Retail features
Intake forms and charting
Client management
Appointments
POS
Advantages
Comes with a free trial
Allows the customers to autopay when designing and selling memberships
Convenient online booking calendar
Ideal for on-the-go salons and spas since it comes with a cutting-edge mobile POS system features
Vagaro has integrated forms and waivers
Disadvantages
Slow reception and glitchy screen
Only has basic reporting tools
Complicated employee management features
Pricey payment processing fees
Clover
This salon POS system is ideal for replacing standard and old-fashioned POS terminals. It comes with unique features that are beneficial for salon and spa businesses.
Its built-in credit card processing offers customers hassle-free online payment.
When combined with other tools from Clover's comprehensive app market, users can customize it to meet their needs. Since the hardware is compact, it can fit even into the smallest establishment.
Pick from Clover's various physical hardware. These are:
Clover Go – mobile card reader
Clover Station – a countertop register with receipt printer and cash drawer
Clover Mini – compact countertop register
Clover Flex – handheld POS device
If other tasks are not available in Clover's software, look it up on the Clover App Market.
This market collects hundreds of third-party business management apps. All of these applications integrate with the Clover salon POS system.
The only downside is that Clover did not include a native appointment-scheduling feature in their system. But that's not a big problem since users can download Salon Scheduler or Appointments Pro.
Main Features
Financial Solutions
Gift Cards
Payments
Invoicing
Employees
Reporting
Point of Sale
Advantages
Allows the business admins to bring the POS to the clients with its mobile hardware options
Convenient to use and hassle-free to set up
Its aesthetic design appeals to clients
Comes with a large app store and a wealth of integrations for email marketing, loyalty, scheduling, and more
Disadvantages
Users can only use Clover when they have a Fiserv merchant account
Needs Clover hardware, which users cannot reuse or resell with another POS system
Square
Here's another salon POS system with a minimalist design. It is convenient to use and 100% functional. 
With its complete features, users don't have to look for other options. It has a functional appointment feature that helps clients make a booking.
Square is applicable in Android, iOS, and Square's proprietary Square Register hardware.
The good thing about this POS is that it is free for a one-person business. It is ideal for a personal trainer and hairstylist.
If businesses have employees, the rate is still low compared to other salon POS systems. Considering that they offer a powerful booking tool and point of sale system, the price is worth it.
On Square's standard payment processing rate, multi-employee users of Square Appointment receive a discount upon using Square's service.
Square comes with various physical hardware. These are Square Readers, Square Terminal, Square Stand, and Square Register.
They plug into the device's headphone terminal. This hardware enables the system to accept chips, swipe, and contactless payment on the go.
Main Features
Square Dashboard
Employee Scheduling and Tracking
SMS and Email Reminders
Marketing and Client Retention
Retail Sales
Payments
Dedicated Booking Website
Appointments
Free Subscription for an Individual Business
POS
Advantages
No fee for online store and booking website
Via Square Assistant, there are automated messaging tools
It has integration with pre-payment options to avoid false bookers
Convenient to use
Affordable
Disadvantages
Limited phone support
Limited customization options
Doesn't come with intake forms integration
No resource booking and management
FAQs about salon POS systems
1. What is a salon POS system, and how does it differ from a regular POS system?
A point-of-sale system that has been specifically created for use in salons and spas is known as a salon POS system. Together with the standard POS services like accepting payments and producing receipts, it typically has features like appointment scheduling, inventory management, and customer relationship management.
2. What features should I look for in a salon POS system, and how do I know which ones I need?
The elements that are relevant to your company's requirements, including appointment scheduling, workforce administration, and product inventory tracking, should be considered when selecting a salon POS system. It's crucial to take into account choices for assistance, price, and convenience of usage.
3. Can I integrate my salon POS system with my existing scheduling and booking software?
Certainly, a lot of salon point-of-sale systems can be connected to existing booking and scheduling programs. By doing so, the reservation process can be sped up and appointments can be precisely reported in both systems.
4. How much does a salon POS system typically cost, and what are the ongoing fees?
A salon POS system's price can change depending on the features it has and the size of your company. There can also be continuing fees for things like software upgrades, customer support, and payment card processing in addition to the initial price.
5. Is it possible to process credit card payments through my salon POS system, and are there any additional fees associated with this?
Absolutely, a lot of salon POS systems can handle credit card transactions. However, there can also be extra costs involved, including transaction fees or monthly processing fees.
6. What kind of customer support is available for salon POS systems, and how can I get in touch with them?
Options for salon patron assistance POS systems can differ, but the majority of systems ought to provide some kind of help via chat, phone, or email. It's crucial to pick a system with support options that meet the requirements of your company.
7. How easy is it to train my staff on using a salon POS system, and are there any additional resources available for training?
The salon POS system itself, as well as your personnel's level of technical expertise, can affect how simple it is to teach your staff on it. To assist in training your team, many systems provide resources like user guides, videos, and live assistance.
8. Can a salon POS system help me track inventory and manage my product sales?
Sure, a lot of salon POS systems can assist with managing product sales and inventory tracking. This can assist you in keeping track of which products are doing well, which require replenishment, and which might require discontinuation.
9. Can a salon POS system help me generate reports on my business's performance and revenue?
Sure, a lot of salon POS systems can assist with managing product sales and inventory tracking. This can assist you in keeping track of which products are doing well, which require replenishment, and which might require discontinuation.
10. Are there any security concerns I should be aware of when using a salon POS system to process payments?
It's crucial to confirm that the salon POS system is consistent with industry standards for data security before using it to handle payments. Features like encryption, tokenization, and PCI compliance may be included in this, which can help safeguard your clients' data and other security issues.
Ending thoughts on choosing the most ideal salon POS system
It is always challenging to run a business. Especially if it is a salon or spa that needs to cater to various customers in a week.
Anything could happen. Clients may cancel their bookings, there may be cranky customers or false reservations.
Some businesses rely on unsynced payment processors, booking tools, and inventory trackers. Without syncing the booking details, it will be challenging to keep track of new bookings.
When businesses choose the right salon POS system, there is a higher return on investment. Retaining customers will help the spa or salon to increase revenues.
The important features every salon POS should have are payment processing, client and product management, online booking, and scheduling.
Choose the salon POS system that complements the business background. The five salon POS systems mentioned in this article are ideal options for any salon or spa business.