Online booking systems are designed to help both clients and managers, especially those that need to book appointments on a tight schedule.
It's not easy to find a reliable scheduling solution that covers all your needs. Each tool has its strengths and weaknesses so users need to make an informed choice before making a purchase.
Since conducting extensive research to find the booking software that's just right for you is an arduous process, we've decided to help you out.
Here's our list of online booking systems that are definitely worth your while.
16 Top Online Booking Systems for Your Business
Trafft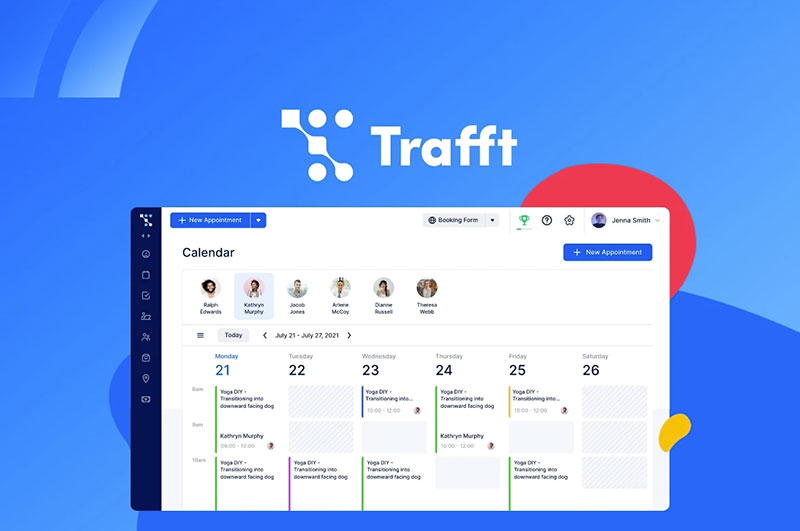 Trafft is a powerful online booking solution that allows businesses of all sizes to streamline their appointment booking process.
It provides an easy-to-use and intuitive interface that enables users to manage their schedules, appointments, and clients all in one place.
Trafft helps businesses to optimize their scheduling process and reduce time-consuming tasks, giving them more time to focus on growing their business.
One of the most notable features of Trafft is its flexibility. Users can customize their scheduling options, including appointment types, duration, and availability, to suit their specific needs.
They can also set up reminders and notifications for clients, reducing the risk of no-shows and missed appointments.
Trafft also integrates with other popular business tools such as:
Another key benefit of Trafft is its ability to generate detailed reports on business performance. Users can view statistics on appointment history, revenue, and client activity, providing them with valuable insights into their business operations. This information can help businesses make data-driven decisions and identify areas for improvement.
Overall, Trafft is an essential tool for any business that relies on appointments, such as medical practices, salons, and fitness studios. Its powerful features and ease of use make it an excellent choice for businesses looking to streamline their scheduling process and improve their overall efficiency.
Want to digest this info faster? Here's a short video presentation for Trafft:
SimplyBook.me
This app's name speaks for itself. We're talking about a simplified scheduling software that lets you handle online bookings hassle-free.
You'll find plenty of cool features including a custom booking app for your customers and your business. Also, you can send custom SMS notifications and email reminders. The possibility to offer coupons and gift cards is a big plus.
SimplyBook.me's best feature is integration. It has plenty of them and also API access.
Finally, it offers 50 free bookings. Although it has quite a learning curve, the time you spend can be worth it if you consider the system's advantages.
Square Appointments
Square Appointments is one of the online booking systems ideal for individual entrepreneurs. It provides all the features that you need without ads. It doesn't hide anything under paid plans either.
The software provides a website builder to create a booking website and make your time slots available for clients. The best part is that you can connect this booking page with your social media and your website. Square Appointments comes with its own POS account.
This appointment-scheduling software allows you to send automatic reminders via email or SMS. The paid plans bring Google calendar sync. Thanks to this you can avoid double bookings, solve any conflicts automatically, and run your business smoothly.
Schedulicity
This is another appointment scheduling software that works as an all-in-one solution. It includes marketing tools like automated emails, and a marketplace so that you can show your services to a new audience.
Schedulicity also allows you to process payments. Accept payments from Stripe and Square or use the native system called Shedulicity pay.
Its pricing model is convenient as it allows you to spend according to your needs. This is possible thanks to Schedulicity's add-on options. Keep in mind that the communication and marketing package can exceed your monthly budget.
With this scheduling software, you can start from scratch and grow your way into the system as your business expands. One of its downsides is that it doesn't provide many integrations.
With the free plan, you can manage 10 bookings a month.
Calendar
Do you want to combine all key features into one online booking system? Calendar provides a user-friendly interface so that you can achieve your goals.
Its comprehensive dashboard displays all your day. Schedule meetings and edit events easily, then, create smart links to access your availability by combining different calendars. By doing this, you ensure two things: avoiding double bookings and letting participants self-schedule meetings. The calendar sync will make sure the timing suits both parties.
Calendar allows you to create a different booking link for each occasion: one-on-one sessions, group bookings, and training with multiple attendees.
The free features include 1 calendar for 5 members.
Zoho Bookings
As one of the best online booking systems for consultations, Zoho deserves to be featured on this list.
This scheduling software comes with flexible options like planned breaks, and built-in buffer times. You can also add special hours, time off sections, and a cancellation policy.
Users can easily access the customer booking page from their dashboards. Simply click on the booking page option and see the client's version. Its calendar offers a simple way to see all your sessions at a glance. Feel free to view the accumulative schedules for all workspaces at once or one in particular.
Zoho's free account includes virtual meetings, email reminders, 1 staff, and a two-way calendar sync.
Bookafy
This is another powerful tool for businesses that need to schedule meetings and appointments.
Bookafy offers unlimited appointments and scheduling types. You can assign different lengths and types of services you have to offer.
The website has a beautiful design, which contributes to your brand image. With its intuitive and simple interface, your clients' experience is bound to be great.
The free version gives users access to unlimited appointments and a booking page for their business.
Picktime
Picktime is one of the online booking systems tailored to help plenty of businesses improve processes, optimize their operations, and advertise their products.
The software is fully customizable so that you can create just the right booking page for you. Also, it's easy to set up and allows your customers to book appointments from your website.
Picktime comes packed with plenty of other tools. This includes customer management, appointment scheduling, and automatic reminders. All these functionalities will translate into better time optimization and more profits.
With its free plan, you'll get unlimited appointments for three staff members.
Baluu
A great online booking system for quick booking page creation.
Baluu has many functionalities but it's especially useful for businesses that offer both in-person and group bookings. This includes yoga centers, trainers, gyms, and coaches.
Create an online booking system in two ways – create a branded booking page or embed your schedule and calendar into an already existing website.
You can process payments through major payment gateways and methods.
With Baluu's free plan, you can handle up to 50 bookings monthly.
10to8
10to8 brings plenty of integration options among other things. It includes individual or group bookings, calendars for different staff members, online payments, custom questionnaires, calendar syncs, and multiple calendars. You can also hold virtual appointments with an integrated chat. Most managers will find 10to8 useful thanks to its more than 1,500 integrations.
When it comes to calendar syncs, 10to8 synchronizes with the most important calendars like Office 365, iCal, Outlook, and Google calendar.
Although its free plan doesn't include unlimited appointments, you can access this through paid plans. Also, the free plan doesn't allow you to customize your booking page or emails. It does include online payments, 10 appointments a month, and SMS notifications.
Appointy
Appointy is another amazing booking solution that offers Zapier support, automatic reminders, Google calendar bookings, and Square payments.
The paid plans (Growth and Enterprise) unlock further features. This includes multiple locations, PayPal and Stripe payments, and unlimited appointments.
With the free plan, you get only one calendar, while the other versions provide advanced features. This includes a log-in for multiple staff members.
Being able to book directly from Google Calendar is a big plus. Moreover, customers can schedule meetings, cancel, and reschedule. They can pay through Square payments.
MeetFox
For businesses that want to simplify scheduling processes, MeetFox is one of the best online booking solutions.
This online booking software is cloud-based and includes a free plan with lots of features. For instance, you can simplify online scheduling through a dedicated booking page. Also, it allows you to accept payments online, which makes the process easier for customers.
It comes with an intuitive platform and a friendly design.
MeetFox is the perfect solution for those in need of a cost-effective appointment-scheduling app.
Fresha
Fresha is an online booking system specially designed for the wellness and beauty industry. You can use it for gyms, personal training, and beauty salons.
It supports multiple locations and unlimited appointments for several staff members. Its email reminders are also very handy.
Moreover, you can access all this from one single dashboard.
One of its main advantages is its payment options, as you can set up different payment types at the time of checkout.
Calendly
Calendly is one of the best-known scheduling software options out there. Its reputation comes from its flexibility.
With Calendly, you can share your availability with customers instantly: it only takes a click to complete.
Besides, there are plenty of integrations that will help you optimize every booking-related process.
Moreover, CRM integration allows you to handle all your customers and scale your business faster.
Squarespace Scheduling
Another cloud-based solution to meet your scheduling needs. It offers three packs which are free for the first seven days.
This online booking system is part of the Acuity ecosystem and will be integrated into Squarespace.
Squarespace Scheduling provides custom features at a fair price.
With the trial, you get a replica of the online calendar available on the paid plans. Thus, you'll know what you're buying.
Squarespace brings a wide array of advanced features including unlimited appointments and services. In addition, you can set up different prices and time slots. Finally, you can accept payments from popular platforms like Stripe, PayPal, or Square.
Google Calendar
Not many people know that with Google Calendar you can set up a space where your clients can schedule appointments. Although it's not as automated as the above-mentioned options, it still works.
Users only need to set up their available time slots and send the links to the customers. The rest is easy: they choose the best fitting time for them.
You can't set up automated reminders for the other party, it's up to them to set them up on their own calendars.
Final Thoughts
These are the very best online booking systems available for solo entrepreneurs and small businesses.
Although each option has its limitations, they all are great solutions for taking your appointment-based business to the next level.
If we had to pick our favorite, though, it would be Trafft – a solution that not only handles your bookings but manages your entire business. And that's just what every business owner needs.