DSLR cameras are no longer a rare sight. There is a lot of competition in the photography industry.
So, photographers need to put their best foot forward in marketing their business.
It is essential to have branding that stands out from the crowd. Branding includes a business name, a logo, a color scheme, and more.
Photography business cards are one way to market to others and build up a brand name. Photography business cards can range from elegant to creative and everything in-between.
There are many ways a business can pass on its details, but a business card is a simple and effective solution. Since it is such a small space, it may seem overwhelming to design a photography business card.
This article will show 21 inspiring photography business card designs.
Elements of Photography Business Cards
A business card is an essential marketing element. It is a critical item when establishing a business and a brand.
The business card reflects the image of the business and attracts new clients. Therefore, photographers should put extra effort into designing a photography business card. They can even use many online photo editing tools, or image manipulation services to get what they expect. For instance, there are great solutions for transforming photos into watercolors that can really change the image beauty to a new one.
Here are some essential elements of a business card:
Business Name
Image source: Axenous
A strong brand name can go a long way in impressing and attracting new clients.
Logo Design
A logo is as important as a business name. Images help people remember things better.
A logo should represent the business and make an impression on people's memory.
Font
Although it seems like a small detail, the font can make or break a business card. If people cannot see or read the words on the card then it is doing no good.
The font is a key element in a business card design.
Presentation
The look and feel also make a big difference in the design of business cards.
A card needs to make a good impression the first time someone sees it. The presentation can completely change the way people perceive a business.
Texture
The texture is a part of the presentation of business cards. It is surprising how many different tactile options are available for business cards.
A few popular options are soft matte, watercolor paper, linen, and recycled paper. Business cards can also have raised embossing or metal foil textures.
Shape and Orientation
Image source: Claire Morales
Business cards are most often rectangular with a landscape orientation. A less common option is a portrait orientation.
But business cards are not limited to these two options. Business cards come in other shapes like circles, ovals, squares, and customized shapes.
Business Information
Of course, the most important thing to add to the card is information. This takes thought because the card has to fit relevant information in a tiny space.
Take care not to overcrowd the space. One trick is to use whitespace wisely so people are not overwhelmed.
Make sure to include information like the name, contact info, and location of the business.
For URLs, use a QR code. It is easy to make one using a QR code generator.
The following examples have a perfect design balance of being functional and exquisite. They will provide great inspiration for those designing their photography business cards.
Inspirational Photography Business Card Ideas
Alex Settari – Business Card
Starting off this list of inspirational photography business cards is this card for Alex Settari. It presents an abstract photography design.
It has a clean layout that reflects the photographer's personality.
Logo And Business Card Concept For Photographer
Here is a different business card concept. It uses a circular shape instead of a rectangular one.
Circle business cards allow for a simple yet outstanding layout.
Get more bookings with the right tool for the job
Staying organized has never been easier.
You can now manage your business and grow your brand with a single, powerful software that keeps all of your appointments in line, your clients organized and your business booming.
Trafft is perfect for business owners who need to streamline their booking experience both for their staff and their clients.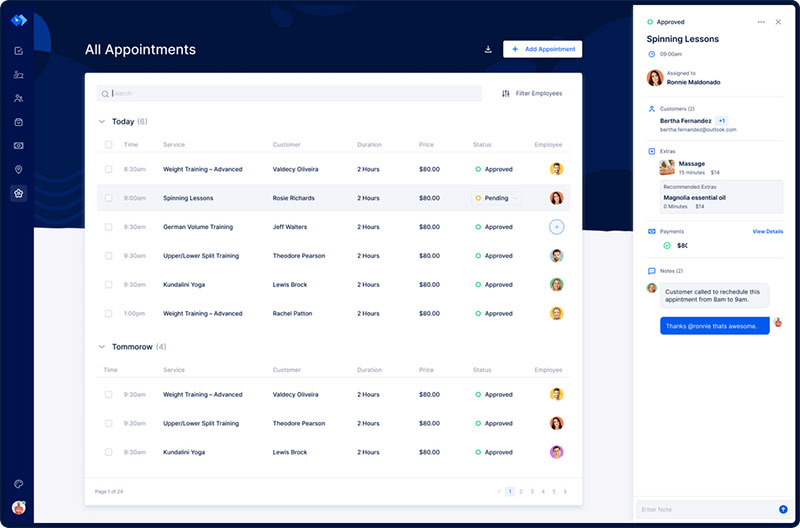 Trafft handles everything for you, even sending automated email or SMS reminders to your clients. No-shows? Not anymore!
The Trafft booking software adapts to different industries for a blissful online booking experience and employee management.
Want to know more? Check out Trafft's awesome features to see what you are missing.
Black and Gold
To add a luxurious element to a photography business, try using black and gold.
Black and gold give a business a sense of exclusivity that attracts high-end clients. A gold foil design is tasteful and dignified.
Jessica Castro
This card does not leave readers wondering what it is for. It is a perfect combination of photography and graphic design.
It creates intrigue and piques the interest of its viewers.
Strong and Compelling Image
This business card shows a photographer taking a picture.
The image seems to jump out of the card. It indicates what the card is for in an instant.
The card uses a simple design and a grey color scheme. The text, image, and illustration are all in grey to maintain the simple and elegant look.
Photography Business Card Design
This business card illustrates the most common photography icon, a camera lens. It appears simple and yet includes several small details.
The backside uses bright red to catch people's attention.
Clear Plastic Business Cards
This photography business card shows that using your own photos can produce a stunning design.
This clear business card has the wow factor. It is elegant, professional, and of high quality.
Minimalist
This photography business card shows that there is beauty in a minimalistic layout. A simple white card becomes much more with a small illustration and a well-chosen font.
Cali Villa Business Cards
Photographers can learn a lesson from this example. Adapt business cards to suit the area.
This specific card is great for someone who works in a beach town. The color scheme, font, and illustration contribute to the seaside theme.
Custom Shape Camera Cards
This photography business card takes on the shape of a camera. A QR code business card offers more information without overcrowding the card.
Eye-Catching Color
The color of this photography business card is very eye-catching.
The bright orange does not escape notice. Bright colors usually pair best with minimal designs and small fonts.
The logo is an abstract shape of a camera. This shows how a simple logo can make a big impression.
Professional Photographer Business Card
This photography business card is professional and elegant. It has a brushstroke with a bright image on a white background.
It is modern, simple, and attractive.
Photo Business Cards
Photographers can imitate this business card by using one of their images for their card. This way potential clients will have a small sample of their work.
It will also motivate them to look at the photographer's social media gallery.
Event-Focused
A photography business card should make the photography niche clear. It may be weddings, pregnancies, headshots, or something else.
Whatever the niche, the image on the card should reflect that.
El Fotógrafo de Wedland
This example shows that it is not necessary to go overboard with photography cliches. It is a textured card with a rustic feel that is simple yet elegant.
Business Card In A Sleeve For A Photographer
These creative examples take photography business card designs to the next level. They feature a cover with a window to showcase the photographer's work.
Camera Style Business Cards
Although a business card in the shape of a camera is fun, some people prefer to stick to the rectangle shape. This way clients can fit the card in their wallets.
This is a great example of using a traditional rectangle business card but making it look like a camera.
Lens Shutter
The lens shutter is a common sign to represent photographers. This card features it to make it clear that it is a business card for a photographer.
Alexandre Thomas
This business card is unique and interactive. Its transparency  allows viewers to see what it is like to be on the photographer's side of the camera.
The bottom includes the name of the photographer and the contact information.
Photographer Business Cards
Here is another unique photography business card idea. The card is in the design of a vintage camera film that displays black and white images.
It is a good reminder of where photography started and how it has advanced. This design works well for both photographers and videographers.
Viewfinder Business Cards
Last but not least, is another transparent business card. It mimics the viewfinder scene seen through a camera lens.
This template is simple, only displaying the photographers' website on the bottom of the card.
Photography Business Cards Examples
Photography Business Card
Image source: ROCK design
Logo & Business card design
Image source: 90FOUR
Photography Business Card
Image source: ROCK design
Free Bridal Photography Business Card

Image source: Jessica Elle
JG Business Cards
Image source: Type08 (Alen Pavlovic)
Business Card
Image source: Claire Morales
Business Cards
Image source: Andrea Boi
Business Card
Image source: DesignerEshad
Photography Business Card
Image source: ROCK design
Photography Business Card
Image source: Matt Burt
Stork Business Cards
Image source: Janet Longhurst
Photography Business Card
Image source: Runner Design
Photography Business Card
Image source: ROCK design
Transparent Business Card
Image source: Lumen Bigott
Business Card
Image source: Soumya Ranjan Bishi
Business card for a photography agency
Image source: Ghaith
Photography Business Card
Image source: ROCK design
Photography Business Card PSD Template
Image source: DevItems
Photographer Business Card
Image source: luke
Photography Business card
Image source: Hamim Khan
Lapsa Photography
Image source: Alyne Rocha
Photographer Business Cards
Image source: Dominik Pacholczyk
Art Studio Creative Photographers Business Card
Image source: Md. Efthakhar Ul Alam Konick
Photography Business Card
Image source: Graph Squad
Photographer business card design
Image source: Lemongraphic
Photography Business Card
Image source: Runner Design
Photography Business card
Image source: sumabegum
Photography Business Card
Image source: HAFIJ AL ASAD
Photography Business Card
Image source: madmindgraphics
FAQs about photography business cards
1. What information should I include on my photography business card?
Your name, business name, business phone number, email address, website, and physical address ought to be listed on your business card for photography (if you have a studio or storefront).
A catchphrase or slogan that encapsulates your photographic specialization or style is another option.
2. What size and shape should my photography business card be?
A business card should be 3.5 inches by 2 inches in size, but you can also think about going bigger or smaller or creating a special shape to make your card stand out.
Odd shapes, however, could be more difficult to store or transport.
3. Should I use a glossy or matte finish for my photography business card?
Your personal taste and identity should guide the finish of your photography business card. A matte surface can convey a more organic or natural feeling, while a glossy finish can lend a polished and professional appearance. For further interest, you might also think about a textured or embossed finish.
4. What kind of images should I include on my photography business card?
Your greatest photos should be shown on your business card, which should also appropriately reflect your niche and style.
Choose stunning photos that showcase your talents and originality and are appealing to your intended audience. To keep your card fresh, you can also occasionally change the photos.
5. How can I make my photography business card stand out from competitors?
Consider utilizing a distinctive design, including a pop of color, or inserting a memorable image to make your photography business card stand out.
A high-quality paper stock or finish, as well as an unexpected shape that is nevertheless practical to store, are further options. Remember that your card should still be polished and consistent with your brand.
6. Should I include my social media handles on my photography business card?
A photography business card having your social media handles on it might make it easier for clients to get in touch with you and check out more of your work.
The platforms where you are most engaged or where you exhibit your work the most might be included. Nonetheless, be sure to keep the text clear and simple to read.
7. Is it important to have a QR code on my photography business card?
Potential customers can visit your website or social networking accounts more easily by adding a QR code to your photography business card.
It's not necessary, though, and you should only add it if it's pertinent and enhances the worth of your card. Before printing, make careful to test the code to make sure it functions properly.
8. What is the best way to distribute my photography business cards?
Depending on your target demographic and marketing plan, you'll want to distribute your photography business cards in the most effective method possible.
These can be distributed at networking gatherings, left at nearby businesses, or added to mailers or parcels. Have a consistent distribution strategy, and always keep your cards in hand.
9. How many business cards should I print for my photography business?
Your budget and marketing strategy will determine how many business cards you should print.
Calculate how many cards you'll require over the next several months by taking into account how frequently you attend events or meet potential clients. If you run out, you can always print more later.
10. Can I design my own photography business card, or should I hire a professional designer?
If you possess the abilities and tools necessary to produce a design that looks professional, you can develop your own photography business cards.
Yet, hiring a professional designer is a wise investment if you're unsure of your design skills or if you want a distinctive and finished design. Choose a designer who has worked on branding for photos and business cards.
If you enjoyed reading this article on photography business cards, you should also read this one about how to prepare for a photo shoot.
We also wrote articles about similar subjects like how to get more photography clients, becoming an event photographer, how to become a licensed photographer, social media marketing for photographers, real estate photography contract, appointment scheduling for real estate agents, photography studio management software, how to get your photography noticed, real estate photography marketing and photography mood board.