Professional photographers that shoot houses must hone their real estate photography marketing skills.
Without a proper strategy, real estate photographers may see a steeper fall in the demand for their services when the market slows down.
These slow periods can be used to create or improve one's marketing plan. But where should a real estate photographer start? And, are there any marketing tips for real estate photographers? 
This article is a collection of real estate photography marketing tips.
Real Estate Photography Business Tips
Some variables prevent one from including every marketing tip in a real estate photography business plan. Variables such as:
A real estate photography client may prefer a fast turnaround over better photos.
Some real estate agents may want you to work directly with the seller
What works for one property photographer may not work for another. How can one identify the tips that will help grow a real estate photography business? Before designing a photography package get to know the commercial and residential properties in your area.
Use SEO By Starting A Blog On Your Website
A website is a powerful promotional tool regardless of the many social media platforms available. Starting a blog on your website is a great way to promote your business and generate leads.
Be sure to use keywords that boost your presence in search engines. Real estate photography marketing keywords must be used in each blog post and on every page of the website.
This increases the likelihood of it being found when a realtor searches for real estate photographers/photos.
Another real estate business tip is figuring out your real estate specialization, which helps you lock in on your target customers. This increases your site's SEO efforts. So, ensure your website reflects your real estate photography niche, such as photographing:
Single-family homes
Commercial properties
High-rise apartments, etc.
SEO tactics won't immediately move your site to the number one spot on the Google search engine but they'll increase your online visibility.
Use Your Real Name To Market Yourself
Advertise your photography service with your real name instead of a business name. Promoting your service using an abstract moniker appears impersonal and may make you seem hard to reach.
So, give your potential customers something concrete. Give them a name and a face to match. This helps you stand out from the crowd by giving you:
1. Uniqueness
It's highly unlikely that there'll be other real estate photographers with the same name in your location.
2. Authenticity
Potential clients are more drawn to a real person rather than a company. For example, which would you feel more comfortable approaching? KJ Photography Company or the real estate photographer, Kevin Jones?
Search Online For Potential Clients With Low-Quality Property Photos
How can you get started as a new real estate photographer? Search online for real estate sites and browse through their property photos. Search for real estate listings that have low image quality.
Then contact each real estate agent via phone or email and pitch your services. Try to offer a post-processing service to sweeten the deal. For existing photography businesses looking to grow, carefully choose each real estate agent you work with.
Every realtor knows that the quicker real estate listings go online, the quicker potential buyers can be found. This need for speed puts pressure on a real estate photographer because the presentation of a house can make or break a listing.
Post-processing services to finish a quality photo take time, but offering and delivering a quick turnaround is a major plus. 
Offer A Trial Shoot For Free
There's a wrong and a right way to go about offering free photography services. Shooting for exposure is the wrong way as this waters down your efforts. The right way is a targeted marketing effort that adds value to your business by generating:
New business
Referrals
Word-of-mouth ads, etc.
Put simply, shooting a free sample of your work should be on the condition that you're being hired. This idea of the first shoot free is very different from offering free photography services to get exposure.
The latter is usually ineffective so don't put your name out there as one who works for free just to grow your portfolio- no strings attached. Include a price sheet in your pitch so that a real estate agent understands what they'll be paying after the first free shoot.
Seek Referrals
Word of mouth is a great way to find new clients. Successful photography businesses are built on referrals. Ask your family and friends to tell others about your real estate photography service and website.
What about asking realtors you already work with to pass your name along? They may not want to do this especially if they love your work. This is because a realtor will not want to share a quality asset with the competition.
However, it's still a good idea to ask as this lets them know you are looking for more business.
Show Potential Customers The Benefits Of Using A Professional Real Estate Photographer
Share basic tips that can help a client get better-quality photos. Let them know that you're a professional who can produce images at a higher level. So, don't give away too many tips that will affect your business.
Do a side-by-side comparison of two photos taken by you, one of a casual camera shot of a house and the other a well-shot, professionally processed photo. Do this in person, via email, or on an online platform.
Your objective is to get hired often at the highest real estate photography rate possible. So, once the difference is clear, emphasize that real estate sites with a professional presentation of their houses tend to do better.
Don't worry about the number of listings they don't hire you for. Some real estate agents will never hire a pro photographer to shoot certain listings. This is especially true for:
Unimproved property such as vacant lots or agricultural property
Low-end, fixer-uppers
Social Media
A real estate photographer should cultivate an audience on one or two social media platforms. Use platforms like YouTube, Instagram, Facebook, etc.
These can help you connect with clients but the key to getting business on social media is consistency. Don't waste time setting up accounts on multiple platforms that you won't have time to manage.
If you spread yourself thinly across multiple platforms, you'll get nowhere. Focus on a maximum of two platforms, if you can find the time for both. Stick with those that give you the most views and engagement and use them to reach more customers.
Also, you can partner with popular influencers on these platforms who have an audience that's similar to your target audience. These influencers can help you spread your reach and boost engagement through their content on social media. However, you must ensure that they have genuine followers. For that, you should track fake followers of influencers and only then go ahead with the collaboration.
Get more bookings with the right tool for the job
Staying organized has never been easier.
You can now manage your business and grow your brand with a single, powerful software that keeps all of your appointments in line, your clients organized and your business booming.
Trafft is the perfect service scheduling software for business owners who need to streamline their booking experience both for their staff and their clients.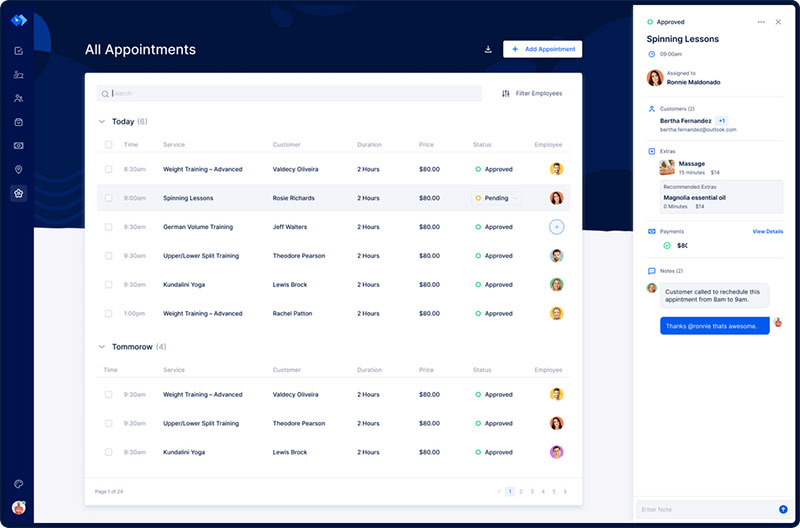 Trafft handles everything for you, even sending automated email or SMS reminders to your clients. No-shows? Not anymore!
The Trafft booking software adapts to different industries for a blissful online booking experience and employee management.
Want to know more? Check out Trafft's awesome features to see what you are missing.
Leverage Targeted Social Media Ads
Paying for ads is a great way to drive traffic to your real estate portfolio website. Use targeted ads that appeal to your audience. These ads should include:
An attractive front cover photo
Text that speaks to the interests of your target audience
A photo of a house front at twilight is a spectacular best-seller. Search other photography real estate profiles for additional elements to use in your ads.
Try to create something unusual that others will repost. Your real estate photos won't be reposted but a beautiful behind-the-scenes video or drone footage may go viral.
Pricing As A Marketing Tool
In some instances, marketing yourself as an affordable option can lower your value and turn away potential customers. This is because people could begin viewing your products and photography services as cheap.
Cheap is not the word you want to come to people's minds when they see your work! You want people to know that the properties you photograph, sell faster. Your prices should reflect:
The tangible results that come from your ability to draw out people's emotions with your photos
The high-quality services you offer your clients
The trust you've built with the buying public through your marketing efforts using different mediums
Of course, one should be careful not to charge exorbitantly high prices as this too could drive customers away. But, ensure that your prices indicate the quality of your work and your dedication to great customer service.
Networking
Networking is an important element in any business. Real estate is a transaction-based industry especially when it comes to residential real estate. Real estate agents sign a listing, court a buyer, close the deal, and move on.
The process is repeated with each new listing or repeat client. So, realtors are often open-minded and cooperative. This makes networking a simpler task.
To do this, join a few real estate photography groups on Facebook. Use this platform to see how other real estate photographers run their businesses. Try to learn from:
How they handle problems
The quality of the images they deliver
How they interact with clients
Incorporate these practices into your business to foster its growth.
Start An Email Newsletter
Realtors send postcards in the mail to keep themselves at the top of your mind. When the time comes for you to buy or sell real estate you're more likely to contact them first.
You can use this principle but without snail mail. Start a monthly or bi-weekly newsletter. Unlike a personalized email, people have the choice to subscribe to your newsletter.
This will make them more welcoming and engaged with your messages. When writing a newsletter, find a balance between a personal and professional tone. Be welcoming but not overly casual.
Depending on the level of engagement from your readers increase the frequency of your email newsletter to once per week. Provide your subscribers with fresh, valuable updates and information. Share a bit of your expertise in real estate photography, or do a round-up of your top listings for each month.
Display Property Listings On Your Site
Display organized property listings on your site. Create a whole listing, not just random photos in your portfolio. You can include a:
Slideshow
Video
Map
Agent profile for each listing
Ensure it looks like a genuine real estate listing. This will boost your business in three ways:
Each agent will drive traffic to the listing
You'll receive additional backlinks
Your next client may see your portfolio and contact details while browsing a listing
Once a listing has been sold, mark it as sold and/ or archive it. Deleting the listing removes it from your online portfolio. Marking it as sold, shows off the many listings that have been sold using your photos. 
Share Reports And Success Stories With Potential Clients

Image source: jpmrealestatephotography
Let potential customers see how beneficial your professional service is to your clients. Ask for feedback from agents and post to your website, reviews of how your photos helped close the sale of a home.
Share success stories to your blog of how buyers from out-of-town solidified their decision based on your video tour of a home. Or maybe you've been told that buyers sent in a contract based on your photos only. Share these positive reviews publicly.
How else can you convince your audience that your professional photos will help sell a property? Share a third-party report on the advantages of using a professional real estate photographer, and ensure the report is from a trusted source. 
Study The Competition Using Local Directories
Find out what the competition is doing. Observe how they hook clients and grow their real estate profile. Learn from their online marketing strategies and how they approach networking with agents.
Try to understand your competitors by joining local real estate directories. Search through various listings in your area, learn their ranking rules, and go after the top spot.
Do this by offering better service than currently available. For example:
If your market has a two-day turnaround for images, offer to do it in 24 hours.
If the competition requires rescheduling/ cancellation fees, offer to not charge those fees. Or consider giving repeat clients one free cancellation after a certain number of completed shoots.
FAQs about real estate photography marketing
1. How can real estate photography help in marketing a property?
Real estate photography is a crucial marketing tool that can be used to highlight the distinctive qualities, architecture, and atmosphere of a property. Professional real estate images attract more potential buyers and boost the likelihood of a quick sale by giving them a clear, in-depth portrayal of a property's condition and layout.
2. What is the difference between amateur and professional real estate photography?
Experienced real estate photographers employ top-notch tools, refined techniques, and an acute eye for detail to produce gorgeous pictures that highlight a property's best qualities. Contrarily, amateur shots frequently don't pay attention to detail, lighting, or composition, which can lead to images of inferior quality that don't fully showcase a property's potential.
3. How important are high-quality images in real estate marketing?
Because they are the first impression a potential buyer has of a home, high-quality photographs are essential for real estate marketing. Low-quality images can severely affect a buyer's opinion of a home, while high-quality photos can create a favorable and lasting impression that can generate more interest and a faster sale.
4. What are some tips for taking great real estate photos?
Use a tripod for stability, take advantage of natural sunlight whenever feasible, clear the area of clutter, and highlight the property's distinctive qualities, such as stunning views or high-end appliances.
5. How do you edit real estate photos for maximum impact?
Real estate photography must include editing since it can improve the pictures of a property's overall quality and appeal. Adjusting brightness and contrast, altering color, and removing obtrusive elements or flaws are some popular editing procedures.
6. What are some effective ways to showcase real estate photography on social media?
Real estate brokers can use numerous social media platforms to reach a wider audience. Social media is an ideal medium for promoting real estate photos. To gain more awareness, it's critical to pick the appropriate platforms, write engaging captions and descriptions, and utilize pertinent hashtags.
7. How can virtual tours and 360-degree photos enhance real estate marketing?
The use of virtual tours and 360-degree images can give potential purchasers a more immersive and interesting experience. These methods let potential buyers explore the house's numerous rooms and features, giving them a clearer idea of the overall layout and atmosphere.
8. What equipment and software are needed for professional real estate photography?
A top-notch camera, lenses, and a tripod are necessary pieces of specialized equipment for professional real estate photography. Using editing programs like Adobe Photoshop or Lightroom is crucial for enhancing and perfecting photos.
9. How can real estate agents use drone photography to market a property?
Drones are a useful tool for real estate photographers since they enable them to take beautiful aerial pictures of a property's exterior and surroundings. These images can give a more accurate portrayal of the property by showcasing its size, layout, and surroundings.
10. How can real estate photographers help agents and brokers sell properties more quickly?
Real estate photographers can aid brokers and agents in selling homes more rapidly by producing stunning photos that entice potential purchasers. Agents and brokers may more effectively market a property and spark interest with the right images, leading to quicker sales and greater profits.
Ending thoughts on these real estate photography marketing ideas
How can you ensure your real estate photography marketing strategy works? This starts with understanding how real estate agents use photography services. Real estate agents lead busy lives so your portfolio pitch needs to be simple and presented in a logical manner.
Help sellers and realtors see the value you bring to the table. Strategically offer something for free or share a bit of your photography knowledge about what improves real estate photos.
The photography marketing ideas in this article can be used to improve your strategy. Remember to consider local factors that may prevent you from using a few of these tips.
If you enjoyed reading this article on real estate photography marketing, you should also read this one about how to get your photography noticed.
We also wrote articles about similar subjects like how to start an online personal training business, how to get more clients in a salon, salon dimensions, salon insurance, salon lighting ideas, spa quotes, how much salon owners make and how to write a personal training business plan.