If you've been thinking about venturing into the salon business yourself, this question crossed your mind more than once. How much do salon owners make? Before you risk it all and decide to go all in, you have to know whether it's worth it. 
Managing a salon requires a lot of attention. Issues can arise at any moment and as a salon owner, you need to take care of them. It's very important that at the end of the month, there is enough money in the bank to pay for all the staff's salaries and monthly expenses and also make some profit.
To make sure you run a successful salon, you need some additional skills and more than simply managing your budget. Benefits, freedom, growth, security, and education are vital components of the salon business, but managing all these aspects is not easy. Because of that, we've created a breakdown of how much salon owners make in 2023 per type of salon, as well as actionable tips to earn more. 
How Much Do Salon Owners Make?
The average salon owner makes $51,517 in 2023 (US), but the salary range is between $42,700 and $61,852 for the majority. Globally, salon industry statistics say that the industry was estimated at US$215.65 billion in 2022. With almost one million salons just in the US, it's completely normal for numbers to vary. 
Salons offer a wide variety of personal care services. The services include hair care, massages, manicures, pedicures, and tanning services. It is no surprise that the amount a salon owner can make depends on many different factors. These include the size of the business, the location, the economic situation, the quality of management, and the kind of services offered.
There are two different types of salons: specialized and full-service salons. The specialized salons usually focus on one or two types of treatment. They might, for example only offer manicures and pedicures, or focus on haircutting and styling.
The full-service salon offers many different types of treatments. These services can include hair services, massages, and nail treatments. It seems logical that the more treatments a parlor offers, the more money the owner makes. But is it like that in reality? We'll see! 
Salon owner's salary
Salon owners' salary is $51,517 on average in 2023, but that's just the amount they take home. Their salon also makes some profit, which is approximately 8.2% according to research conducted by StartupOpinions.
Bonus: Find out how much beauty salons make and how profitable hair salons are.
Salon Owner's Salary Factors
Location of salon business
For beauty parlors and other service-based businesses, the location of the salon is a very important factor. The location can determine up to 50% of the income when compared with the average. Good business management can get the best out of a location when it comes to salary.
Especially in a low-income area, it is to be expected that the income of the salon will be likewise lower. This may not improve with a higher quality of service.
This is because people from lower-income areas are not likely able to afford a more expensive, higher-quality treatment. The upside of working in a disadvantaged area is that most likely the costs of running the business will be lower. Still, the cost of bringing in materials and services from outside the area is consistent.
Salon business management
The salon's management will depend on a couple of factors. These are determined by the salon size and how much the owner gets paid.
Cleanliness and efficiency are factors that many employees and customers appreciate. When the salon is clean and effectively managed this will give the place a good name and this will make the business thrive.
These positive qualities do not come about by chance. They require dedicated quality management.
Depending on the size of the business it may call for a person in charge of cleaning to ensure that the salon looks attractive. To bring efficiency to the place, someone needs to take charge of implementing systems. If this is not accomplished confusion and frustration will ensue and the result may be that employees and customers walk away.
Staff payment scheme
Often a client returns to a beauty parlor or salon to ask for one specific stylist. That is an important way of binding customers to a business.
Showing appreciation for these skilled and dedicated workers is important for success. Paying a fair salary is vital for employee retention. Remember, these people bring in the money.
Payment systems and levels are determined differently in each salon. The four main payment structures for salon salaries are:
Annual salary

Commission-based

Hourly rate

Performance-based
How Much Are the Employee's Wages in Salon?
If you're still not sure whether to open your own salon or work as an employee, analyzing wages will be extremely beneficial. As a salon owner, you have more risks, but also more freedom. However, you're responsible for providing wages for both you and your employees. An additional couple of thousand dollars might not be worth that risk for you. Let's see employee wages in salons:
The average Hair Salon Manager in the US makes $26,739 in 2023

The average Hair Specialist in the US makes $32,780 in 2023.

The average Hair Stylist in the US makes $31,167 in 2023.

The average Hairdressers and Cosmetologists in the US make $26,507 in 2023. 

The average Beautician in the US makes $31,138 in 2023.

The average Beauty Therapist in the US makes $66,785 in 2023. 

The average Beauty Operator in the US makes $37,534 in 2023.

The average Beauty Consultant in the US makes $64,334 in 2023.
*All wages are from Comparably. 
How to Make More Money as a Salon Owner
Opening a salon will cost $50,000 – $300,000 if you buy an existing salon while opening a new one can cost from $120,000 – $600,000. The cost depends on many factors, most importantly on the model of salon you choose. 
For an average salon, the annual income depends on four factors:
Average service ticket per visit. This is the average amount a client spends per visit.

The percentage of what a client spends goes to the owner. How much is left after paying rent, products, and other expenses?

Visit frequency. How often does the average client come for treatment?

The number of clients. This depends on the number of clients that come regularly, the number of new clients, and the number lost (churn rate).
Without sales, no business survives. When profits need to improve, the first thing to look at is top-line revenue, sales in other words. This will benefit the salon, not only in the short term but also in building a stable business in the long run.
Even before opening a salon, you need to think about salon marketing strategy. This ensures that when the business finally opens, people will know the location and what it offers.
Shortly before opening the doors of the salon, start with booking appointments. You'll need your own website (preferably) and booking form for promoting and scheduling appointments.
Walk-in appointments are another alternative. In that case, salon advertising can be enough, in combination with social media platforms for your salon. 
How much a salon owner makes does not only depend on the quality of service offered. Besides offering a good product, making more money takes smart marketing, sales, and good business management. It involves savviness to make a profit from existing and new clients. Remember, keeping expenses within bounds ensures that the business stays profitable.
Set S.M.A.R.T. goals
S.M.A.R.T. stands for Specific, Measurable, Attainable, Relevant, and Timely.
Specific. Being specific means that all goals need to be defined as accurately as possible. A phrase like "I need to average three to four new clients each month and keep churn rate below 20%" is more specific than "I need 75 more clients over the next two years."
Measurable. Measurability means that the goals must be defined as measurable numbers. Avoid vague targets.
Having a measurable target has the advantage that the path toward it is easier to define and track. A POS system is a great help, but measuring progress goes beyond that.
Attainable. Targets must be attainable. Working part-time in a small market is not likely to bring in 250 clients averaging $200 for each visit.
Unrealistic goals will not bring the desired results and can only lead to disappointment. It is smarter to set small goals and increase them as needed. A realistic goal could be to increase an annual income of $30,000 to $60,000 over two years.
Relevant. There are two aspects to the relevance of set goals.  For example, a solitary business owner with a family, will not likely become famous overnight and run a salon with over 4,000 clients.
Thinking too small is also not going to reap success. Consider the following calculation.
Increasing the per-visit sale from $5 to $10 sounds good. But with a clientele of 200, this will only bring in $1,400 annually ($5 * 200 clients * 7 visits a year * 20% commission). That implies a lot of work with little return.
Timely. Setting milestones is good, but they should be reached within a certain time.
The example that was used above shows how a milestone can be split up in shorter time frames. Add accountability to the reaching of the goals.
Sales Technique
Upsales and cross-sales
These two classic sales techniques are often used in the beauty industry. Upselling refers to a sales approach where the stylist recommends the client to buy an exclusive version of a service or product. Recommending a complementary product or service is called cross-selling.
These approaches are considered effective techniques when it comes to increasing transaction sizes. The concern is that can clients find these techniques annoying.
It takes a certain skill to use them right. But when employed effectively, they can increase sales. It's not just about increased revenue, clients can benefit from your expert advice and recommendations.
Use retail sales
The sale of hair styling products amounts to 5-25% of salon sales. This may seem insignificant, but they are in fact much more profitable than the services that the salons provide.
The retail sale of hair, nail, and skincare products is, therefore, an important component of running a beauty salon. These products include hair gels, sprays, shampoos, and conditioners. For other salons, this can be nail polish, brushes, skin creams, etc.
Some of these products are also available in other shops. The advantage of salons is that they provide professional recommendations. Capitalize on that!
We recommend that the products that are on sale in the salon are also used in the treatments and services. This is the best way of promoting the product. Consult the local tax office for all the necessary paperwork.
Salon specials
Featuring specials is a nice way to make customers spend more money than they otherwise would. Special offers include discounts, promotions, and rewards systems.
A rewards system could be based on the number of services or the amount spent. After that, the client can get a free or discounted service or product. Another reward could be after a customer brings in an acquaintance or family member.
Giving discounts or free treatments may seem like a waste of money. In reality, a new or loyal customer will pay back that investment at least tenfold.
Improve skills
Continue to learn new skills and techniques. Stay up to date with the current trends.
Do this as early on in your career as possible. People will know you follow trends and will turn to you to get the best and newest treatments.
A salon with employees would be wise to organize workshops or be willing to send out their people to courses and classes.
If an employer does not provide this training, a stylist should take charge of their own education. Open industry nights organized by other salons are great ways to improve skills. Do not hesitate to ask around and invite yourself.
Add income streams
Adding income streams can help to get in touch with potential customers. These streams can be offline or on the internet.
Subscriptions or services can bring in some direct income. These additional income streams can be profitable.
These additional sources can be very beneficial for a business. It helps to find new techniques to make money. The flow of money will make sure that owners and employees can continue to receive their payments.
Raise prices without losing clients
Most business owners would rather not do this, but raising prices is sometimes necessary. What is the right price for a service? It is a balance between charging what it's worth and not scaring customers away.
Businesses like CPAs, attorneys, contractors, and product companies regularly raise their prices. For a small business like a personal care salon, this does not have to be any different. Most clients would not be surprised if the price of their treatment goes up.
Each year, inflation increases by around 3%. We're all aware that in the past years, that number was higher than ever due to events we have no control over. Keeping up with this inflation requires that the prices be increased from time to time.
Salon owners earn more when Trafft manages their salon
Trafft can help you earn more as a salon owner because it manages and automates core aspects of running your business. From easy upsell and cross-sells with extra services, to easy scheduling for customers, you can earn additional revenue and spend less time on repetitive tasks.
With the professional business dashboard, you can easily track your salon's performance and see whether you're achieving your goals. You'll see important data in one glance, from new customers, and repeat customers to the most profitable services in your salon.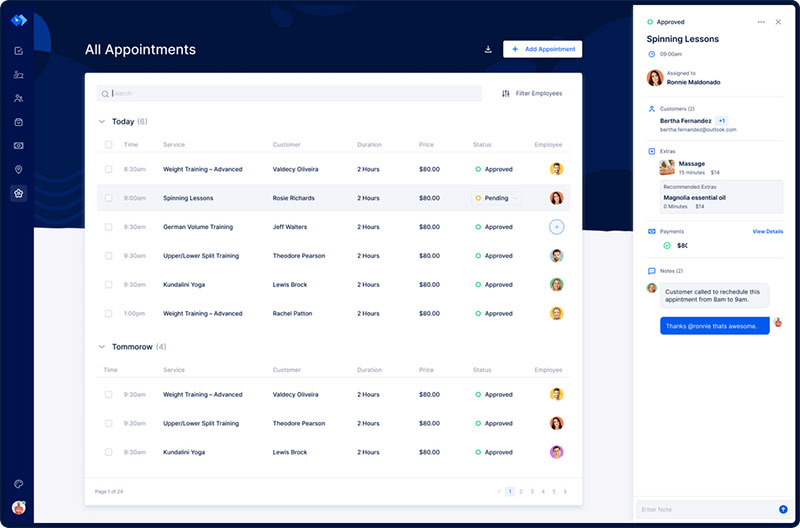 Having all these possibilities at your fingertips will help you relax and focus on other important tasks, while Trafft manages your salon effectively.
When you have the power of knowledge, you'll know exactly how to tailor your business, make your salon more profitable and earn more yourself.
Try Trafft for free now and become one of the top-earning salon owners!
Ending Thoughts on How Much Do Salon Owners Make
So, how much do salon owners make? Well, the answer depends on numerous factors such as location, salon size, clientele, services offered, and management skills. While there is no one-size-fits-all answer, it's evident that owning a salon can be financially rewarding for those who navigate the challenges and seize opportunities.
Salon owners have the potential to generate substantial income, particularly when they establish a loyal client base and offer high-demand services. However, it's crucial to remember that success often comes with hard work, dedication, and effective management of employees, customers, and bookings (Trafft can help you with that).
Staying attuned to industry trends, adapting to changing customer preferences, and providing exceptional customer service are key ingredients for sustained growth and profitability.