Many doubt whether they will be able to run a business with good results. That is preventing them from starting their own company, and the cleaning business is no exception. But you never know unless you try.
There are many encouraging examples of people that have started a cleaning business and succeeded. Some have done it without beginning with much money or experience.
Successful cleaning business stories can inspire you to start your own or grow your existing business. Read this compilation of cleaning business success stories and see how you can be successful.
Ten Cleaning Business Success Stories That Will Inspire You
MaidPro
Michelle Spitzer started running her cleaning business from her car. Now she owns the MaidPro Southwest Florida branch, has five offices, and over 100 employees. It has grown into a multimillion-dollar player in the cleaning business industry.
Michelle started by doing all the cleaning work herself. When her client base started growing she decided to contract some employees. She still did not have an office, so she used a parking lot as a meeting place.
One time, none of her employees showed up for work. Michelle was able to organize some family members to do the scheduled work. It was a good thing that she had a good support system as she built her own cleaning business.
MaidThis
The man behind MaidThis is Neel Parekh. He was the founder and is the current CEO of the company. Their main focus is short-term rentals such as Airbnbs and residences.
He started to create his own market by focusing on vacation homes and Airbnbs. Besides this specialized cleaning, he continued to do the usual home cleaning. Both areas grew very quickly, but MaidThis was the first short-term rental cleaning company.
Most small cleaning businesses are old-fashioned in their marketing approach. Many are afraid of entering the digital playing field. MaidThis is different, and it makes good use of modern-age marketing techniques.
MaidThis has created another advantage for itself by using remote workers around the world. What grew out of necessity turned into a major advantage. The home cleaning business now has offices in eight countries.
Go 2 Girls
Crystal Hamm owns the cleaning services business Go 2 Girls. She founded it and built it from the ground up. Now it is a multimillion-dollar enterprise.
She managed to achieve success in only three years. Crystal Hamm is more than just a lucky woman.; she chose her roadmap to success with care and made the right decisions at the right time.
She started by building an online presence. She bought a URL and started a Facebook Page. Before she did any work, she wanted people to know her company.
Her fame is all the more surprising considering that she knew next to nothing about the cleaning business when she started. But she had a dream and pursued it.
She gained the needed knowledge and expertise as she got going. For example, along the way she learned how important it is to charge the right amount. Asking too much or too little are big mistakes.
She hired her staff herself, trained them, and continued to build her presence on social media.
Better Life Maids
Next on the list of cleaning business success stories is Better Life Maids. This company has a couple behind it, Angela and Matthews Ricketts.
The interesting thing about this business is that it has a green concept. Its aim is to provide green cleaning solutions in the home that are safer for kids and pets.
Health risks are inherent to cleaning products. Most cleaning businesses won't think twice about them, but Better Life Maids ensures that it eliminates all health threats.
What else made it into a successful cleaning business? Creativity and a lot of hard work.
YOUR success story starts with a scheduling app to streamline your calendar
Staying organized has never been easier.
You can now manage your business and grow your brand with a single, powerful software that keeps all of your appointments in line, your clients organized and your business booming.
Trafft is the perfect cleaning business software for business owners who need to streamline their booking experience both for their staff and their clients.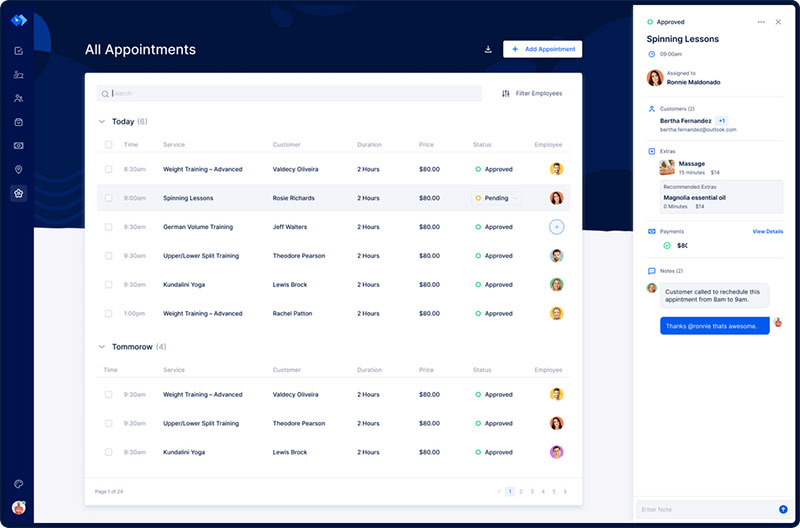 Trafft handles everything for you, even sending automated email or SMS reminders to your clients. No-shows? Not anymore!
The Trafft booking software adapts to different industries for a blissful online booking experience and employee management.
Want to know more? Check out Trafft's awesome features to see what you are missing.
Night Owl Cleaning Services
Arlete Turturro is a cleaning business owner with a degree in merchandising. She is also a licensed real estate agent. She decided not to pursue a career in either of these fields, and has now run Night Owl Cleaning Services for more than thirty years.
Arlete's business offers many services, ranging from 24-hour emergency cleaning to party and event staff. The Westchester County Business Journal featured a story on her and gave her the 2004 Woman of the Year Award.
Her business philosophy includes hard work, flexibility and openness to new ideas. Cleaning offices on the weekend does not sound like an easy way to start a career, but for Arlete Turturro it led to a success story.
Two Maids and A Mop
Another of these successful cleaning businesses is Two Maids & A Mop. The owner of this maid service is Ron Holt. He started with a capital of $150,000 and now earns some $11 million dollars per year.
When Ron started his business he wanted to focus on residential cleaning. That focus helped him to achieve his goals. He started by cleaning private homes by himself.
Later, he hired employees and started to pay attention to his business's marketing campaigns and supply purchasing. Two Maids & A Mop uses different modern marketing techniques rather than printed advertising.
Holt uses an effective yet simple reward system for his employees. They receive bonuses for each satisfied customer they serve. Clients can rate the quality of the service on a scale from one to ten.
According to the business owner himself, he always strives for the highest quality. It is not the size of his office that makes him successful; he has continued working in his original 250-square-foot company office.
Cleancorp
Cleancorp is based in Sydney, Australia. This family business has been operating for the last quarter of a century.
The idea for the company started when Hamish Macqueen had to take on a second job to provide for his family. When things got a little better, he started his own company, Cleancorp.
Cleancorp has a very personal approach to the services they offer. They keep their client interactions warm by giving out welcome cards with the cleaner's personal details. That has resulted in a 195% growth in sales.
They give those welcome cards to new customers. In the weeks after providing the first service, clients receive another personalized card and gifts. Customers feel appreciated and loved. They know that Cleancorp will not let them down and are always ready to help their friends.
Absolutely Clean
Some 15 years ago, a local charity gave Stephanie Nesseth a $65 cleaning certificate. That amount was enough to have her kitchen cleaned. This was the inspiration for her to start her own maid service. At the time of the certificate, she was an enthusiastic amateur housekeeper with a passion for cleaniness. She wanted to use this ethusasiam in her new business.
Now, her business employs 20 people to do the work, contributing to her successful cleaning business. This profitable business also has a non-profit branch that donates cleaning services.
Real World Services Company
Kyle Walker is the youngest business owner on this list of cleaning business success stories. He started his successful business in Ohio when he was only 15 years old. Six years later he had made a million dollars in profit.
When he was in sixth grade, he started mowing lawns for some pocket money. He realized he could turn it into a business as he got more and more customers. Later his sister joined him, and they started a cleaning service division. When this branch became more successful, he had to stop the lawn mowing service.
Now, Real World Services Company dedicates itself to commercial and residential cleaning.
Walker started with lawn care, but he was not afraid to change his business plan. The sky is the limit for someone that wants to work hard and has an open mind to new ideas.
A Cleaning to Remember
Inez Arevalo is her own boss, owner of A Cleaning to Remember. She got the idea to start her own cleaning business when she was unable to find a good housekeeper herself. She offers cleaning services for anyone that wants their home cleaned.
That does not mean that Inez never had problems as an entrepreneur. The biggest came even before she started. She was hesitant because she feared competition, bad reviews and even lawsuits. But she overcame her fears and found the right focus for her company.
A claim that attracts a lot of interest is that the company will remove any pet hair. While the right focus helped the business to grow, they are not afraid to expand. Now they look for new niches and are hiring employees to achieve this.
More Success Stories
The Cleaning Ladies
The Cleaning Ladies is Karen Conchie's story of a career change. She is looking for others that want to start a career in professional cleaning.
Omegasonics
Omegasonics has been in business in the Simi Valley area for more than 25 years. The owner, Frank Pedeflous, started it under the name Ultrasonic Blind Cleaning Systems. At first, it produced equipment to clean hard window coverings. He sold this company as an opportunity for startups and window covering retailers.
Cleaning Ninjas
Cleaning Ninjas claims to clean over 500 offices and residential homes each month. They offer services in 25 communities in Nebraska. For sure, their unique name attracts customers. Yet, their attention to detail and great service are what keep people coming back.
Marianna's Cleaning Co.
Marianna's Cleaning Co. is one of the many cleaning businesses in the Los Angeles area. One thing that made them successful is the option of booking online through Google Local Services Ads.
My Cleaning Angel
My Cleaning Angel is an example of a successful cleaning business that uses digital marketing. They have a website, use online ads, and use the internet to communicate with clients. They have been hiring employees all around Florida.
FAQs about cleaning business success stories
1. What are the common traits shared by successful cleaning businesses?
Strong work ethics, meticulous attention to detail, and effective communication are characteristics of successful cleaning companies.
They might also change with the demands of the market and the clientele. Moreover, effective operations, high-quality service, and satisfied customers are priorities for successful cleaning businesses.
2. How do successful cleaning businesses acquire new customers and retain existing ones?
Online advertising, social media, and recommendations from pleased clients are just a few of the marketing strategies used by successful cleaning companies.
In order to assure customer happiness and loyalty, they also offer great customer service and follow-up. Also, to satisfy the needs of their clients, successful cleaning companies provide competitive pricing and versatile service alternatives.
3. What are some effective marketing strategies for cleaning businesses to grow their customer base?
Creating a strong internet presence, utilizing testimonials and recommendations, providing special discounts, and taking part in neighborhood events are some efficient marketing techniques for cleaning companies.
Cleaning companies can efficiently reach their desired clientele and raise brand awareness by developing a targeted marketing strategy.
4. How do successful cleaning businesses ensure high-quality service and customer satisfaction?
To guarantee that its staff members are aware of the most recent cleaning methods and supplies, successful cleaning businesses place a high priority on employee education and training. In order to pinpoint areas for improvement and guarantee client happiness, they also have a system in place for quality control and consumer feedback.
5. What are some effective ways to manage costs and increase profitability in a cleaning business?
Optimizing scheduling and route planning, streamlining operations through automation, and negotiating advantageous supplier contracts are all examples of effective cost management techniques for cleaning services.
Offering extra services, like deep cleaning or specialized cleaning, can also help cleaning businesses become more profitable by creating new revenue sources.
6. What role do technology and automation play in the success of a cleaning business?
Automation and technology may boost production, save costs, and improve operational efficiency for cleaning companies. Software for scheduling and billing, tools for route optimization, and robotic cleaning equipment are a few examples. Cleaning companies can streamline their operations and give their clients better service by implementing these technologies.
7. How do successful cleaning businesses manage and motivate their employees?
Effective cleaning companies place a high value on employee training and development, provide competitive pay and benefits, and offer chances for professional progression.
They also encourage a productive workplace environment that encourages collaboration, communication, and worker involvement.
8. What are some common mistakes that cleaning businesses should avoid to achieve success?
Underestimating the value of client service, neglecting employee growth and training, failing to adjust to shifting market conditions, and failing to invest in technology and automation to optimize operations are all common errors that cleaning businesses should avoid.
9. How do successful cleaning businesses differentiate themselves from their competitors?
Offering outstanding customer service, aggressive pricing, adaptable service options, and specialized services that address certain client requirements helps successful cleaning businesses stand out from the competition.
Through successful marketing and branding techniques, they also develop a distinctive brand identity.
10. What are some key metrics that cleaning businesses should track to measure success and identify areas for improvement?
Customer satisfaction levels, employee turnover rates, revenue growth, profit margins, and operational effectiveness are important KPIs that cleaning businesses should monitor.
Cleaning companies can find areas for development and make data-driven decisions to increase success by routinely tracking these variables.
How Do You Write One of Your Own Cleaning Business Success Stories?
There are many foundations for a successful cleaning business story. Here are some from the success stories mentioned above:
A specialized focus
Effective time management
An effective cleaning system
Good marketing
Quality prioritization
It is smart to have a complete idea of how you want to structure your business. That will give you guidance and confidence in decision-making. It will help you to set prices and choose cleaning materials and service areas.
Marketing is one of the most important pillars of a successful cleaning business. In this era of the internet, there are many affordable options. You can also still use word-of-mouth and printed ads. But don't forget about Google Ads, email marketing, and other digital approaches.
Hopefully, these cleaning business success stories will help you to create your own success story.
If you enjoyed reading this article about cleaning business success stories, you should check out this one with cleaning service agreement templates. 
We also wrote about similar subjects like what to put on a cleaning service flyer, how to advertise your cleaning business, and how to run a successful cleaning business.