You've thought about setting up a business, but you have no working capital or enough startup funds in the bank. You should consider starting a service business.
New entrepreneurs tend to be drawn to service business ideas, as they're more straightforward to establish than product-oriented businesses. Virtually every industry consists of service-based businesses (which can involve anything from catering and coaching to marketing and IT).
If you're searching for outstanding service businesses examples, then keep reading. We've collected some of the best suggestions for service-based businesses—most of which incorporate an online business model—that you can establish now.
Coaching And Consulting Services
Career Coach
The COVID-19 pandemic urged many to re-evaluate what they wanted to achieve and focus on in their professional lives. But many remain uncertain about what to do.
A career coach is someone who can spot and encourage a person's most efficient work skills and strengths and use that to find the best professional fit for them. Having experience in psychology, human resources, or even talent management is an added bonus if you're thinking of offering a career coaching service.
Executive Coach
When an executive is looking to realize set goals and level up their leadership game, they can turn to executive coaches. An individual or company would hire such a service provider for one of their executives or a promising employee.
Business Plan Consulting
All businesses hit their highs and lows. A business plan becomes an invaluable tool in evaluating and resolving such issues, as well as acquiring financial assistance.
Your effective writing skills, knowledge of spreadsheets and a general grasp of good business practice can help your customers put together a powerhouse business plan.
Real Estate Consultant
Market analysis and lease and assets management are just some of the specialized services a real estate consultant provides for clients.
In this service-based business, you also have the option of offering an hourly rate while assisting your clientele with the various procedures involved in buying and selling property.
Financial Advisor
Professionals in financial consulting services advise their customers when it comes to taxation, debt, how to save money, insurance, and retirement plans. They also provide investment services.
As a financial advisor, you're showing people how best to manage their income. You aim to fulfill your client's specific needs while analyzing their financial goals. With this data you're then able to put together an optimal financial plan and services package.
Fitness Trainer
You love being at the gym and have honed your abilities and strengths when it comes to various exercise and fitness methods.
Seeing people reach their fitness goals is one of your main goals, and with a great wellness services website, you can oversee your class schedules and give your clients a first-rate fitness experience.
Other Personal Services
Online Teaching
Online learning and digital class platforms are some service businesses examples that have really grown in popularity.
You can create online learning content as a means of passive income drawn from a variety of learning course sites. But once your income starts to increase, you could even look into creating your own online learning website.
Massage Therapy
Who doesn't need some stress relief and loosening up in this 24/7 world? A massage therapist does just that, by using various techniques to alleviate stress and injury issues, provide relaxation, and preserve general wellness.
You would determine your client's particular needs, then compile a comprehensive plan for them. For example, someone struggling with severe back pain would need a plan designed to focus on reconditioning the muscles in that target area.
Beauty Salon
Beauty salons/parlors can provide services and products for their customers that bring out the best in their appearance—and calm the mind.
To run a successful business in this service industry will require a capable team, a creative and versatile marketing strategy, and of course, a suitable location.
Professional Organizing
Some of us exist in chaotic spaces—and if you're a well-organized individual who can convert a cluttered space into a functional, cozy spot, then this is the job for you.
Personal services like assisting clients in learning how to reduce the things they own and sustain an orderly space.
Take photos of these neat and organic spaces (with permission) in order to build a vibrant portfolio for social media—and watch as potential customers stream to your business.
Custom Meal Delivery Service
You often get complimented on your delicious dishes, and you've got a flair in the kitchen. With experience in creating a wholesome menu and research on current food trends in your neighborhood, you could start a rewarding service-based business cooking and delivering meals.
Dry-cleaning Service
If you have moderate startup capital and a solid business plan, you could start your own business in dry-cleaning. But if you don't have those resources available (yet), you could start by outsourcing the dry-cleaning while promoting the service to potential clients.
Auto Mechanic
An automobile mechanic offers services related to vehicle repairs and maintenance. Some of the services provided include finding problems through diagnostic testing and working to get the vehicle running smoothly again.
Customers are kept up to date with all repair work, as this may incur extra charges.
Car Washes
A car wash facility offers various cleaning services depending on what the client is looking for.
The systems used can range from a standard wash (including rinsing off dirt, washing with specific products, polishing of the car, rims, etc.), to an elaborate car wax job.
Car Rentals
Before going into car rentals, do your research. It requires a big financial investment and solid management experience. You would aim to position your service business in a highly populated locale with business blocks and entertainment hotspots.
Running a car rental business entails devising a schedule for customer reservations, and then providing the car. Financially, though, it can prove to be a worthwhile setup.
Tow Truck Service Business
This particular business helps owners of vehicles wrecked in accidents or discarded on the road by towing them to a garage or service station.
If you have enough money to invest in this sort of business and adequate knowledge when it comes to vehicle breakdowns and accident hotspots, why not start a tow truck service business?
Telephone Answering Services
Some companies need to outsource incoming calls. A telephone answering service gets the job done by filling the role of a virtual assistant.
Your success story starts with a scheduling app to streamline your calendar
Staying organized has never been easier.
You can now manage your business and grow your brand with a single, powerful software that keeps all of your appointments in line, your clients organized and your business booming.
Trafft is perfect for business owners who need to streamline their booking experience both for their staff and their clients.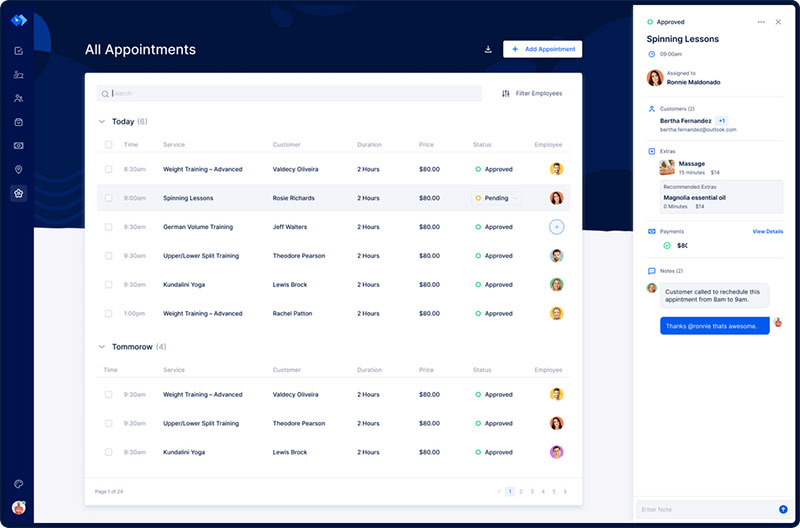 Trafft handles everything for you, even sending automated email or SMS reminders to your clients. No-shows? Not anymore!
The Trafft booking software adapts to different industries for a blissful online booking experience and employee management.
Want to know more? Check out Trafft's awesome features to see what you are missing.
Marketing Services And Sales
Online Reselling
While it might not sound like a "typical" service business, online reselling can grow from a side hustle into a lucrative business.
By means of marketing strategies, you promote other people's products online via websites such as Shopee, Poshmark and Amazon (and use their affiliate marketing program).
Graphic Design
Talented graphic designers are sought after by individuals looking to design and develop books, brand logos, magazine covers, advertisements, webpages, and more.
They sit down with customers and discuss the direction their clients want to take their ideas—finding out the "what?" "how?" and "why?"
SEO Strategist
SEO is the system used to help a particular website rank high when people use Google, Yahoo!, or Bing search engines.
If you know SEO inside out, you could improve the ranking of businesses on various search engines. It's an in-demand service, since thousands of websites are being developed every day. Sadly, the majority flounder due to inadequate knowledge of online marketing strategies.
Market Research Services
Market research is vital for the success of any business, big or small. Provided you have experience with this specific service, you could earn a good income supplying various businesses with detailed market research.
Online Advertising Consultant
In order to stand out from the competition, business websites need a solid advertising strategy. As an online advertising consultant, you would compile such a plan based on your experience and expertise.
Public Relations Agency
You have a knack for establishing professional relationships, reaching out, and telling an engaging story. Why not consider working in the competitive but exciting world of PR?
Using your networking skills to connect with the media, you'd help position your client's brand in the spotlight with a distinct marketing plan or press release, for example.
Content Writer
Businesses across industries are waking up to the power of content writing and its ability to promote brands throughout the digital landscape.
Professional writers and freelancers are taking advantage of fantastic opportunities since most businesses outsource their content writing jobs.
Support And Admin
Virtual Assistant
A great number of companies—big and small—are saving time and resources by outsourcing an assortment of business administration and management tasks to virtual assistants (VA).
A virtual assistant works remotely in a supportive role to boost the productivity and proficiency of the company.
Online Bookkeeping
Bookkeeping and accounting services can be provided online to various individuals and companies using up-to-date and efficient software tools.
If you're an experienced accountant, or you're just starting out, online bookkeeping is one of the service business examples you could consider.
Translation Services
The internet has made it possible for companies and businesses to connect with various markets around the world. It is no wonder that massive growth has been predicted for translation service businesses.
If you're multilingual and understand the jargon of a specific industry, you could position yourself successfully by offering your services translating documents or website content.
Data Analyst
Good decision-making is key to running a successful business, and that's where a skilled data analyst comes in. You would review and interpret the data so as to determine concrete objectives for the business.
While a background in data analysis isn't necessary, there are many courses to choose from that could bring you up to speed.
Home Services
Eldercare and Companionship
This is a non-medical care service providing care and companionship for the elderly.
You would assist with some housekeeping, prepare meals, go out with clients when needed, and keep them active and engaged in both a mental and physical capacity.
Certification courses are required in order to help you learn and develop the necessary skills for effective eldercare.
Handyman
If you're "handy" with a toolbox, you could find yourself in demand in and around your area. The majority are willing to pay well for touch-ups, furniture assemblage and repair, paintwork, and similar projects.
This is a good service business for retired carpenters and construction workers with a valid license looking to do small jobs here and there.
Tree Service
Tree services involve a wide array of tasks, which include tree rescue, removing roots and branches, and pressure cutting, among others.
You can earn a decent once-off payment with installation, removal, and emergency services. But consistent work is found by offering monthly trimming and pruning of trees. Most of your revenue will come from property maintenance services.
Lawn Care
Do you like working outdoors and designing eye-catching landscapes?
All you'll need to start your own lawn care business is a trailer, a small team, and some essential equipment. As you build your brand by providing top-quality services, you can expand from a modest lawn service to a landscape management services company.
House Staging
House staging is a services businesses example of a job that requires talent in both networking and interior design.
You would need to establish a working relationship with furniture rental companies and get a good sense for the estate agent's overall picture of the property. And you would, of course, coordinate the staging and dismantling processes.
Interior Decorating Services
Trying to create a home space that feels authentic and unique to our specific tastes is overwhelming for most of us.
A good interior decorator not only has a gift for combining design elements, such as color and texture, but they also save money by hunting for bargains that will turn any space into art.
Cleaning Service
Cleaning and housekeeping services are in constant demand, no matter where you are.
Turn your cleaning efficiency into a profitable service business. Minimal capital is required in the beginning, since you'll only need basic cleaning products and maybe a handful of staff. Why not offer premium packages that include floor waxing or an exterior wall power wash to help you stand out from the competition?
Nanny Placement
Modern life is frenetic and for busy parents, a nanny is an invaluable asset to the family.
Nanny-placement agencies save parents time and stress when they screen potential applicants. They do this by scrutinizing references, taking personality differences into account, and creating functional timetables for everyone.
Computers And Technology
Computer Repair
Computer repair and cleaning is one of those service businesses examples worth considering. Why? Because anyone who owns a computer either ignores or avoids having to do one or the other.
A well-rounded computer tech could open up weekends and weeknights to profit from this IT side hustle. They could offer their services by installing updates, troubleshooting system issues, or cleaning out vents.
3D Modeling & Animation
3D modeling is commonly used in the architectural and engineering industries. With this skillset, you can model and visualize various structures, model and design various products, create characters and animate clips, and even put together e-learning materials.
Website Design
Transform your web design skills into a business. Create a steady revenue stream by designing engaging websites for individuals and companies.
Even a little technical and design knowledge is enough to get by since there is a variety of high-quality software available for web designers. Apart from creating sites, you will also need to help clients maintain their websites and keep them current.
Talented web designers are sought after by individuals looking to design and develop websites or web apps.
You can use modern web design tactics that are currently being implemented by any trendsetter creative web designing company.
Web Development
In the world of web development, creating user-friendly websites and applications is paramount. Utilizing functional testing ensures that every element operates seamlessly, providing an optimal user experience. With expertise in this area, your service business can offer robust web solutions to clients ranging from small startups to large corporations.
App Development
Mobile app development is growing at breakneck speed.
If you've got the talent for coding and software development, this is one service business worth investing in. You would work at developing apps for up-and-coming businesses, small organizations, and startups. It's a good idea to first get some experience taking on small clients before going after bigger companies with bigger earning potential.
Event Services
Photography
Here is a service business concept that lets you earn good money from doing what you're passionate about: photography.
It's important to have a standout, professional portfolio ready, and to invest in industry-standard equipment. Also, be willing to work on the weekend and in the evenings, as this is when your clients will need your services most. And you might want to look at hiring an assistant.
Owning a Food Truck
Renting restaurant space is expensive and difficult to come by. So, take your culinary talents on the road with a food truck.
These "meals on wheels" come in a variety of sizes, and you can cater to all sorts of neighborhoods and taste buds by offering a particular style of food.
Bartender for Hire
Unless you've earned your stripes in mixology, this particular service-based business requires you to learn a little something about making drinks, but the good news is that expenses aren't high. And it's fun!
There is a growing demand in a niche market for skilled bartenders who look to add to the sophistication of an event hosted by their clients.
Wedding Planning Service
This is a great service business idea to consider if you love the romance of weddings and have a gift for being organized and focusing on the details of event planning.
Worth keeping in mind is that the demand for experienced wedding planners has grown in the past decade.
Corporate Event Planning
With a corporate event planning business, you coordinate talks, workshops, parties, and more for businesses in a variety of industries.
Online tools can be used to help you set up webinars, summits, and online conferences to support businesses in promoting their brands and getting their message out there.
Limousine Service
Invest your startup capital in a stylish limo and some necessary insurance, and you've just started your own service business.
As your business gains momentum, you can add to your fleet of limousines and employ more drivers. This will boost your reputation. And your revenue.
FAQs about service businesses examples
1. What are some examples of service businesses?
Restaurants, hotels, accountancy and consulting firms, healthcare providers, and cleaning services are a few examples of service-based enterprises. Instead of actual goods, service businesses offer intangible goods like knowledge, interactions, and experiences.
2. What are some common challenges faced by service businesses?
Service companies frequently struggle with managing client expectations, providing consistent quality, controlling costs and pricing, and controlling worker turnover. Moreover, service providers need to adjust to shifting market conditions, consumer wants, and expectations.
3. How do service businesses differ from product-based businesses?
Service firms provide intangible items, such as expertise, experiences, and interactions, as opposed to real products, making them different from product-based enterprises. Furthermore, strongly reliant on customer contacts and connections, service industries demand a high level of specialization and knowledge.
4. How do service businesses market themselves effectively?
Understanding their target market and their needs, defining their distinctive value proposition, and utilizing a combination of traditional and digital marketing channels to reach and engage prospects are all ways that service organizations can effectively market themselves. Content marketing, social media marketing, email marketing, and influencer marketing are all viable marketing techniques for service organizations.
5. What are some key performance indicators (KPIs) for service businesses?
Customer satisfaction, customer retention, average revenue per customer, cost of customer acquisition, staff utilization rate, and profitability are a few examples of key performance indicators (KPIs) for service firms. Other measures, such as lead generation or brand awareness, that are connected to certain business objectives may also be tracked by service businesses.
6. How do service businesses measure customer satisfaction?
A variety of tools, such as surveys, customer feedback forms, social media monitoring, and online reviews, can be used by service organizations to gauge client satisfaction. Data on customer satisfaction can be used to pinpoint problem areas and create plans to improve the customer experience.
7. What are some trends in the service industry?
The use of technology to improve client experiences, the rise of subscription-based services, and the elevated status of sustainability and social responsibility are some trends in the service sector. Additional trends can include the development of specialized service providers and the application of data analytics to improve business operations.
8. How can service businesses adapt to changing customer needs and expectations?
By routinely tracking consumer feedback and industry trends, investing in employee training and development, and creating novel new services and experiences that address evolving customer wants, service organizations may adapt to shifting client needs and expectations. Also, service industries need to be flexible and sensitive to shifting consumer trends and market dynamics.
9. How do service businesses maintain quality and consistency in their services?
By creating standardized processes and procedures, spending on employee training and development, and utilizing technology to automate and simplify operations, service organizations may maintain the quality and consistency of their services. Service providers may ensure that they are providing high-quality, consistent services by conducting regular performance monitoring and quality assurance assessments.
10. How do service businesses price their services?
The cost of delivering the service, the value provided to customers, and the level of industry competition may all affect how much service businesses charge for their products. While certain service industries may charge by the hour, by the project, or by the retainer, others may adopt tiered pricing or value-based pricing methods. Depending on the service being offered and the target market segment, several pricing techniques may be used.
The Benefits Of Service Businesses
This compilation of service businesses examples proves that anyone looking to start their own business and be an entrepreneur should definitely consider the perks of establishing a services-based business.
Put your expertise to good use and concentrate on what interests you most, while providing people with the services they need. Additional points when it comes to running such a business include:
Minimal expenses and greater profits
Specialization in a certain skillset is valuable and in demand across various markets
Flexibility and adaptability in your professional life
Opportunities to keep expanding
There are a variety of interesting services that are highly sought after with many lucrative possibilities; why not consider putting your unique stamp on a services-based venture?
If you liked this article about service business examples, you should also check out this one with the gross margin for a service business.
We also wrote about similar topics like how to value a service business, how to start an answering service business, how to create a tree service business, the most profitable service businesses, home service businesses you can try, and the KPI for a service company to monitor.