After the long pandemic restrictions, home service businesses have recently begun to recover. Since all activities are resuming normal services, many homeowners have revised their plans regarding their properties. This has caused a sudden resurgence in the contracting industry, which is also revitalizing other businesses as well, specifically home service businesses.
The home services industry has many perks, besides the minimal investment required to get started. Home service businesses have many other perks, such as being your own boss, working from home, and spending more time with family or friends. But, what is the difference between a service business and a home service business? And which businesses can act as home service businesses?
Here are some home service businesses that could see rapid growth in the future.
Junk Removal Service
While waste removal may not be one of the most common personal service business ideas, it has amazing potential. Junk removal businesses can often be jump started by contracts from big companies, as well as sustained by small businesses.
To get started, you would need equipment such as a truck, shovels, garbage cans, a sledgehammer, and more. But what's more, you get the opportunity to improve the accessibility of recycling units, therefore creating a more sustainable future.
Garage Door Installation and Repair
Nowadays, garage doors are a big part of the appeal of a home, especially when looking from the outside. If you enjoy working with your hands, then garage door installation and repair would be a great business opportunity for you.
This does come with an investment, as you will be working with garage doors at least 10 feet (about 3 meters) off the ground. This means that you may want to invest in a hydraulic jack to lift garage doors without causing any physical injuries.
Painting
Painting is a business that is always in demand. Not only do all homes need to be painted, but also all offices, restaurants and apartments. Startup costs are also very low when compared to businesses with complex infrastructure and equipment.
It can also be very easy to market yourself in the painting industry. There are many marketing options available that most solopreneurs are not currently using. This means that, if you market yourself using a website, social media, or any other way to be discovered online, you can give yourself a boost in the industry.
Home Remodeling
Although many people like to DIY their own remodeling jobs, often projects need professional help. If you are a home remodeling contractor, these next few months would be a great time to start a social media campaign to take your business to the next level.
Often, finding leads as a remodeling can be difficult due to the DIY mindset people often have, but that isn't necessarily true. The truth is that many people don't want to spend time remodeling their home, and will quickly turn to you when they find that they are in over their heads.
Pet Sitting
Do you love being with animals? Then why not get paid for spending time with them? Pet sitting can be a very accessible business opportunity for anyone. Many pet-sitting apps can help you get started and, eventually, help you become a freelancer. You can even include more services, such as pet grooming and a dog walking service, to further improve your business.
Just like most of the businesses on this list, pet sitters are effectively freelancers. This means that they can limit their work to their availability. This may sound perfect, but remember, freelancing is not free from difficulties. Freelancing can often be a very competitive field where the lowest price wins. This can make pet sitting a challenging, yet not impossible, full-time business.
Pool Installation/Maintenance
Pool installation and maintenance is one home service business that is having a lot of success today. Pools increase both the value of homes and their party value. Needless to say, there is a big demand for them.
As an on-demand service, people will call you directly when they need your services. This means that you don't need a brick-and-mortar location, which can greatly save start-up costs. All you need to get started is a truck and some basic tools.
Window Cleaning
Windows get dirty, it's a fact. Often, homeowners are too busy to clean them. This offers you the opportunity to make money by providing your community the valuable service of window cleaning.
Often, people make the mistake of starting out without any equipment, an easy but disastrous mistake. If you decide to pursue window washing, you will need the equipment and supplies of the trade. Spending a few hundred dollars on equipment can save you thousands in the long run by removing rental costs.
Home Cleaning Services
One home service industry that has particularly promising growth is that of home cleaning. People cook more instead of eating out, people have their work papers delivered to their homes, people are using their houses more. This has caused a large growth in day-to-day wear and tear, and now everyone needs a house cleaning business to help, whether they know it or not.
Although there is a demand for cleaning services all year round, you may want to focus your marketing strategies towards the traditional "spring cleaning" to start. From there on, you can begin building relationships that could lead to year long contracts.
Your success story starts with a scheduling app to streamline your calendar
Staying organized has never been easier.
You can now manage your business and grow your brand with a single, powerful software that keeps all of your appointments in line, your clients organized and your business booming.
Trafft is perfect for business owners who need to streamline their booking experience both for their staff and their clients.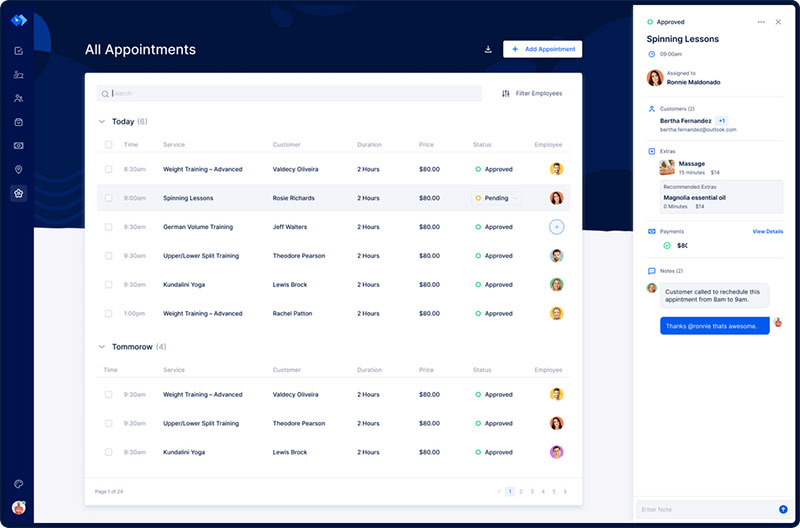 Trafft handles everything for you, even sending automated email or SMS reminders to your clients. No-shows? Not anymore!
The Trafft booking software adapts to different industries for a blissful online booking experience and employee management.
Want to know more? Check out Trafft's awesome features to see what you are missing.
Lawn Care Service
Lawn care is one of the industries that saw the most growth during the pandemic. Lawn businesses can often be ideal due to their customizable, stable and reliable nature.
Lawn care services have also recently been popularized by the large number of first-time homebuyers. There are many people today that have recently come into possession of yards that they either don't want to or don't know how to take care of.
This is where you come in. You can be a source of relief from the piling yard work that they have on their plates. It may not be easy when starting, but it can be very profitable in the long run.
Interior Design
People have been getting more and more specific about their home design over the years. This has brought the market of interior designers out of the 1% and into the home service market.
That's not all. While many home service businesses stick to houses, interior designers have incorporated interior design as an option. This means that interior designers can work with big companies designing hotel lobbies, resorts and even meeting rooms.
If you want to start out designing interiors with your own business, check Pinterest out. There you can find many ideas that you can get inspiration from for future projects. You can also use social media to help build a network around your design skills.  Show people what you can do and they will come to you.
This is where a portfolio will make a big impact. You may want to consider working for free before taking the leap to full-time entrepreneurship. Doing so can help you build a network before putting too much on the line.
Home Removal
Home removal is easily one of the best on-demand home services today. People are moving all the time and they need help when packing and moving their belongings. If you are looking for a service business idea that gives big revenue, look no further.
When starting your own home removal business, you will need to invest in equipment. You will need boxes, tape, markers and a vehicle big enough to transport large items, like furniture. You can help lower the hit of purchasing that equipment by offering discounts to customers who purchase packing materials from you, which always helps.
Carpet Cleaning
As one of the more popular home service business ideas, carpet cleaning can be a great way to start out as a home service business. Everyone has at least one carpet, and it will get dirty. This means that people are almost always searching for a reliable carpet cleaner that gets rid of stains, bugs and allergens.
This doesn't come without an investment, as you will need to buy a good vacuum cleaner, carpet brushes and reliable cleaning agents. This also includes learning about the newest carpet cleaning techniques to further improve your business.
Lastly, you can also invest some time doing market research. You can start by asking around in your neighborhood for house cleaning service requirements.
Solar Energy Business
Although it may sound like science fiction, solar energy businesses can be a great way to start your own home service business. And it helps the environment! Recently, there has been a massive demand for residential solar panels, and these businesses have been popping up as a result. As a solar energy business, you would spend your time both installing panels and providing maintenance and repairs.
Residential HVAC
HVAC, or heating, ventilation, and air conditioning is one of the most commonly requested home services. Therefore, it is currently one of the best home service businesses you can offer.
The reason for this is mainly twofold. First of all, HVAC systems are a necessary part of any home. Secondly, they can be very expensive to install and maintain. This makes them one of the perfect targets for on-demand home services.
One of the best things about starting a residential HVAC business is its lack of overhead. You can start your own business with just a few hundred dollars in equipment and supplies.
If you liked this article about home service businesses, you should also check out this one with service business examples.
We also wrote about similar topics like how to value a service business, how to start an answering service business, how to start a tree service business, the most profitable service businesses, the gross margin for service businesses, and the KPI for a service company to monitor.