Telephone answering services can be an amazing way to start a relatively inexpensive home business. Often, small businesses are too busy to spend time answering incoming calls, let alone spend money to have employees working 24 hours a day. Instead, many business professionals rely on outsourcing so clients' needs can be met quickly in an affordable way. .However, many people don't know how to start an answering service business or what this entails.
In the following article, you will learn both how to start an answering service business, and what equipment you will need to purchase to get started.
What is a Telephone Answering Service (TAS)?
Telephone Answering Services have acted as virtual receptionists for companies for many years. It has been an easy way to interact with customers without using too many company resources.
Usually, telephone answering businesses use a business phone tool to provide services such as answering incoming calls, answering basic customer questions, forwarding messages, and often, additional office services like sending emails and faxes.
Rates usually depend on the number of services provided, but the standard rate for answering phone calls generally starts at $200 a month.
As you may be realizing already, the power of answering service businesses is great. If you can get 10 to 15 clients, you could easily generate business revenues in the range of $3000 to $5000 a month. But,  how can you start your own answering service? Listed below are 6 easy steps that you need to follow.
6 Steps to Start Telephone Answering Service Business
1. Research Your Target Market
Keep in mind that any business can benefit from a telephone answering service, many of which involve the use of different strategies when picking up the phone.
Of course, all companies would prefer a more pleasant way of dealing with the clients over the phone, but some may require of you to be more upfront, while others may want to take it slow.
As an example, emergency service providers need in-person operators to answer calls, and they need them to get straight to the point when dealing with clients.
On the contrary, a massage center may want their clients to feel welcomed when calling, so they may prefer you to have a conversation with their clients, rather than being direct.
This means that you may need to be specific when you market your business, and that requires market research and feasible studies. As a business owner, who do you want to conduct business with? Once you know this, you can start creating your business structure.
2. Choose Your Location
Now that you know what type of business you want to create, it's time to choose where you want to create it.
This question covers mainly two areas, would you like your employees to work remotely or in an office building? Both options have pros and cons, and while it may seem like working from home is easier, there are some good reasons to choose an office as well.
Working in a specific location is often the preferred way of running a business. Not only does it give the manager more control over the quality of calls, but it also helps encourage business ideas among coworkers.
That isn't to say that working from home doesn't have advantages. Working online means you can hire employees from different corners of the world, and therefore, can have employees in different time zones. This can allow your employees to take calls even after business hours, which, in turn,  can help your business greatly.
3. Talk With Your Telephone Provider
Before you create your business, you will need to check with your telephone provider to see what scope the business can reach. Certain phone companies have limits on individual phone lines, and others have limits for residential neighborhoods. This means that you will have to plan how many clients you wish to do business with, and then install as many phone lines as necessary to support that number.
4. Write Out A Business Plan
A business plan can often seem unnecessary and tedious, but it can be one of the most important aspects of a successful company. It gives you a road map of both what you want to do, and how to do it. It also lets you concentrate all your ideas in one location so that you can build them up from there.
Although a business plan is important for any business, it can be especially important when you are trying to figure out how to start an answering service business on your own. You need to decide whether you want to structure your business as a partnership, proprietorship, corporation, or LLC. This is also often where you should determine how much money you think you can earn, and how many clients you will need to make a profit.
5. Register Your Business
It can be difficult to market your business if you don't legitimize it. That means that you need to register your company with the secretary of state to get started. You can also maintain the business as a sole proprietorship instead. In this case, you register your business with the county clerk.
Next, you will need to get a tax identification number from the IRS office. You can check your state franchise tax board at the local chamber of commerce to find out which permits and licenses your business might need. In addition, you can talk to your accountant about the required taxes for answering service businesses, depending on your business structure.
There are also some basic licenses and permits that every startup business in America needs. These include:
Sales tax permit
Federal/state tax identification number
General business license
Environmental permits
Health permits
If your employees work from home, you may not need some of these permits. This depends on which city/state you live in. So please, do some research or talk to your accountant about it.
6. Create a Bank Account For Your Business
Another key step in starting a business is to open a bank account for your business. This account will cover business expenses such as bills and any other equipment you need for answering phone calls.
You should deposit business income into this account as well. You can then use this income to pay employees or cover any other necessary expenses that may come up. Doing so will let you see easily how much capital you have stored, which in turn can help influence your business decisions in the future.
Your success story starts with a scheduling app to streamline your calendar
Staying organized has never been easier.
You can now manage your business and grow your brand with a single, powerful software that keeps all of your appointments in line, your clients organized and your business booming.
Trafft is perfect for business owners who need to streamline their booking experience both for their staff and their clients.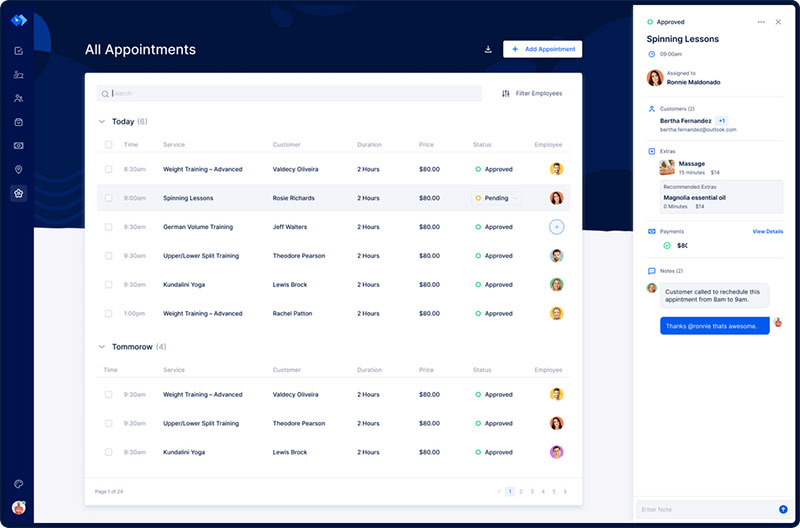 Trafft handles everything for you, even sending automated email or SMS reminders to your clients. No-shows? Not anymore!
The Trafft booking software adapts to different industries for a blissful online booking experience and employee management.
Want to know more? Check out Trafft's awesome features to see what you are missing.
Basic Equipment Necessary To Get Started
Choosing which and how much equipment you need will be decided based on your budget and your objectives. It can either be as small as individual phone lines or as large as computers that display messages or record messages for new clients. The more advanced the equipment, the more money is needed to purchase it.
A little piece of advice: start small. You do not want to end up with more phone lines than clients, creating a similar situation to the one that occurred in Nay Pyi Taw.
Nay Pyi Taw is the capital of Myanmar, formerly known as Burma. It is a newly designed city that expected a great influx of people once the renovations had finished. For that reason, they created 28-lane highways, to balance things out. What they didn't expect was to get those predictions wrong and end up with huge empty highways. In a similar way, this could happen to your business if you're not careful.
Start small and find clients. You can expand from there. Just make sure you don't take the business to a level you can't keep up with. . Here is some more equipment that all telephone answering services need.
Use Virtual Phone Numbers
Using virtual phone numbers can be an excellent option, considering the mobility and cost-saving benefits. It will avoid the need for you to purchase any bulky phone equipment because any calls made towards these numbers will instantly be forwarded to the mobile or landline of your employees.
One Telephone Line Per Client
The easiest and cheapest way to start an answering service business is by using separate telephone lines or separate phones for each client. Then you can label each phone with the name of the client, therefore identifying the client when the phone rings.
However, if you have more than ten clients, you can use a switchboard from your local telephone company. By doing so, you can keep your business space effective, as well as be ready to accommodate even more clients.
Set Your Rates
Your rates will depend on the services and hours you offer your clients. As an example, you may work for a plumber collecting caller information during normal business hours for a specific amount of calls. The common price for this would most likely be $100 per month, but you could choose to charge less or more.
If, on top of this, you answer additional calls during those hours, you could charge extra. . You could even double this number if you worked during nonstandard hours (which is a plus of working from home, as different time zones can work at different times). You can also further increase this fee if you include other virtual office duties, but that's up to you.
FAQs about starting an answering service business
1. What is an answering service business?
An answering service company offers other businesses call answering and message taking services. Normally, the service is available around-the-clock, answering calls on behalf of its customers when they are not available and dispatching calls or taking messages as needed.
2. How do I start an answering service business?
You must conduct market research, create a business plan, and register your company before you can launch an answering service. In addition, you'll need to hire and train your team, set your pricing, and buy the required hardware and software.
3. What are the requirements for starting an answering service business?
Depending on your area and the sector, different regulations may apply to beginning an answering service firm. Normally, you'll need to register your firm, secure any essential licenses or permits, and make sure you abide by all applicable laws and regulations.
4. What services can an answering service business provide?
Call answering, message taking, appointment setting, and dispatching are just a few of the services that an answering service company can offer. Depending on what their customers require, they can also offer specialized services like order taking or customer assistance.
5. How much does it cost to start an answering service business?
Depending on the size of your operation, the hardware and software you require, and the cost of labor, the cost of beginning an answering service business can change. Normally, you'll need to set aside money for the price of office space, personnel pay, equipment and software, and marketing charges.
6. What kind of equipment do I need to start an answering service business?
You will need to make an investment in phone systems, computers, and software that can manage call routing, message-taking, and reporting if you want to launch an answering service firm. You could also need to spend money on office supplies like printers and headphones.
7. How can I find clients for my answering service business?
You can employ a variety of marketing techniques, including networking, social media, and online advertising, to attract customers for your answering service business. In order to encourage current customers to suggest your services to others, you may also team up with other companies or organizations that might need your services. You can also create a referral program.
8. How do I hire and train staff for my answering service business?
You will need to create job descriptions, post job openings, and hold interviews in order to employ and train staff for your answering service firm. To ensure that your personnel can offer your clients high-quality services after being hired, you must train them in phone handling, customer service, and software use.
9. How do I ensure quality control in my answering service business?
You can set up a quality management system that includes regular call monitoring, performance metrics, and client feedback to assure quality control in your answering service firm. Also, you may apply best practices for phone handling and customer care, as well as give your personnel regular training and support.
10. What are some common mistakes to avoid when starting an answering service business?
When launching an answering service company, frequent pitfalls to avoid include underestimating startup costs, failing to create a thorough business strategy, skipping the step of investing in high-quality hardware and software, and choosing employees who lack the necessary skills.
To avoid providing services that are unnecessary or of low quality, it's also crucial to make sure you have a clear understanding of your target market and the services they need.
What Comes After Learning How To Start An Answering Service Business?
Even though your company may be offering adequate services to gain new customers, your business will still need to consistently improve to be able to stay competitive. This means that you will have to research and survey your customers' needs and deliver them regularly. Knowing how to start an answering service business is only the beginning, you still need to maintain and expand your business to keep it afloat.
It is also important to be observant when dealing with competitors. There are always ways that you can improve your service, and often your competitors are the best examples of where you can improve.
In the end, you will be able to expand to the point of breaking even. This is always a great stepping stone, especially if you are the sole proprietor. Remember the sky is the limit. The only thing holding you back is you.
If you liked this article on how to start an answering service business, you should also check out this one with service business examples.
We also wrote about similar topics like how to value a service business, the gross margin for a service business, how to start a tree service business, how to sell a service business, the most profitable service businesses, home service businesses you can try, and the KPI for a service company to monitor.