If you are starting out as a personal trainer, you will most likely have seniors as initial clients.
Many seniors seek professional help for their personal health care. This helps to create a high demand for personal trainers.
Fitness training for seniors is a rewarding job and it guarantees work. Yet training the elderly group can also be challenging.
It involves changes to a trainers' personal training style. This is because training sessions are different for senior fitness.
Seniors keep their bodies active and fit through exercises. Doing light to moderate physical activities helps them maintain strength and mobility.
Being a personal trainer for seniors can be very gratifying. However, there are a few reminders and best practices to keep in mind.
These will enable personal trainers to seniors to carry out smooth training sessions.
Know What You Teach and Prepare Everything You Need
Knowledge is power, and so is preparation. =Both are equally vital when creating fitness classes.
Preparation includes taking formal education in fitness training. Also seeking help from medical professionals, and building up skills and resources.
It isn't enough to know the science behind what you do. It is also important to convert that knowledge into fool-proof, well-structured fitness classes.
It is the foundation of a deliberate and sensible plan that supports your client's needs. Think about which exercises they need, how complex the movements should be, and how they will transition from one exercise to another.
Having a clear direction and goals for every session keeps clients engaged and motivated. It will make them keep track of their progress.
Without a clear plan, clients will lose interest. Ask clients about their goals and expectations for the fitness class.
Know their reason for being there. This will help the clients to put in their best effort.
It will also help a trainer to formulate the best personalized plan for the client. They will see what other support they need, and can establish a more personal connection with their clients.
Assess A Client's Level of Fitness Before Training
The safety of clients should always come first. Knowing their goals, it is important to check and assess the status of their health.
This should be the topmost priority, especially to a personal trainer for seniors. With their age, they are very prone to health risks, so it is best to know if they are 'fit' to undergo training.
Have a little chat about their medical history. Determine if they have an existing health condition or any prior injuries or illness.
You may also require them to provide consent from their physician before proceeding with the program.
Take note of the most common health issues for older adults, such as:
heart disease
hypertension
stroke
sarcopenia or muscle loss caused by aging
osteopenia
osteoporosis or having weaker bones due to low bone density or mass
joint replacements especially for hip and knee
For clients who are undergoing rehabilitation therapy, consult their physical therapist. Keep them in contact throughout the program.
Having such information, one can build customized workouts that meet their needs.
Guide Them Every Step of the Way
When presenting an exercise or introducing a new workout to senior clients, it is natural for some to feel reluctant. They may find the movement a little bit hard or too complex, or they might become uncomfortable.
Reassuring them every now and then is one of the best ways to keep their head in the game. Remind them that their fitness plan was born out of their physical needs.
Keeping seniors motivated during training can be quite challenging. This is especially true for those who hate working out.
Exercises to improve flexibility, balance, endurance, and muscle strength can be very tough for them. They might think they don't have the stamina for such a fitness routine.
While some clients are dedicated to putting in a bit more effort, there are some who are still uneasy.
Older adults tend to be apprehensive of the exercises most of the time. Their personal trainer needs to be patient and creative to keep them motivated.
Provide enough support as you lead them on. Words of encouragement such as "You're doing a great job, do you want to try it again?" or asking for feedback like, "How was it? Do you feel comfortable with it or not?" will reassure them.
Keeping them motivated and comfortable is a must, but don't forget to set challenges for them. Create goals that they can achieve without pushing them beyond their physical limits.
Based on all the information, design a plan depending on their level of fitness.
Maintain a Low Range of Motion
The range of motion begins to slow down as a person gets older. The amount of physical movements that they can make becomes more limited.
Flexibility decreases with age, so does the ability to balance. Thus, for older clients, you must keep a lower range of motion throughout the course.
This will also help to determine their base fitness level.
In every personal training session, keep an eye on the client's form, strength, and mobility. Check if their lower back is stabilizing and if their calves are tight when doing a squat for example.
Observe if they have poor ankle and hip mobility. It may be helpful to build a personal matrix for these assessments.
Constant communication is important in personal training.
For example, your assessment may show that they are ready for a more intense workout. It would be good to inform them as often as possible, to prepare them for the next personal training session.
Older clients are often reluctant to make changes. So ask them first if they have personal concerns before proceeding with a new exercise.
A personal trainer is there to support and help them improve their health and quality of life, not put them at risk. Every personal training session should make them feel good and happy with their progress.
Train them to Improve Function
Every personal trainer for seniors should focus on helping their client improve their mobility. Also on boosting their strength, and increasing flexibility and balance.
This will help them to perform their daily functions with ease. Functional training is more suitable for a senior.
Older adults sign up for personal training because they want to live a healthy life. So make sure that the training helps them perform daily activities and become more functional.
Be Conscious of their Rate of Perceived Exertion
Perceived exertion rate indicates how intense a workout is. Physical sensations experienced during an exercise are the basis for this.
These can include increased pulse rate, breathing rate, perspiration, and fatigue. Older adults have a higher perceived exertion level than those who are younger.
A personal trainer for seniors must be aware of their perceived exertion rate.
Check their heart rate from time to time and ensure they're breathing properly. Check whether they are experiencing profuse sweating or fatigue.
Create a fitness program that includes a combination of cardiovascular exercises and muscle-strength training. You may suggest taking yoga or pilates classes.
Ask them which activities they prefer to design a program that will keep them interested.
To determine a client's perceived exertion rate, make sure to warm up first. After warming up, the client may begin with walking or cycling at a very low speed.
Check if the client feels any slight pain or discomfort and which part of the body. Take note that older adults often feel pain in their hips and knees.
Keep on asking for any physical pain throughout the training.
Use the rated perceived exertion scale to monitor the exercise. It will help to determine which exercises are easy and difficult for the client.
Older Does Not Mean Weaker
Many assume that a senior has lower stamina so they can only sit on a stationary bicycle, walk on a treadmill, and do a couple of squats.
Never underestimate senior clients. Their age should not prohibit them from doing high-intensity interval training (HIIT) sessions.
The U.S. Department of Health and Human Services (HHS) 2018 guidelines say that intense workouts can help seniors improve their stamina. This, in turn, may help them live longer.
Even so, please remember that personal training must have clear and attainable goals. It should focus on helping older clients perform daily functions.
Try introducing a workout that helps strengthen their lower body muscle. This will help them maintain their balance.
Another thing to work on is flexibility.
Minor stretches can elongate their muscles and increase their range of motion. This will help them relieve soreness and stiffness when they wake up.
Three Things Senior Clients Hate
Congested space
Nobody wants to exercise in an overcrowded gym. Imagine waiting to use the equipment, the washroom, and even a spot in the mirror.
Imagine working out in a space with so many people. There is a high chance of bumping into people, getting hit by equipment, or tripping over an object on the floor.
The room gets warmer, and the place gets louder. It is total chaos.
An overcrowded gym is a nightmare for a senior. Make sure to have a spacious room for them with a limited number of people.
Senior fitness instructors should always provide their senior clients with comfortable surroundings. This will reduce their anxiety and make them feel more confident.
Loud and unwanted music
Listening to music during personal training can help motivate clients to exercise. Sometimes, it is easier and a lot more fun to move to a beat.
If using music in training, think about what kind of music the clients will enjoy listening to. It's probably best to avoid hip-hop music or tracks that are too upbeat.
Do some research and find out about the popular songs during their era. Or ask them about their favorite songs or favorite music artists.
Complex instructions
It's important for clients to understand what you want them to do. Being an effective coach requires a number of techniques and skills for each client base.
For a senior group, it can be quite tricky and trainers need to be creative. However, being clear and straightforward when giving directions should be a standard technique.
Refrain from saying more than is necessary. This is one of the best ways to avoid confusion.
Always model the movement when giving an instruction. Demonstrating how to do an exercise helps clients to follow through.
Trainers may also use photos or audiovisual materials such as videos.
Final thoughts on the best tips to become a personal trainer for seniors
It is a core mission of personal trainers to help their clients improve their quality of life. This is their mission regardless of the age of the client.
A simple corrective exercise can make small improvements to their health. Being a fitness trainer is a very rewarding job, but you must be certified first before anything else.
There are many certification programs available to become a certified senior fitness instructor.
National Academy of Sports Medicine, or NASM, offers certification programs in fitness training. NASM also offers advanced classes such as injury prevention and weight loss specialization.
A professional certification is a good basis for starting a fitness training business. It will help you provide better services and build a larger client base.
Getting certified is essential to keep moving forward in the industry. But it is also important to enjoy teaching workouts to clients, regardless of the age group.
Cherish your clients and they will have a greater appreciation for you. Working with seniors offers trainers a completely different experience.
Get more bookings with the right tool for the job
Staying organized has never been easier.
You can now manage your business and grow your brand with a single, powerful software that keeps all of your appointments in line, your clients organized and your business booming.
Trafft is the perfect personal trainer software for business owners who need to streamline their booking experience both for their staff and their clients.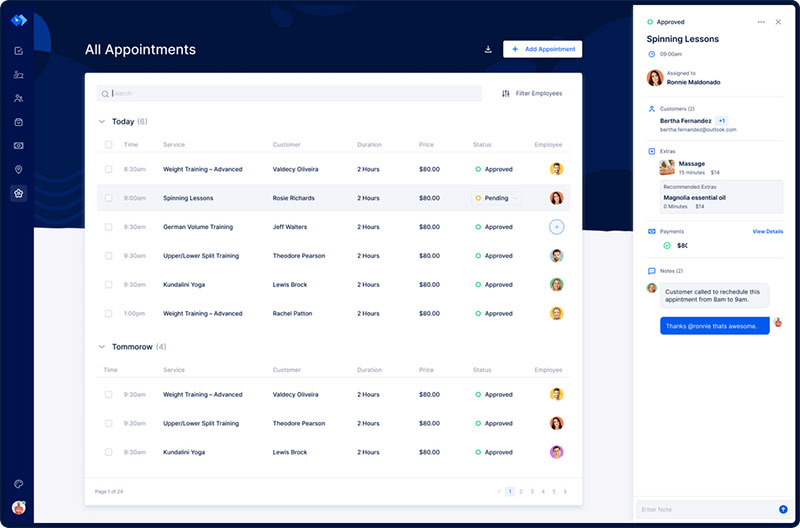 Trafft handles everything for you, even sending automated email or SMS reminders to your clients. No-shows? Not anymore!
The Trafft booking software adapts to different industries for a blissful online booking experience and employee management.
Want to know more? Check out Trafft's awesome features to see what you are missing.
If you enjoyed reading this article about personal trainer for seniors, you should also check out this one on how to sell personal training.
We also wrote about similar topics like the personal trainer business plan, how to start an online personal training business, gym owner salary, gym mission statement examples, gym slogans, gym logo ideas, personal trainer certification, fitness hashtags to use on social media and how much does a personal trainer makes.