Now that you've opened a personal training business, you have to run it. To ensure that your fitness business is a success, you need to create a personal training business plan.
Whether you are writing a business plan for a fitness business or any other type of start-up, a good business plan needs to comprise many different components. It is a good idea to use a template to ensure you include everything necessary.
A good business plan must include the following sections:
Market analysis
Competitors
Marketing and sales plan
Financial plan and future projections
The goal of creating a personal trainer business plan is to ensure that there is a niche in the market for your offering. Also that you will manage to generate enough revenue to continue operating after having made all the start-up investments.
Below is a more detailed breakdown of what you need to include in your business plan.
Summary and Pitch
The most basic thing you need to include at the beginning of your business plan is your pitch or summary. It serves as an overview of your personal trainer business and provides basic information about your business and your mission statement.
Make sure you include the following in your business plan:
The what – what are your goals?
The why – what is your mission?
The how – what will you do to succeed?
The big picture – what is your vision?
The summary, also called the pitch, needs to attract attention. It must be concise and clear. However, it should not feel rushed. Don't skip important parts while avoiding excessive wordiness. Make it yours. Make it unique – just like your business.
The reader of your personal trainer business plan summary needs to have no doubts as regards what you do, what your goals are, and how you are going to reach them.
Background Information
In this part of your personal trainer business plan, you present the owner's (or owners') experience, qualifications, and goals. It gives the reader an overall idea of who is behind the business name. For you, it serves as a way to get a better picture of your strengths and weaknesses.
You will gain a clear view of your strengths, and where you need more experience. You may realize that some aspects of the business need to be outsourced so that you can spend your valuable time on something else.
This knowledge will be especially useful when your business grows and you will not be able to take care of everything yourself. Knowing yourself well will help you decide what you should still do yourself and what you should better delegate to someone else.
Market Analysis
Your personal trainer business plan needs to include market analysis. Consider your location, other gyms in the area, and your local demographic. The latter is very important. You have to gather as much information as you can about your target demographic. You need to know who they are, what their typical behaviors are, and their reasons for using your service.
Why is this detailed knowledge so important? Because the more you know your potential customers the better you will be able to attract them. You will know in which areas you need to stand out and how to make your services more appealing to your audience.
You need to know exactly who you are targeting. Narrow down and define your target market. Is it students? Schools? Aspiring athletes? Working people? Executive women in their 30s and 40s wishing to improve or achieve their fitness? Or maybe people over 50 years old aiming to improve their health and prevent illnesses? Or could be even a narrower group, for example not athletes but specifically cyclists.
Once you have identified your target market, find out exactly what type of personal training type they are looking for and provide reasons for choosing your business.
Products and Services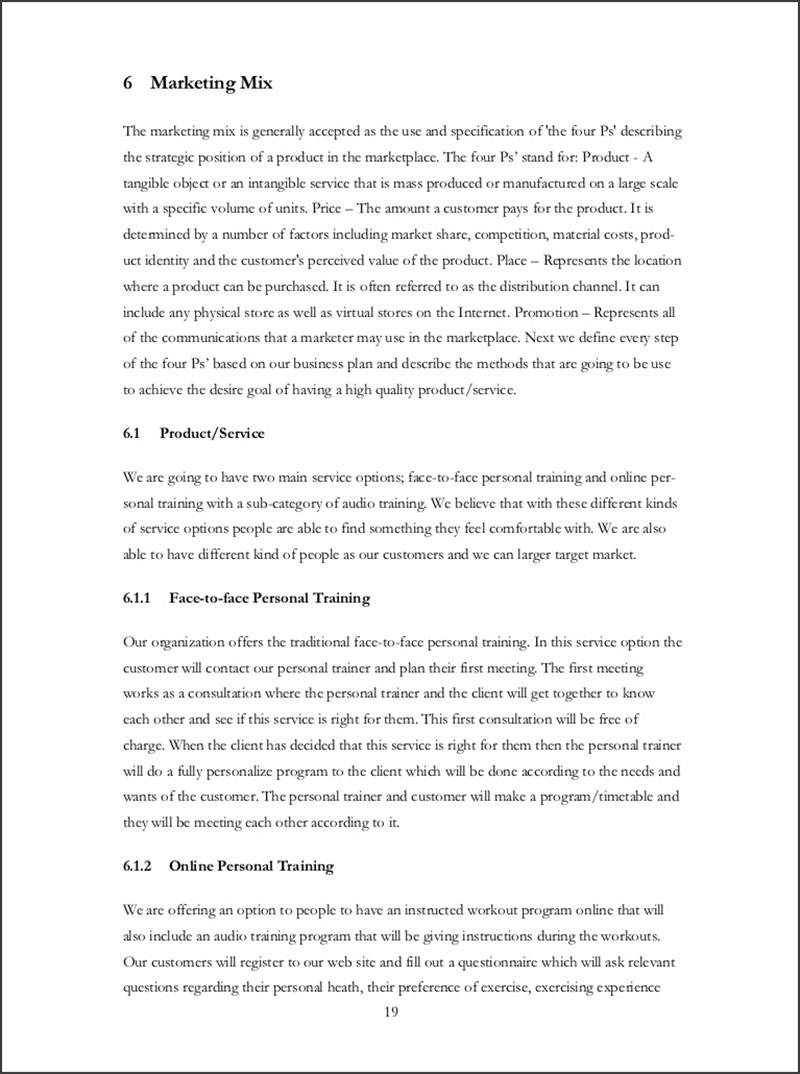 Obviously a personal trainer offers a service. You may, however, also include certain products in your offering. In this part of your personal trainer business plan, you specify the services and products you offer.
Include the list of products and services together with the prices. You could offer many different things, such as in-person personal trainer sessions, online training programs, specialized workshops, as well as fitness-related products.
Apart from listing the products and services and the pricing, you need to specify who will purchase them, how they will be delivered, and how they will benefit the customers.
Consider including the following in your personal training business plan:
Bio print analysis
Individual personal training services
Indoor and outdoor fitness sessions
Nutrition consulting
Nutritional products and diet supplements
Online and in-person seminars
Online personal training services
Personal training tutoring
Personal training for groups
Public speaking
Workout guides
Funding
This section of your personal trainer business plan is where you outline your funding needs. You should provide information about the costs of starting and growing your personal training business. You need to be exact about the amount of money you need and specific about where you are going to spend it.
Provide a detailed breakdown of profit, loss, cash flow, breakeven figures, and capital expenditure required for start-up. Plan for one, three, and 5 years in advance.
The initial investment needed to open a personal trainer business is quite low. You may need to obtain a certification which shouldn't cost more than $2,000. You will also need to pay for liability insurance, which shouldn't cost more than $200-$300 per year.
Additionally, remember the initial advertising cost. You should apportion about  $1,000 for it. You will most likely need some business cards, fitness flyers, or even a newspaper or radio ad. Also, pay attention to your online presence- factor in the costs of running a website and social media accounts and advertising.
Operating Costs and Pricing
In this section of your personal trainer business plan, you have to present the pricing, and justify it by taking into account your competition, the need in the market, and by proving that your pricing system is viable. You can achieve that by calculating your margins either per hour or (better) per month.
Think about the reasons for choosing a certain price and what that choice will mean for your business.
If you opt for a budget price, you need to remember that you have to be able to generate a large volume of sales and accommodate them. On the other hand, if you decide to go for a high-end price you need to make sure that you provide high-end quality of the location, the service, and the products you offer.
Some personal trainers go for a fixed price, say $85 per hour. They justify a high cost with their experience and a promise of providing whatever equipment is needed for each customer.
Other personal trainers suggest offering different services at different prices, depending on the expertise needed, the complexity of the program, and the equipment required.
Yet others prefer an open pricing model with individual prices provided via negotiation.
Marketing and Advertising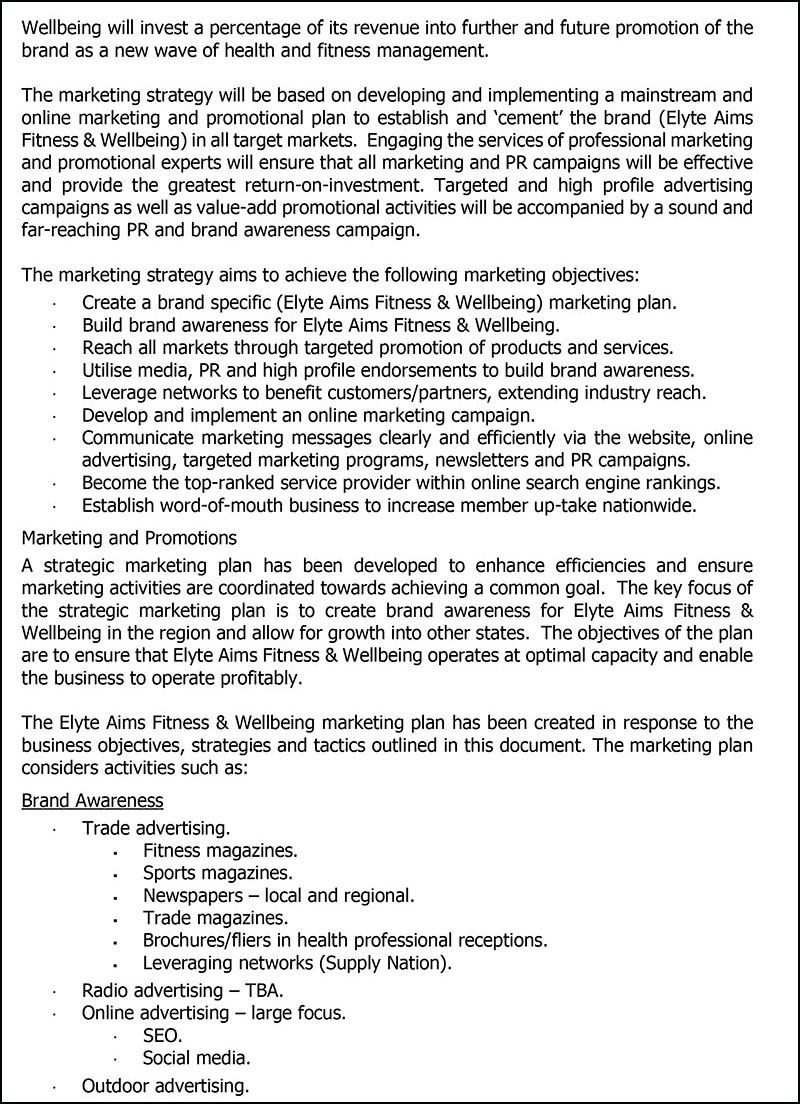 They may look and sound similar, but marketing and advertising are not the same things. You need to know the differences between them.
Advertising could be described as the placement of marketing. If giving someone a business card is an advertisement, then what is on the business card is marketing.
Building a marketing strategy requires creativity. It's about exploring and analyzing different types of customers and generating ideas for making your business offering appealing to them.
However, your personal trainer business plan should only include your advertising strategy.
Always remember that one of the biggest factors making or breaking a business is not what it offers but how well the marketing and advertising strategies have been created and executed. You might be the best personal trainer out there with all the knowledge and skills one might ask for, but without a well-designed and implemented marketing and advertising strategy you won't have anyone to train.
Get more bookings with the right tool for the job
Staying organized has never been easier.
You can now manage your business and grow your brand with a single, powerful software that keeps all of your appointments in line, your clients organized and your business booming.
Trafft is the perfect personal trainer software for business owners who need to streamline their booking experience both for their staff and their clients.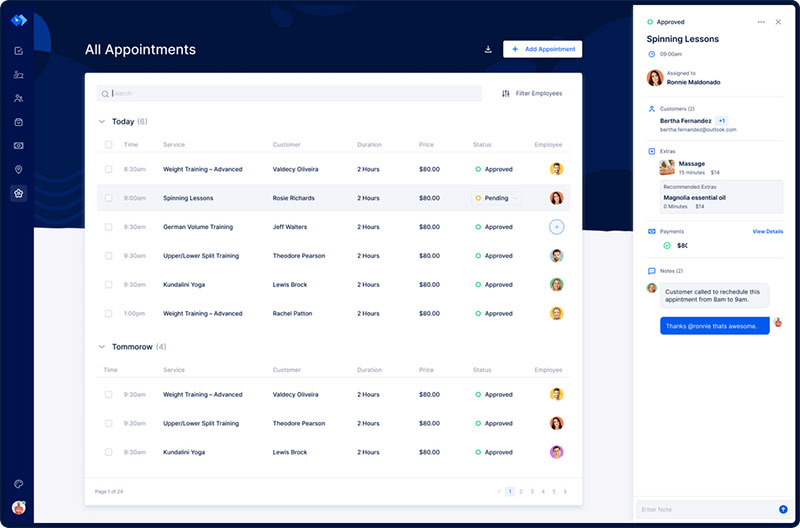 Trafft handles everything for you, even sending automated email or SMS reminders to your clients. No-shows? Not anymore!
The Trafft booking software adapts to different industries for a blissful online booking experience and employee management.
Want to know more? Check out Trafft's awesome features to see what you are missing.
Financial Projections
Lack of previous experience and supporting evidence, creating a financial forecast may seem impossible. You may feel like you have no clue where the numbers are supposed to come from. The best thing you can do is to try to be as level-headed and realistic as you can.
Start by listing all of your fixed and variable costs and personal living expenses to figure out how many clients you need to have to break even. If you are new in the financial field and lack information, consider practicing CFA study materials, as it will help to have the basics of financial analyses.
It may be difficult at the beginning, but try to incorporate different sources of income. Do not place all the eggs in one basket by, for example, relying on a one-on-one training service to provide the biggest part of your revenue. Be realistic and think of ways to make money on different services and products you offer.
When your business grows, don't be afraid to raise prices. Even a slight increase in the hourly rate or the prices of products will surely add up throughout each month. Try to increase your revenue by offering additional products and services to your established customers, for example, supplements or specialized pieces of equipment. Help them see your business as a "one-stop-shop" for all their fitness needs.
Samples and Templates
Now that you know what to include in your personal trainer business plan, it is time to look at some examples. It will help you see not only what to write but also how to present it. Always remember that each business is unique (and you certainly want your business to stand out), so never copy someone else's business plan. Use it as a guide to creating your very own personal trainer business plan.
Take a look at the examples and templates below and get inspired.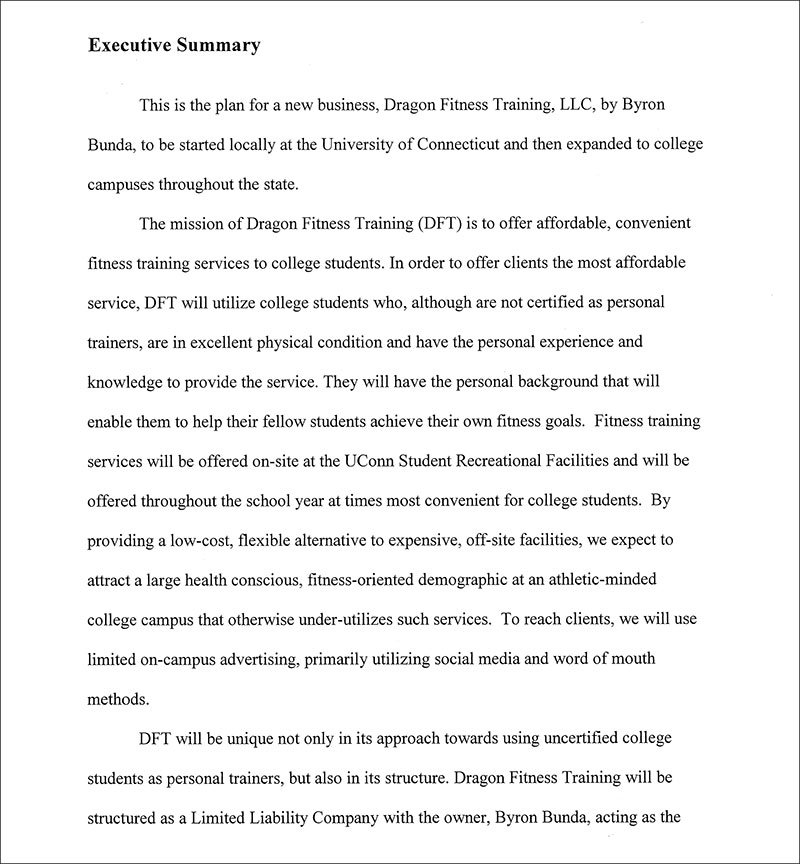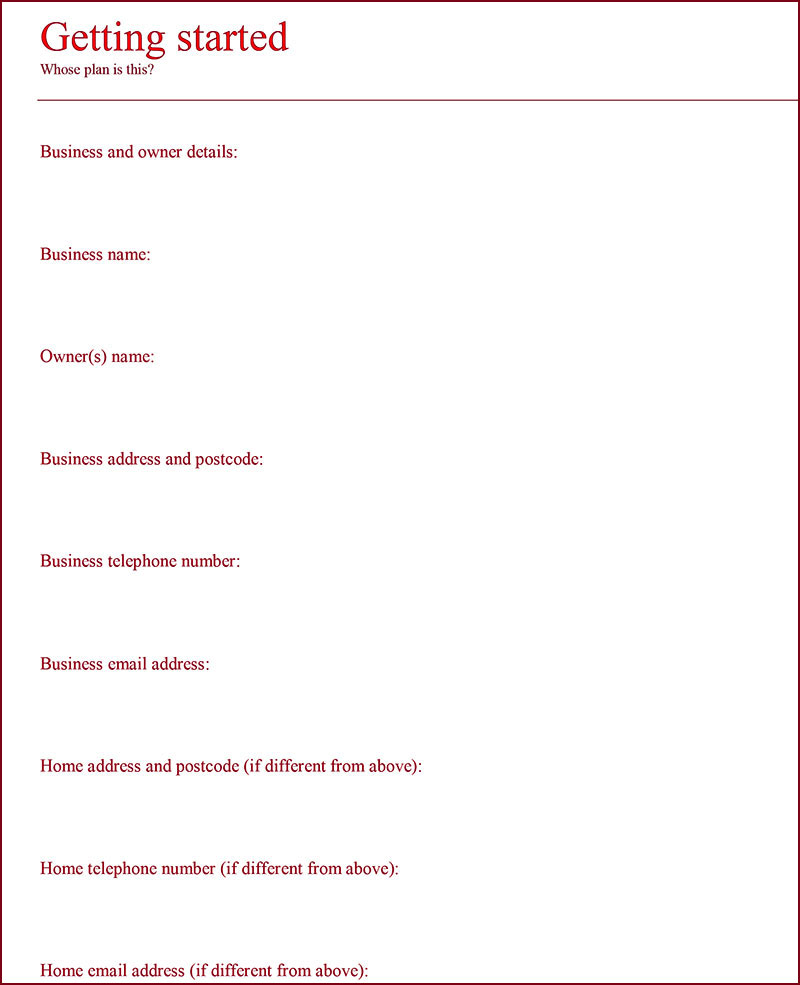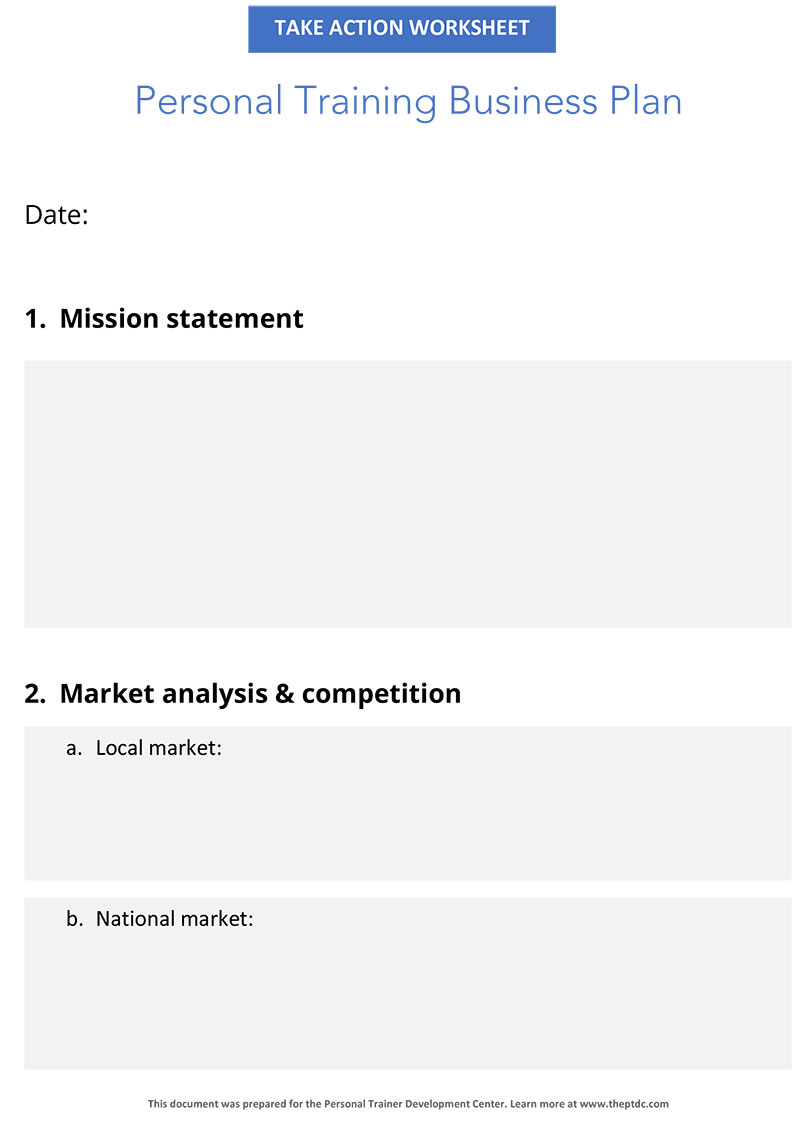 Catalyst Fitness is a CrossFit business plan and includes a detailed risk assessment, too.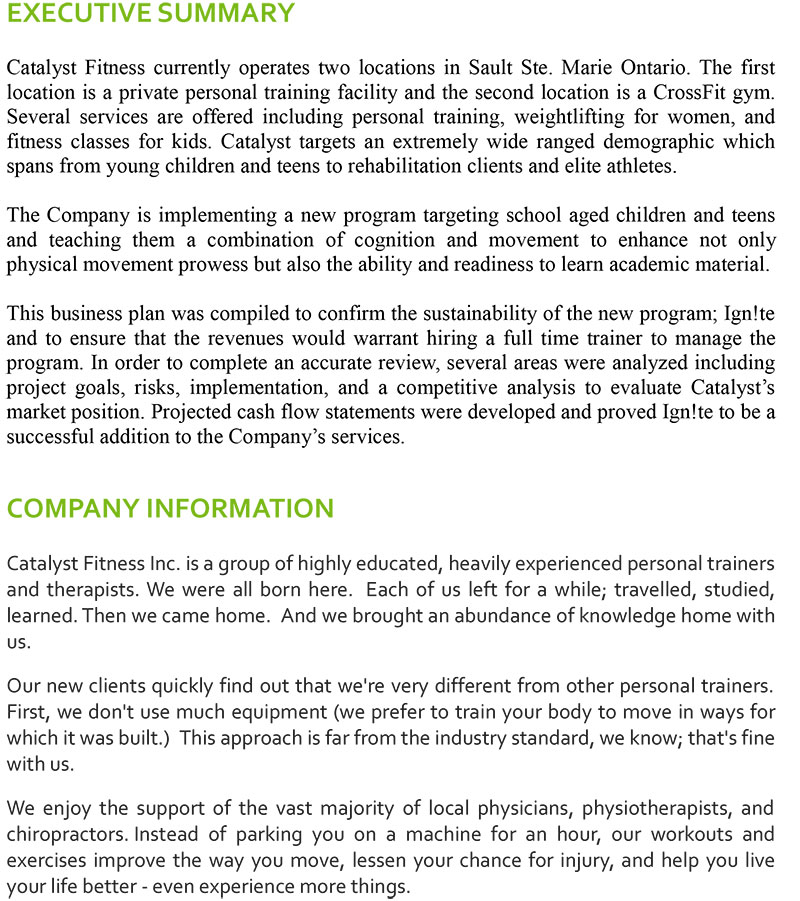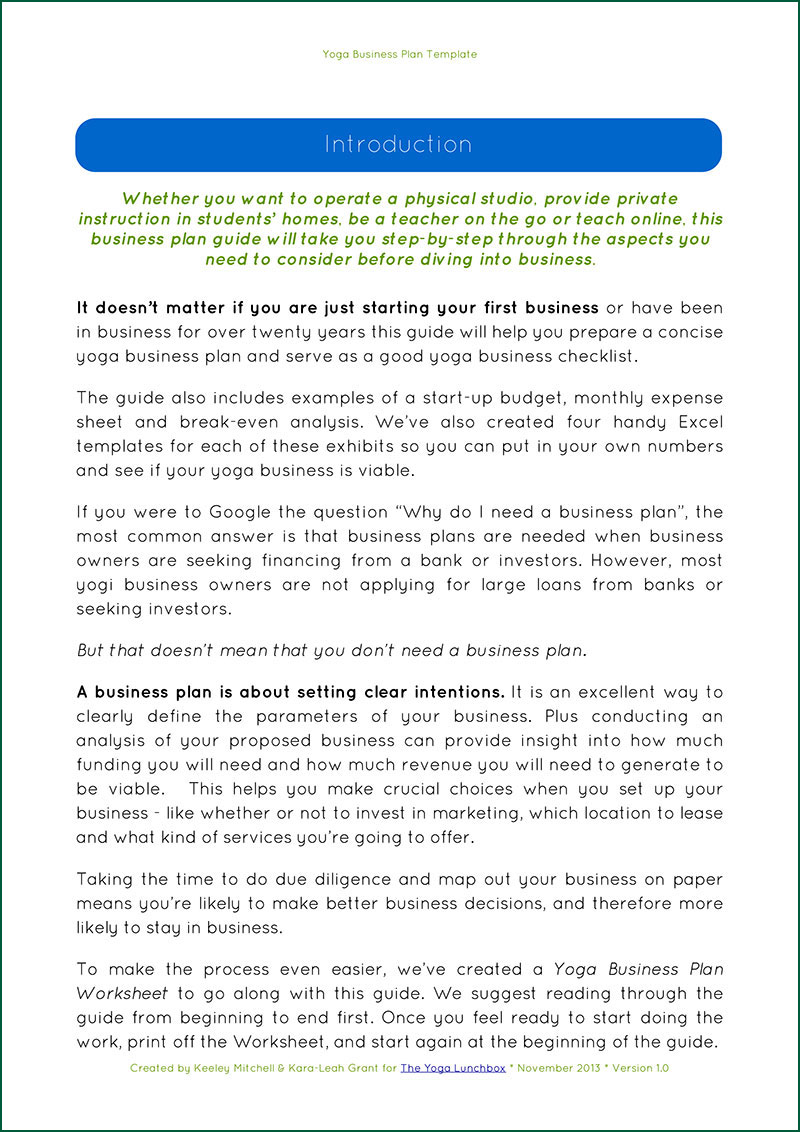 Fitness Texter provides a guide with questions to ask yourself which will help you create a business plan.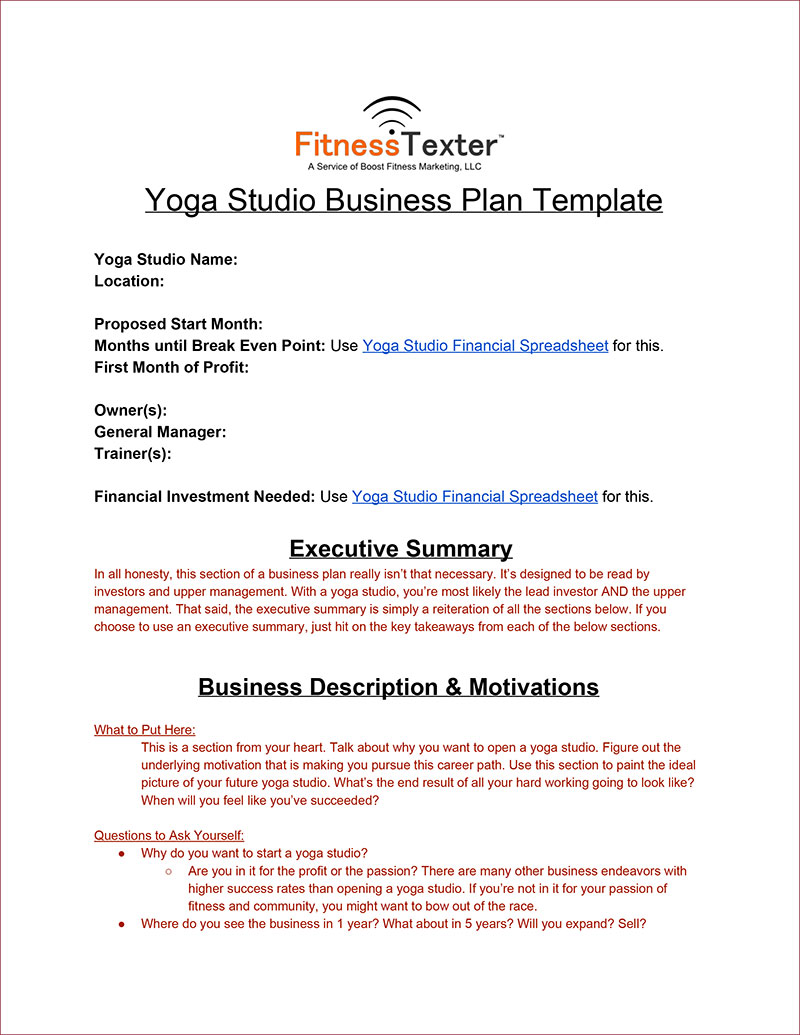 FAQs about creating a personal training business plan
1. What are the key components of a personal training business plan?
An executive summary, a description of the company and its goals, a market study, sales and marketing plans, financial predictions, and a management and operations plan are often the main elements of a personal training business plan.
2. How do you identify and analyze your target market in a personal training business plan?
You must take into account variables like age, gender, economic level, geography, fitness goals, and favorite workout style when identifying and analyzing your target market.
Online research, focus groups, and questionnaires can be used to collect this data. You may develop powerful marketing strategies and offerings that satisfy the needs of your customers by researching and understanding your target market.
3. What strategies should be included in a marketing plan for a personal training business?
Social media marketing, content marketing, referral marketing, and community involvement are all important marketing tactics for a personal training firm.
A large audience can be reached through social media, and expertise and authority can be established through content marketing. Referral marketing can produce new clients, and community outreach can build partnerships with local businesses and groups.
4. How should financial projections be calculated in a personal training business plan?
A personal training business plan's financial estimates should be supported by thorough market analysis and reasonable hypotheses.
Revenue, expenses, profit and loss, cash flow, and a break-even analysis should all be projected. Start-up expenses like those for rent, insurance, equipment, and marketing should also be taken into account.
5. What are the typical start-up costs associated with opening a personal training business?
Equipment, liability insurance, rent or lease, marketing charges, and legal fees are typical start-up costs for a personal training firm.
Free weights, resistance bands, cardio machines, and mats are examples of equipment costs. It's critical to get liability insurance to defend against potential legal action. Rent or leasing will depend on the facility's location and size.
6. How can a personal trainer differentiate their business from competitors in the market?
By emphasizing their unique selling proposition (USP), such as a particular training method or specialized services, a personal trainer can set themselves apart from rival businesses.
Additionally, they can provide each client with individualized attention and personalization while also fostering long-lasting connections with them through excellent customer service and effective communication.
7. What are the most effective pricing strategies for personal training services?
Hourly rates, package prices, and subscription models are all viable pricing options for personal training services.
While package pricing can provide reductions for numerous sessions, hourly rates can be advantageous for single sessions. For a recurrent cost, subscription models may provide continued access to personal training services.
8. What legal considerations should be addressed in a personal training business plan?
Liability insurance, client waivers, and the creation of company entities can all be considered legally in a personal training business plan. While client waivers can exempt the personal trainer from liability, liability insurance is necessary to defend against any litigation.
Liability protection can also be obtained by selecting the appropriate business structure, such as a sole proprietorship or LLC.
9. How can technology be utilized to enhance the services offered by a personal training business?
Via online scheduling software and apps, virtual training sessions, and fitness tracking apps, technology can be used to improve the services provided by a personal training firm.
Customers may find it simpler to set appointments using online scheduling, and virtual training sessions may enable a company to reach customers who are not close by. Clients who use fitness tracking applications can monitor their progress and maintain motivation.
10. How should a personal training business plan be revised and updated over time to stay relevant and effective?
A personal training business plan needs to be updated and amended on a regular basis to account for market and industry changes.
This can involve reviewing new services or technologies, revising marketing plans, and updating financial estimates. The business can respond to changes in the market and customer needs by routinely reviewing and updating its business plan, which can help it stay relevant and effective in a fast-paced and competitive industry.
To make sure that the company stays on track to fulfill its goals and objectives, it's crucial to set aside time on a regular basis to evaluate the business plan and make any required modifications.
Also, getting input from customers and professionals in the field can offer insightful suggestions for revising and enhancing the business strategy over time.
Final thoughts on how to write a personal training business plan
Writing a business plan is a must for any start-up. Every business plan should be regularly revised and updated to make sure that it reflects the current state of the business and that it outlines realistic goals and ways to achieve them.
A well-written business plan will help you gain clarity, set realistic goals and objectives, and create realistic forecasts and strategies.
A business plan is an important step in turning your personal trainer business idea into an operating business. It allows you to think thighs through and ensure that your idea will work and succeed.
It doesn't mean, though, that a good business plan needs to be long and complex. It does, however, need to outline and explain all the basic and most important information about what you want to achieve and how you are planning to get there.