Technology has remarkably improved communication through time. It bridges people no matter where they are and has become an essential tool in any business. With the use of technology, you don't have to go to the gym to meet your personal trainer. You can do your personal training in the comfort of your own home.
Personal trainers can now assist you with your fitness needs online. Adding online personal training to one of your services takes your fitness business to another level.
Before you begin, you must know the basic information on how to be an online personal trainer.
This includes finding your niche, learning how to promote your services, and knowing the tools you need for online personal training.  If you wish to become an online personal trainer, this guide provides tips to help you start your own online personal training business.
Who Takes Online Personal Training?
Just as frequent visits to the gym are not for everyone, online personal training may not also work for everyone. Some clients prefer direct interaction with their fitness coach to motivate them further to exercise and follow their workout plan. However, there are clients who prefer online personal training rather than in-person.
Knowing who is likely to want an online personal trainer will help you determine where to direct your marketing efforts. The client base for online personal training is quite diverse. The clients can be any of the following:
People who don't want to pay for membership fees in health and fitness centers
People who have personal gyms or space to exercise at home
People who feel uneasy working out in gyms
People who have kids but can't afford childcare
People who don't have the luxury of time to go to gyms
People who live in the countryside where there are no health and fitness centers nearby
People who frequently travel and can't find the time to meet their personal trainer
People who work as housekeepers with no other choice than to exercise at home
You can expect these people as potential clients for online personal trainers.
The Advantages of Becoming an Online Fitness Trainer
It is important to keep in mind that being an online trainer has its challenges. Online personal training requires specific skills and knowledge. Personal trainers need to know how to use the digital tools for online coaching and what happens behind the screen. Other online personal trainers have a team to support them in training their clients online.
If you are aware of these situations but are still undecided if you want to become an online fitness coach, it's good to appreciate the following benefits:
It is easier to scale up your business online, and there's no limit to the number of possible clients, since you can go across the nation virtually while also increasing your impact.
Its flexibility enables you to work anytime, anywhere, as long as you have an internet connection.
It is more cost-effective than having to rent a commercial space for the gym and buying the equipment needed.
It is more convenient. You can assist and support clients from different parts of the world without stepping outside your home.
Checklist for Starting an Online Personal Training Business
Space
One of the advantages of an online personal training business is mobility. You can train clients from anywhere you want. However, you will find that having an appropriate personal training space at home will help you work more effectively.
The home base should be spacious enough for doing workouts, and it should be free from any distractions such as external noises, unnecessary clutter, and people passing by.
Certification
Technically, there is no established set of qualifications for you to become an online personal trainer however, clients would likely prefer to work with certified personal trainers who have the minimum level of work experience in the fitness industry.
Having certification tells your potential clients that you know what you are doing and that you have the skills and knowledge needed to help them. Thus training certification ensures a successful journey in the career. It gives them confidence and trust that you will provide an effective fitness plan that would help them reach their fitness goals.
Consider earning credentials for other sub-niches such as ashtanga and hatha yoga, to expand your market and client base. This will also broaden and add variety to your training services.
Equipment
Online personal training business is highly dependent on technology. Having the right equipment enables more effective online training. Since your interaction with your clients happens mostly on the screen, you will need equipment that can produce high-quality audiovisual materials. These include high definition webcam or digital camera for recording videos and video conferencing. You will also need a sturdy tripod, lighting equipment, a high-performing laptop or desktop computer, and most importantly, a high-speed internet connection.
You also have to set an attractive backdrop. Remember, your set-up reveals information about you to your client. Keep your space clean and free of mess. Don't record yourself with a messy kitchen or dining area behind you. If possible, just have a plain wall as your backdrop.
Any additional equipment depends on your sub-niches. If you offer yoga classes, then you need a yoga mat and other necessary tools like straps and yoga blocks. Make sure that your equipment has vibrant colors so that they are visible on your videos and photos.
Content Creation and Online Marketing
To become an online personal trainer, you need to market your services through digital platforms and that means you have to produce plenty of content such as website copy, email marketing campaigns, content for different social media sites, and sales content for program launches.
There are a variety of options for creating content and producing other information materials to promote your training business online. You can launch a blog to increase brand awareness, drive more website traffic, and attract more clients. If you know how to communicate your services effectively through writing, then you may do the content creation yourself. If not, you can hire a skilled copywriter to write for you.
Client Base
If you want to become a successful online personal trainer, obviously you need to have a lot of clients. Building a client base from scratch is not an easy task, however, if your first few clients are completely satisfied with your services, word-of-mouth recommendations can help increase referrals and attract more clients.
There are two marketing methods to help your online personal training business attract more clients. You can either pay for an ad spot to increase traffic to your website or use free marketing methods.
Paid digital advertising is one of the quickest ways for your online business to get noticed. It also helps you target a specific demographic. If you have extra cash to spare, you may consider using it to purchase ad space. Examples of paid marketing include:
Facebook ads
Google ads
Off-site Search Engine Optimization (SEO)
You also don't have to worry if you cannot afford to invest in paid advertising because there are free methods to market your services. These free marketing methods are:
Producing valuable blog content and publishing it across different social media platforms
Creating lead magnets for your clients such as product samples, free consultations, trial subscriptions, and more.
Providing your clients weekly updates through newsletters and other materials
Networking
Love for Technology
If you want to become an online personal trainer, you should love using technology or at least become competent in its use. You must know how to work around technology like using organizational tools for productivity, managing schedules, setting up payment services, and more.
You also need to learn how to produce a video for when you are unable to do live training sessions. Producing videos and pre-recording training sessions saves you time and allows you to do other important things.
Get more bookings with the right tool for the job
Staying organized has never been easier.
You can now manage your business and grow your brand with a single, powerful software that keeps all of your appointments in line, your clients organized and your business booming.
Trafft is the perfect personal trainer software for business owners who need to streamline their booking experience both for their staff and their clients.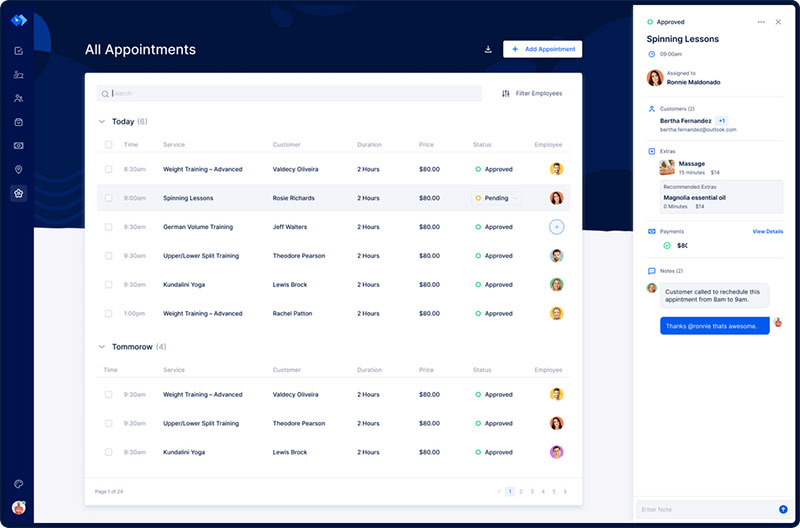 Trafft handles everything for you, even sending automated email or SMS reminders to your clients. No-shows? Not anymore!
The Trafft booking software adapts to different industries for a blissful online booking experience and employee management.
Want to know more? Check out Trafft's awesome features to see what you are missing.
Personal Training Software
As an online personal trainer, your way of doing business is always virtual. It means you will manage your website and social media accounts every day, use software and other digital tools to accept payment, host giveaways, organize client directories, and other business transactions.
There are various software applications that provide solutions to your online business needs. You must choose which business management tools are capable of helping you automate business processes, deliver your online services, and communicate with your clients effectively. You could consult an expert in technology for choosing the right personal training software for your business.
Video Demonstrations
Personal trainers have different styles but to become more effective you should always model your movements. You must demonstrate how each and every exercise is done so that your clients can follow through. You can create a compilation of your pre-made workout demos for every fitness training course so you don't have to repeat it each time you train a new client. There is also personal training software that comes with an exercise library.
If you want to give a personal touch to your exercise demos, you can create your own series of workout videos. Creating your own exercise videos will help increase client retention and brand awareness.
Remember, a good exercise video has:
either low noise or no sound at all,
good lighting,
has two full repetitions at least,
at least 10 seconds long but not longer than 20 seconds
Tips on How to Be a Successful Online Personal Trainer
Choose Your Training Niche
Online personal trainers generate profit from their target market. Remember, attempting to cover all niches may be counterproductive. Trying to appeal to many clients by providing a wide variety of services might actually defeat your purpose and decrease your value. Rather you can increase your value by having a specialization.
The common misconception about narrowing your target market is that you will generate less profit. However, the truth is, focusing on a specific niche yields more benefits. Clients do have specific needs, and the trick is to become their perfect choice.
Identify the services that you can offer as an online personal trainer. There are three kinds of services that you can provide to your clients:
Individual online training sessions. An exclusive, one-on-one training session is ideal for clients who need further guidance on their training. Some clients also prefer more focused and personalized training to help them with their fitness goals.
Group training sessions. Other clients prefer doing exercises as a group. Group training sessions enable you to assist more clients at the same time. Group activities may include boot camps for a type of martial art, dance class, and more.
Add on services. You can also offer add-on services to your clients if you also happen to specialize in other sub-niches, such as nutrition or weight loss training.
Having specialized services allows you to increase your training rates as well. You may set your monthly fees to as much as $200, and you'll earn an annual income of $72,000 with just 30 clients. This will also save you from trying to reach thousands of Instagram followers or losing most of your budget in marketing.  All you have to do is know which niche will set you apart from other online trainers.
Emphasize the Benefits of Having an Online Personal Trainer
Market your value. Emphasize the benefits for clients when they hire an online personal trainer. One of the most common pitches for online personal training is that clients can avoid the hassles of commuting. Heavy traffic can be stressful. Also, online fitness training saves you time and effort.
Highlight the convenience and accessibility of hiring an online trainer. Since services are completely virtual, clients have easier access to training programs and other resources. It also teaches clients how to keep their body fit and healthy at home, and provides them with more control over their time.
Know your unique selling proposition (USP)
What makes you unique from other online personal trainers? Unique selling proposition or USP is a business term for the feature that makes you unique from other brands. Knowing your USP is important to keep yourself above the rest.
To determine your USP, think of reasons why clients would choose to avail of your services, your strengths as an online trainer, and your brand personality. Don't stress over achievements in training clients. Focus on your personal style and your own story. These attributes will help you convey an image, a message, and a purpose.
Create a High-Converting Website
Building your own website for marketing your services is standard practice when starting an online personal training business because it improves your branding and credibility.
Think of your website as your market stall. Your website should be high-converting, interactive, fast-loading, and must have a call-to-action design and copy.  It should be able to convert prospects to clients and elicit an action from your visitors. For example,  signing up for your training programs, subscribing to your newsletter, sharing a blog post, purchasing an item, and more. Your website should make a strong statement for your business; that you provide quality services and health and fitness solutions.
Your website should also be search engine optimized to make sure that your website will be visible in search results. Use keywords that would generate traffic to your websites such as "online health coach", "online fitness trainer", or "online athletic trainer". Make sure to use the keywords strategically on your website copy to rank well on search engine result pages (SERPs).
You must also include other related keywords to help the search engine establish a connection. The most common keywords related to fitness are:
Gym
Bodybuilding
Gyms near me
Exercise
Treadmill
Study Online Marketing Strategies
The next step after narrowing your niche, is marketing. Since you are an online personal trainer, you should know how to promote your training services online. There are various digital marketing channels that will help you reach your target market, but not all of them will be suitable for your business.
The key to effective online marketing is finding the right digital marketing channel for you. You can explore using a particular channel or try a combination of two different platforms. Once you find out which one is more effective in attracting clients, maximize the channel to expand your business.
Another skillset that you have to develop is knowing how to gain more clients. Utilize your strengths and skillset to market your services. If you are good with words, then you may start with creating blogs and email marketing.  If you are more confident in speaking and using videos as your medium, you may try creating video blogs and upload them on YouTube.
However, to become an online personal trainer, you must also improve your verbal communication skills because it will require more talking than you're used to. This will also help your clients follow through with your instructions and understand you better.
Expand Your Presence in Social Media
The use of social media platforms is one of the most effective strategies to market your online personal training business. It helps you establish communication with your clients and develop your brand identity.
First, choose which social media platforms are relevant to you and your potential clients. The most popular social media sites are Facebook, Instagram, and YouTube. Once you've chosen which platforms to use, you must consistently publish social media content that echoes your brand identity. Doing this will help you grow your presence on social media.
What type of content should you post on your social media accounts? Firstly, your content should be as organic and unique as possible. Testimonials from your clients will help encourage other people to sign up for your fitness programs. You can also share inspirational quotes, teasers to upcoming new training services, and more.
By producing quality and engaging content on social media, it might be possible to feature business in a fitness magazine. You can also write for a publication or fitness website and be quoted as an expert. This will not only improve your branding but also expand your client base.
FAQs about being an online personal trainer
1. What qualifications do I need to become an online personal trainer?
You will normally require a personal training certification from a respected organization to work as an online personal trainer. It is also crucial to have experience with health, nutrition, and exercise. Numerous online personal trainers also hold degrees in kinesiology, exercise science, or a similar discipline.
2. How do I create personalized workout plans for my online clients?
You must learn about your online clients' fitness objectives, their current level of fitness, and any potential physical restrictions in order to build tailored training routines for them. You can create a training program that is customized to each person's needs and tastes based on this information. You can develop and share personalized fitness plans with your clients using a variety of online tools and resources.
3. What technology or equipment do I need to start my online personal training business?
You will want a dependable computer, a fast internet connection, and video conferencing software for virtual training sessions in order to launch an online personal training business. You might also need to spend money on tools for appointment scheduling, payment processing, and tracking customer progress.
4. How do I market my services as an online personal trainer?
You can use social media networks, develop a website, and generate useful content like blog articles and videos to sell your services as an online personal trainer. With partnerships with other fitness experts, web directories, and email marketing, you can also connect with new clients.
5. How do I keep my online clients motivated and accountable?
You may set attainable goals, monitor progress, and offer encouragement to keep your online customers accountable and encouraged. Incentives like discounts on subsequent sessions or free resources can also be provided in exchange for achieving goals or beating difficulties.
6. How do I manage scheduling and communication with my online clients?
You can use online scheduling software or apps to manage scheduling and communication with your online clients and to speed up the process. Clearly defining expectations and communication channels, such as how and when clients can contact you and how you will reply, are also important.
7. How do I ensure the safety of my clients when training remotely?
When creating a workout plan, you should carefully evaluate your customers' level of fitness and physical restrictions to ensure their safety when exercising remotely. Also, you need to give thorough directions and examples for each exercise, keep a careful eye on your clients throughout the virtual training sessions, and more.
8. What pricing strategies should I consider when offering online personal training services?
You can take into account price tactics like package deals, monthly memberships, or per-session pricing while providing online personal training services. To appeal to a wider spectrum of customers, you could also wish to provide multiple service tiers, such as basic and premium packages.
9. How do I measure and track the progress of my online clients?
You can utilize technologies like fitness trackers, progress images, and client comments to gauge and monitor the development of your online clients. While you routinely check in with your clients to assess their progress and make any adjustments, you should also develop clear benchmarks for success.
10. What challenges should I expect to face when transitioning from in-person to online personal training?
You could encounter difficulties when switching from in-person to online personal training, including adjusting to new technology and communication techniques, developing rapport and trust with clients remotely, and assuring the caliber and security of virtual training sessions. To appeal to an online audience, you might also need to change your pricing and marketing tactics.
Final thoughts on how to be an online personal trainer
Doing whatever is required to become an online personal trainer might sound like a lot of work, but every step is absolutely possible and very rewarding. If you wish to proceed with your online personal training business but are short on some aspects, it is best to be honest with your clients about it.
As personal trainers, helping your clients achieve their fitness goals should be your topmost priority.   If they are satisfied with the result of online training sessions, they will keep coming back for your training services. To become a successful online personal trainer, you must keep high client retention.
Remember to get yourself certified by accredited organizations before you begin training clients online. Having the proper credentials will help you secure your first group of clients. Choose the right niche for your business, and establish your branding.
If you enjoyed reading this article about how to be an online personal trainer, you should also check out this one on how to sell personal training.
We also wrote about similar topics like the personal trainer business plan, how to start an online personal training business, gym owner salary, gym mission statement examples, gym slogans, gym logo ideas, personal trainer certification, fitness hashtags to use on social media, and how much does a personal trainer makes.