Everyone enjoys a good massage. Unfortunately, though, people view massages as a luxury. If they have financial problems massage therapy is one of the first things they will stop paying for. The job of a massage business is to advertise massage therapy as a necessity.

Massage therapists are in the business of healing and relaxation. So it may be hard to join the competitive world of marketing and advertising. The following tips will make massage advertising and marketing simple and practicable.
Tip #1: Build Up Your Brand

Image source: Masha Andreeva
A massage therapy brand encompasses your personality. It includes your logo, color scheme, and expresses what the business is all about. Make sure to decide carefully what your massage brand should be.
Create a brand that connects with people and strengthens your relationships with clients. Convey a professional tone but show how you care about your clients.
Then establish your brand and share it with others. Use Facebook, LinkedIn, Instagram, Pinterest, and more to display your brand. Use images to make a lasting impact on the minds of potential clients.
Tip #2: Develop a Value Proposition for Your Massage Business
A value proposition is a promise from the business to the client. It is a declaration that states what the company stands for and the value that it provides to its customers. This statement should communicate how your business is unique, why clients should choose you, and how you will improve their lives. The value proposition is part of a massage business' brand.
Tip #3: Design an Effective Website
Image source: tubik
A website is a useful tool to reach more people. It is the home base of all other internet marketing strategies. It also allows people to learn about your massage services and business from their homes.
A website provides a first impression of the company. Its design and the content it displays will determine whether it will attract new clients or not. Many small business websites struggle with providing clear communication and persuasive advertising.
Anyone can create a website but not everyone has an effective website. An effective website convinces prospective clients to book a massage therapy session.
An effective website contains the following elements:
Reflects your brand
Displays the value proposition
Has a services page with prices
Shows massage therapy credentials
Provides contact information
Clearly conveys the location of the massage practice
Communicates why a person should choose this massage business
Builds trust with potential clients
Uses a booking software so clients can schedule and pay for an appointment right away
Tip #4: Create a Massage Therapy Blog
Content is king. The more content a website has the better ranking it gets from search engines. A better ranking means more traffic. Including a blog on your website is a simple and effective way to add large amounts of content.
Many people nowadays are sick and tired of seeing so many advertisements every day. A blog is a good way to promote your massage therapy business without bombarding prospective clients with pesky advertisements. It is also a good way to show your expertise as a massage therapist.
A successful blog needs to engage viewers and provide helpful advice. It should be interesting and discuss topics that catch people's attention. Research popular keywords. Monitor which of your blog posts get more attention to give viewers more of what they want.
Tip #5: Drive Traffic to Your Website
A website and blog are helpful only if people see them. There are several ways to drive traffic to your website so more people can see your massage advertising.
One way is to use pay-per-click advertising. Pay-per-click advertising means you do not have to pay for the ad unless a user clicks on it. It is a digital marketing strategy that works fast. One benefit of this strategy is that pay-per-click ads provide performance insights. So users can adjust their ads to improve their massage therapy advertising.
Another way to drive traffic to your website is to sign up for Google My Business. This is the platform Google uses to display and review local businesses. You can create an account for free and optimize descriptions, images, and reviews.
Tip #6: Develop a Social Media Marketing Strategy
Social media is a powerful and free advertising tool. Between the many social media platforms, a massage therapist can reach a large audience and increase brand awareness with social media marketing. It can be a challenge to manage several different social media pages at once. That is why it is vital to have a social media advertising strategy.
Your strategy should include:
What social media platforms to use
How often you will post
What kind of content you will share
What hashtags you will use
How you are going to build up your brand
A few words of caution for your social media management strategy: Do not copy and paste captions and hashtags. Make sure each post is unique and reflects the personality of the business. This will appeal more to viewers and prevent social media algorithms from classifying your posts as spam.
Tip #7: Use Paid Social Media Advertising
There is a great deal of competition for people's attention. Using paid social media advertising can help create more conversions. Although it does cost money, paid advertising does not need to break the bank. Social media platforms allow users to set an advertising budget.
One option is to use paid advertising on Facebook. Facebook offers many tools that help target ads towards a specific demographic. Google Ads is another effective option. Google displays your ads when someone is searching for massage therapy. Thus, these ads reach those who are ready to make a purchase.
Get more bookings with the right tool for the job
Staying organized has never been easier.
You can now manage your business and grow your brand with a single, powerful software that keeps all of your appointments in line, your clients organized and your business booming.
Trafft is the perfect salon software for business owners who need to streamline their booking experience both for their staff and their clients.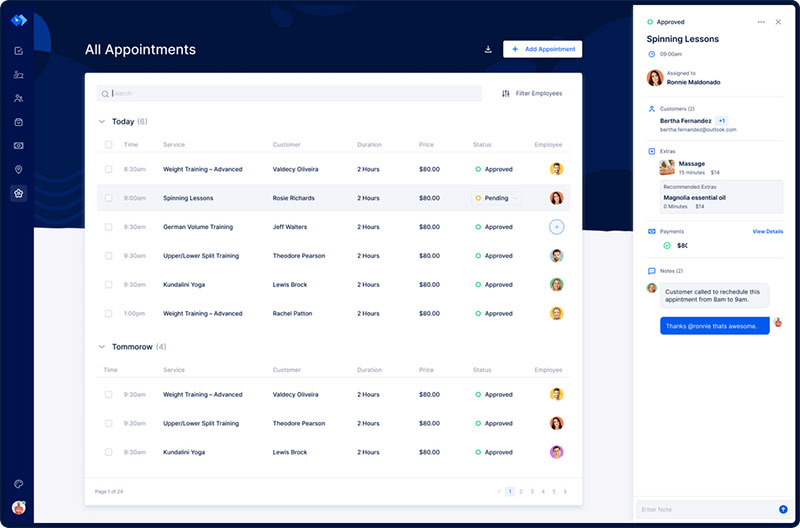 Trafft handles everything for you, even sending automated email or SMS reminders to your clients. No-shows? Not anymore!
The Trafft booking software adapts to different industries for a blissful online booking experience and employee management.
Want to know more? Check out Trafft's awesome features to see what you are missing.
Tip #8: Shoot a Massage Therapist Intro Video
A picture is worth a thousand words and a video is worth even more. Videos have a way of appealing to people like nothing else does. Use a video intro to entice people to come in for a massage. Introduce them to the facility and your massage therapists.
Some tips for shooting an intro video:
Use a professional. It is worth the expense.
Focus on the strong aspects of the business
Maximize visibility by sharing it on social media, posting it on YouTube, or using it for an advertisement
Tip #9: Print Business Cards
Image source: Andrei Alexandru
It may seem old-fashioned but business cards are still an effective massage therapy advertising strategy. Print some for your whole team of massage therapists and have them pass them out wherever they can. Make sure that the cards reflect the brand of the business and display the logo. Pass them out to existing clients, to interested persons, and leave them where potential customers will find them.
Tip #10: Partner with Other Businesses
As mentioned before, massage therapy is one of the first expenses people give up when they have financial difficulty. However, if you join forces with other businesses you can create a package deal that is hard to resist. Collaborate with other businesses to create attractive deals and exclusive promotions.
Some ideas are to partner with:
health food stores
salons
gyms
fitness professionals
chiropractors
phycologists
Tip #11: Use a Referral Program
Every business benefits from a referral program. Not only does it bring in new clients but it also keeps existing clients happy. Offer customers a discounted price, a perk, or something else for bringing in more clients. Make sure you tell every customer about the referral program. Use SMS, email, social media, and your website to spread the word.
Tip #12: Target Specific Workforces and Offer Corporate Discounts
Targeting specific workforces, like corporate employees, helps you acquire a built-in customer base. It also provides a dependable and constant flow of clients.
Landing a corporate client is a huge source of reliable income. Corporate employees work in very high-stress environments. So they are the perfect clients for massage therapy businesses. Recently, company health policies have included wellness initiatives such as relaxation and massage. Take advantage of this trend to your benefit.
Offer discounted rates for a corporation's employees. Or try to get your services included in a corporation's health benefit plan. If the corporation itself will not deal with you, reach out to the employees as individuals. Create a discount, referral program, or loyalty program that will persuade them to get a massage and keep coming back.
Tip #13: Retain Customers
It is cheaper, easier, and better to retain loyal customers than to constantly acquire new ones. The success of a massage therapy business will be in the number of loyal customers it has. Retaining customers is harder than it sounds. Competitive massage therapists are always trying to draw more customers to themselves.
To keep existing customers:
Show them you care about them
Offer them specials
Provide useful advice and health tips
Keep in contact with them
Do not let them forget your name
FAQs about advertising for a massage studio
1. What are the most effective advertising strategies for a massage studio?
Digital marketing, local advertising, referral programs, and social media marketing are among the best methods for promoting a massage business. You can target potential clients who are interested in massage services using digital marketing tools like Google AdWords and Facebook Advertising. You can also get local clients by running local ads in newspapers, radio, or television. Referral systems can assist you in maximizing the revenue from your current clientele, and social media marketing can help you spread the word about your company and engage with potential customers.
2. How can I create a strong brand image for my massage studio through advertising?
Determine your unique selling proposition and convey it through your message, graphics, and client interactions in order to build a strong brand image for your massage business through advertising. To establish a distinctive brand identity, utilize a consistent color palette, typeface, and artwork. Your messaging should focus on the benefits of your massage services and what makes them different from other massage studios. Finally, make sure that your customer experience surpasses expectations and is consistent with your brand image.
3. Which social media platforms should I prioritize for advertising my massage studio?
Depending on your target demographic and your marketing objectives, you should emphasize different social media channels for your massage studio's advertising. Facebook and Instagram are the most popular platforms with the most targeting choices if you want to reach a larger audience. TikTok and Snapchat are other excellent choices if you want to market to a younger demographic. If you want to connect with corporate clients, LinkedIn can be helpful, and Twitter is great for interacting with customers and sharing news and updates.
4. What are some creative ways to advertise my massage studio locally?
Hosting neighborhood activities, collaborating with nearby businesses, sponsoring local sports teams or charity events, and providing new clients with discounts or free trials are a few innovative methods to promote your massage studio locally. To make it easier for potential clients to find your massage studio online, you can also build local business listings on Yelp and Google My Business.
5. How can I track the ROI of my massage studio advertising efforts?
By implementing conversion tracking on your website or landing pages, keeping track of the number of new clients, and monitoring the revenue from your advertising campaigns, you can determine the return on investment of your massage studio advertising efforts. To evaluate the effectiveness of your advertising campaigns and make fact-based decisions, you can also use tools like Google Analytics, Facebook Ads Manager, or HubSpot.
6. What are some common mistakes to avoid when advertising a massage studio?
Using generic or irrelevant message, forgetting to analyze success indicators, choosing the incorrect audience, spending excessive amounts of money on advertising without seeing results, and failing to test and optimize your campaigns are some frequent blunders to avoid while marketing a massage studio. Understanding your audience is crucial, as is adapting your messaging to fit their requirements and tastes. You should also test various ad formats and targeting options to determine which ones are most effective.
7. How can I differentiate my massage studio from competitors through advertising?
Focusing on your USP, such as providing a certain sort of massage, utilizing high-quality goods, or providing a more individualized experience, will help you set your massage studio apart from rivals in advertising. Additionally, you can promote your skills, credentials, or certificates; emphasize client endorsements or reviews; and use images to create a compelling narrative for your brand.
8. What type of messaging resonates best with potential clients in massage studio advertising?
The greatest massage studio advertising emphasizes the advantages of massage, such as stress reduction, pain management, relaxation, and enhanced physical and mental wellness. To engage potential customers more deeply and show how your massage services may enhance their quality of life, you can use emotive language, storytelling, and pictures. Be sure to convey your own selling point and set your massage studio out from the competition.
9. How can I use email marketing to promote my massage studio?
Email marketing is a powerful tool for growing your massage business and keeping in touch with current clients. To keep your consumers interested and informed, you can send out newsletters, promotions, updates, and instructional content about massage. By segmenting your email list according to consumer preferences, demographics, and purchase history, you can send personalized messages to your audience that will resonate with them. Personalization is the key to the success of your email marketing efforts.
10. What role does SEO play in advertising for a massage studio, and how can I optimize my website for search engines?
SEO, or search engine optimization, is essential for massage studio promotion because it makes it easier for potential clients to locate your website on search engines like Google. By conducting keyword research, adding relevant keywords into your content, producing high-quality material that reflects user intent, optimizing your meta tags, and constructing high-quality backlinks from reputable websites, you may make your website more search engine friendly. For a massage studio, local SEO is equally crucial, so be sure to establish local business listings, register with pertinent directories, and encourage clients to provide reviews.
The final rub down on massage advertising
Massage therapy advertising may seem daunting but it is a vital aspect of keeping your massage therapy business alive and well. A solid massage advertising plan needs to include both online and offline efforts.
Online efforts include designing an effective website, creating content, and using social media. Offline efforts consist of printing business cards and starting referral and loyalty programs. The best part is that you can implement most of these massage advertising tips for free. So no matter what your budget is you can advertise your massage therapy business and make it thrive.
If you enjoyed reading this article on massage advertising, you should also read this one about salon slogans.
We also wrote articles about similar subjects like salon marketing ideas, salon designs, salon hashtags, beauty salon logo examples, how to run a successful salon, salon mission statement examples and about writing a salon price increase notice.