Your logo is the face of your business. It is the first thing people see when they walk in the door, and even before they do that. Your logo is what customers think of when your business is mentioned. Logos and their design can have a big impact on how your business is perceived.
Just as when people meet, a first impression will stick. That's why it is important to have a great first impression. From first sight, your logo will affect how people feel about your brand. It can communicate what your company does and its values.
Business can be likened to dating. You're working at attracting customers and making them fall in love with your business. Having the right profile image on this so-called dating profile can make a world of difference. The profile picture for your business is its logo. It should make people want to learn more about the brand and what it does. So you should  look your best
Knowing how important a logo can be, you might be needing some directed inspiration. Take a look at some logos coming from every beauty industry. From skincare to cosmetics, to salons, you can see the many intriguing ideas from these logos. The color, font, or design itself can inspire you to design the perfect logo for your business.
How to Create Your Salon Logo
In this industry, your focus is on beauty, so your logo should be pleasing to look at. Your business deserves a pretty face just as much as your client does. So, give it a glamorous new look with a beauty salon logo.
This is the era of self-care, all-natural, organic beauty products. With these becoming increasingly popular, it's harder to be distinctive, unique, and memorable. Selling a beauty product that has an aesthetic is vital. A good aesthetic in the brand image, including the logo, is essential for a successful beauty salon.
When creating your salon logo design, it helps to come up with a creative name first. A business name generator can be helpful when brainstorming ideas.
Hiring a Graphic Designer
It's easy to find a professional graphic designer on the internet to make a logo. You can find them on job search sites and freelance directories. If you look hard enough, they can even be found on social media platforms.
If you choose to hire a graphic designer, be willing to spend some money in order to get a quality product. There have been countless startup founders who created their own logo to save money and ended up regretting it later. Remember, you have to spend money to make money.
If you like a specific person's work, you can reach out to them. You can find and look through the work of graphic designers via freelance marketplaces. Some of these marketplaces may include Fiverr, Upwork, 99designs, and Toptal. You can hire designers from these websites. This may require more effort on your part, but it allows you to immediately start working with someone you like and agree with.
This article explains the pros and cons of popular logo creation services. It also shows what type of budget you should plan for if you want to get a custom logo created for you.
Creating Your Logo Yourself
If you want to design your own beauty salon logo, it may be tempting to buy templates or premade logos on a freelancing site. However, you may not receive what you desire or expect.
Take some time and look for inspiration. You can browse different example salon logos online. This can help you to figure out a design or idea that suits the business.
Always make sure to distinguish yourself from the competition. Select a design, font, or palette that will set you apart. You want customers to pick you out of the crowd. Choose whatever will attract attention while maintaining the brand image.
There are many online logo generators available to create your own beauty logo design. Two of the most popular and user-friendly ones are Wepik logo maker and Canva. While Canva is free to use, it also has a pro plan. You can make use of its many tools and visual assets to make your very own beauty salon logo from scratch.
This approach allows you to make your own logo without a big bill at the end. You get full control over the whole look of the design. Canva also makes it easy to transfer your logo to other formats, such as business cards.
While designing your beauty salon logo, keep these hot new trends in mind:
monograms: a logo design that displays the key letter(s) in the brand name
signatures: logo of a personal name signature
for a unisex beauty logo, use neutral color schemes
for a feminine beauty logo. Not pink and flowery designs, but more elegant, rounded illustrations and graphics, and lighter fonts
for a barbershop, the opposite should be suggested. For example, manhood and ruggedness. This is achieved by using bold fonts and sharp-edged graphics
Elements of a Beauty Logo
The top three elements to make an appealing logo are:
industry-standard colors
appropriate logo symbol
matching font size
Colors

Image source: Alfrey Davilla
Logos for beauty studios come in all hues and shades. Whether it be bold and bright or classic like black and white. When selecting a palette for your beauty salon logo, keep the clientele in mind. The palette should be to their taste, as well as leaving the desired feeling associated with your business.
Some popular color selections for beauty salon logos:
red
pink
white
blue
green
peach
These soft colors display a clean, appealing, feminine nature. They leave a customer with calm and comforting feelings. Many beauty startups are experimenting with more contrasting and dark palettes, rather than soft tones. This makes a rich design.
Symbol

Image source: Afzaluzzaman Saju
In a logo, a symbol is something that will inform consumers what the business is all about. A symbol should match the products, services, and company itself. In this case, it could be a fashion symbol or item. Images such as 'nail colors', 'mirrors', and 'perfume', etc. Another example is the classic scissors and comb combo for a hair salon.
As the selected symbol will stick with the company its whole existence, choosing a good one is important. A symbol should still look good in different sizes. Both on a sign and on a business card, for example. It should add to the logo, not distract from it.
Typography

Image source: Antonio Zacarias
A beauty logo's typography should be elegant and soothing to look at. A font can express what the words can't.
When choosing a font, keeping your customers in mind is key. Much like a color palette, a font can express what your business does and the products it offers. A font can even give an impression of quality. The font should assist your logo in looking sleek, simple, elegant, and inviting. You can also use a more modern and clean-looking font.
Here are some font ideas:
Tying Things Together
Your logo is the face of your business. Logos and their design can have a big impact on how your business is perceived. If designed right, your logo will attract customers and make them fall in love with your business. If you use the inspiration forged from these tips and examples, your logo is sure to be a success.
Now that you have a beauty logo, you're ready to boost your marketing potential online and in your spa or studio.
Beauty salon logo ideas
Beauty Studio – Anelia
Image source: alex aleksandrov
Nevelin

Image source: Olga
Natural Beauty Logo

Image source: Alex wrench
Camellia

Image source: Olga
Beauty Salon

Image source: Anastasia Kurilenko
VICTORIA

Image source: Olga
Janna's Salon

Image source: rustam suleymanov
Beauty space

Image source: Ksenia Vega
Logo

Image source: Olga
Jewelry hairstyle & beauty salon

Image source: Shahram Saeidi
RENATTA

Image source: art.zizz
Oh!Babe Beauty Brand

Image source: Emma Houghton
Beauty Salon Branding

Image source: Lana @mixidot
Beauty Salon Logo Design
Image source: Design Delivery
Logo Design | Beauty salon Kristina
Image source: Mario Orlovac
Sympl Beauty Space
Image source: Vadim Paschenko
Simply Pretty
Image source: Filip Panov
Studio B
Image source: Hind Benabid
Rose Beauty Bournemouth – Nail and Beauty Salon Logo Design
Image source: Attila Vaszka
Beauty salon logo
Image source: Ninchey
Atelier de Beatue Logo
Image source: Drew Hower
FEMI Logo
Image source: Dawid Wadach
Logo for Hadi Salon
Image source: Akhtar Khan
Ruhi Ahmadova
Image source: Elchin Eyyub
Woman Face Logo
Image source: RideStudio
Beauty salon
Image source: Hugo den Ouden
Bobsie Twins Logo
Image source: Ian Moss
beauty for all
Image source: med mansour
Keilah's Hair – Brand Identity
Image source: Timi Alonge
ExplicitCity Salons logo design
Image source: Rahal Nejraoui
Get more bookings with the right tool for the job
Staying organized has never been easier.
You can now manage your business and grow your brand with a single, powerful software that keeps all of your appointments in line, your clients organized and your business booming.
Trafft is the perfect salon scheduling software for business owners who need to streamline their booking experience both for their staff and their clients.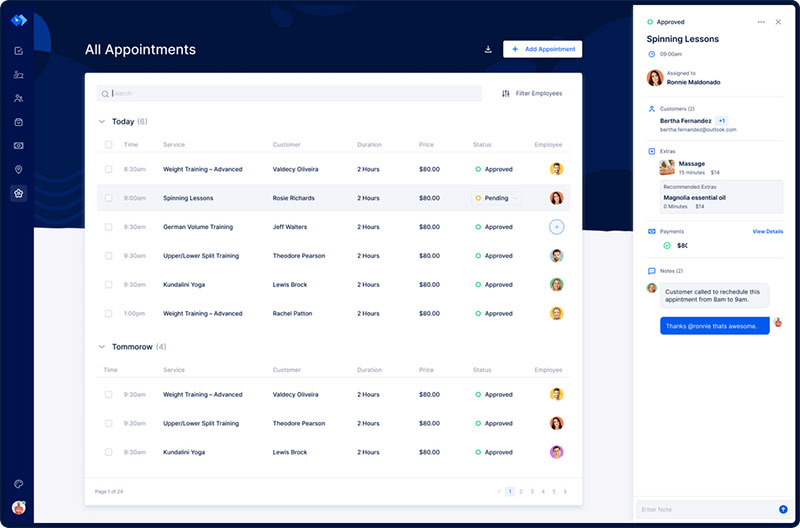 Trafft handles everything for you, even sending automated email or SMS reminders to your clients. No-shows? Not anymore!
The Trafft booking software adapts to different industries for a blissful online booking experience and employee management.
Want to know more? Check out Trafft's awesome features to see what you are missing.
If you enjoyed reading this article about beauty salon logo ideas, you should also read: