A logo is vital in any business. It strengths the brand, speaks to the target clientele, and helps the business grow.
Whether you own a gym, a yoga studio, sell exercise gear or are a personal trainer, a logo can boost your business and your recognition.
A gym logo needs to stand out from the crowd and show what your gym is all about. It should be simple and yet speak volumes. Looking at other gym logos can inspire you to create your own, but do not overlook important design principles that will help you make the best logo.
This article will highlight key gym logo design principles that will help you get started on creating your own.
Gym Logo Design Essentials
First Impression

Image source: Mike Bruner
When potential customer looks at your logo they get an impression of your gym business. Many people decide based on the logo if they will use that gym or not. So consider what message you want your gym logo to convey. Think about your target clients, what your gym offers, and how you can communicate that with the world. If you are not a designer, and wouldn't like to hire an expert, you can always consider using some of the best free graphic design software.
For the straightforward workout experience: consider using exercise equipment as an icon and a metallic finish.
For a high-end gym: make a unique logo that conveys exclusivity.
For personal trainers who incorporate diet: think about using green or blue to represent balance and health.
Representative Icon
Image source: dudenas
The goal of the logo is to attract the attention of potential clients and maintain that attention. Icons for gym logos should be memorable and complement the business name.
Choose an icon that accurately represents your business. It should identify the purpose of your business or a unique aspect that you bring to the gym industry. It should let people know, in a glance, that your business provides what they want.
Some appropriate icons for exercise centers include:
barbells
dumbbells
arm muscles
body muscles
weightlifters
a person flexing
a silhouette of a woman
a buff man
a gear
abstract symbols
initials of the gym name
a body in motion like running, biking, etc
Icons for other specific workout studios:
yoga studio logos often represent a person in a yoga pose
nutritionists use icons of plants, fruits, and vegetables
spinning studios can use an icon of a bike or a wheel
a physical therapy gym or rehabilitation gym might use a circle to resemble healing
A lot of gyms, personal trainers, and other exercise centers are starting to focus on overall body health and wellness, and less on building muscles or trying to look a certain way. If this is true in your case, choose an icon that represents health, happiness, or well-being instead of rigorous workouts.
Important points to keep in mind:
Make sure the icon matches the logo and the brand of your business to create a unified image
Do not overcrowd your logo with many icons. Keep it simple
Distinguish your logo from the competition
If your gym caters to both men and women, it is a good idea to incorporate that into your logo. Make both genders feel welcome. If you are a personal trainer that specializes in helping women, use the image of a woman in your logo
Emphasize perks or other things that set you apart. For example: if your gym always plays a great playlist, use a music icon to convey that
Do Not limit the Expansion of Your Gym
Image source: Lucian Radu
When choosing your logo, make sure you make room for future business expansion. For example, a yoga studio might have a logo of a yoga pose. In the future, if they decide to add a spin class section to their studio, they will have to rebrand to incorporate that new workout.
Rebranding costs money and can set a business back by a few years. Instead of going through a difficult rebranding process, it is better to choose from the beginning a logo that suits any exercise adventure. This is where an abstract icon, the initials of the gym, or an icon that represents fitness all around is useful.
Color Combination
Image source: Igor Levin
Colors affect the emotions of their viewers. Gym owners can take advantage of that and use a good color scheme to impact potential clients. First, think about who your ideal client is and then decide how you want them to feel when they see your logo.
Black is a common color for gyms because it is associated with iron. Pink or red are often used for gyms or personal trainers that cater to women. Nutritionists use blue and green for a sense of healthy eating. Yellow is an energizing color. Gyms use a gold color to demonstrate a high-end gym with the best equipment.
Black is a good color for gyms that offer a classic workout experience. Gyms that emphasize a healthy lifestyle should use bright and energizing colors. Bright colors project positive and fresh energy.
Text and Typography
Image source: Nick Budrewicz
Gym logos often use a combination of icons and text. The text can be the name of the gym or a motto. If you decide to add text, make sure to pay attention to the typography. The typography, or font, affects the overall look of the logo design. The font should match the brand of the gym.
A readable font is vital for a gym logo. If the font is too fancy or complicated for on-lookers to read, it will repel potential clients.
Try out different fonts with your logo maker to see which one will appeal to your target client best.
Bold font and visible letters appeal to bodybuilders because it emphasizes strength and power.
Serif fonts speak to upscale clients for personal trainers or fitness clubs in affluent neighborhoods.
Acute angles, incomplete letters, and digital designs target clients who want to use the best high-tech workout gear.
Create a Flexible Logo
Image source: Goutam Biswas
Gyms use their logos in several places. Make sure you design a logo that is versatile. Whether it is blown up or shrunk down, it should be visible and recognizable. Create a logo that does not have many small elements that are too difficult to see from a distance or while in motion. Test your logo design in the different scenarios before making a final decision.
Places where a gym logo appears include:
on the building
athletic gear
flyers
business cards
billboards
t-shirts
sweaters
road signs
banners
social media profiles
websites
emails
etc
Copyright Tip Before You Begin Designing a Logo:
Image source: Dan Blessing | Design Shark
Before finalizing a logo design, you need to make sure that it is not in violation of copyright law. If your logo is trademarked by another gym or personal trainer, then you will be on the bad end of a lawsuit.
Some gyms have used a logo for years but have never trademarked it. If another gym decides to use that logo, they can trademark it and then make the first gym remove it. Do not let this happen to you. After you design your perfect logo, make sure to trademark it so that it is exclusive to your business.
Examples of Good Gym or Fitness Logos
Here are some examples of gym logos that apply the design essentials mentioned in this article:
Gold's Gym is a well-known chain of fitness centers. It uses gold and black colors to match its name and to represent the quality exercise experience that it offers. Its icon is of a muscular man holding a barbell. It conveys that this gym offers a classic workout experience.
Alexia Clark is a personal trainer. She uses the color pink to attract her target market of women. Her icon is a crown to make her clients feel like queens when they put forth effort in their workout sessions. A crown is not a common icon in fitness logos but it is appealing and plays to the emotions of the client.
Planet Fitness is another popular fitness club. It uses a gear icon and a thumbs up to represent its strict and enforced no judgment policy. Its logo is welcoming to every type of client and displays what sets it apart. It uses the color purple to make clients feel like royalty.
Workout

Image source: Type08 (Alen Pavlovic)
Logo for the gym

Image source: Nick Molokovich
Gymgeek Identity Project

Image source: Leo
Gym Lion logo

Image source: Dmitriy Dzendo
Gymshark logo concept

Image source: Daniel Bodea / Kreatank
Monteil Fitness

Image source: Dan Blessing | Design Shark
Logo
Image source: Santi Gatti for Kilómetro
Legion Gym
Image source: Roman
Crossfit Gym
Image source: Michael van Tonder
Lee Labrada Team
Image source: Roman
Heavy Logo / Wordmark
Image source: Aditya | Logo Designer
Gymfind Logo Design
Image source: Dalius Stuoka
Fitness Now Logo
Image source: Phalen Reed
Crossfit Logo
Image source: RedSunshine
GYM
Image source: dizamax
Logo for the gym
Image source: Nick Molokovich
Iheartcoffee
Image source: Sara Geci
Fittest in OK concept
Image source: J.D. Reeves
Weight Lifter
Image source: SPG MARKS
TrainingsRausch
Image source: Roman
Rhino Fitness Logo
Image source: Aditya
Grüv FC
Image source: Jason Craig
Toro Crossfit
Image source: Russ Razor
Liftdri
Image source: Kikillo
London Fitness – Brand Identity
Image source: Wisecraft
Iron Paradise
Image source: Nick Stewart
Hex Gym – Dumbbell Logo
Image source: Nick Budrewicz
Logo Mobi Gym / Max Effective Workout
Image source: Piotr Gorczyca
Amazon GYM
Image source: Oleg Martcenko
Mammoth logo
Image source: Mersad Comaga
Ending thoughts on creating a gym logo
A gym logo strives to stand out, represent the gym, and attract clients. It takes thought and creativity to design a logo that will stand the test of time. Once you create a logo it is hard to change it later. So take your time with the logo maker and test out different designs.
Remember:
decide what message you want the logo to convey
choose an icon that lets people know what you provide, is versatile, and flexible
pick a color scheme that evokes the emotions you want your clients to feel
select a font that is readable
keep it simple
make it stand out
Following these tips will help you create a gym logo that does the heavy lifting so you can focus on working out.
Get more bookings with the right tool for the job
Staying organized has never been easier.
You can now manage your business and grow your brand with a single, powerful software that keeps all of your appointments in line, your clients organized and your business booming.
Trafft is the perfect gym management software for business owners who need to streamline their booking experience both for their staff and their clients.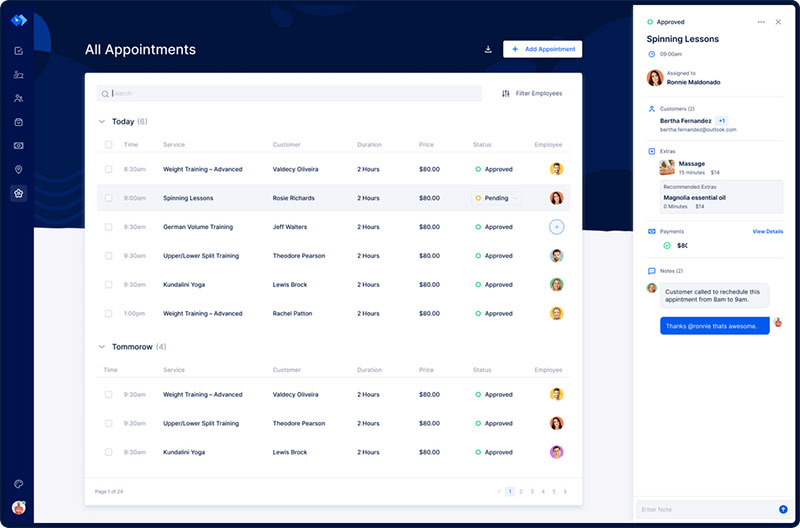 Trafft handles everything for you, even sending automated email or SMS reminders to your clients. No-shows? Not anymore!
The Trafft booking software adapts to different industries for a blissful online booking experience and employee management.
Want to know more? Check out Trafft's awesome features to see what you are missing.
If you enjoyed reading this article on creating a gym logo, you should also check out this one on how to start an online personal training business.
We also wrote about similar topics like the gym owner salary, gym mission statement examples, gym slogans, fitness hashtags to use, or fitness franchises you can buy.