Are you an aspiring entrepreneur with a passion for healthy living and fitness? If so, you may have considered getting involved in the fitness industry. Having your own fitness studio or gym can be rewarding, but it comes with many challenges. However, fitness franchises can have the same benefits without all the difficulties.
Gym franchises offer a wide variety of concepts and investment options. Some initial investment requirements can be as low as $10,000 or less. These franchise investment options can also range all the way up to $5 million to launch. There is a fitness franchise investment option for almost any budget.
By becoming a franchise owner, you can benefit from:
a proven business model
existing customer base
franchisee support system
brand recognition
already existing marketing
vendor network
Basically, starting a gym franchise takes all the heavy lifting and extra weight off your shoulders.
Within this article, you'll find some of the best gym franchises, what locations they serve, and the initial investment requirements. You'll also see any unique benefits provided from the franchises to the franchisees and customers.
Best Gym Franchises to Buy
There are countless franchises looking for people to invest and set up new locations. This is a list of the most promising gym franchises on the market today. This is mainly based on growth rate, name recognition, and franchisor support system. Here are the best gym franchises in the business.
9Round
Estimated total initial investment: from $79,175 to $163,27
9Round was initially founded by pro kickboxer Shannon Hudson, in 2008.  This gym franchise specializes in 30-minute kickboxing-themed classes. Each class is unique and a new one starts every three minutes. Clients don't need to make an appointment. In addition to the unique classes, 9Round offers personalized nutrition guidance, personal trainer assistance, and online meal planning.
Under the guidance of trainers, gym-goers can learn all the basic kickboxing moves. They can also enjoy a full-body workout by punching and kicking the bags. For those who want more guidance when it comes to healthy living, nutrition advice, and online meal planning. tools are available. This chain also prides itself on how effective its method is with weight loss.
This franchising chain was founded in 2007 and began its franchising phase in 2009. For the first 8 years, its location numbers skyrocketed. In 2019, the total location number was nearly 800 but has declined to a total of about 750 today.
Planet Fitness
Estimated total initial investment: from $1 million to $4.1 million
Planet Fitness is a very popular gym that strives to provide a judgment-free workout facility. This makes everyone feel comfortable while working out. Locations are open all day every day. Planet Fitness prides itself in maintaining spacious and clean facilities and equipment. Some of the services provided include free training by certified trainers. They provide customized workout plans and assist with equipment.
The Planet Fitness franchise was founded in 1992 and has been franchising since 2003. The number of fitness franchise locations has been steadily increasing to a total of about 2,039. About 80 of these locations are company-owned and about 60 locations outside of the US.
This gym prides itself on its 14 million members worldwide, but franchisees will have to pay for the international fitness brand recognition. However, having a recognizable brand pays.
Anytime Fitness
Estimated total initial investment: $98,400 – $523,800
This fitness franchising chain gives customers convenience and flexibility. Their locations are open 24/7. This is possible because of a special security system, which allows customers to access the gym during hours that the location is not staffed. This means that you too can run your franchise 24 hours a day without extra staff members. Other services provided by this chain include:
group training
fitness consultation
personal training
Anytime Fitness' parent company owns a variety of related franchises and businesses. This means that Anytime Fitness is a subsidiary of Self Esteem Brands. The related franchises are Waxing the City, Pumpone, Basecamp Fitness, and Healthy Contributors.
Anytime Fitness was founded in 2001 and started franchising in 2002. The number of locations has increased in recent years. Having about 4,750 locations currently, only four are company-owned. Out of the number of locations, there are about 2,330 that are located outside the US.
Orangetheory Fitness
Estimated total initial investment: from $560,000 to $1,000,000
Orangetheory Fitness provides customers with structured workout sessions with planned times. These sessions are led by trainers. This chain offers gym-goers unique and difficult group workout experiences. Members can wear heart rate monitors while exercising so that they can see the real-time effect of the training. Orangetheory's heart rate training is meant to produce the "afterburn" effect. This makes the exerciser's metabolic rate stay elevated for up to 36 hours after a workout.
Founded in 2010, Orangetheory Fitness has been providing custom workouts for all fitness levels. This is because gym-goers can go at their own pace. They claim to be one of the fastest-growing fitness franchises in the world.
Crunch Fitness
Estimated total initial investment: $304,500 – $2.1 million
Crunch Fitness could be considered as more distinctive than other fitness franchises. They offer an innovative and edgy fitness program, with fitness options like Action Wrestling, Hip-Hop Aerobatics, and Cyked Yoga Cycling. They're trying to fuse entertainment and fitness. They want members to enjoy a healthy lifestyle and have fun doing it.
Crunch Fitness promotes a non-judgmental environment and trademarked the phrase "No Judgements." Their marketing approach is "fun, irreverent, quirky, and motivating." They want people to have fun while they work out.
A former stockbroker named Doug Levine founded Crunch Fitness in 1989. There are currently 350+ franchise clubs or locations in the US, Australia, and Canada.
F45 Training
Estimated total initial investment: from $313,000 to $485,000
F45 Training is a group training studio franchise. They focus on high-intensity 45-minute workout sessions. It is now one of the fastest-growing HIIT (high-intensity interval training) franchises in the world.
Their fitness classes are a combination of HIIT and circuit-style workouts. This gives clients a premium exercising experience. F45 wants to keep their gym-goers motivated throughout the class. Mark Wahlberg, a Hollywood star has become a stakeholder with about $450 million invested already.
F45 was founded in 2012 in Australia. The "F" stands for the type of exercise, which is "functional." And the 45 stands for how long the workout sessions are in minutes. The franchise has created over 27 HIIT workout routines, derived from more than 3,000 different exercises they use. This number is growing as they come up with new exercises.
Pure Barre
Estimated total initial investment: $198,650 – $446,250
Pure Barre provides full-body workouts that are in tune with great music. The exercise sessions are based on ballet barre and isometric movements. These movements focus on arms, hips, thighs, seat, and abdominals. The workout techniques are low-impact and safe. This is because there is less jumping and bouncing in these exercises. Pure Barre also promotes programs like yoga and meditation to benefit mental health.
Pure Barre also offers training classes provided by trainers and by selling premium workout clothing.  Based on the Pure Barre website, they were the first established barre studio franchise.
They have opened over 550 locations in North America. They also have many studio markets in the US.
Snap Fitness
Estimated total initial investment: from $154,000 to $530,00
These health and fitness gym franchises are open 24/7 with keycard access. They have a low-cost monthly membership fee. The membership includes a MYZONE fitness belt that has real-time heart rate tracking technology. It can also tell how many calories have been burned during the workout. One of their most popular and highest rated exercises is called MYFIT. It's an 18-minute daily HIIT or high-intensity interval training workout. The workout is led by an onscreen trainer or instructor. The classes are free for members and even non-members can purchase a group pass.
Snap Fitness is a great fitness studio if you want to get back to the basics of working out. With so many changing fitness philosophies, you may prefer a gym with a basic exercising program.
Snap Fitness was founded in 2003 by Peter Taunton, a professional racquetball player. This health and fitness club has been franchising since 2004. However, the number of franchising locations in the US has been declining in the past few years.
Club Pilates
Estimated total initial investment: $167,967 – $280,446
This fitness and health gym offers classes and workouts via certified instructors and trainers. These instructors have trained for hundreds of hours to meet teaching requirements. These teaching standards are on par with Joseph Pilates' original Reformer-based Contrology Method, with some modern adjustments.
In the exercises offered, the following equipment is used:
TRX
Mats
Barre
Exo-chair
Rollers
Bosu ball
more
Club Pilates attracts a large group of customers because of its inclusive attitude. The target demographic ranges from teens to seniors. There are nine class types and four different levels.
Club Pilates claims to be the largest pilates brand by having over 600 locations. This fitness studio franchise was founded in 2007 in San Diego, now having locations all around the globe.
UFC Gym
Estimated total initial investment: from $200,000 to $1,060,000
Initial investment fees can start as low as $100k.
UFC Gym offers classes, coaching, and interval training based on martial arts. They also offer a wide range of other training session options. For example, kickboxing, yoga, Brazilian Jiu-Jitsu classes, youth training, and more. Most of the sessions tend to focus on exercising one area of the body.
Another benefit to investing in a UFC Gym franchise is that they have considerable brand recognition.
Get more bookings with the right tool for the job
Staying organized has never been easier.
You can now manage your business and grow your brand with a single, powerful software that keeps all of your appointments in line, your clients organized and your business booming.
Trafft is the perfect gym management software for business owners who need to streamline their booking experience both for their staff and their clients.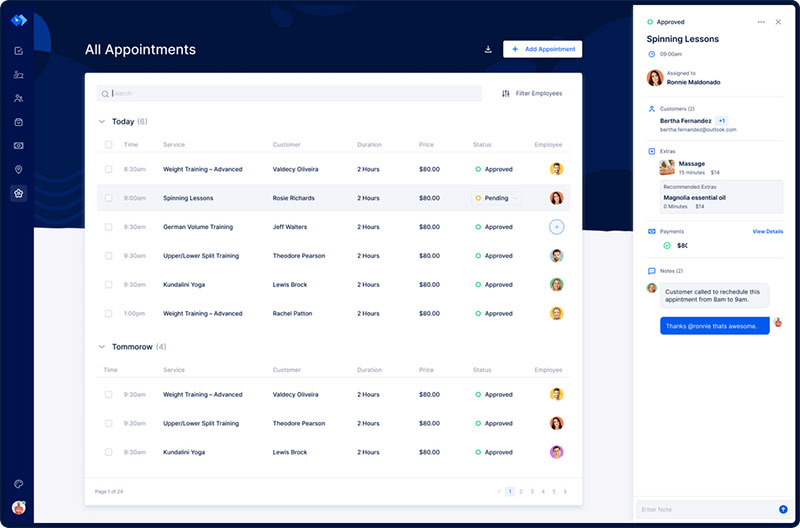 Trafft handles everything for you, even sending automated email or SMS reminders to your clients. No-shows? Not anymore!
The Trafft booking software adapts to different industries for a blissful online booking experience and employee management.
Want to know more? Check out Trafft's awesome features to see what you are missing.
Gold's Gym
Estimated total initial investment: from $2.2 million to $5 million
Gold's Gym first started in 1965 in Venice, Los Angeles, CA. In the US, it is one of the oldest fitness brands, thus is a franchise with great brand recognition. These fitness centers are fully equipped with a wide variety of equipment. Each franchise location has a locker room, a children's club, and multiple kinds of equipment. Locations have other features that appeal to customers. Some examples include:
supplements
bars
drinks
nutritional products
accessories
branded clothing
Gold's Gym is focused on bodybuilding and has built such a reputation. They've also become legendary for their many famous members like Arnold Schwarzenegger. Gold's Gym has almost 700 locations across 29 countries.
GymGuyz
Estimated total initial investment: $56,100 – $222,700
The franchise investment prices are high, but so are the profits.
GymGuyz is focused on one-on-one fitness, corporate fitness, and group sessions. It's an at-home personal training franchise. They offer a huge range of fitness styles and options. Some of the options include weight training and loss, body sculpting, obstacle course training, senior fitness, and more. GymGuyz likes to provide creative and customized workout classes and fitness.
A "gym membership" with GymGuyz offers a personal trainer who comes to the member's home and delivers fitness equipment. They will also bring other fitness training options. These options are nutritional counseling and massage therapy.
This fitness gym was founded in 2008 and first started franchising in 2013. Their number of gyms has grown to a peak of 240 in 2019. That number has dropped to a current number of 234. Four of these locations are company-owned. Another 45 locations are outside the US.
Burn Boot Camp
Estimated total initial investment: from $150,330 to $406,500
Burn Boot Camp was founded in 2012 by a husband and wife duo named Devan and Morgan Kline. Their goal is to empower women by building happiness, confidence, and discipline. They want to help women to be strong physically as well as emotionally and mentally. Burn Boot Camp aims to create a global health transformation and maximize the quality of life.
The challenging and energizing workout program provided focuses on strength and cardio. For the best results, a different muscle group is targeted each day. Each workout is 45 minutes in length. Burn Boot Camp wants to make sure you make the most of your time at their gym.
There are many types of equipment used at Burn Boot Camp franchise locations. They have a "Floating Floor" to prevent injuries and protect your joints. Some of the other equipment includes kettlebells, free weights, battle ropes, hurdles, and more.
The Bar Method
Estimated total initial investment: from $303,000 to $500,000
The Bar Method is an excellent barre studio-type gyms franchise. The Bar Method is focused on creating safe and challenging exercise routines. There are classes ranging from 45 to 60 minutes in length. Under the guidance of physical therapists, members use their own body weight as resistance to exercise. Some equipment, like mats, exercise balls, and free weights, can be used. These barre-based exercises are suitable for all exercise levels. This includes those who have injuries or physical limitations.
If you decide to start one of The Bar Method's franchises, you will have to participate in a comprehensive training program. This is because the franchise requires all of its franchisees to be certified as barre instructors. The program includes one week of training at the franchise headquarters in San Francisco. After that, there are three to six months of training in your own franchise location.
The Bar Method has over 95 franchise locations currently. The company's first location was founded by Burr Leonard and Carl Diehl in 2001.
The Camp Transformation Center
Estimated total initial investment: from $167,000 to $326,500
In 2011, Alejandra Font and Sam Bakhtiar launched The Camp. They built a high-interval training studio. This franchise has a unique business approach, practical scalability, and low franchise fee. This has made it grow very quickly in a variety of markets. By being a member of this franchise, people are able to have a healthy lifestyle, lose weight, and keep it off.
The main goal of this The Camp is to help people lose weight in six weeks. Their challenge is for people to lose 20 pounds in that time period. The people participating are to work out five times a week over the course of six weeks. The trainers encourage them via positive emotional support as well as a structured and healthy diet. This means that the program includes meal planning. If people succeed at these realistic goals, they become members.
The Camp continues to grow rapidly with more than 100 locations across the US already.
FAQs about fitness franchises
1. What is a fitness franchise?
A fitness franchise is a type of business concept that enables people to launch and run a fitness center utilizing a recognized name and proven business plan. Franchisees are given training, support, and access to resources to help them successfully run their businesses in return for an upfront fee and monthly royalties.
2. How much does it cost to open a fitness franchise?
Depending on the brand, the area, and the size of the facility, the cost to create a fitness franchise can be very different. The initial investment, which covers the franchise fee, equipment, and other start-up expenditures, can typically vary from tens of thousands to hundreds of thousands of dollars. Regular costs like rent, employee pay, and marketing must also be taken into account.
3. What type of fitness franchises are available?
Fitness franchises come in a wide range of varieties, from small studios that focus on certain routines like cycling, yoga, or HIIT to larger facilities that include a variety of amenities like cardio and weight equipment, group fitness classes, and personal training. Additionally, some fitness franchises grant 24 hour access to their facilities.
4. How profitable are fitness franchises?
Location, market demand, and the franchisee's managerial skills are just a few of the variables that affect a fitness franchise's profitability. While some franchisees might make substantial profits, others might find it difficult to break even. Researching the potential risks and rewards is crucial before making an investment in a fitness franchise.
5. What support is provided by the franchisor?
Franchise owners generally receive assistance from franchisors in a number of areas, including site selection, hiring employees, marketing, and ongoing operations. Some franchisors may also provide access to group purchasing programs for equipment and supplies, as well as ongoing coaching and support from experienced business professionals.
6. What are the initial and ongoing fees for a fitness franchise?
A franchise fee, which is the up-front cost for utilizing the franchisor's brand and operating system, may be included in the beginning costs for a fitness franchise. Royalties, which represent a portion of the franchisee's sales, as well as marketing and advertising fees, are examples of ongoing costs. Depending on the franchise brand, different expenses will apply.
7. What are the qualifications required to own a fitness franchise?
The requirements for owning a fitness franchise will vary depending on the franchisor. Some would need prior fitness industry expertise, while others might need a specific amount of business experience. The majority of franchisors will need a certain degree of financial stability and the capacity to make the required initial investment.
8. Can I open a fitness franchise if I don't have prior experience in the fitness industry?
True, some fitness franchises don't require applicants to have any prior fitness-related expertise. The ownership of a fitness franchise, it should be noted, necessitates a sound understanding of business principles and the capacity to efficiently manage personnel, resources, and operations. No matter their prior experience, a lot of franchisors offer training and support to help franchisees flourish.
9. How long does it take to start a fitness franchise?
The specifications of the franchisor, the location of the facility, and the accessibility of funds are just a few of the variables that will affect the timing for opening a fitness franchise. Finding an appropriate location, obtaining finance, and completing the necessary training and preparations for the business's opening can typically take several months to a year or more.
10. What kind of marketing support is provided by the franchisor?
The majority of fitness franchises offer their franchisees marketing assistance, such as access to branded marketing materials, help with social media and digital marketing, and participation in national advertising campaigns. To help generate leads and spread brand awareness, some franchisors may also offer support with community outreach and local marketing initiatives.
Ending thoughts on these fitness franchises
Having your own fitness studio or gym can be rewarding, but it comes with many challenges. Investing in a gym franchise has all the same benefits without all the difficulties. By becoming a franchise owner, you can benefit from a proven business model, existing customer base, and franchisee support system. You'll also benefit from many other franchise opportunities. These include brand recognition, already existing marketing, and vendor network.
This article has explored some of the best gym franchises. You've seen what locations they serve and the initial investment requirements. You've also seen many of the unique benefits provided from the franchises to the franchisees and customers. Hopefully, you've found the perfect fitness franchise brand to fit all your dreams and aspirations.
If you enjoyed reading this article about fitness franchises you can buy, you should also check out this one on how to start an online personal training business.
We also wrote about similar topics like the gym owner salary, gym mission statement examples, gym slogans, gym logo ideas, or fitness hashtags to use.