Hair salon business cards are a great way to get clients to know about your business. Business cards can inform people about company services, values, and more. Having professional hair salon business cards is practical. It gives potential clients a quick way to contact you.
Think about it, there are many situations in life where there's no time to write business information down. Hair salon business cards will answer all of the customers' questions in seconds.
Creative hair salon business cards stand out and appeal to customers. It's a great way to gain new clients.
In this article, you will see the most beautiful and best ideas for hair salons and hairstylist business cards. These wonderful ideas will help hairdressers to find inspiration for their own hair salon business cards.
What Should a Hair Stylist Business Card Have?

Image source: Mathias Brandt
When it comes to designing business cards, the phrase "less is more" is a good principle to go by. Hair salon business cards should be short and sweet. Quick and to the point but still appealing to the target clients. An illustration of this would be: "Here's my contact info, call for an appointment."
For maximum effectiveness, your hair salon business card should have these five aspects included:
an icon or logo that represents the brand
company or brand name in a legible and clear front
the business expertise or services provided
contact information such as a phone number, address, email, and social media
tie it all together with the color scheme of the brand to show personality
This is all the essential information for hair salon business cards. Keeping the hair salon business card simple is important. Having too much text and information can clutter the business card. This would overshadow the important information. Having too many colors can also take the attention away. Always try to keep the color scheme to three colors: the main color, accent color, and text color.
Top Professional Hair Stylist Business Card Tips
Use a Relatable Headline
A catchy title and design can intrigue clients.
Through the headline, try to convey the personality and goals of the hairdresser and hair salon.
You can also try to inform how products and services are provided to clients. Once you have a design, make sure to have the salon business cards professionally printed for a better look.
The Salon Logo

Image source: Pedro Eira
A logo is a simple yet clear image of the business. It should represent the industry of the business as well. It's best if the logo looks good in black and white when it's sized small. Yet another reason for the salon logo to be simple.
If you plan to use the logo on the internet, Facebook, or another platform, it's wise to use a logo that is long as it is wide.
For a logo, use two colors at the most. Don't use trendy shadows, gradients, or visuals. This will only complicate the logo and confuse customers. The logo and its shapes should easily be recognizable from a glance.
If you're using a personal name for your hair salon, making a personal logo is not necessary. Instead, make a personalized design with your name. Use this design consistently.  This way, you can have a more accurate recall from your audience.
Tagline
A tagline is a simple statement that informs what your business does. This is another important element for salon business cards. A good tagline will identify some of the benefits of what you do. You can add a personal touch of attitude and personality.
While designing salon business cards, a salon name, tagline, and logo, should be considered as one item. They should fit together like a well-oiled machine.
Theme

Image source: Mario Orlovac
When deciding a theme for your business card, considering clientele is important. This can help you decide on graphics and colors. Think about the theme of your hair salon itself. Incorporate hair and beauty into your salon business cards. Try to incorporate the style and designs of your beauty brand into the hair salon business card design.
Colors like rose gold show a sense of femininity and a theme that corresponds with hair and beauty. An elegant gold foil can create a feeling of luxury. For a more modern and chic style for your hair salon business card, go for minimalist designs. When incorporated tastefully, floral designs can add the perfect touch to the hair salon business card design.
Common graphic options for hair salons are:
combs
scissors
hair models
blow dryers
bobby pins
Fonts and text should be clear, large, and easy to read.
Beauty salon business cards can be likened to makeup looks. Adding extra touches can add to the whole design, but too much can bring the whole thing crashing down.
Focus on a Service
If your salon is known for a specific skill or service, the design of the hair salon business card should focus on it. If you're a hairdresser business or a makeup artist, you can add this info to the business card. This will help show customers that you're their best choice. Of course, you should add the other services you provide in a creative way.
Illustrations
If you want your salon's business card to stand out, use an illustration. A unique illustration on your business card will grab clients' attention.
Use an illustration that represents the hair salon brand. An illustration can convey countless ideas. Using the right illustration for a hair salon business card can bring in many more clients.
This is another great beauty salon business card idea for your hair salon.
Utilize the Back of Your Card

Image source: Sarah Deshaut
Many business owners take the back of the card for granted. Utilizing both sides of the business card to the fullest is key. There are multiple ways to utilize the backside of a business card.
You can include a personalized or unique design. Or, you can print an enlarged full-color version of your logo on the back. Instead of a small black and white version that might be on the front.
The backside can also be used as an appointment reminder. This makes the card a dual-purpose marketing tool. This keeps the contact information accessible for the customer. This encourages them to make a follow-up appointment.
Either way, fully utilizing both sides of the salon business card is essential.
Engage the Senses
Hairstylist business cards that engage more than one sense will have a bigger effect on the customer. Your business will come to mind easier. The client will also be more likely to remember your hair salon. Using this technique, the brand will stand out more among its competitors.
Here are some suggestions:
textured or thicker cardstock
a scratch-n-sniff sticker
a glossy finish
an embossed or metallic foil embellishment
Make It Multipurpose
Business cards are a great tool for any business. Making the salon business card multipurpose will ensure that people keep them. People will value the card itself more and end up liking your business more.
There are many ways to make salon business cards more useful. For example, they can be bookmarks, mini rulers, or they can give special information about your business and industry.
This is where you can get creative. Design your business cards with a function or tool related to the salon. You can also create personalized digital business cards for iPhone users so that they can save them on their phones and avoid the hassles of carrying a physical card.
Another great idea is to make the hairstylist business cards coupons.
Use an Elaborate Border Design

Image source: elegantflyer
Business cards should be designed for the target customer. For hair salons, this is likely female consumers. So, when designing your hair salon business card make sure to keep feminity in mind and keep it as the theme.
One example of a design that will immediately bring feminity to mind is floral borders. If you use this design or something similar you can expect to be contacted by female customers.
If your hair salon business card's design is without an illustration or logo that conveys a feminine nature, it's a good idea to utilize its border. You can add any design you'd like. Whatever corresponds with the theme. Be sure to keep it simple, not to distract from the rest of the business card. Remember, you're only adding an extra touch.
Hair Salon Business Cards Examples
Business card for beauty center
Image source: Evil Dill
Business card for a hair salon
Image source: Hannah W Ford
Square Hair Stylist Business Card
Image source: Jarod Russel
Salon Business Card
Image source: Damian Kidd
Hair Stylist Business Cards
Image source: Haley Ahokas
Custom business card design for hair salon business
Image source: Daniel Montiel
Creative Hair Studio Business Cards Design
Image source: Paulo fevereiro
business card design for hair salon business
Image source: Daniel Montiel
Business card design idea
Image source: Marinela Kovac
Custom business card design for hair salon business
Image source: Daniel Montiel
Color Studio Hair Salon Business Card
Image source: Kiki Bakowski
Portrait orientation beauty salon business card
Image source: Viktoria
Beauty by Dejah Business Cards
Image source: Natasha
O LALA Beauty Salon
Image source: Słowiński Paweł
SYNAPSE BUSINESS CARD
Image source: Haruna
Color Studio Hair Salon Business Card
Image source: Kiki Bakowski
Business Card for Beauty Salon
Image source: Yulko
Chloe Lousie Beauty Logo
Image source: Joanne Edwards
Get more bookings with the right tool for the job
Staying organized has never been easier.
You can now manage your business and grow your brand with a single, powerful software that keeps all of your appointments in line, your clients organized and your business booming.
Trafft is the perfect salon scheduling software for business owners who need to streamline their booking experience both for their staff and their clients.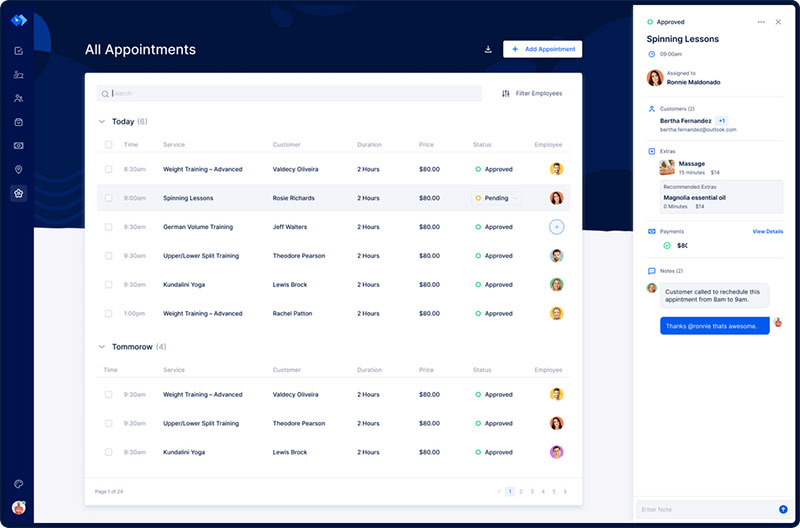 Trafft handles everything for you, even sending automated email or SMS reminders to your clients. No-shows? Not anymore!
The Trafft booking software adapts to different industries for a blissful online booking experience and employee management.
Want to know more? Check out Trafft's awesome features to see what you are missing.
Branding :: Lookin' Good Hair Salon
Image source: Rod Burkholz
Hair Stylist Business Card
Image source: Audee
Haircut girl logo template
Image source: Monica
Hair stylist business card
Image source: Andreea for EromAgency
Bobrovsky
Image source: Mut Diz
Hair Salon
Image source: Amy Louise Baker
FAQs about hair salon business cards
1. What information should I include on my hair salon business card?
Your name, title, phone number, email address, and physical address should all be listed on your hair salon business card along with the name of the establishment. You might also want to include links to your website, social media accounts, and a brief phrase summarizing your salon's USP.
2. Should I use glossy or matte paper for my business cards?
What you choose to do will rely on your preferences and the message you want to deliver. Your business cards will look more polished and professional if they are printed on glossy paper, while they will feel more organic and natural on matte paper. Take into account the overall branding of your salon and the impression you want to give clients.
3. How many business cards should I order for my hair salon?
The size of your salon and the number of employees you have will determine this. Order enough business cards so that each employee has plenty to hand out to customers and has some extras to leave at nearby establishments or community gatherings.
4. What is the standard size for hair salon business cards?
Hair salon business cards are typically 3.5 inches by 2 inches in size. Yet, you have the option of going with a bigger or smaller size, depending on your preferences and the layout of your card.
5. Can I include a photo of my salon or work on my business card?
Indeed, displaying a picture of your workspace or salon can be a fantastic approach to highlight your talents and give potential customers a picture of what you have to offer. Make sure the image complements your salon's overall branding and is of good quality.
6. What is the best font style and size to use on a hair salon business card?
For a business card for a hair salon, the ideal font style and size should be readable and intelligible. In general, sans-serif fonts are a wonderful option for business cards because they are sleek and contemporary. It is advised to use fonts between 10 and 12 points, though this can change based on the font type.
7. Is it important to have a logo on my hair salon business card?
The presence of a logo on your hair salon's business card is optional, but it can strengthen your brand recognition and increase card recall. Potential customers can get a sense of the services you provide and the atmosphere of your salon from a well-designed logo.
8. Should I include my social media handles on my hair salon business card?
It might be a wonderful strategy to market your hair salon and engage with potential customers online to include your social media accounts on your business card. Ensure that the logos of the social media networks you use are included in your handles and that they are easy to see.
9. Can I print my business cards at home, or should I use a professional printing service?
Although you can print your business cards at yourself, using a professional printing service is usually advised. This guarantees that your cards are printed in high-quality and have a polished appearance. Also, there is a huge selection of paper kinds and textures available with professional printing services.
10. How often should I update my hair salon business cards?
Every time your hair salon's name, logo, address, or contact details change, you should update your business cards. Also, if you make changes to your logo or if a special promotion or event is approaching, you might want to refresh your business cards. To make sure that potential clients can contact you easily, it's crucial to maintain your business cards up to date.
Ending thoughts on the hair salon business cards
When it comes to the beauty and hairstylist industry, marking and branding are everything. That's why having the right business cards and logo is so important. They're a central part of your hair and beauty brand.
Even in today's fast-paced, technology-based society, business cards can be a great asset. They can bring in new clients and give them ways to reach you. You'll always be building clientele. A hair salon business card design can communicate so many things about your business. Always make sure to keep it simple.
Hopefully, some of the great tips in this article have given you inspiration for your own hair salon business cards. Now, you'll be able to create a design that is a quality, high-end, chic, and beautiful hair salon brand.
If you enjoyed reading this article on hair salon business cards, you should also check out this article about hair salon statistics.
We also wrote articles on similar topics, like hair stylist apps, hairdressing consultation tips, hair salon logo examples, famous hair stylists to follow online, hair salon prices list, and how to recruit hair stylists for your salon.