Owners of hair and beauty salons want to communicate with customers in a clear manner. There are a wide variety of ways to do this, one of which is by using hairstylist quotes in certain places.
For instance, social media posts and strategic interior design. It could be a saying attached to emails and reminders, or even some anecdotal phrases included in the salon policies.
Searching for the right hairstylist quotes or a catchy beauty slogan can be a daunting task. Here is a compilation of some favorite hair & beauty quotes.
Salon owners can use these quotes to inspire staff and customers.
Amazing Hairstylist Quotes
Life inside a hair salon is never dull. There's an inspirational moment waiting with every new client.
Whether it's revitalizing someone going through a breakup, or fulfilling a teenage girl's dream by giving her rainbow hair. These moments can provide inspiration for hairstylist quotes.
Social media is an excellent way to focus attention on a certain topic. Owners can highlight a new line of premium hair care products.
Or use it to promote salon hairdressing cosmetics supplies. Inspirational hairstylist quotes are a great tool for such occasions.
For instance, a salon owner may have rebranded their salon and now wants to announce it to the community. Finding a professional hair quote that captures the salon's new image and values is the perfect centerpiece.
Personalize it with photos of the salon staff doing their thing. Of course, always check with the author of the quote for permission first.
Always research the person being quoted. Avoid tying the salon to someone who doesn't share the same morality and values.
Also, by using their quote, this person becomes your role model. Make sure it is someone you can respect and be proud of.
"Even geniuses can get things wrong. Look at Einstein's unfortunate choice of a hairdresser." (Joss Stirling)
"I wanted to make people beautiful, so I became a hairstylist." (Anonymous)
"Blessed are the hairstylists, for they bring out the beauty in others." (Anonymous)
"When a woman walks in a room her hairstylist walks with her." (Anonymous)
"If it doesn't nourish your soul or your hair, let it go!" (Anonymous)
"It doesn't matter if your life is perfect as long as your hair color is." (Stacy Snapp Killian)
"You can't act like box dye and expect to be treated like balayage." (Anonymous)
"I'm a stylist, I make hair contact before eye contact." (Anonymous)
"You know you do hair when Tuesday is the first day of the week." (Brittany Bartages)
"Life is more beautiful when you meet the right hairdresser." (Peter Coppola)
"It is always wise to be nice to a person who is holding scissors near your head." (Anonymous)
"People are more apt to believe you and like you when you know you look fine. And when the world approves, self-respect is just a little easier." (Estee Lauder)
"Be nice to your hairstylist. We can ruin your self-esteem for six months in fifteen minutes." (Anonymous)
"To sculpt a head of hair with scissors is an art form. It's in pursuit of art." (Vidal Sassoon)
"It was happening. At least in that little section of the salon, women were connecting and doing what women knew how to do, show compassion, nurturing, and helping someone fit in."  (Terri Gillespie)
"I just want to look natural. You know, like a movie star." (Anonymous)
"Don't mess with a hairstylist. We get paid to cut people." (Anonymous)
"I never dreamed about success. I worked for it." (Estee Lauder)
"I love the interaction with the people sitting in my chair. And I love the little twinkle in their eye that said, "Wow, I feel really good! I look great!" That was–and still is–quite powerful to me. It's an instant gratification! It doesn't matter how badly their day has gone, in that moment they feel amazing. And the hairdresser has made them feel that way." (Tabatha Coffey)
"As stylists we're ground shakers and day makers. Setting trends, while fostering that inner connection between a person's inner and outer self." (Rebecca Gregory)
"For me, the working of hair is architecture with a human element." (Vidal Sassoon)
"I speak hair. English is my second language." (Anonymous)
"A truly great hairstylist is hard to find, difficult to part with, and impossible to forget." (Anonymous)
"Being a hairdresser is the best profession. All day we get to listen to music, be creative, bond with others and make them feel amazing. Being a hairdresser rocks!"  (Anonymous)
"A woman who cuts her hair is about to change her life." (Coco Chanel)
"Great hair doesn't happen by chance, it happens by appointment." (Anonymous)
"Beauty comes from the inside. And by inside I mean inside the hair salon." (Anonymous)
"The best thing is to look natural, but it takes a lot of makeup to look natural." (Calvin Klein)
"Hair doesn't make the woman, but good hair definitely helps!" (Anonymous)
"If your hair is done properly and you're wearing good shoes, you can get away with anything." (Iris Apfel)
"Good hair does not stay home on a Friday night." (Anonymous)
"Give a girl a new hairstyle and she will conquer the world." (Anonymous)
"Improve your selfies, see your stylist." (Anonymous)
"If my hair looks good I can deal with anything." (Anonymous)
"When life does not allow you to change anything, get a new haircut." (Anonymous)
"Bangs are the mustache of the forehead." (Anonymous)
"Flip your hair like you just don't care!" (Anonymous)
"To me, beauty and makeup and color is like the finishing touch on everything." (Marc Jacobs)
"I do maintain that if your hair is wrong, your entire life is wrong." (Morrissey)
"Nothing makes a woman more beautiful than the belief that she is beautiful." (Anonymous)
"I think the most important thing a woman can have – next to her talent, of course, – is her hairdresser." (Joan Crawford)
"Friends come and go, but a good hairstylist is forever!" – (Anonymous)
"You don't have to be a movie star for me to do your hair, when you sit in my chair you're my movie star." (Vincent Roppatte)
"If you don't look good, we don't look good." (Vidal Sassoon)
"I hope your day is as nice as your hair." (Anonymous)
"The hair is the richest ornament of women." (Martin Luther)
"Hairstyle is the final tip-off whether or not a woman really knows herself." (Hubert de Givenchy)
"Do it with passion or not at all." (Anonymous)
"Like a therapist, or the local barkeep, hairdressers are in a position of trust. We are transforming not just how a person looks but how they feel and, therefore, they want to tell us things." (Tabatha Coffey)
"Hairdressers are a wonderful breed. You work one on one with another human being, and the object is to make them feel so much better, and to look at themselves with a twinkle in their eye." (Vidal Sassoon)
"To me hairdressing means shape. It's very important that the foundations should be right." (Vidal Sassoon)
"Life is short. You might as well live it with really great hair." (Anonymous)
"Contrary to popular belief men have hair too. And barbers are the ones that style it in a way that makes men ooze with confidence." (Anonymous)
"The quality of a person's life is in direct proportion to their commitment to excellence, regardless of their chosen field of endeavor." (Vince Lombardi)
"So you don't want to change the color and you don't want to go shorter and you don't want extensions but you're ready for a whole new look… um okay." (Anonymous)
"Your hair is the crown you never take off." (Anonymous)
"Life is an endless struggle full of frustrations and challenges, but eventually you find a hairstylist that understands you." (Anonymous)
"I'm a hairstylist and I could tell you stories that would curl your hair." (Anonymous)
"Gorgeous hair is the best revenge." (Ivana Trump)
"Success is liking yourself, liking what you do, and liking how you do it." (Maya Angelou)
"Whoever said money can't buy happiness hasn't found the right beauty salon." (Anonymous)
"The best advice I can give to young stylists is – marry bald, so you have one less free haircut to do on your day off." (Anonymous)
"Everything feels better after a haircut!" (Anonymous)
"As a stylist, I have a new boss every 30 minutes and that is who I'm trying to please and my all is given to them." (Sherri Jones)
"People will stare. Make it worth their while." (Harry Winston)
"A good stylist is cheaper than a good therapist." (Anonymous)
"This would have been a selfie but I need my hair done." (Top Level Salon)
Hairstylist and Beauty Salon Quotes for Business Cards
Utilizing a catchy quote on business cards is becoming popular.
A business card is a perfect tool to implant your image and business in the minds of customers. It can move them to action.
To accomplish this the card needs to be relatable and memorable. It can show off your personality and draw customers to the beauty salon.
Here are some of the best hairstylist quotes and beauty salon sayings to use on business cards:
"Keep calm, I do hair."
"Miracle worker. That's us! "
"Remember: your hair takes 90% of your selfie!"
"Hairdressing is not a job, it's a craft."
"Pssst. I know a girl who does pretty hair."
"Good hair speaks louder than words."
"Never waste a good hair day!"
"What happens at the salon, stays at the salon."
"Love is in the hair!"
"We stay one cut above the rest."
"Behind every beautiful woman is a fabulous hairstylist. Visit us today!"
Ending thoughts on these hairstylist quotes
Use some of these great hair quotes to draw attention to yourself and your beauty salon. Take advantage of the knowledge and insights of leading beauty industry professionals.
An on-point quote or phrase can capture the identity of the salon. Good hairstylist quotes that are catchy and fun are also a simple way to display personality.
It's certain that these hairstylist quotes will provide great inspiration. They will motivate salon owners to get out there and create more attention for their hair salons.
Get more bookings with the right tool for the job
Staying organized has never been easier.
You can now manage your business and grow your brand with a single, powerful software that keeps all of your appointments in line, your clients organized and your business booming.
Trafft is the perfect salon software for business owners who need to streamline their booking experience both for their staff and their clients.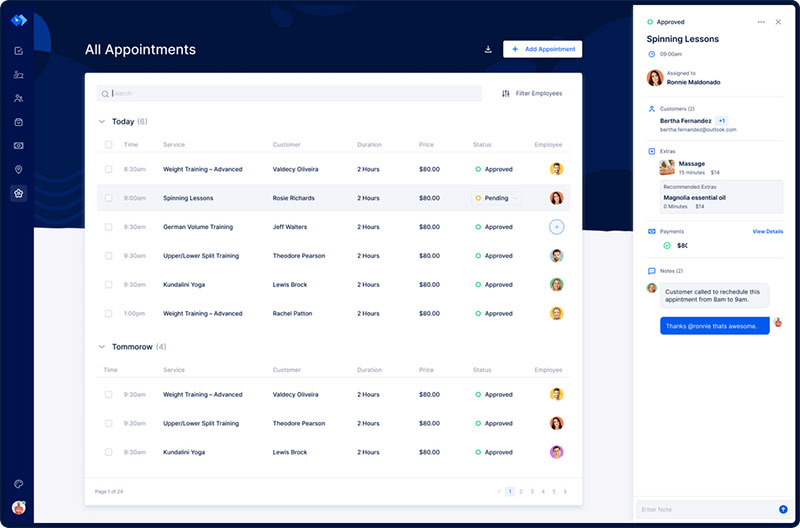 Trafft handles everything for you, even sending automated email or SMS reminders to your clients. No-shows? Not anymore!
The Trafft booking software adapts to different industries for a blissful online booking experience and employee management.
Want to know more? Check out Trafft's awesome features to see what you are missing.
If you enjoyed reading this article on hairstylist quotes, you should also read this one about the salon cancellation policy.
We also wrote articles about similar subjects like how to get more clients in a salon, salon dimensions, salon insurance, salon lighting ideas, spa quotes, how much salon owners make, and spa menu examples.