It can be challenging to get the best salon dimensions and still use your space wisely while on a budget. Worse, it can be too far of a reach to begin if you limit yourself towards your preferences. What you need to do first is to commit to utilizing the space of your salon.
Salon owners need to decide on a place with enough people to get proper exposure to the salon. We suggest using three main variables to calculate room-size requirements accurately:
Profit-generating space (general merchandise, hair dyes, haircut, and spa)
Non-profit areas (personnel area, storage area, comfort room)
Possible extension
Salon owners may want to reconsider how much space they want to free in their salon and if they're going to use the free space for other events wherein they'll need the area for the said events.
What are the Average Salon Dimensions?
The average salon dimension is 1,500 square feet or 140 square meters. Nail salons are 1,300 square feet or 120 square meters on average. Compared to hair salons, nail salons are smaller. A great starting point is the standard salon dimension of 1,500 square feet.
However, the size you require varies on the number of stylists working in the salon. A Lancaster salon, or any salon for that matter, requires approximately 175 square feet per stylist. That is to accommodate up to eight stylists in the salon if you have a room of 1,500 square feet.
Your salon may be a little on the smaller side to fit eight stylists into 1'500 square feet. You will also need to be extra careful in choosing the furniture for the styling area, hair wash, etc. It is necessary to maximize space usage.
Here is a table you can use for your reference plan:
| | |
| --- | --- |
| Number of Stylists | Salon Dimensions in Square Feet |
| 3 | 450-600 |
| 4 | 600-800 |
| 5 | 750-1000 |
| 6 | 900-1200 |
| 7 | 1050-1400 |
| 8 | 1200-1600 |
The figures above provide a bit of an allowance for the space necessary for:
Reception
Styling
Shampooing
Drying
Dispensary
Another room for resting
For additional facilities, a different floor area is necessary. Use the standard room measurements below as a guide to planning the available space of your salon for further preparation.
| | |
| --- | --- |
| Room | Room Dimensions in Meters |
| Styling station |  5 X 7 |
| Shampoo area |  4 X 9 |
| Check-in/out |  10 X 10 |
| Manicure |  4 X 4 |
| Pedicure |  4 X 8 |
| Spa Rooms |  10 X 10 |
| Retail |  22.5 X 22.5 |
| Laundry |  8 X 6 |
| Office |  6 X 6 |
| Changing Room |  4 X 5 |
| Coat Closet |   6 X 3 |
| Storage |  6 X 10 |
| Restroom |  7 X 8 |
| Team Room/ Education Center |  6 X 6 |
Choose Your Location Wisely
Deciding a site will be one of the most critical parts for beauty salons, hair salons, and day spas. The location is your key towards creating a successful business other than the ability to offer quality service. High-quality service alone can already reel in loyal customers that will eventually be the reason for your salon's success.
However, you must set up a business for potential clients by having a good location. You may be able to start with a 300-500 square foot room in your house. That is if you are considering starting a small salon or home massage company.
Keep in mind that you should also listen to limitations on industrial or residential housing. You will need 1000-2000 square feet or more for most salons and spas. That is optimal if you can find a place with parking available and a lot of regular foot and car traffic.
Shopping centers and malls are fantastic locations for you to consider due to their excellent foot traffic. It is also a great advantage if you can discover a smaller and cheaper place that can save you lease at the beginning with the potential of expanding as your company grows.
General merchandise rental prices around the country significantly differ from each other. In smaller towns, rent may be about $1.00 per square foot in industrial areas, but rent may run as high as $2.50 per square foot or even higher in prestigious large business areas in urbanized cities.
Suggestions for Designing Your Salon
A beauty salon layout project needs significant consideration to maximize work and provide a relaxing and enjoyable experience for clients. These factors ensure efficiency, understanding of sanitation, and the elegance that spaces can convey to clients.
The salon's efficiency is decided by the appropriate salon dimensions, resource allocation, facilities, and effective workspace movements. More styling stations equals more future sales for your salon. However, it would be best if you didn't overdo it with many workstations in the salon.
Design a quiet corner for customers away from the bustle of the salon with the use of partitions. Enable ample space for work. The first unit for styling should be around 1 m (3′) from a wall or window, and 1.2 m (4′) from the middle of the first unit should be the second and subsequent units.
There should be 1.5 m (5′) of working space from the stylist's back and the unit.
To fit more customers into a tight space, we suggest adding island styling components.
If you have a smaller salon, the trick to make your salon wider is by doing a wall of mirrors.
Although space-saving furniture is critical to creating a small space functional, consider retail items properly.
It might be tempting to hide things behind the reception desk and move them so they're not in the way. The downside of this is that customers cannot touch them or try them there.
Merchandise should be placed in front of the reception desk, along the walls, or on shelves above the stations to encourage customers to shop while they receive services.
Consider Hiring a Designer
Among the first items you would need to remember when selecting your room is designing your salon's layout. Your salon's structure can have a significant effect on the look and feel of your place. Consider an open-concept architecture with high ceilings if you're aiming for a futuristic look.
If you're going for a warm cozy home salon feel, a floor plan with separate rooms will suit the criteria. Contacting a designer who can help you build your salon will alleviate stress and guarantee an attractive, usable workspace if you have the financial resources.
The designer will also help you decide the layout and vibe compatible with the concept you want to bring to life. Here are other tips for you to consider:
Employing a designer will guarantee that you will significantly increase any potential income sales for your space. You can also try and agree with the property owner to lessen your lease during construction.
We also suggest doing double-sided couches for clients in the middle of the salon as a waiting area; this way, you can maximize your space.
Never forget to take note of the salon's dimensions when buying equipment and furniture. It can lead to having the right estimates and avoiding cramped spaces.
A Comfortable and Relaxing Salon Results in Loyal Customers
To retain loyal customers, you have to offer them quality service to be relaxed and comfortable in the salon. Make sure your clients are calm and relaxed when you're treating their hair.
Preferably, the clients do not have to wait to be seated after entering for their appointment. But you can't always precisely tell how long you can tend with other clients. Designing your waiting area to have a relaxing or comfy vibe will significantly affect your clients' overall experience.
Get a lovely sofa, make them listen to good music, and offer them the latest magazines. And don't wait until they're settled down in front of the stylist to give them refreshment.
For a proper and neat workbench, plan a particular location for magazines, coffee cups, and phones. Also, look for a spot for hooks or shelves where customers can feel relaxed and secured to place their bags.
Get more bookings with the right tool for the job
Staying organized has never been easier.
You can now manage your business and grow your brand with a single, powerful software that keeps all of your appointments in line, your clients organized and your business booming.
Trafft is the perfect salon scheduling software for business owners who need to streamline their booking experience both for their staff and their clients.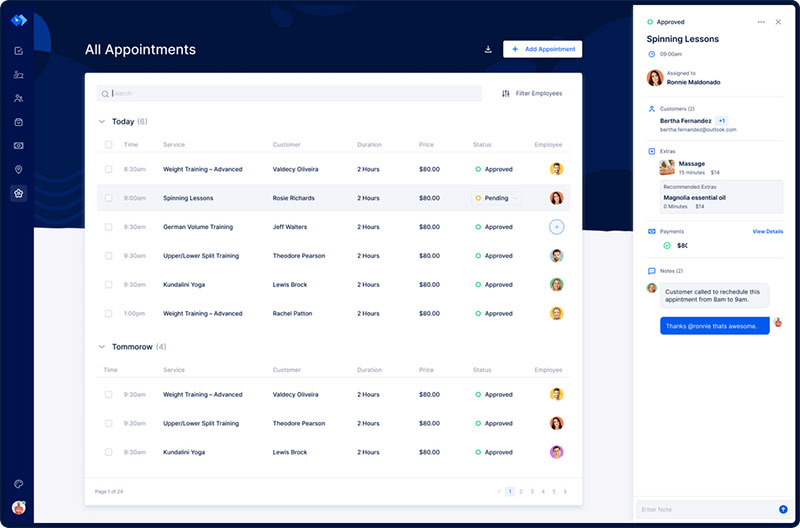 Trafft handles everything for you, even sending automated email or SMS reminders to your clients. No-shows? Not anymore!
The Trafft booking software adapts to different industries for a blissful online booking experience and employee management.
Want to know more? Check out Trafft's awesome features to see what you are missing.
FAQs about salon dimensions
1. What is the recommended square footage for a small hair salon?
A modest hair salon should have between 600 and 800 square feet of space. A reception area, multiple style stations, a rear bar, and a modest storage area ought to fit inside this amount of room. However, keep in mind that depending on the number of stations, services provided, and facilities, the needed square footage may change.
2. How much space should be allocated for each styling station in a salon?
At a salon, each style station needs at least 30-36 square feet of space. This should have room for tools and materials, a comfy chair for the customer, and enough room for the stylist. Remember that larger salons could require extra room per station to accommodate more amenities or equipment.
3. What is the ideal width of a salon workstation?
A salon workstation should be about 30-36 inches wide. This should provide the stylist ample room to work comfortably and offer quick access to supplies and tools. Furthermore, a broader workstation could make it more difficult to maneuver around the salon, so it's ideal to keep it at a regular width.
4. How many shampoo bowls should a salon have, based on its size?
The size and number of stations in a salon will determine how many shampoo bowls it needs. One shampoo bowl should typically be accessible for every three to four style stations. To ensure that clients may be served quickly, larger salons would need to set aside extra bowls.
5. What is the minimum ceiling height required for a hair salon?
A hair salon normally needs a minimum ceiling height of 8 feet. A higher ceiling height might, however, be required by some regional building codes. Also, some salons may choose to have higher ceilings in order to give the impression of more space or to make room for taller equipment and interesting salon lighting.
6. How many bathrooms should a salon have, depending on its size?
Depending on how big it is and how many people work there, a salon needs a certain number of bathrooms. One restroom should typically be made available for every ten employees. Moreover, customers should have access to at least one restroom.
7. What is the ideal size for a salon waiting area?
A salon waiting room should be between 200 and 300 square feet in size. This ought to leave enough room for storage space, a receptionist desk, and cozy seats. Remember that bigger salons might need to set aside more room to handle a bigger clientele.
8. What is the recommended distance between salon chairs to maintain client privacy?
Around 4-5 feet is the optimum spacing between salon chairs. This should give stylists plenty of room to maneuver around the salon while also giving clients enough room to feel comfortable and protect their privacy.
9. How many treatment rooms should a spa have, based on its square footage?
Depending on how big it is and how many services it offers, a spa should have a certain number of treatment rooms. One treatment room should typically be made available for every two therapists. Also, larger spas can require extra room to accommodate new amenities or equipment.
10. What is the recommended width and depth for a pedicure station in a nail salon?
A pedicure station in a nail salon should be between 24 and 30 inches broad and 48 to 60 inches deep. This should leave adequate room for the nail technician's workstation, the client's comfy chair, and storage for supplies. In addition, bigger salons might need to dedicate more room per station to fit extra features like foot spas or massage chairs.
Ending thoughts on the average salon dimensions
Planning the right dimension of hair salons can be tricky when you don't have a concept or idea in mind. It's essential to have a layout of what you have in mind for your salon. Additionally, you need to consider the right amount of workspace for your equipment and employees.
Being a salon owner means that you have to be extra careful with new dimensions of beauty salons. They can affect the overall customer experience and will most likely impact your business. Research more about the average salon dimensions and connect different tips and ideas to create your dream salon.