Many coaches provide sessions through Zoom meetings. Yet, some of them are curious about StreamYard. But before changing to a new platform, they want to know the difference between these options.
This article is a Streamyard vs Zoom review that describes the pros and cons of these platforms. While both are great options, they have some key differences that are worth considering. If you're wondering where you stand, this Streamyard vs Zoom article will be helpful.
Streamyard vs Zoom—What Are They?
Streamyard
Streamyard offers an online studio where you can interact with your audience, interview guests, launch live streaming sessions, and implement screen sharing. Moreover, you can conduct your streaming through other platforms, like LinkedIn, Twitch, Facebook, and YouTube.
The possibility to screen share and interview guests is a big plus. With such features, preparing great content will be a piece of cake.
Besides streaming on your favorite platforms, Streamyard is a flexible option in comparison with Zoom. Since the software is browser-based, you don't have to download any application.
The maximum number of participants is 10, which makes live interviews much easier. Your audience will have a superb experience thanks to the comment section. This is one of the best features as it allows you to communicate with participants. Interaction is very important when you host meetings, and this video conferencing program is a great solution.
Zoom
When choosing Streamyard vs Zoom, the latter is a video conferencing program on par with excellence. Users implement Zoom meetings, webinars, and conferences thanks to this software.
Compatibility won't be an issue. On the contrary, Zoom runs seamlessly on most operating systems. Without the need for special training, users can hold virtual meetings easily. Among the multiple platforms out there, Zoom is one of the best options for livestreams.
To keep up with the Streamyard vs Zoom comparison, Zoom stands out because it has its own app. Users can implement it on a limited number of mobile devices. These can be based on iOS or Android. To acquire the app, go to the Apple Store or the Google Play platform.
Zoom comes both with browser-based software and an app. Thus, you can choose the most convenient option. You'll find the system easy to create virtual meetings, webinars, and host events. The possibility to create videos is a great asset as it helps you to engage with participants.
It comes with a free version and pro plans that unlock more possibilities. If you're looking for a cost-effective solution, this is it. Zoom is a reliable software for live streaming and hosting meetings.
Streamyard vs Zoom—What They Have in Common
These platforms have many things in common:
They don't require an account. While you need an account to host meetings, you don't need one to connect if someone else invites you.
Possibility to record meetings and download them. Users can record both video and audio. The limitations of these features depend on your plan.
Build a community. Engagement becomes easy thanks to their chat features. Participants can write comments and react so that you'll know how they feel.
Stable platforms. When comparing Streamyard vs Zoom, you'll find that both are stable. Even with a slow internet connection, you can have the best live streaming.
Free versions. Both options have a free plan, which allows you to use many features for free. No credit card is required to access this benefit.
Scheduling meetings. When hosting an event, you can invite people in advance. Both platforms have set up, countdown, and other similar features.
Private chats. This advanced option allows users to chat privately.
Easy invitations. Invite people to your Zoom meeting or live streaming by simply sharing the link.
You can share comments with the group or participants individually.
Mute participants. This is one of the most useful features to regulate your sessions.
Virtual backgrounds. This option is available on both Streamyard and Zoom.
Access to the free plan without a credit card.
Streamyard vs Zoom—Key Differences
Yet, both apps have their unique features which can tip the scales to one side or the other. This will depend on your preferences.
Streamyard
Live streaming
The software is based on the cloud
Multiple platforms
Access to Twitch and Youtube
On-screen comments
Branding support and overlay
On-screen banners and tickets
Image presets
Zoom
Available for both meetings and webinars
Screen sharing is available on mobile devices
Up to 1,000 participants
Possibility to create permanent links
Multiple abilities and controls
Annotations for mobile devices
Breakout rooms
Possibility to assign a co-host
Mobile application available
Pros and Cons of Using Streamyard and Zoom
Why Zoom is better than Streamyard
It allows for more participants. While Streamyard lets you invite only 6 guests, with Zoom you can invite more. Feel free to host meetings of up to 100 users.
Fully encrypted. All messages and calls are end-to-end encrypted providing enhanced security. On the other hand, Streamyard uses an encryption of 256 bits.
Native desktop application. Zoom has a native desktop app.
Great for mobile devices. Zoom is 100% mobile-friendly.
Free of watermarks. The free version doesn't include watermarks on the screen.
App marketplace. On the Zoom marketplace, you can find a variety of complementary applications and add-ons. There are apps of different kinds: CRM, event management, collaboration, analytics, and organization tools.
Virtual backgrounds. Zoom includes virtual backgrounds in its free plan. To access this feature on Streamyard you'll have to pay for a premium plan.
Unlimited number of sessions. With zoom, you can host as many meetings as you want. While one-on-one meetings don't have a limited duration, group meetings last only 40 minutes. To extend this time limit you need to purchase a premium plan.
Better customer support. The support team is available 24/7 for the paid plans. You can also use chat options and videos.
Scheduling meetings. With a free Zoom plan, you can schedule meetings. Scheduling is available on Streamyard for a fee.
You know what's better than Zoom? A booking app integrated with Zoom.
Staying organized has never been easier.
You can now manage your business and grow your brand with a single, powerful software that keeps all of your appointments in line, your clients organized and your business booming.
Trafft is perfect for business owners who need to streamline their booking experience both for their staff and their clients.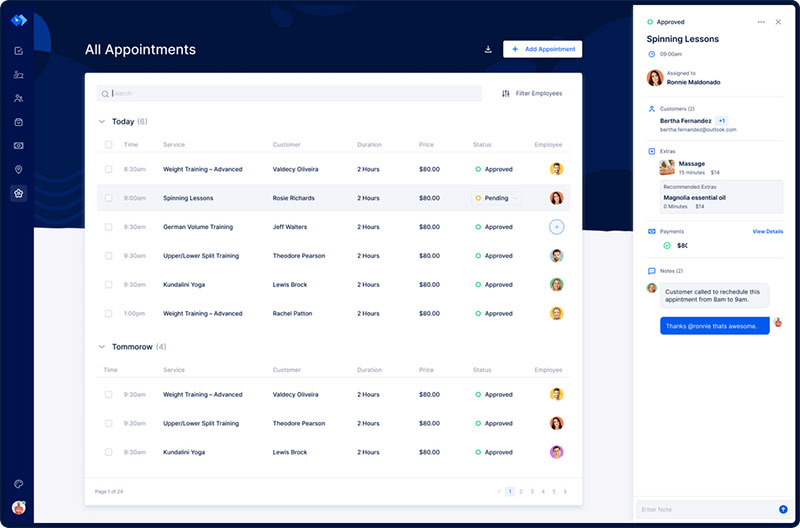 Trafft handles everything for you, even sending automated email or SMS reminders to your clients. No-shows? Not anymore!
The Trafft booking software adapts to different industries for a blissful online booking experience and employee management.
Want to know more? Check out Trafft's awesome features to see what you are missing.
Advantages of Streamyard
This option offers a seamless connection with other platforms. This includes Youtube, Linkedin live streaming, Facebook, Twitter, and Twitch. Also, all live streaming is based on its own servers. As a result, the amount of data from your side remains unchanged. You can stream on multiple social media platforms without an exceedingly fast internet connection.
Thanks to its studio, Streamyard allows you to stream from your own computer.
Advanced customization. With Streamyard you can customize your studio according to your brand. Add your own theme, background, and logo for better brand awareness.
Invite guests. Invite guests and hold interviews. The amount and conditions will depend on the plan you choose.
Comments on social media platforms. With Streamyard you can display comments from Twitch and Youtube. The possibility to answer these comments is an advantage.
Prices
Both Zoom and Streamyard have free versions. However, you need to pay for premium plans to unlock more features.
Streamyard free plan includes
Streaming on one platform at a time.
Six users. You can add 10, but the screen will only display six.
You can add your logo, but the Streamyard logo will be there too.
The most basic plan costs $25 a month ($20 if you pay for the whole year). Premium plans extend the features of the free plan.
The most advanced plan costs $49 a month ($39 if paid yearly).
When it comes to Zoom, it lets you buy multiple licenses with one account. Thus, you can separate your company's different departments easily.
Three premium plans (Enterprise, Business, and Pro). With the free plan, you have unlimited meetings with 100 attendees.
The meetings last 40 minutes for groups and 30 hours for one-on-one sessions. If you pay for the Pro plan, you'll be charged $13.99 per month.
With the Business plan, you can increase the number of users to 300 by paying $18.99 per month. It comes with perks, like recording transcripts and sign-on branding.
The Enterprise option is available for large entities. For a quotation, you have to contact support.
Streamyard vs Zoom—Final Thoughts
All coaches will benefit from either Streamyard or Zoom. These are powerful tools for hosting meetings. Although they have many common features, they present some key differences. Factor into the equation their differences when making a decision. You'll find that they present distinguishable features and pricing options.
Zoom is geared toward large groups. It allows you to invite many attendees and manages a large traffic flow. On the other hand, Streamyard is the ideal option for coaches that want to engage with their audience.
The matter of Streamyard vs Zoom remains unanswered; only you can decide what's best for your business. Finally, ask yourself the following questions to determine what is best for you:
Does my audience need a more polished presentation? If this is the case, Streamyard is your live meeting software.
Do you need to have several people actively discussing a matter with no specific logos or graphics on screen? If your answer is yes, then, choose Zoom.
Either way, you'll get a powerful tool to connect with your audience and boost your brand.
If you enjoyed reading this article about streamyard vs zoom, you should read these as well: