It's important to get your personal trainer certification at an accredited association.
Those who want to work with personal training should consider getting a certification. There are many certification programs available. Anyone can sign up for the programs, study the material, and become a personal trainer. The certification programs train people to be fitness professionals. They also teach you how to work with clients to improve their health.
Many people ask "What is the best personal trainer certification?". There is no absolute answer to that question because it depends on several factors. Factors include the type of personal training, the education budget, and what facility to work at after they get certified. The better question to ask is "Which certification best suits me and my circumstances?".
This article will discuss some of the associations that are thought of as providing the best personal trainer certification. It analyzes important objectives such as price, curriculum, and recertification.
Common Questions About Personal Trainer Certifications
What is a personal trainer certification?  What is a certification program?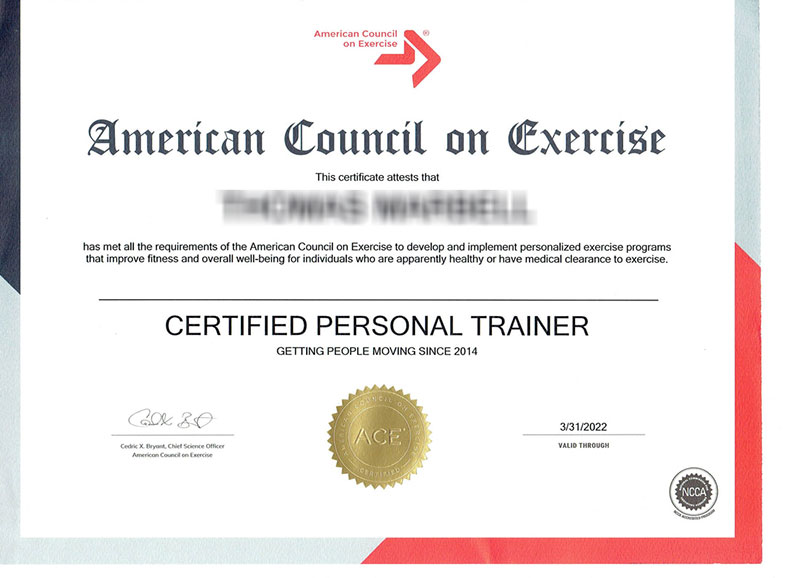 Personal trainer certifications qualify someone as a personal trainer that meets established standards. A certification program is a course that provides education for someone to become a certified personal trainer. A certified personal trainer can be employed more easily and is established as a respected member of the fitness industry. Respected fitness institutions offer certification programs that teach updated, evidence-based, and scientific methods. Some offer online learning.
Can I work as a personal trainer without a certification?
It is not illegal to work as a personal trainer without a certification. However, the fitness industry frowns on those who do not have the proper certifications. Employers will not employ a personal trainer who is not certified and it is difficult to acquire clients. It is also dangerous to train others without the proper education.
Is getting a personal trainer certification worth it?
The short answer is yes, getting a certification is worth it. Healthcare facilities and fitness clubs require their employees to be certified. For independent contractors, a certification will help get more clients and affordable insurance.
What are the prerequisites to getting a personal trainer certification?
Most certification organizations require students to be 18 years or older, have a high school diploma, and have a CPR and AED certification before taking the personal trainer exam.
How much does the certification program cost?
The certification programs have different prices depending on the agency and the study materials. The price varies between $100 and $2,000. More recognized associations cost more. Also, in-person courses usually cost more than online courses.
What are the different kinds of personal trainer certifications?
There are many associations and organizations that offer programs and certifications. But not all associations are accredited. The National Commission for Certifying Agencies (NCCA) is the major accrediting agency for personal trainer certifications. Many workplaces require a NCCA accredited certification to apply for a personal training job.
When deciding where to get a certification, look also for other accrediting bodies. Look for the Distance Education Accrediting Commission (DEAC) or the National Board of Fitness Examiner (NBFE).
The Best Personal Trainer Certification Organizations:
National Strength and Conditioning Association (NSCA)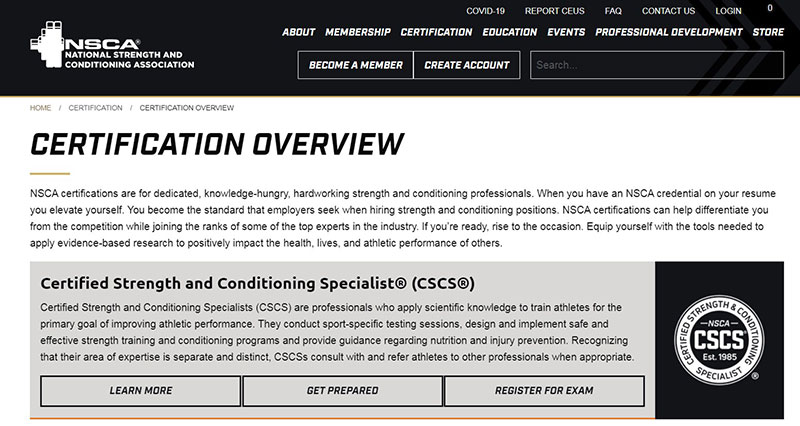 The National Strength and Conditioning Association was founded in 1978. It is a nonprofit certification association. They are widely recognized as a reputable agency and they were the first accredited agency by the NCCA. Its certification is excellent for those who want to work with athletes and other fitness enthusiasts. Personal trainers with a NSCA certification join the top ranks of the industry.
Curriculum:
The NSCA curriculum provides comprehensive training for how to design a program based on client goals. It teaches personal trainers how to assess client needs and backgrounds. It helps trainers assess and improve the health, nutrition, and fitness level of their clients.
The National Strength and Conditioning Association certification exam covers four main components:
Client consultation and fitness assessment
Program planning
Exercise techniques
Safety and Emergency preparedness
Pros to NSCA:
Provides hands-on training
More affordable than other agencies
Provides options to learn and receive a certification in specific sport training techniques
Known best for its training in strength conditioning
Cons to NSCA:
Provides fewer options for non-strength training programs
Has fewer options for special populations
Price for personal training certification at NSCA:
The NSCA certification program has a complicated pricing system. The end total differs depending on what materials a person chooses to use to prepare for the test. The NSCA offers 3 study material packages. However, the packages do not include the price of the exam which is purchased separately. The NSCA also has different prices based on whether people are members or not. The price of the exams varies between $300-$500.
The study material packages cost the following:
The CTP Digital package:
Non-member: $202
Member: $152
The CTP Essential package:
Non-members: $290.70
Members: $240.30
The CTP Essential Plus package
Non-member: $511
Member: $455
American College of Sports Medicine (ACSM)
The American College of Sports Medicine is highly respected around the world as a fitness organization. It is an organization that focuses on sports medicine and exercise science. It works with personal trainers and physicians. Its goal is to provide scientific research and practical applications to sports medicine.
It has a membership of over 50,000 members and professionals from 90 different countries around the world. It has an established set of fitness guidelines for healthy and diseased populations. These guidelines are used in clinical settings and in universities.
This agency is the way to go for those who want to work in a clinical setting or are pursuing a medical career. It provides a 360-degree view of the sports medicine field. Some feel that the curriculum is up to date but that the study materials are not.
Curriculum:
The ACSM courses for personal trainer certifications combine practical knowledge and scientific research. It prepares students for various personal trainer settings including universities, gyms, and more. It teaches students how to create a personalized training program for every individual.
Pros to ACSM:
The organization is known for its quality research
Certification lasts for 3 years
Offers an educational conference every year
Has a community of respected professionals
Cons to ACSM:
Has a challenging exam
The study material packages are confusing
Requires more education for recertification
Price for certification at the American College of Sports Medicine:
The American College of Sports Medicine charges prices according to the study materials that the student chooses.
Here are some packages it offers:
One day CTP workshops: $130
Three-day workshop: $375
Three textbook package: $134.99
Six-course webinar course: $240
Certification exam: $349
National Federation of Professional Trainers  (NFPT)
The National Federation of Professional Trainers offers a NCCA accredited course. It is a comprehensive program that covers personal training basics. It is a good program for those who want to become a personal trainer but do not already have a technical background.
For personal trainers to keep their certification up to date, they need to accumulate continuing education credits (CECs). The number of continuing education credits each trainer needs depends on their certifying agency. In general, personal trainers need 20-45 hours of continued education every two years.
The National Federation of Professional Trainers Curriculum:
The NFPT curriculum helps prepare people to use their training in real-world applications. It gives its students the knowledge, skills, and abilities needed to be a personal trainer and to be ready for the job. The curriculum focuses on personal training fundamentals.  It covers topics such as anatomy, stretching techniques, nutrition, and legal practices.
Pros:
Offers in-person programs
Easy access to continuing education
Discounts and financing available
Free CECs for recertification
Cons:
Must renew every year
Not as well known as other personal trainer certification agencies
Certification Cost:
Packages start at $199 to take the exam.
Premier Course:
$349 includes study materials, exam fees, online training, and more.
Standard Course:
$239 includes the exam fee and some study materials
International Sports Sciences Association (ISSA)
Next on the list of best personal trainer certification agencies is the ISSA. ISSA stands for International Sports Sciences Association. This personal trainer program balances nutrition, fitness, and exercises for special populations.
The ISSA was founded by doctors and fitness researchers and has certified over 400,000 people in 174 lands. It offers 24 fitness certifications and delivers comprehensive and practical distance education. It has a large variety of self-paced classes on different topics of health and fitness. The ISSA also has an Associate's degree program in exercise science.
Those who pass the ISSA personal trainer certification exam receive many tools to start their fitness career. For example, they get a free website to showcase themselves as a certified personal trainer. They also receive unlimited support from advisers and a guaranteed job.
However, the ISSA certification exam is not NCCA accredited. Some jobs require personal trainers to have a NCCA accredited certification. To get it, ISSA students would need to take the NCCA accredited exam at a testing site.
Curriculum:
The International Sports Sciences Association curriculum teaches anatomy, health assessment, and movement principles. It provides deep knowledge of the body's skeletal and muscle structure. It teaches how to assess a client's health and body structure and how to respond to it. It prepares students to customize fitness plans to individual goals. It also helps students learn how to apply those skills in day-to-day life. The curriculum also includes management and marketing strategies.
Pros:
Online program
Good customer service
Offers a job guarantee
Provides unlimited support
Offers a free retest
Cons:
Not a NCCA accredited exam. A NCCA accredited exam would need to be taken separately
Does not provide live instruction
Personal training price at ISSA:
Certified personal trainer (1 course): $69 a month for 12 months
Fitness coach (2 courses): $69 a month for 12 months
Elite trainer (3 courses): $83.25 a month for 12 months
Master trainer (6 courses): $159 a month for 12 months
American Council on Exercise (ACE)
The American Council on Exercise has the one mission of getting people moving. They believe that movement is the best way to enjoy health benefits and they strive to provide education to help people move. The ACE offers certifications, sets industry standards, and teaches science-based fitness information.
The ACE is one of the most popular personal trainer certification organizations. It focuses on teaching personal trainers how to work with sedentary people. Thus, it caters to the general population which is a large market for personal trainers. ACE is a great certification organization because it provides a well-rounded training program, accessible resources, and solid support.
Curriculum:
The ACE Integrated Fitness Training® model is used in all the courses that ACE offers. It emphasizes customized training programs to meet the goals of each client. It teaches that trainers should meet the varying needs of their clients whether it is walking or intense training. Each program follows the same four-phase model. The phases are function, health, fitness, and performance.
Pros of the American Council on Exercise:
Engaging training program
Online support and learning opportunities
CEC offerings
Can take the certification test at home
Cons of the American Council on Exercise:
High recertification cost
Personal Training Cost:
ACE offers 3 different packages. They all include the certification exam, practice exams, and study materials.
Basic: $599
Plus: $699
Advantage: $1,049
The National Council on Strength & Fitness (NCSF)
The National Council on Strength and Fitness is an accredited organization in the United States by the NCCA and in Europe by the EA. It was founded in 1996 by a health and fitness initiative that started at the Florida International University. The goal was to increase fitness education and engagement. Since then, this small organization in Florida has gained global recognition.
The NCSF is a personal trainer certifying agency but it is also a board that oversees the credentialing programs of the NCCA. The NCSF has over 8,000 certification testing sites in 160 countries as well as online testing options. The mission of NCSF is to help the fitness industry grow around the world.
The National Council on Strength and Fitness has courses in personal training, strength and conditioning, sports, and nutrition. It is a good option for those who want a comprehensive education in the fitness field. It is also a good option for those who want a certification that is globally recognized and accredited.
The courses are available anywhere in the world due to the cutting-edge online learning system. The test is also available through an online testing platform. The certification programs are offered in hundreds of universities and colleges in the United States.
Curriculum:
The NCSF offers self-guided training programs online. It also offers guided in-person instruction. In-person training can be through training schools, workshops, and classes in universities. Each student, whether online or offline, follows a job task analysis curriculum. The curriculum ensures the students meet established health standards. The curriculum is based on international and United States health standards. Students acquire knowledge and develop skills from interactive learning modules, engaging videos, and other study tools.
Pros:
Credentialed teachers
Globally recognized
Classes available worldwide online and in-person
Many price packages available
Cons:
Other agencies are more well-known
Price:
All the pricing packages include study materials, videos, the certification exam, and a payment plan.
Home study package: $419
Home study + package: $479
Workshop package: $479
Workshop + package: $539
National Academy Of Sports Medicine (NASM)
Last but not least on this list of best personal trainer certification agencies is the NASM. The National Academy of Sports Medicine has been offering training and educational resources for more than 30 years. It is a well-known association and is accredited by the NCCA.
NASM has developed science and evidence-based personal training courses. It has certified and recertified more than 190,000 in the last 10 years. It also offers training to those between the ages of 9 and 99.
National Academy of Sports Medicine Curriculum:
The NASM has designed an Optimum Performance Training™ curriculum model. The program uses updated scientific data. The course discusses fitness and health predictors such as stability, strength, power, flexibility, endurance, and more.
Its curriculum focuses on corrective exercise for clinical applications, athletes, and the general population. The curriculum also covers exercise function and performance, nutrition, and personal training for special populations. It provides education and guidance based on sound evidence for personal training.
The NASM now offers a digital platform that allows people to learn online from any place in the world. The online platform includes videos, quizzes, and study guides. It also offers guided instruction programs.
Pros:
Respected certification agency
Comprehensive study materials
Straightforward pillars of teaching
Payment plans
Cons:
Expensive training programs
Expensive to recertify
Expensive to retake the certification test
Price of personal training education at NASM:
All payment plans are interest-free.
Basic self-study package: $49 a month
Premium self-study package: $68 a month
Guided study package: $79 a month
All-inclusive and virtual coaching package: $169 a month
Ending thoughts on the best personal trainer certification
While there is no absolute best personal trainer certification, there are ones that suit people best. The type of personal training certification that someone gets depends on what kind of clients they want to work with and where they want to get a job.
All of the above certification programs will provide basic fitness training. They explain concepts like program design, nutrition, behavior modification, and best personal training practices. They also are either accredited by the NCCA or provide opportunities to take an NCCA accredited exam. Each of the above organizations also teaches special skills.
For those who want to work helping the general population lose body fat, the best certification organizations are:
National Academy of Sports Medicine
American Council on Exercise
International Sports Sciences Association
To concentrate efforts on strength conditioning, consider the following certification associations:
International Sports Sciences Association
National Strength and Conditioning Association
To learn corrective exercises or rehabilitation exercises, the best organizations include:
National Academy of Sports Medicine
American College of Sports Medicine
Before deciding which certification program to use, it is best to check out any employment options and see what certifications they require. Also, make sure to have a high school diploma and a CPR and AED certification.
Overall, the best personal trainer certification is the one that will provide the most opportunities for your desired type of work that fits your budget.
Get more bookings with the right tool for the job
Staying organized has never been easier.
You can now manage your business and grow your brand with a single, powerful software that keeps all of your appointments in line, your clients organized and your business booming.
Trafft is the perfect personal trainer software for business owners who need to streamline their booking experience both for their staff and their clients.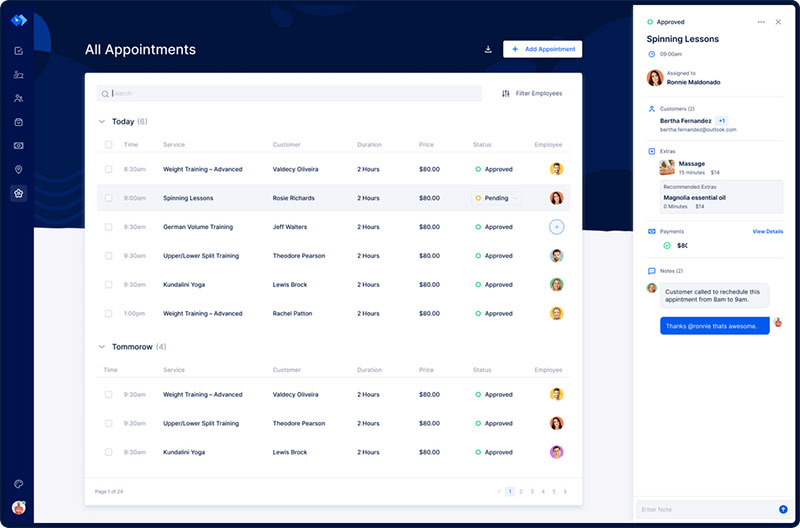 Trafft handles everything for you, even sending automated email or SMS reminders to your clients. No-shows? Not anymore!
The Trafft booking software adapts to different industries for a blissful online booking experience and employee management.
Want to know more? Check out Trafft's awesome features to see what you are missing.
If you enjoyed reading this article on the best personal trainer certification, you should read about how to sell personal training.
We also wrote about a few related subjects like how much does a personal trainer makes, how to increase gym membership, gym startup costs, gym slogans, the average gym owner salary, fitness survey questions, and gym mission statement examples and tips.