Those who love fitness and helping others to achieve fitness goals, will find personal training to be an ideal career choice.
You might have already dabbled in personal training as a hobby, perhaps by coaching others or making your own fitness routine.
How do you take that passion and make it into your career? This article will show you how to become a personal trainer.
Finding work as a personal training isn't easy until you learn where and how to conduct your search.
One of the best first steps, even before trying to be certified, is to sign up to an internship.
An internship or mentor will allow you to learn from established personal trainers at local gyms. You can learn the skills of the trade, network, and figure out if the personal training industry is the best fit for you.
After determining that you would make a great personal trainer, there are still several more steps to success.
You'll need to become certified. Then to really succeed, you'll need to find work. This means finding employment or starting your own personal training business.
This guide is designed to tell you everything you'll need to know to get started in the field. It can serve as your career advisor, giving you the advantage you need in this rewarding field.
Then you'll know everything about how to become a personal trainer.
Is Personal Training Right For You?
At first glance, personal training is an attractive career option and it absolutely can be.
As a certified personal trainer you can help people reach goals in a field you're passionate about. It's a career path with a lot of different options and flexibility.
Fitness instructors have a lot to love about their field.
However, like all careers, exercise professionals have their challenges. It's important to look at both the pros and cons before taking the leap.
Most importantly you need to ask yourself if you're passionate about fitness. You'll need passion to put in the work to make yourself a successful personal trainer.
To be sure that you're genuinely in love with fitness, ask yourself:
Do you enjoy improving your own health routine?
Do you often analyze other's routines and forms?
Do you enjoy working with others?
Do you become thrilled when your workouts produce visible results?
Do you enjoy researching forms to perfect every individual exercise in your routine?
Do you find yourself reading fitness magazines, websites, or forums for hours?
If your answer is 'yes' to most (or maybe all) of these questions, you must have a real passion for fitness.
What Does a Personal Trainer Do?
Main Responsibilities
Personal trainers often work on a one-on-one basis with clients. They educate and enable the client to exercise and meet their health goals in a safe and timely way.
During this personal training program, the trainer will track their clients' progress. They will even create customized meal plans.
Throughout all fitness programs, the trainer must ensure their clients meet their goals.
A personal trainer will:
Demonstrate exercise techniques and methods
Observe their clients in order to correct their form
Act as a general wellness coach, backed by a strong foundation in scientific education.
Design workout routines to match their clients individual health needs.
Work Hours
Even if you are a self-employed personal trainer, your schedule must revolve around your clients. Their needs and lifestyle will determine when you should work.
Personal trainers rarely work the traditional 9-5 shift. When you aren't personally with clients you'll still  be 'on the clock', because you'll need to find new customers.
Marketing plays a key role and you'll frequently be updating your social media. By regularly publishing new content online you can constantly advertise your business.
Benefits
Personal training is often an exciting and uplifting career path. There are many enriching benefits from the work itself, the people involved, and the livelihood made.
Some other key benefits include:
Fitness instructors can often set their own schedules. If self-employed they have the freedom to set their own rates
Emotionally rewarding. Your client's eyes will light up when they first feel the progress they've made. That progress is because of you and the feeling of satisfaction it gives is unique
Variety and room for growth. Personal training is not a boring, repetitive job. The work is diverse, but it can also be the start to other endeavors. For example, many health writers began their careers as personal trainers.
Relationships. The personal training industry is a very social one. Most of your time is spent with people and will naturally result in new friendships and connections.
Needed Prerequisites
To pass the certification program you'll need to make sure of a few things first.
Personal training certification is only available to those who meet these requirements:
High School Diploma or GED
Most national certification organizations have the minimum requirement of a high school diploma. An equivalent, such as a General Education Diploma, is also accepted.
Additional education, such as certificates from training courses or even a formal degree would be an advantage. Though these are not required.
Any applicants must be 18 years or older to complete personal trainer certification.
CPR/AED Certification
Cardiopulmonary Resuscitation (CRP) and Automated External Defibrillator (AED) certifications are incredibly important. All reputable certifying agencies will require this.
The reason goes beyond personal training certifications. These skills are necessary for the safety of your future clients.
You will need to present proof of your CPR/AED qualifications before even signing up for the certification exam.
We recommend the American Heart Association or the American Red Cross. Both are popular and well-respected organizations to obtain your CPR/AED Certification.
Pass The Personal Training Certification Exam
There is a variety of certifying agencies available that will offer exams. If your dream job is at a specific company, find out what agency certifications they require or recognize.
Independent parties accredit personal trainer certifications. One example would be the National Commission for Certifying Agencies (NCCA). If they are involved in your exam it's a good sign that you've found a reputable service.
Personal training certification exams usually require you to apply ahead of time and pay a fee. You can expect it to be a 120-150 multiple choice question style test using a computer.
The National Academy of Sports medicine offers a certification that is typical of what you can expect. It's called the Certified Personal Trainer Certification. It includes four testing categories: Program Planning, Client Consultation and Fitness Assessment, Exercise Techniques, and Safety/Emergency Issues.
Which Certification Is the Best?
Certification programs are not one size fits all. There are pros and cons to many and any opinions on which is best will be highly subjective.
Each certification teaches different styles and emphasizes different information.
The real question is, which certification is the best for you?
It's easy to get confused when researching all the various possible certification programs you can take. CPT, CEP, CSPS, CIFT may all sound similar. The differences between them are difficult to understand at first.
Certified personal trainers aren't limited to just one certification. So you may even want to qualify for more than one. Consider the kind of clients you hope to be training and look for certification programs that match.
When deciding which certification is best for your personal training career, do the research. Look for answers to these questions from the certifying organization:
Can the exam be taken online or will it be an on-site test? If on-site, where and when?
Is a workshop or seminar required? If so, where and when are these offered? Is there a home study option?
What is the cost? Reputable certification exams range from $300 – $10,000. Sometimes there will be additional expenses from study materials and workshops.
How widely recognized is this certification? Nationally, internationally, or universally?
What are the continuing education requirements to renew the certificate? Most certifications are required to be kept up to date by completing continuing education hours. The investment of time and money is worth considering beforehand.
Are there any additional prerequisites required? As discussed earlier, most will require a high school diploma or equivalent, CPR/AED certification, and a minimum age of 18.
Cost of Certification
Certification exams cost from $250-$400 before including any training materials.
Textbooks, webinars, seminars, and classes will be provided through a certification agency. The price for these extras begins around $200, but can run as high as $1,500 based on which agency and package you choose.
These can better educate you to succeed at the exam, but also will help qualify you for your future career.
Any prospective personal trainer will want to consider including at least some in their exam budget.
After passing the exam there are also ongoing costs to maintain your certification. You'll be required to regularly renew your credentials, usually every 2-3 years. There will be a fee each time.
Continuing education units are part of the renewal process.
All told, you may spend $500 a year to keep your certification.
Develop Vital Personal Trainer Skills
Passing the exam makes you a personal trainer on paper. Developing the right attitude and skills is what makes you one in reality.
More than anything you need to fall for the job and the life that goes with it. Your internal confidence and passion will be visible outwardly to your potential clients. That kind of drive puts you a cut above other professional trainers.
We'll be discussing the most critical skills in detail.
Business-Related Skills
The personal training industry is a fiercely competitive one. Experience, education, and even personal trainer ability don't guarantee success.
Business skills are just as important as your physical fitness training skills.
Marketing skills, social media presence, networking ability, and good business sense are key to a fruitful career.
Leadership
A personal trainer must be an authority on fitness education. You must display confidence or your clientele won't believe in you. They will also doubt the effectiveness of your personal training programs.
You are being paid for your expertise. You must act like an expert.
If you express uncertainty in what you're teaching, you will quickly lose business.
Certified trainers that lack confidence or leadership abilities aren't doomed to failure. Consider it part of your continuing education courses and take a public speaking class.
Organization & Time Management
The importance of organization cannot be overstated for fitness professionals. Client workouts, session tracking, and performance records are vital for every training course.
Your client's goals depend on you keeping track of information. Data plays a big role in exercise science. Learn to manage it.
Maximizing profits requires skillful management of your schedule so that you never miss or are late to an appointment.
Communication & Social Skills
Listening skills are often the difference between a good and an excellent personal trainer.
Becoming a personal trainer means becoming a good communicator. You'll be holding meetings and presentations, writing blogs, posting on social media, and mailing clients.
Fitness trainers know how to teach a squat or a plank, but more is needed.
Trainers who create a good connection and rapport with their clients will develop a collection of loyal repeat customers.
Every fitness industry client will be different. Their personalities, backgrounds, and characteristics will be unique. You must adapt to each of their personalities.
Learn how to have a conversation with anyone. If you do, your customers will connect and put faith in what you're teaching them.
Your good social skills will empower you. You'll display confidence from the moment you meet potential clients.
Nutrition
Exercise and fitness nutrition are both fundamental to good health.  For your clients to meet their fitness goals, they'll need training in both categories.
Personal trainers therefore need to be educated in both sports nutrition and exercise training.
Be An Example
Personal fitness training has to start at home. You must put into practice the healthy eating and exercise habits you promote to your clients.
To be a personal trainer you must be a model fitness enthusiast. Your clients will not trust you otherwise. Your physical health is evidence that they can reach their fitness goals with your help.
There is nothing more untrustworthy than an unhealthy personal trainer.
Consider Specialization
Before delving into the personal training industry, you'll want to consider what path your career will take.
There are many specializations possible for certified personal trainers. For every set of skill, personal interests, and professional goals there are valid career options.
Do you envision yourself as a group fitness instructor? Weight management specialist? A master of exercise program design?
Once you set your sights on your dream specialization, review the different certifications possible and look for one that fits. Select the program that makes the most sense in light of your desired focus.
The fitness industry is vast and includes an abundance of employment opportunities to consider.
Becoming a certified personal trainer can open doors to many adjacent fitness careers. You may soon find yourself practicing nutrition, sports medicine, or other exciting professions.
Here are five examples of the many potential career specializations you can consider.
Exercise Physiologist
These specialists are educated in how stress from physical activity impacts the body.
They work with people from all walks of life. These include world-class athletes and patients suffering from chronic diseases.
Sports Nutritionist
These experts focus on nutrition. Specifically, they're knowledgeable in how the body uses food to fuel physical activity.
Their diverse array of clients rely on them to develop nutritionally sound meal plans, menus, and recipes.
Medical Specialist
Many personal trainers continue their education with the aim to help with post-rehabilitation.
They work alongside clients to recover from medical conditions. These include heart problems, muscle, sprains, or orthopedic surgery.
A medical Exercise Specialist Certification from ACE is a good place to start for these prospective specialists.
Group Exercise Instructor
These trainers develop and lead various sized groups through personal training sessions.
Their classes encompass a variety of activities. Yoga, aerobics, cycling, and Pilates are the norm. These instructors participate and lead their customers through each exercise.
Special Populations Trainer
These trainers are certified to work with special age groups. They help aging clientele to help maintain muscle mass and improve their general quality of life.
They are also trained to help younger kids to reach age-appropriate goals and develop a love of fitness.
Strength and Conditioning Coach
These trainers are the go-to professionals to train athletes.
They use their education and experience to enhance athletic performance. They also prioritize reducing sports-related injuries.
Job Searching
Passing the personal trainer certification exam opens up a world of career opportunities. You now have the qualifications to fill a variety of job postings.
To begin your search, check the online jobs database offered by a fitness association like NASM.
Personal trainers may be employed or contracted by fitness clubs or at a commercial gym. They could also train clients independently.
Many new personal trainers start by working for a well-known business to get experience before branching out on their own.
Possible Sources of Employment
Commercial Gyms: Big-name gyms such as XSport, 24 Hour Fitness, Gold's Gym, and Planet Fitness are always on the lookout for new hires.
Corporate Fitness: Many companies are built around providing wellness packages for businesses. These services aim to make businesses more productive by encouraging their employees to be healthy.
Cruise Ships: Personal training is a common offering for cruise ship guests. Web research tools like Cruise Ship Job Finder are specifically designed to help you find these opportunities.
Hospitals or Wellness Centers: Patients recovering from illness and other health conditions rely on personal trainers. These positions are available in most health care companies.
Local Community Centers: These are ideal places to learn about clubs looking to hire personal trainers for their activities.
Personal Training Studios: These organizations have a heavy focus on one-on-one lessons and small group training.
Spas and Resorts: Personal training classes are a necessity for the top-tier all-inclusive resorts. Their exercise classes will need fitness instructors and personal trainers.
Self-employment is the end goal for many personal trainers. If you're confident in your business management skills, it could be your first goal.
Your business can take the form of a sole proprietorship, a limited liability company (LLC), or a corporation.
Your business might mean you're an independent contractor instead of an employee.
Make sure to study the pros and cons of all of these businesses well.
Ending thoughts on how to become a personal trainer
Through this guide, you've thoroughly acquainted yourself with how to become a personal trainer. It's time to act on your newfound knowledge.
Here's your action plan in short:
Fulfill your prerequisites
Research and choose your education route
Take the exam and become certified
Continue developing needed skills
Find your dream job
What kind of job you accept is up to you. Both gym or self-employment have their benefits. Being an employee offers paid holidays and job security, but an independent trainer has a higher earning potential.
No matter which you choose, your career will take hard work, talent, skill, and experience. Passing the exam doesn't mean clients will line up to give you business. There's no insurance that you'll keep any clients you get.
You must put in the work. Treat your clients well and offer them outstanding service.
The opportunities for personal trainers are nearly endless and the demand grows every day. Sedentary lifestyles and obesity are making the personal training industry increasingly important.
High energy and passionate trainers can make the world a better place by spreading the word about health and fitness.
If you follow what you've learned in our guide, you can change the world for the better while also making a successful living.
Get more bookings with the right tool for the job
Staying organized has never been easier.
You can now manage your business and grow your brand with a single, powerful software that keeps all of your appointments in line, your clients organized and your business booming.
Trafft is the perfect personal trainer software for business owners who need to streamline their booking experience both for their staff and their clients.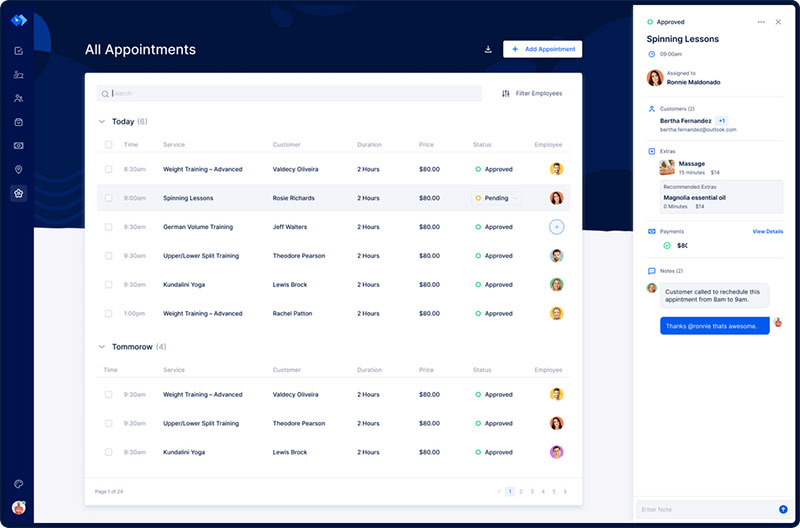 Trafft handles everything for you, even sending automated email or SMS reminders to your clients. No-shows? Not anymore!
The Trafft booking software adapts to different industries for a blissful online booking experience and employee management.
Want to know more? Check out Trafft's awesome features to see what you are missing.
If you enjoyed reading this article on how to become a personal trainer, you should read about how much a personal trainer makes.
We also wrote about a few related subjects like personal trainer business plan, gym startup costs, health and fitness advertisements to inspire you, the digital fitness experience,  gym mission statement examples and tips, the average gym owner salary, how to increase gym membership, and how to start an online personal training business.