The Internet, social media platforms, apps, and online security. These have all contributed to a global tendency towards creating a virtual world.
It also creates a need for online personal trainer software for those working in the fitness business.
Online businesses including services, sales, and tuition, are thriving in the 21st century. Many entrepreneurs provide an excellent client experience via an app or software.
This is possible thanks to virtual services and excellent customer support. There are also simplified payment methods like online credit card payment.
Gym owners, personal trainers, and other fitness professionals can use this software too. It can help them to ensure their clients stay strong, healthy, and in shape.
The importance of a good online personal trainer software
Online training is undoubtedly the future. So it's vital for a personal training business to get reliable software.
It will help both owners and clients to conquer the unknown territory of online training. It will also reduce the gap between fitness and technology.
There are a variety of options for those looking to acquire online personal training software. When choosing software there are some key points to consider.
It's important to have software that's easy to use both for fitness professionals and clients. It should come with useful features and a convenient price.
Features of an online personal trainer software:
The basic features of online personal training software are:
Exercise videos
Workout templates
Live or virtual training
On-demand training
Exercise library
Possibility for the personal trainer to create his/her own training videos or edit them as they please
Possibility to design training videos for particular customers or groups
Possibility to send, receive and store documents
Progress tracking
User-friendly customer support
User-friendly design
Customer support for setting up the software
Other features you may find in an online personal trainer software:
Meal plans
Scheduling software
Workout examples
Messaging services
Option for making payments on the platform
Nutrition plans
Workout builder
This can be a difficult decision and it will most likely affect your business. For this reason, here is a list of the best-reviewed online personal training software.
Use this guide and find the trainer software that best fits your business model.
How to choose the best online personal training software for your business
To choose the best online trainer software, ask yourself: Does this software make my life easier? If the answer is yes then this is the right option.
After all, it is worth spending a couple of dollars a month on a platform that saves time and keeps customers happy.
Second, analyze the business and its needs in-depth. This will help trainers select the software whose features best suit them.
Each personal trainer may have different needs. So it's helpful to consider questions such as:
Do I train in groups, individually, or both?
Do I need to bill my customers and issue invoices?
Do I need nutrition plans and diet logs?
Third, ensure that the software or app provides good customer support. This is critical if an unforeseen issue arises with the platform or software.
For this reason, it is also important that the support team is available 24/7.
Best personal training software options
Our suggestion: Trafft
Staying organized has never been easier.
You can now manage your business and grow your brand with a single, powerful software that keeps all of your appointments in line, your clients organized and your business booming.
Trafft is the perfect personal trainer software for business owners who need to streamline their booking experience both for their staff and their clients.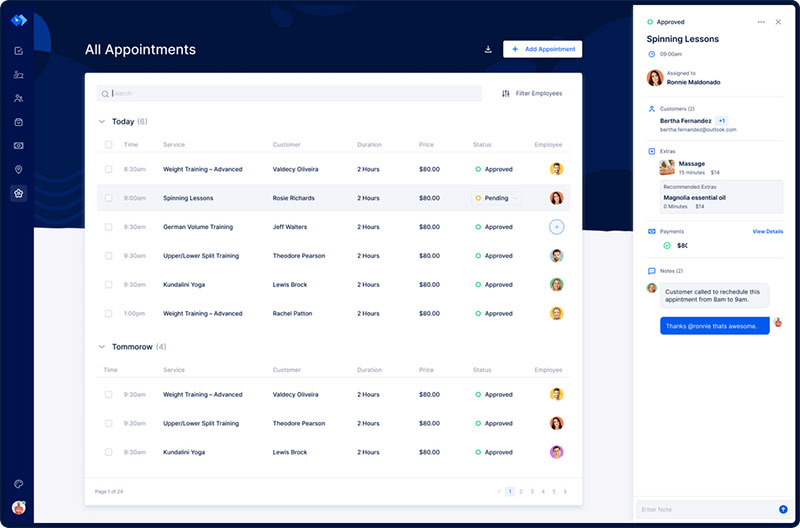 Trafft handles everything for you, even sending automated email or SMS reminders to your clients. No-shows? Not anymore!
The Trafft booking software adapts to different industries for a blissful online booking experience and employee management.
Want to know more? Check out Trafft's awesome features to see what you are missing.
Nudge Coach
This training software offers a variety of interesting features. It works best for small businesses.
It offers the possibility of messaging clients, sending both personal and group messages. Users can also schedule advanced messages.
The app offers the option to establish group challenges. But it does not provide templates, which is a disadvantage for most trainers.
To track a clients' performance, combine Nudge Coach with other training apps. For instance. Moves, Fitbit, and others.
That way trainers can follow the level, duration, and intensity of clients' workouts. This allows them to track progress and give feedback.
Nudge Coach also keeps clients motivated with a special feature called "Nudge Factor". This provides clients with a score after training.
Thus, clients have the satisfaction of achieving something after each training session. Trainers can track their performance and follow up with their exercises.
Nudge Coach offers a free version and three paid plans. The lowest price starts at $30/month.
One of the paid plans offers the possibility to brand the software after the business.
Advantages of Nudge Coach:
Flexible messaging system
Possibility to combine with training apps
Free version and paid plans available
Add the business brand (paid version only)
Incentives such as scoring system and group training challenges
Easy to use platform
Disadvantages of Nudge Coach:
It does not provide templates
Pt distinction
PT distinction does not have a free version. But it is ideal for a training business that is already successful and has been running for a while.
This is more than mere personal training software. It allows trainers to help clients improve their quality of life, encouraging healthy habits.
With PT distinction, personal trainers can make custom assessment forms. They can also provide nutrition coaching, among other things.
This option is best for advanced trainers who want more control over the online training process. It will enable them to have more involvement in a client's general wellbeing.
The software may be a little complicated for amateur coaches or for those who are not good with technology. At least it's safe and has no online security issues.
Here is what one can do with PT distinction:
Create fitness challenges to encourage client improvement
Integrate online training software such as MyFitnessPal, MyZone, and FitBit
Flexible software building
Track progress through a variety of tools for coaches
Access a wide exercise library with marketing and business resources
Promote your brand by building your own personal trainer app
Design group training systems
Schedule programs in advance with automation
Build scalable training systems
PT distinction is the ideal software for advanced coaches and training businesses. It gives full control over the online training process.
There are three different versions: Novice plan ($19.90/month), Pro plan ($60/month), and Master plan ($80/month).
Virtuagym
This software allows fitness professionals to sell their own products through the platform. It has goal tracking features and payment and billing options.
Here are some of the exciting things that you can do with this personal training software:
Workout builder: Make digital training plans and exercise videos from 3D templates.
Client management: Features include billing, branding, and client sign-in.
Payment processing: Integration with the main payment providers and automated invoice creation. One-off invoicing is available.
Workout templates: Virtuagym has a large exercise library with more than 4,300 3D exercises.
Client progress tracking: It offers an easy way to follow up with clients' progress. Some features that support this are nutrition plans, exercises, and metrics.
Easy scheduling: Clients will be able to automatically book their workout sessions.
All types of training: Virtuagym allows for live, virtual, and on-demand training. On-demand training is only available through the 3D training builders.
The paid plans start at $29 a month.
Trainerize
Trainerize is an excellent option for personal trainers and health coaches. Any fitness business serving customers online or in-person can enjoy Trainerize.
The plans start at $5 and the first client is always free. This makes it a great option for those who are starting in the fitness business.
It also helps to engage customers, thus creating a solid base of loyal members. It offers integration possibilities and is a user-friendly platform.
Thus trainers can keep all their services in one unique app.
Features of Trainerize include:
Create custom programs
Customizable workout plans
Built-in templates
Progress tracking
Train with your customers online or in-situ
Share your online live sessions with many clients
Track clients' vitals and performance during online workout sessions
Communicate with your clients through the platform
Trainerize is a favorite among personal trainers and coaches. This is due to its accessibility, tracking options, and flexibility. About pricing, the first client is always free (every month). Those with more than one client can choose from any of the following plans:
Grow Plan ($5 a month), Pro Plan ($20 a month), and Studio Plan ($250 a month).
Halo Fitness Cloud
This software works well both for large fitness businesses or individual entrepreneurs. It helps to manage and create training schedules for clients.
A favorite feature is the ability to synchronize gym equipment with the app. Thus, the personal trainer can track structural issues of the machinery, how much it has been used, etc.
Halo Fitness Cloud adapts to different needs. It comes in four separate versions.
EverFit
EverFit offers a website and a mobile app. A fitness specialist can design training programs and deliver them to clients.
They will also be able to track the training process. This software is useful for professionals who are conducting sessions online and in-situ.
EverFit's main features:
Automated features
Nutrition tracking
Possibility to boost revenue and engage clients
Good client connection which helps retain members
Possibility to build workout programs and send them to the members
Free version and paid plans are available
Plans and pricing: Starter Plan (free), Pro Plan ($29/month), Studio Plan ($165/month).
WorkoutLabs Train
WorkoutLabs Train has a drag-and-drop option to create very detailed workout sessions. This feature works thanks to a set of sub-features that work directly with it.
This app is elegant and simple. There are two plans to choose from, but no free version is available.
This personal trainer software offers a manageable and beautiful platform. With it, a personal trainer can create well-designed workout plans.
Trainers can manage the programs and follow up with the client's progress. This assures an excellent training service.
This app offers the possibility to grow as a professional. It is a great option if planning to establish a large business.
When creating workout plans, make use of the large library. It contains excellent pictures to help illustrate the plans.
The library is updated on a regular basis. Illustrations are easy to find through a search bar.
Moreover, it is possible to add written guidelines and text clients for a better follow-up. The plans can be printed or viewed on any device.
Plans and pricing: $29 a month (limited version), $295 a month (unlimited clients). For more information on the plans please visit the website.
My PT hub
This is a professional app that offers a simple platform. It comes with an extensive and ever-growing database.
Clients will be able to create a nutrition plan and custom workouts. The app also generates a shopping list.
The personal trainer can track attendance and conduct both online and in-situ training.
My PT Hub has the following features for a straightforward training process and easier communication:
Custom branding of the app
Effectively manage accounts, receipts, and payments
Create unlimited nutrition and training plans
Unlimited trainers
Online payments
Client progress tracking
Cost-effectiveness with plans starting at $20
Free trial
With its customization and branding possibilities, its unlimited number of trainers and plans, and online payment system, My PT Hub is the perfect app for gym owners.
Each user will have a 30-day trial period and then access to two plans: Standard Plan ($20/month),
Premium plan ($49/month).
Total Coaching
Total coaching offers an excellent solution for trainers. Especially those starting their career as fitness and health professionals.
The software has a user-friendly interface. It allows the creation of meal plans and session scheduling.
Many are looking for a system that will add value to online training sessions and that's affordable. Total Coaching provides interesting features starting at only $14 a month.
Tools included with Total Coaching for client management and an excellent user experience:
Track progress: Clients can automatically save their data and keep track of their performance.
Design a diet plan: Clients can manage their nutrition plan. To help with this there is a database of 20,000 different types of food.
Keep in touch with your client or trainer: Excellent and user-friendly communication tool.
Customizable creations: A trainer can design graphs to keep track of client progress.
Integration: Trainers can integrate the app with their website for a better user experience.
Total Coaching offers an excellent option for trainers and professionals starting their careers. It has an accessible price (from a $14 monthly fee) and client management opportunities.
Track progress with ease, enjoy a pleasant user experience, and communicate with clients. All from one great app.
Pricing: Plans vary between $14/month and $65/month (Pro plan).
Apotheo
This software is specifically designed for nutrition coaches. It is a flexible tool that can synchronize with a variety of apps and has a wide range of tracking options.
Whether starting or expanding a nutrition coaching business, it offers a variety of features that can help achieve your goals.
Apotheo's main features:
Macro tracking
Habit tracking
Organize forms and track responses
Insert a logo and add Apotheo into your domain
Pre-built sign up forms
Built-in messaging system
Access signed agreements with clients through their profiles
Integration with FitBit
Upload materials and documents for clients
Import food logs from apps such as MyMacros or MyFitnessPal
Reminders for clients
30-day free trial
With Apotheo, trainers can automate many coaching tasks. This saves a lot of time and they can focus on what's important – growing their business and developing their brand.
Regarding pricing, with Apotheo users can pay according to their earnings.
The fee is $10 for each customer. Users can set up payments so that the fee is deducted straight from the client's payment.
Thus, when you pay more it is because you are earning more. This can encourage growth while keeping expenses under control.
Pricing: $10 a month per client.
FitSW
This is a customizable solution. It enables trainers to record multiple exercise videos from one central location.
They can also access a variety of materials and demos from an extensive database. These serve to enrich their recorded training sessions.
One unique feature of Fit SW is the ability to set up the parameters to track in a customized way. Each trainer can create a tailored solution for client management and progress tracking.
They can choose to track any aspect including waistline, bench-press max, and body fat.
Interesting features of the FitSW software:
Customizable tracking graphics
Trainers can check progress from any device
Meal plans
Possibility for clients to record their food ingestion
Workout builder
Nutrition plans and follow-ups
Easy connection between trainers and clients
Schedule appointments and sessions with clients
FitSW is the ideal solution for easy performance tracking and communication with customers. The software has a free version as well as paid plans.
Plans and prices: Free plan, Trainer plan ($19.99), Gym plan ($59.99)
True Coach
This allows trainers to automate the processes so that they can focus on important work. They will have more time to improve training routines, grow the business, and promote the brand.
Prepare personalized exercise videos and automatically send them to clients via email.
Progress tracking is available for both trainers and clients. Trainers can supervise goals, access to equipment, nutrition data, and others.
Features of True Coach software:
Track attendance
Exercise library
Nutrition coaching
Payment processing
Assessments
Customizable platform with the possibility to use your brand (paid plans only)
14-day free trial available for each plan
The creators of True Coach are professionals who have been training online. They know the advantages and disadvantages of remote training.
Using their experience in the field and analyzing what disappointed them as clients, they have created a user-friendly training software. Users can manage a database of clients, customize training schedules and connect with clients online.
True Coach is available in three different plans:
Starter ($25/month), Standard ($55/month), Pro ($110/month). All plans include a 14-day free trial.
FitFerret
This management software for training businesses stands out for its elegance.
Users can create tracking graphics with a beautiful design. This provides a pleasant user experience for clients.
A nice image can improve a trainer's reputation. Clients will feel comfortable knowing they are working with a top professional.
But this is not all a trainer can do with FitFerret. They can create a virtual gym in which clients can achieve their goals with a variety of tools.
These include meal plans, appointments, progress tracking, and workouts. Also, report clients' progress and communicate with them through a messaging system.
FitFerret is a perfect fit whether you work online, in person, or both. It provides a stylish platform with easy communication and straightforward feedback.
Start enjoying FitFerret at great prices:
Free (2 clients and limited features), Core ($19 a month with enhanced features).
PT Minder
This comprehensive online personal training software is useful for running a gym or training business.
You can manage administrative tasks with ease and efficiency. You can take care of client management, booking, scheduling, payments, and reminders.
PT Minder can work as a virtual assistant to do the day-to-day activities. It can also be very useful for remote training.
From managing schedules to processing payments, it is ideal for professional fitness businesses.
Users can collect payments by credit or debit card, create an online store, and report performance. It is also possible to have multiple trainers and assessments and integrate the software with your website.
Main features of Pt Minder training software:
Display clients' goals and other information in real-time
Trainers can publish schedules for online sessions. Clients can access the schedule and book a class
Client performance tracking
Automatic reminders to clients via SMS
Access through desktop or mobile devices
Payment integration with providers
This is a great option for minimizing the daily activities that take valuable time. Since there is no free plan, it is best for businesses that already have a steady clientele.
The pricing plans start at $36 and vary according to the number of customers you will handle. Thus, there is a $36 monthly fee for up to 50 members, $47 for 51-100 members, and so on.
For companies that have more than 200 clients, the monthly fee is $110. These fees apply only when billed annually and there is a 14-day free trial available.
How to choose the best online personal trainer software
There is only one right answer to this question. Choose the software that best suits your business.
Establish clear goals for the business and analyze its strengths and weaknesses. Then, write a list of the features the ideal software should have.
These should cover the needs revealed in the previous step. Then review this guide and choose the best online personal trainer software for you and your clients.
Take time to analyze each option and choose the one with the best cost/benefit balance. Spending a few dollars a month is worth it to optimize time and make clients happy.
In some cases, a free version may work just as well.
With these guidelines in mind, you can choose a training software that will boost your business and help achieve your goals.
If you enjoyed reading this article about online personal trainer software, you should also check out this one on how to sell personal training.
We also wrote about similar topics like personal trainer logo, personal trainer business plan, how to start an online personal training business, gym mission statement examples, gym slogans, gym logo ideas, how to become a personal trainer and fitness franchises you can buy.