Wedding photography provides photographers with an opportunity for artistic expression. Through this medium, they can draw inspiration from the people around them.
As a result, each wedding photographer has a different style.
Popular wedding styles include fine art, dark and moody, and classic photos.
But what if a photographer likes more than one style, such as classic, and dark and moody photos? Is it possible to combine them and turn them into a personal style?
This article examines the most common wedding photography styles and techniques that professional wedding photographers can use at their next photoshoot.
Such an examination helps photographers determine which style, or styles, suit them best. Then they can hone their skills to match their chosen style.
Classic 
Classic wedding photography is the traditional style that has endured through time. It is also known as posed, conventional, or traditional wedding photography.
These are the kinds of photos found in parents' or grandparents' wedding albums. They are beautiful, formal photos that are typically posed, like family portraits.
Although they reflect reality, photographers may use their creative license to achieve the desired look.
It was the top wedding photography style until the birth of modern technology.  Now though, photographers and newlyweds no longer worry about the cost of film.
The classic style of wedding photography involves a lot of direction from the photographer. It can take quite a bit of time to get the wedding party together and pose them.
Classic photos may not be the best option to capture the emotions of the day. However, they do make for some beautiful photos of the bride and groom with their family and friends.
Photojournalistic 
The photojournalistic style of photography has become more popular in recent years.
With this style, the photographer takes a more natural approach. They discreetly follow the newlyweds and their guests, capturing events throughout the day.
Photojournalistic photos capture the sincere, raw emotion of the couple and guests. So they make for the most heartfelt and memorable shots.
Because of this, many photographers have adopted this style. They treat the wedding like a news story or documentary, recording events as they unfold.
Shooting photojournalistic images does come with some challenges, though. It requires a lot of creativity, as well as speed.
Great skill is also needed to quickly aim, adjust the camera settings, frame, and shoot. Special moments can occur in the blink of an eye, so the photographer must always be ready to capture them.
In addition, photographers will have to be discreet and blend in so as not to be intrusive. That might require the use of a telephoto camera to capture candid moments from afar.
Editorial 
Editorial photos are the complete opposite of photojournalistic ones. They are much more posed, like the photos in a fashion magazine.
This is a rarer style of wedding photography. But many photographers have grown successful businesses by perfecting and specializing in it.
Of all wedding photographers, those specializing in editorial photography are the most technical. They are hands-on and take control of the environment, paying special attention to lighting and posing.
They create wedding photos that look like they've come straight from a magazine.
Fashion Wedding Photography 
Fashion wedding photography is a genre in itself. It showcases the latest and greatest in bridal fashion for commercial purposes.
These are the photos most often found in magazines. However, it has crossed over into real wedding and engagement photos in recent years.
Fashion wedding photography is similar to editorial wedding photography.
The photographer can take their time and get creative. They may use lighting setups, fashionable poses and expressions, and beautiful backgrounds.
The couple will also enjoy the opportunity to be "supermodels" for a day!
Fashion wedding photography is a combination of editorial, fine art, and traditional photography. Yet it has a strong emphasis on high-end fashion and the details surrounding the wedding.
By the end of the day, there'll be some stunning photos that look as if they came from the cover of a fashion magazine.
Experience in commercial photography isn't necessary to try fashion wedding photography. There are many bridal and wedding magazines to draw inspiration from.
Also, try to find ways to dramatize the subject and their clothing.
Portrait Wedding Photography 
Portraiture produces beautiful photos, and even more so at a wedding. Nothing captures the emotions of a wedding better.
For instance, think of those photos of a bride and groom with genuine, radiant smiles.
Portrait wedding photography is also considered to be a formal style. This is because the photographer needs to direct and pose the subject.
This style of photography is not usually recommended for photographers to shoot alone. It can limit their photographic results.
However, it makes for memorable photos when shooting a full wedding feature.
Portrait wedding photography would be most appropriate at key moments during the wedding. These include:
when the bride and groom have finished getting dressed
when they privately pose with their parents
their first moments after saying, "I do."
Dark and Moody 
The dark and moody style is similar to lifestyle photography, but it has an edge. Also known as a filtered overlay, it is very common on Pinterest and Instagram.
In post-production, the photographer alters the tonality of the photos. This results in a filtered effect.
The dark and moody style would complement a boho, quirky, or moody wedding very well.
Most photographers with a dark and moody style have a darker editing style, but not all. Their goal is to evoke emotion, create a connection with their clients, and capture them in their most authentic and vulnerable selves.
They photograph the couple using shadows or harsh lines. That has the effect of creating unusual patterns or lighting.
In recent years, this style has increased in popularity with couples and magazines.
Aerial 
To grow as a photographer, it's important to keep up with the latest trends. Another popular photography style in recent years is aerial wedding photography.
This one requires the use of a drone with a high-quality HD camera mounted on it.
It would not be appropriate to capture the entire wedding through aerial photography. But it works well for photo sessions, ceremony exits, and outdoor receptions.
Aerial photography is something many photographers are offering in addition to traditional photos.
Aerial shots are especially stunning when shooting outdoor wedding locations. Or for photographing the couple in a remote area surrounded by the beauty of nature.
With aerial photography, there's no need to focus too much on image composition. Photos taken from a bird's-eye view will always be captivating.
However, be sure to exclude elements that seem out of place. If it's not possible to shoot outdoors, one can still take magnificent photos from a staircase.
Fine Art 
Some may want to stand out from the crowd and be different from everyone else. If so, then fine art photography might be their perfect style fit.
This style has a wide range of what is considered to be "fine art." Every moment and photo taken could be an art piece to display on a wall.
The fine art photographer captures every beautiful detail of the wedding effortlessly. Fine art photography may sometimes include photoshopping to create a stand-alone photo.
A fine art photographer must remain authentic to the art. At the same time, it's important to take the clients' needs into account.
This style suits bold, bright colors and the natural lighting of outdoor weddings. Clients wanting soft, romantic wedding photos should hire a fine art photographer.
Black and White 
To highlight the emotion and create an air of drama in your photos, black and white photos might be the way to go. Without the distracting colors, the subject matter becomes the main focus.
Black and white images create a classic and timeless look. Many clients appreciate how it intensifies the emotions in their photos.
Others may still prefer colored photos, though. It's all a matter of taste.
Black and white photos help to highlight feelings like nerves, love, and celebration.
The effects are even more powerful and exaggerated when used with a powerful zoom. Fill the frame with the couple's lips meeting for a kiss, holding hands, or tears rolling down a cheek.
A deep depth of field can have the same dramatic effect. It blurs out the background, making the subject the focus of the image.
Landscape 
Outside of wedding photography, landscape photography is already a well-established and popular style. But, like aerial photography, it has trickled its way into wedding photography.
It has become a popular add-on for photographers. Especially if the wedding is in a scenic location such as the mountains, the beach, or the forest.
To capture the perfect scenes, the photographer works with the couple to scout out the area beforehand. Then, the photographer captures the couple as part of the landscape for scale and epic beauty.
The result of landscape photography is very natural.
It's usually best to shoot landscape images after sunrise and before sunset. Or anytime in the day when the sun isn't too harsh.
When the sun sits high in the sky, it can result in unflattering shadows on the subjects' faces. With this style, photographers will have to deal with shadows and other lighting difficulties.
Vintage Wedding Photography 
Vintage wedding photography is a popular trend nowadays. "Vintage" is a broad term that covers every era from the 20′s to the 70′s.
However, there are a few universal features that help to achieve a vintage aesthetic, no matter the era.
Portraits of the '50s relied on dramatic lighting. This lighting was never overdone, though, and is always flattering.
Picture, for instance, portraits like those of Marilyn Monroe and Audrey Hepburn,
Another popular era is the '70s. This look relies on extreme colors, milky shadows, and smooth shades.
To achieve these effects, use Photoshop/Lightroom or adjust the exposure settings.
Get more bookings with the right tool for the job
Staying organized has never been easier.
You can now manage your business and grow your brand with a single, powerful software that keeps all of your appointments in line, your clients organized and your business booming.
Trafft is perfect for business owners who need to streamline their booking experience both for their staff and their clients.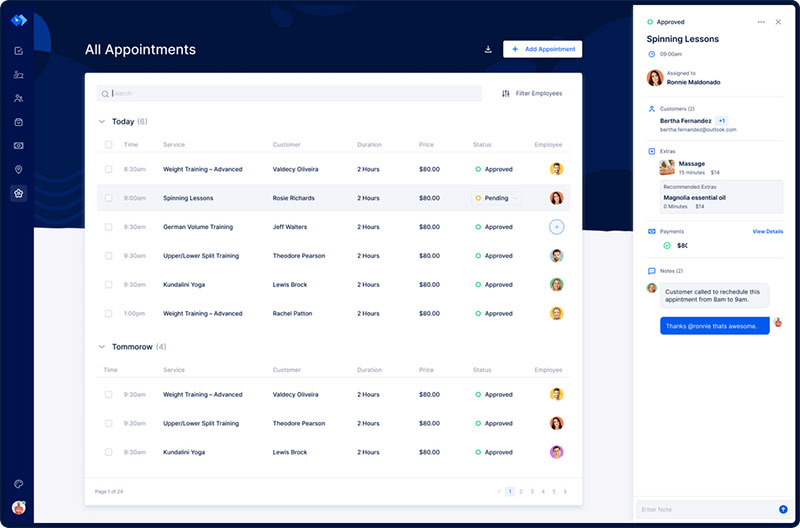 Trafft handles everything for you, even sending automated email or SMS reminders to your clients. No-shows? Not anymore!
The Trafft booking software adapts to different industries for a blissful online booking experience and employee management.
Want to know more? Check out Trafft's awesome features to see what you are missing.
If you enjoyed reading this article on wedding photography styles, you should also read this one about how to get your photography noticed.
We also wrote articles about similar subjects like pricing photography prints, photography mini-sessions, how to become a licensed photographer, real estate photography contracts, social media marketing for photographers, appointment scheduling for real estate agents, how to get your photography noticed and photography mood board.