Photography mini-sessions are short, low-risk opportunities for potential customers to sample your work. A photographer can use mini-sessions to:
Generate demand during the slow season
Make extra income when business is good
Attract new customers who may eventually become full-session portrait buyers
It is important to learn how to set up and shoot profitable mini sessions. This article is a collection of the best mini-session tips. 
What Is A Mini-Session And How Long Does It Last?
A mini-session is a portrait photo package, shot in a smaller time slot, and at a reduced price. It usually lasts for 30 to 45-minutes per customer.
The purpose of a mini-session is to give customers a taste of what you do.
One may decide to generate demand in different photography niches by offering relevant mini-sessions. Each photographer may decide who to offer mini-sessions to.
For example:
Individuals
Families
Kids
Mini-sessions tend to be popular with families. This is because they are a quick, affordable way to get professional portraits for:
Holiday cards
Anniversaries/ milestones
Family announcements
Photos to share with friends, etc.
One way to get a steady income from mini-sessions is to fill multiple event slots. Be careful not to set the price too low or you may quickly burn out.
These sessions may be cheaper but one must include production costs in the final price. This is to ensure the photography business makes a profit.
Don't charge so much that you lose potential customers. Keep in mind that profitable mini-sessions are not discounted full-sessions.
Scale down the product by reducing the time and cost. Create a theme that differs from the traditional portrait sessions.
How To Set Up Successful Photography Mini-Sessions
Minis increase booking volume, creating amazing opportunities to upsell products. These may include items like:
Gifts
Holiday cards
Larger full portrait sessions
Preparation is key to converting minis into more profitable packages using upsells. But, be careful not to get lost in the small details.
Send scheduled clients a list of special offer photo print packages. Include any additional upsells too.
This can be a real income boost that makes up for the reduced price of a 30 to 45-minute mini-session.
Be sure to prepare for any lighting situation you may encounter during the session. For instance, have extra batteries ready for the flash if the sun becomes an issue, a reflector to bounce light, and a tripod.
Conduct A Needs Analysis
To ensure the mini shoot is quick, call the client before the session to discuss what they want in their photos. Get specific info, such as if they want:
The whole family in the images
A few shots of each child in the themed set
Clothing changes
Location
Make sure to have a clear agenda and that everyone is on the same page. Follow up the day before the appointment to confirm everything.
Use A Familiar Location And Scenery
When it comes to mini sessions, a photographer needs to minimize pre-production time. Reducing the time spent scouting for a location by using a familiar location.
This could be a park with amazing scenery or a golden-colored hayfield. Shade and parking are two important elements to keep in mind when choosing a location.
You could use a location with trees or large structures like a barn. Be sure to select a place that you know well and that has good lighting during the time of the shoot.
If several mini-event slots are booked for the same day, it won't be possible to fit everyone into the sunset hour. So select a place that has good enough lighting even without natural light.
Depending on the season, it may be possible to fill all the sessions in one or two locations each day.
Why not use Saturdays for mini-sessions at a park and Sundays for downtown minis? Giving each day a different theme offers variety to the customers. 
Speed Is A Need
Work fast! If the mini-sessions go overtime it devalues the regular sessions.
Use the information collected in the needs analysis to help keep the session short and sweet.
If the clients agreed to a mini-session of 15 – 20 minutes, adhere closely to this time frame. This will leave the client wanting more.
It may be tempting to go overtime for free. But, doing this reduces the chance of the client returning for more in the future. 
When To Offer Mini-Sessions
When is the best season for offering minis? Some photographers offer mini-sessions during spring and autumn.
The weather is usually beautiful around this time and amazing colors are everywhere. Also, people tend to be thinking about getting portraits done around this time of year.
The problem is that spring and autumn are the busiest times of the year for a photographer.
When compared with minis, full sessions are far more lucrative. So it may be unwise to offer these sessions in those seasons.
Some alternatives could include scheduling minis:
When business slows down
During the winter months
Around Valentine's Day, Christmas, or the Easter holidays with a themed shoot for each
During the summer when families are on vacation (try mid-week days at the beach)
For back to school
Depending on the season, scheduling minis for Saturdays and Sundays may be best. In general, weekends are better for busy families.
Tips For Marketing Mini-Sessions
How can you create a demand for what you offer?
One way is to create a "coming soon" buzz. Use emails and social posts to inform the audience of upcoming mini-sessions.
Let customers know to look out for more details. This will generate excitement and clients will be ready to book when the time comes. 
Create Marketing Images
Use beautiful photos that will excite potential customers and make them want to schedule a session. If you want to create layouts without using Adobe, then Canva and Etsy are great alternatives. Or you can use the help of photo enhancement services.
Photographers can purchase any of Etsy's over 100 mini-session example templates. They will help save hours of design time.
Or use the free Canva design tool. Canva is easy to use and has example templates for:
Printed cards
Social posts
Email invites
Make the information in the marketing photos clear and shareable. Do this by incorporating the following:
A Simple Message
Instagram is about attracting followers with beautiful graphics. So don't overload the image with too much text.
Stick with a simple copy.
Your Brand
Advertise your brand by including a link to your website in the marketing photos.
An Amazing Photo
Use your most beautiful portraits and holiday cards to attract potential customers. The photos should make them think, "I want that for my family"!
Email Marketing
Send emails and holiday cards to people who permit you to email them, such as:
Current customers
Dormant customers
People who sign up for the newsletter
Longtime clients are more likely to book than new ones. Make sure that they get first dibs on booking privileges.
This gives the mini-sessions an exclusive feel which aids in customer retention.
Give existing clients a 1-week head start over newer clients. Ensure that they know about this window.
This generates a sense of urgency that makes a person think, "I've got to get my slot before they're all taken". Other alternatives include:
Offering mini-sessions to preferred clients first
Using minis to target a demographic of new clients
Social Media Marketing
Even with a small following, social media is a powerful advertising tool for any business. Get started by setting up an account on a few of the main social platforms.
A website is a great tool to have. But most people will find it easier to search for your portfolio on their platform of choice.
Tips For Pricing Mini- Sessions
Mini-sessions are fun for family photographers. But, figuring out what to charge for a mini-session can be challenging.
A mini-session consists of multiple billable elements, including:
Time
Prints
Digital files
Here are some tips to help build good mini photo session prices.
Leverage 'Mini-Session Only' Prices & Offers
Mini-session photo fees vary. Prices tend to range from $50 to $250 depending on the photographer and the content of the package.
The session fee is a flat rate that covers taking the client's photo. 
What To Offer In The Packages
The mini-session will devalue full sessions if both carry similar offerings. So, craft the mini packages with care.
A package could cost $195 for a 20-minute mini-session, with 40 to 60 images taken in that time frame. This would enable a photographer to book new sessions every 30 minutes (10 minutes of free time).
Boost such an offer by offering 10, or 3 to 5, digital images with one 11×14 print. Offering physical prints is a great way to encourage customers to book with you.
Make A List Of Products Vs Prices
Consumers value transparency when it comes to the cost of goods or services. So, create a shareable list of products and their prices.
This document should include a breakdown of the total cost. Here it's important to list the session fee separate from the cost of prints and digital files.
When clients see that there are no hidden costs, their trust will grow. They will feel like their time was well spent.
When a client wants to book a session, send them the pricing sheet along with other selling materials. Send it a second time with their payment receipt or signed contract.
Then at the end of the session, give them a printed copy of the product vs pricing sheet. This repetition accomplishes at least two things:
This level of transparency will earn the client's trust
The more they see the products and the prices, the more desirous of purchasing add-ons they may become.
Get more bookings with the right tool for the job
Staying organized has never been easier.
You can now manage your business and grow your brand with a single, powerful software that keeps all of your appointments in line, your clients organized and your business booming.
Trafft is the perfect services scheduling software for business owners who need to streamline their booking experience both for their staff and their clients.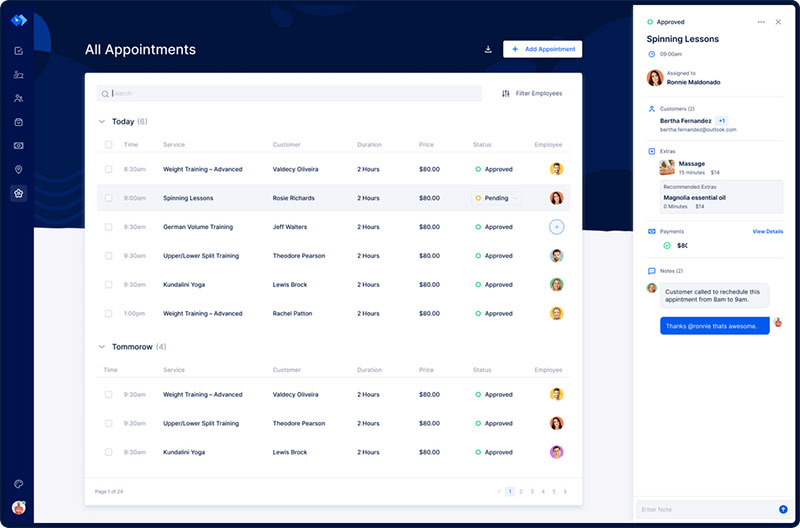 Trafft handles everything for you, even sending automated email or SMS reminders to your clients. No-shows? Not anymore!
The Trafft booking software adapts to different industries for a blissful online booking experience and employee management.
Want to know more? Check out Trafft's awesome features to see what you are missing.
Use An Online Payment Method
Using an online payment service is a great way to save time.
Some photographers choose to accept payment only by this method. But it's possible to accept cash and check, along with online payment.
One may choose to charge for the session upfront or require a deposit to confirm a booking. This reduces the stress of last-minute cancellations.
It also allows the photographer to focus on shooting gorgeous photos.
After Session Marketing
After the mini-session is over there is still work to do. For mini-sessions to be sustainable, a follow-up plan is vital.
This is what can turn new clients into long-term business.
Following Up With The Client
The shoot is over, you've edited and delivered the client's photos. Next comes the follow-up, to maintain a re-booking relationship with the client.
Successful photographers follow up, they don't allow their client list to gather dust.
If you shot a portrait for an expecting mom, ask about her due date. Set a reminder to reach out to her regarding a newborn portrait.
As time passes, set another reminder to follow up in 6 months for a portrait of the growing baby. Try to photograph the stages of their life.
When teenagers book minis, find out when their senior year is and set a reminder to follow up for a senior portrait. The season for holiday cards is also a great time to encourage customers to re-book.
After the mini-session, send a thank you email to the clients.
Before showing clients the final images, highlight the top three products created for the promotion. This allows them to choose the products they prefer and how much they want to purchase.
Photo Delivery
Motivate customers to pay for more downloads. Include all the best photos in the gallery, making only a set number downloadable.
For example, say the package comes with 40 edited photos with only 10 available for download. Include all 40 photos in the online gallery.
Printed Or Digital
Some photographers include the cost of the digital files in the session fee. Mini-session rates are usually higher since the clients get the printing rights.
Some photographers who use this method charge a higher price and take fewer clients.
Print sales make up a large part of mini-session photography offers. Every family enjoys decorating their home with printed photos.
So share a list with your photo print packages at the end of the session. Group these by sizes and quantities with the cost affixed.
For example:
Ten 4×6 prints for $XX
Two 8×10 prints for $XX
One 11×14 print for $XX
Online Or In Person
From the outset, ensure the customer understands all the limitations of the online gallery.
Set up watermarks, the number of downloads agreed on, and the expiry date. Use email logins to track emails for future promotions.
For in-person sales, schedule an appointment at the end of the family session. This helps prevent delays in delivering the photos.
Use a calendar to keep track of the date and time for in-person sales.
FAQs about photography mini sessions
1. What is a photography mini session and how long does it typically last?
A mini session is a scaled-down version of a full session that normally lasts 15 to 30 minutes. For individuals who want professional images but don't have the time or money for a lengthier session, this is a fantastic solution.
2. What is the cost of a photography mini session and what does it include?
A photography mini-price session varies based on the photographer, the setting, and the bundle it comes with. A small session typically costs between $100 and $300 and contains a certain number of edited digital pictures, typically between 5 and 15.
3. How many photos can I expect to receive from a photography mini session?
The photographer you select and the bundle you select will determine how many photographs you receive from a photography short session. A typical mini-session will yield 5–15 edited digital photos for you.
4. Can I choose the location for the photography mini-session?
The majority of photographers provide you with a choice of locations for your mini sessions, but some may let you pick your own for a price. While selecting a location, think about the backdrop you want for your pictures and whether it fits the photographer's aesthetic.
5. What should I wear for a photography mini session?
It's crucial to dress in something that makes you feel confident and at ease. Solid hues are preferable to loud patterns. To create a coherent image for your picture shoot, think about collaborating with the other participants. Adding hats, scarves, and jewelry as accessories can further spice up your pictures.
6. How far in advance should I book a photography mini session?
To assure availability, it is advised to reserve your photography mini-session at least 2-4 weeks in advance. It's better to make plans in advance because popular times of the year, including holidays and weekends, often fill up quickly.
7. Can I bring props or other items to incorporate into the photography mini-session?
As long as they are secure and simple to move to the site, most photographers are open to including props and other items in the photo shoot. Before the shoot, go over your prop list with your photographer and decide how you want to use them.
8. What types of photography mini-sessions are available (e.g. family, maternity, holiday)?
For a range of events, such as family portraits, pregnancy photos, holiday images, and more, photography mini-sessions are offered. A Christmas tree farm or a pumpkin orchard are just a couple of the themed mini-sessions that some photographers offer.
9. Are digital copies of the photos included in the photography mini-session package?
Digital copies of the images are typically included in photographers' mini-session packages. So it's crucial to discuss in advance with your photographer what is covered by the package and whether there are any extra costs for prints or other products.
10. Can I purchase additional prints or products from the photography mini-session?
After the brief session is over, many photographers give you the option to buy more prints, items, or packages. Prints, canvases, albums, and other picture items may fall under this category. The photographer and the goods all influence price.
Ending thoughts on this guide to photography mini sessions
Mini-sessions are great for driving business your way. The workload can be hectic but it is profitable and helps to increase the client database.
Price mini-sessions carefully and market them weeks in advance. To be sustainable, make sure to follow up after each event.
Don't be afraid to suggest a full session if you discern that that is what a client needs.
If you enjoyed reading this article on photography mini-sessions, you should also read this one about how to get your photography noticed.
We also wrote articles about similar subjects like how to become a licensed photographer, real estate photography contracts, how to get more clients in a salon, salon dimensions, salon insurance, salon lighting ideas, spa quotes, how much salon owners make, and creating a photography mood board.