Mentorship programs have been used for generations, and for good reason. Within the mentoring process, learners spend six to twelve months building business knowledge within seven important stages, each filled with surprises.
Although mentoring programs are simple in practice, many businesses struggle to implement them. If you are one such business, or perhaps an organization starting a mentoring program cautiously, you need to know what is involved with a good mentoring process. Keep reading to learn what is involved in a successful mentorship program, as well as useful tips for all formal mentoring programs.
What Steps Are Involved in a Good Mentorship Program?
Of course, all mentoring relationships are different, because everyone responds to mentorship differently. However, most mentorship programs will include general phases common throughout multiple industries.
Knowing is half the battle, and that stands true with mentoring programs. Each program requires varying amounts of time, and each builds on the other in different ways. Understanding these phases beforehand will greatly benefit the process in the long run.
Determine the Business Goals of the Mentor Program
Before you even start your mentoring program, you will need to establish its purpose. You can't fix a problem if you haven't identified it! Here are some suggestions:
To increase employee engagement
To introduce new employees to the company culture
To teach long-time employees new skills with technology or social media (a sort of reverse mentorship program, if you will)
To build a mentor/mentee relationship between long-time and new employees
Last of all, try to connect your mentoring program's goal with your company goals. A mentorship program can be a great opportunity: use it.
Deciding on the Structure of the Mentorship
Once you have chosen the purpose, you need to choose the structure of your mentoring program.
First you will need to ask yourself whether the mentoring process will be one-on-one or in a group setting. If it's a group setting, what will be the inclusivity or exclusivity of the program? You will need to know how many spaces are available for the program well before take-off. Take some stress off of the program administrators.
Here are some other questions you will want to ask yourself:
How will you determine if the process is successful?
Do you have a formal review, or will there be a casual check-in for the status of the mentorship?
How will you guide your mentee?
Will you set tasks and objectives or meet for coffee and discuss your approach?
How often do you want to meet?
Should it be only as needed, or should there be specific times?
The more specific you are when planning, the more likely your mentees will experience greater career development.
Initiation
This step is critical. If mentors and mentees get off on the wrong foot, it can sour the entire relationship. Here, they informally discuss their common values, goals, interests, and even dreams. You don't need to start teaching at this point; instead take it as an opportunity to match mentors and mentees together and set the foundation for a successful mentoring relationship.
This is where mentors need to put in the effort. Building a foundation isn't easy, but here are some ways to start. Mentors can…
Share ideas and encourage future sharing
Get to know each other on an individual basis
Practice consistency by being sincere when guiding their mentee
Experts also agree that mentors need to actively lay the foundation of a relationship during the initiation stage. They need to put in the time and take the initiative to communicate effectively and respectfully. Only then can trust begin to grow.
Engagement
Engagement is not a one-and-done deal; it tends to decline as the mentoring process continues. Try to utilize check-ins and planned communication hours to keep both the mentor and mentee engaged during the program.
Sustained engagement has seen major growth with the many mentoring software solutions on the market. Many of the most tedious parts of mentoring, such as surveying and scheduling, are made simpler with software. Here are a couple of features that also help maintain engagement for both mentor and mentee.
In-platform surveys
Automated messaging
Goal setting and tracking
Learning plan creation
Notes and document sharing
This is an area where the mentor has to set boundaries and parameters for what goes on. If not, it may lead to future confusion or resentment, which no one wants.
Growth
You have finished the set-up, and everyone knows what's expected of them. Now it's time for the meat of the mentoring process—growth. Both mentor and mentee can now start to achieve the goals already set out, and the mentee can start working on professional development.
The mentor is responsible at this point to provide all the resources necessary for their development. This can be done by sharing knowledge with storytelling or by helping mentees overcome challenges. Over time, the mentoring process grows from a formal relationship to that of a guide, adviser, or even friend.
Another important responsibility for mentors is that of providing constructive yet candid feedback to mentees. This feedback is a very important element of the mentoring process. This is what allows mentors to identify mentees' strengths and weaknesses, which can prove crucial for mentees' growth.
During this phase, it is also critical that both participants monitor the mentoring process to ensure the goals are being met.
Your mentorship success story starts with a scheduling app to streamline your calendar
Staying organized has never been easier.
You can now manage your business and grow your brand with a single, powerful software that keeps all of your appointments in line, your clients organized and your business booming.
Trafft is perfect for business owners who need to streamline their booking experience both for their staff and their clients.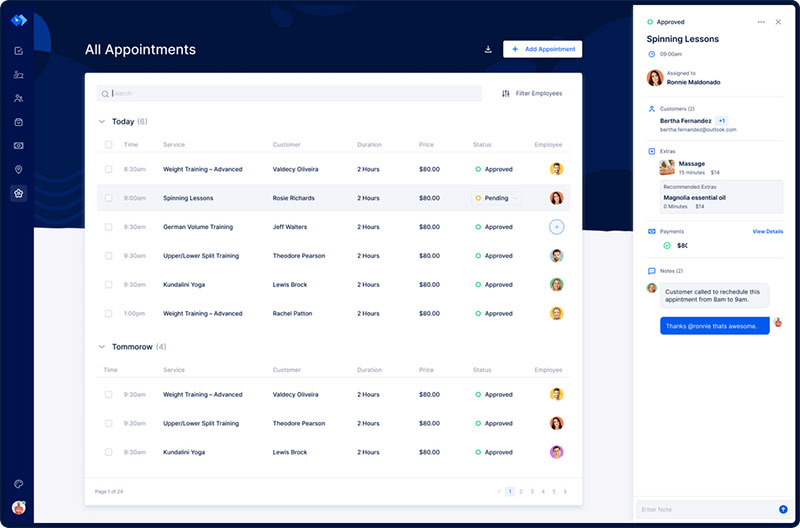 Trafft handles everything for you, even sending automated email or SMS reminders to your clients. No-shows? Not anymore!
The Trafft booking software adapts to different industries for a blissful online booking experience and employee management.
Want to know more? Check out Trafft's awesome features to see what you are missing.
Measuring Results
Next, you will need to determine how you will monitor/measure your results. A good place to start is by feedback. Ask the mentor and mentee what was helpful and what didn't work. Try to get constructive feedback from people outside of the program if necessary.
Sadly, it is not enough to just collect data after the fact. You need to regularly obtain data to see how the program is performing and make adjustments then. Don't wait for next time; do it right then and there.
Now you get to see the results of your mentorship program. Increased profitability, a more engaged workforce, and higher job satisfaction are just a couple of the benefits that can come from a mentorship program. But what happens next?
Closure
After the mentoring relationship has been made and fostered, it is very important to remember when the association should change, or possibly end.
This isn't necessarily a bad thing, and it does not mean that the mentorship has failed. It often simply means that the goals for the mentorship have been accomplished, and it is instead time to graduate and move on.
This isn't to say that this stage is simply marking the end of the relationship—not at all. Instead, take it as an opportunity for mentors and mentees to recognize and celebrate their success.
Everyone benefits from closure. Not only is it an opportunity to reap the harvest of the learning, but it's also an opportunity to apply that learning in real-life situations.
Here are some of the key indicators of this stage:
Passing on knowledge, skills, or other personal development tips to other colleagues or subordinates
Feeling confident enough to continue progressing without a mentor's guidance
Ending on good terms, with both mentor and mentee feeling satisfied with the experience
Achieving the goals set out at the beginning of the mentorship
The closure is an important phase of the mentoring process, and both mentor and mentee should feel a sense of closure at the end of the mentorship program. Whether you achieve that closure through celebrating your success or by having a sit-down briefing, both mentor and mentee should feel that they have grown because of the experience, and both feel ready to move on.
FAQs about the mentoring process
1. What is mentoring, and how does it differ from coaching or teaching?
In the process of mentoring, a more informed and experienced person encourages and mentors a less experienced person as they progress personally or professionally.
Mentors often provide their mentees with counsel, direction, and feedback. On the other hand, coaching focuses on assisting people in strengthening particular abilities or achieving particular objectives. Giving knowledge or skills to students is teaching.
Compared to coaching or teaching, mentoring is frequently a less formal, relationship-based approach to growth.
2. How can I find a mentor who is a good match for my goals and needs?
Finding the ideal mentor might be difficult, but it's crucial to look for someone who matches your goals and needs in terms of knowledge, experience, and other characteristics. Finding suitable mentors can be facilitated via networking, professional associations, and social media.
Once you have located possible mentors, get in touch with them and politely ask them to be your mentor. Be prepared to talk over your objectives and expectations for the partnership.
3. What are the key qualities and skills of an effective mentor?
Good mentors have a range of traits and abilities, such as clear communication, active listening, empathy, patience, and the capacity to offer constructive criticism.
They are also knowledgeable in the subject matter of the mentee and have the capacity to communicate their experiences and knowledge in a way that is pertinent to the mentee's objectives and requirements.
4. What are some common challenges that mentors and mentees may face during the mentoring process?
Both mentors and mentees may find mentoring difficult. Establishing trust and rapport, managing time obligations, dealing with personality difficulties, and resolving disagreements or issues that develop throughout the mentoring relationship are some common challenges.
Both parties must take the initiative to address these issues and must keep an open line of communication throughout the procedure.
5. How can mentors help their mentees set and achieve realistic goals?
By offering direction and support throughout the process, mentors can assist their mentees in setting and achieving realistic goals.
This entails creating a clear action plan, working with the mentee to identify their strengths and limitations, and giving regular feedback and accountability.
By recognizing accomplishments and addressing obstacles along the road, mentors can also help their mentees maintain motivation and focus on their goals.
6. What should mentors and mentees discuss during their initial meeting?
Mentors and mentees should clarify their objectives for the mentoring relationship, as well as their respective roles and duties, during their initial meeting.
They should decide on a time for future meetings and talk about how they prefer to communicate. Also, it's crucial to talk about any potential disputes or difficulties that may develop in the relationship and how they will be handled.
7. How often should mentors and mentees meet, and for how long?
Depending on the objectives and requirements of the mentee, the number and length of mentoring sessions can change.
Meetings should generally be held regularly enough to sustain momentum and advancement towards the mentee's goals, but not too frequently as to become burdensome. Meetings typically last one to two hours and happen once every two weeks to once a month.
8. How can mentees provide feedback to their mentors, and how should mentors respond to feedback?
Mentors should receive feedback from mentees that are respectful and helpful.
This entails being precise about what is successful and what is unsuccessful as well as making recommendations for improvement. Mentors should be receptive to criticism and seize the chance to develop their mentoring techniques.
Also, they must be receptive to suggestions made by the mentee and act to resolve any problems or issues that are brought up.
9. How can mentors help their mentees develop their professional networks and connections?
By connecting their mentees with key players in their industry, offering advice on networking tactics, and introducing them to people they should get to know, mentors can assist their mentees in expanding their professional networks and contacts.
Also, mentors can assist mentees in locating chances for professional growth, such as attending conferences or joining organizations that would allow them to connect with others in their field of expertise.
10. What are some strategies for ending a mentoring relationship on a positive note?
It can be challenging to end a mentoring relationship, but it's crucial to do it in a way that benefits both sides.
Setting definite objectives and deadlines for the mentoring process will help mentors and mentees prepare for the breakup of their relationship from the start. As the relationship comes to an end, it's critical to look back on accomplishments and celebrate growth.
Even after the formal mentoring relationship has ended, mentors can still provide continuous support and motivation.
How Will You Use the Mentoring Process?
While all mentoring relationships go through these phases, there is still no specific recipe for the perfect mentorship. It takes effort and changes from both parties to be able to succeed.
Communication is key for all stages of the mentoring process. Without communication, the relationship will lead to a complete breakdown and overall failure. If the mentoring relationship succeeds in all of the stages successfully, it will lead to learning, accomplishment, cultivated friendship, tremendous growth, and closure.
If you enjoyed reading this article about mentoring process, you should read these as well: