There isno doubt that practical goal setting lies at the core of any successful mentorship program. In fact, a triumphant program means having realistic conversations around the results you aim to achieve, and thorough discussions related to setting goals.
It can be overwhelming to consider how to go about establishing some general goals for all parties in a mentoring program. In this article, mentors, mentees and company's managing mentorship programs will discover how they can set goals for a mentorship program that achieves its objectives.
What are Mentoring Goals?
If you want to step it up when it comes to your personal and professional development, then you need to establish concrete mentoring goals. A seasoned mentor offers their mentee professional direction, recommendations, and constructive input.
Defining your goals provides you with the drive you need in the short term and the big picture to help you make it in the long run. Those short-term objectives are the little targets you hit en route to more substantial goals. For example, attending leadership skills webinars could be a short-term stepping stone toward the bigger picture—becoming an influential industry leader.
You can capitalize on your accomplishments by clearly defining the objectives of your mentoring relationship. How? By coordinating your resources and managing your time in a way that turns those goals into realities.
Mentoring programs often set the following general goals:
interpersonal skills
direction of career path/the '5-year plan'
improving as a manager
work/life balance
presentation skills & public speaking
confidence skills
leadership capabilities
The Importance of Mentoring Goals
A mentoring partnership shapes the future of your career development. It's crucial that you formulate goals that involve acquiring valuable know-how. And it has to be said, a successful mentoring program benefits from mapping out those goals during the very first session.
Having objectives makes everyone involved accountable for their mentoring relationship as both the mentor and mentee should set goals. Communicating these goals together enables bonding and reinforces relationships.
If you set your goals ahead of time, it's easier to figure out what will work and what won't. As an example, if it's unnecessary to establish work/life balance goals, then you shouldn't spend session time talking about private matters.
Your specific objectives encourage you to follow up with every session and serve as the yardstick to catalog, track and manage these sessions. As you regularly monitor your goals you should be able to assemble a theme or pattern from session to session, highlighting whether the mentoring program is effective or not.
Goals can help when it comes to assessing a successful mentoring relationship as it provides you with something to measure. In fact, if you don't have objectives in place, your program could flunk since both participants aren't sure of what they're trying to accomplish.
The Mentor's Objectives
Mentoring relationships offer senior directors and skillful employees the chance to pay it forward to the up-and-comers in the business. Listed below are clear-cut goals mentors can set to kick off the mentoring partnership:
Verify the mentor's leadership skills
An efficient leader never stops acquiring knowledge and skills, the objective is to always raise their own bar when it comes to their leadership capabilities.
It's important to be aware of the impression you make on your mentees. You also want to better understand how you can encourage and assist those mentees, using the right resources to ease them through the mentoring process.
Leadership skills, such as motivating employees, long-term career planning and conflict resolution, work along with mentorship program goals to help develop the program.
Gain a Reputation with the Company as a Consultant
Companies are quick to heap recognition on successful mentors for their effective communication skills and ability to support junior employees with both their personal and professional goals.
A mentor is a counselor who is both ready and able to support others and boost their company. This is a worthwhile distinction for any mentor looking to establish a career legacy.
Enhance Communication Capabilities
Clear communication is a vital skill for any leader since it will assist you in steering your mentee in the right direction. Your mentorship goals should involve enhancing those skills through the mentoring program.
How can you find out if your communication skills are helping or hindering your mentee? Get feedback. Ask them what points you could work on or what they need from you that you haven't discussed yet.
Work on delivering constructive criticism and motivation. You will thrive in your mentoring by being sensitive to how you go about supporting the other party in the program.
Acquiring Fresh Perspectives
It's great to have some things in common. But having differences can be a good thing too. These can include being from differing backgrounds, thinking in different ways, or the processes you use to reach your goals. Even as a seasoned mentor with expertise, you can still be introduced to new points of view by your junior employee or mentee.
Such practical goals for a mentorship program give you the chance to talk about and solve difficulties using different methods. Some senior-level employees seem disconnected from those working on the frontline, but mentorship programs build a bridge between the two. They share experiences, discover different approaches to work and understand more about the everyday duties of junior team members.
Career Advancement
A mentor-mentee relationship allows you to discover any emerging talent to recommend for promotions or specialized projects. It also helps to establish both mentor and mentee networks.
In the era of digital education, it's vital that you promote (and show off) your career development skill set. As your mentee defines their personal and career goals, make sure you're doing it too. Devote some time to polish and develop specific skills and improve your performance—whether it's an online class or a boardroom meeting.
Personal Fulfillment
In the rat race of career advancement, don't forget to define your own professional objectives. Both you and your mentee strike a balance between what you achieve personally and professionally.
The mentorship program allows you and your mentee to acquire significant professional satisfaction in regard to your goals.
What can one of those goals be? Revel in the achievements of your mentee. It can be very rewarding to know that your insight and skill set had a direct influence on your mentee's progress.
The Mentee's Objectives
Straightforward goals are the lifeblood of any mentoring relationship. Think about what you'd like to gain from meeting monthly with an experienced industry player—to get noticed by top management or be considered for new projects.
You'll be given the change to enhance certain hard and soft skills, from communication and negotiation to resolving disputes. Take a look at some program goals for mentees:
Figure Out the Company's Culture
If you're a new hire, it's crucial that your mentor helps you to understand the culture and norms of the workplace. Having insight into their rules and regulations helps you get ahead at work.
As an idea, why not focus on making two solid connections in each department, attend company-wide conferences or go for coffee with someone different each week.
Skill Development
One of the top reasons to get involved in a mentoring program is the opportunity for skills development. And again, if you're new to the company, this is a fantastic way to improve at your job.
For example, if you work in sales, your mentor could coach you in the best cold-calling practices. And sometimes, the reverse can happen: a mentor can learn much from a mentee -a more seasoned employee picks up something from a greener team member.
Boost your Confidence
This is another common long-term goal throughout most mentorship programs which helps foster a profitable partnership.
Mentees are given the communication tools to help maneuver significant discussions, particularly around the obstacles and accomplishments in the workplace. The appropriate mentorship skills support every career move a mentee makes and help them analyze their goals and figure out which short-term objectives pave the way to bigger targets.
Networking Opportunities
The mentor supports their mentee's career development by introducing them to other professionals. Through a wide network, mentees can receive career counsel and assistance, boost their profile and acquire some new perspectives.
Make it a goal to attend industry events and conventions together where you can make at least five business contacts. In the digital realm, you could join a shared webinar or a new room in Clubhouse.
And the bonus is, these contacts will keep in touch with you even after the end of the mentoring relationship.
Examine Topics of Interest
A mentee should have a list of topics in place to share with their mentor if they are determined to draw out specific insights and skills from the program. It's a worthwhile short-term target to hit during your mentoring sessions, particularly as it frames other goals like confidence building and leadership skills development. And it positions you for advancement within the company.
There's no such thing as an insignificant topic—let the conversation build onto the next and open the door for real discussions that promote career success.
Career-Planning Goals
It's appropriate to collaborate with your mentor in determining which goals are well-suited to your personal and working life.
You could ask questions related to what you should be earning to support a family, whether promotions support your objectives, and if you need to prepare any particular retirement plan. Or maybe you're looking to make a career change and need an experienced mentor's advice.
Get Noticed
There's evidence that mentored employees tend to receive more promotions. The chance to move up in your company or field increases with exposure to new opportunities, extensive networks, as well as career growth.
It may be somewhat discouraging, but a good mentor will boost your confidence and give you the tools to stay positive about your goals by remaining focused, whether it's 'managing your boss', deciphering a matrix structure, or making an impact with or without authority.
Problem-Solving Skills
Practical goals for a mentorship program should include problem-solving skills. This helps a mentee to gain the ability to think on their feet and the boldness to confront any problem.
If a mentor is worried about a career dead-end or a drop in business, they might consult with their mentor since they know all the ins and outs by now.
Forge a Solid Relationship with your Mentor
A stable relationship is a solid platform for career growth and it's a vital element in a mentorship program. An effective mentor-mentee relationship allows a mentee to flourish and realize their aspirations.
In fact, it creates the perfect environment for real and varied chats, and this means a mentee can progress personally and professionally.
Your mentorship success story starts with a scheduling app to streamline your calendar
Staying organized has never been easier.
You can now manage your business and grow your brand with a single, powerful software that keeps all of your appointments in line, your clients organized and your business booming.
Trafft is perfect for business owners who need to streamline their booking experience both for their staff and their clients.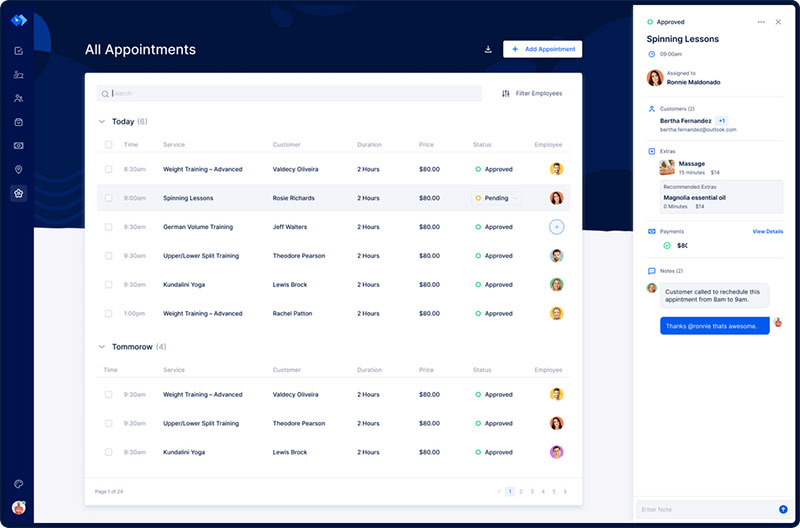 Trafft handles everything for you, even sending automated email or SMS reminders to your clients. No-shows? Not anymore!
The Trafft booking software adapts to different industries for a blissful online booking experience and employee management.
Want to know more? Check out Trafft's awesome features to see what you are missing.
Examples of Mentorship Goals for Organizations
Just as mentors and mentees have a set of goals when embarking on a mentoring relationship, organizations also have certain objectives. Such goals enable the company to monitor the effectiveness of the outcomes. Read on to find out more about these organization-led objectives:
Minimize Employee Turnover
Employees are mindful of a company's interest and concern in them and initiating a mentorship program is one way of demonstrating this.
Such programs help to curtail workplace discontentment and boost employee engagement. And this is because team members feel appreciated and feel they have a role to play.
Improved Work Culture
A thriving work culture plays an influential part in the success of any company. It touches everything, from employee productivity to retention. A mentoring program is an effective catalyst in establishing a healthy company culture.
As senior employees associate with younger employees, they impart the organization's fundamental value system. Such a functional and thriving culture sets the company apart as the place to work at—attracting high-quality employees.
Increased Employee Interaction
A disengaged employee is an unproductive employee. This is troubling as it has a direct impact on an entire team's work efficiency. Mentoring programs are a powerful resource in promoting connections and enthusiastic engagement between employees.
Employee Succession
Due to retirement or other opportunities, companies tend to lose some senior staff year after year. Sometimes replacements are hired from outside the company, but they are also promoted from inside the company's labor pool.
If employees can see that doors open for promotions, they are motivated to give more at work. The company benefits too since it's cost-effective and transitions are quicker.
Diversity & Inclusion
Most organizations are enthusiastic about diversifying their teams, they know that diversity is critical for companies for a variety of reasons.
Think about it, a diverse team brings with it a variety of life and professional experiences to refer to when coming up with solutions, for example. It also serves to boost employee morale since it highlights the company's acceptance of diversity in the workplace.
Attracting and Retaining Top Talent
Recruiting and retaining staff is a hurdle for most businesses. Mentorship programs function as a cost-effective method of drawing in and holding onto employees.
A strong mentoring program earns the company a good reputation in the industry and among job hunters. For these potential recruits, a mentorship program that offers the opportunity for career growth is a primary selling point for the organization.
Best Practices for Mentoring Goals
Establish Goals at the Start of the Relationship
A clear and vital reminder. Goal setting at the very start often leads to better outcomes for both mentor and mentee. Delaying the crucial step of deciding which goals to pursue will hinder any progress.
SMART Goals & OKRs
SMART is a well-known framework employed within a company to establish and sustain a particular goal-oriented criterion. It's most effective if applied right from the get-go.
SMART stands for:
Specific
Measurable
Attainable
Realistic
Time-bound
The optimal route to achieving your big goals is to divide them up into smaller, attainable goals using the OKRs framework. To illustrate a goal framed through OKRs, consider the following scenario:
Let's say your objective is to broaden your professional network.
Your key results would perhaps include you acquiring 20% more contacts in your field by the end of the year, participating in at least one networking event per month, and organizing a weekly chat over coffee with two other professionals. You can also digitally manage and keep track of your objectives & key results with OKR management software.
Create Mentoring Programs that Challenge Participants & Integrate with the Company
Easy goals are easily achieved, right? Yet, those types of goals don't raise the bar when it comes to your mentee's career development needs. And in the end, your mentee doesn't get what they were expecting out of their mentoring program.
This also applies to objectives that don't integrate with a company's vision and needs. The principles that guide the goal setting in mentoring programs for career development also apply to the promotion of leadership skills.
Assess your Goal During the Entire Process
The road to success should have pit stops along the way. These should take the form of assessments and questions that allow program participants to reflect on their progress and determine the outcome. It's a vital step for mentorship programs with a fixed time limit.
Discuss Expectations for Mentors & Mentees
Right at the beginning, make sure you clearly communicate and define what is expected from both the mentor and mentee.
This is another crucial step in avoiding any confusion in setting goals for a mentorship program.
FAQs about goals for a mentorship program
1. How do I set achievable goals for my mentee in a mentorship program?
Focus on what your mentee wants to accomplish and what they are capable of when establishing goals for them. The SMART acronym stands for specified, measurable, achievable, relevant, and time-bound goals. This will enable students to stay focused on the tasks at hand and monitor their development as they go.
2. What is the best way to align my mentee's goals with the goals of the mentorship program?
Understanding the program's goals and how they relate to your mentee's career aspirations can help you to better match your mentee's aims with the mentorship program. Together, you and your mentee should create goals that advance both their professional development and the program's aims.
3. How can I measure progress towards achieving the goals set for my mentee?
Making sure your mentee is moving toward their goals requires measuring progress. Regular check-ins, the establishment of milestones, and the development of measurable targets can all be used to gauge progress. Observe your progress and recognize each small victory as it occurs.
4. What are some common pitfalls to avoid when setting goals in a mentorship program?
While creating objectives, common mistakes include being too ambitious, failing to monitor progress, and failing to make required adjustments. To make sure that your goals are in line with the development of your mentee, it's critical to create attainable goals, monitor progress frequently, and make adjustments as necessary.
5. Should I set short-term or long-term goals for my mentee in a mentorship program?
Setting both short-term and long-term goals for your mentee can help you make sure they're on pace to reach their professional goals. While short-term goals help your mentee feel accomplished and inspired, long-term goals give them direction and keep them concentrated on their long-term professional goals.
6. How can I ensure that the goals set for my mentee are challenging but realistic?
Set goals that push your mentee's capabilities but are still doable in order to make sure they are hard yet attainable. Motivate them to stretch themselves while ensuring that the objectives are reachable with hard work and perseverance.
7. What is the role of the mentor in helping the mentee achieve their goals in a mentorship program?
In order to assist the mentee create goals and acquire the skills they need to succeed, the mentor's responsibility is to encourage and guide them throughout the mentorship program. The mentor should be accessible for guidance, criticism, and support, as well as to assist the mentee in overcoming obstacles.
8. How can I help my mentee prioritize their goals in a mentorship program?
Encourage your mentee to concentrate on what is most crucial to their professional development in order to assist them prioritize their goals. Collaborate with them to determine which objectives can wait and which are urgent and critical. Assist them in creating a strategy to achieve their objectives in a logical and effective manner.
9. What should be done if the goals set for the mentee in a mentorship program are not being achieved?
Finding the source of the problem is crucial if the mentee isn't progressing toward their goals. Check the goals to see if they are still applicable and realistic, and if not, make any required adjustments. Give the mentee extra assistance and direction to enable them to overcome any challenges and get back on track.
10. What steps can be taken to ensure that the mentee is fully invested in the goals set for them in a mentorship program?
Include the mentee in the goal-setting process and promote ownership of their growth to ensure that they are totally committed to their goals. Provide frequent feedback and acknowledge accomplishments along the way.
Make sure they understand the value of accomplishing their goals and help them tie them to their career aims. To make sure the mentee feels heard and supported throughout the mentorship program, promote open and honest communication.
Also, giving the mentee the chance to share their development and achievements with their superiors and peers can increase their sense of commitment to the program and motivation to succeed.
Success Via Effective Goals for a Mentorship Program
Clear-cut and straightforward goals benefit not only the mentor-mentee duo but the company too. By outlining your goals from the start, you stand to get the best out of the mentoring relationship and play a part in the success of the program.
And yet, there's absolutely nothing wrong if, during the course of your journey, some of those goals need to take a turn in a completely new direction.
One way to guarantee that both mentor and mentee benefit from the program is to enable free-flowing communication when it comes to goals and progress. Make those changes when you need to. Solid goals for a mentorship program help both participants to be accountable when it comes to their own success and to encourage each other to arrive at their destination.
If you enjoyed reading this article about goals for a Mentorship Program, you should read these as well: