The majority of companies today are looking to enhance the standard of their performance, boost employee engagement, and reinforce the employee-manager relationship while assembling a more robust labor force. But how do they go about this? By participating in a diverse set of employee development programs. The career development of an employee is commonly fulfilled using one of these three methods:
Coaching
Mentoring
Training
It's quite normal to misinterpret the key differences between these three methods. This article will not only help you to make sense of the variations between mentoring vs. coaching vs. training, but it will help you identify which one would most benefit your team.
What Is Mentoring?
With mentoring, both participants are in it for the long haul. Mentoring relationships rely on respect, trust, and an aspiration to acquire the knowledge to guide them toward realizing their professional goals.
Mentoring is a knowledge-tiered relationship whereby the mentee benefits from engaging with an exceptionally experienced person in their field. The mentoring relationship offers direction and career-based instructions for the "greener" mentee, so they are paired with a mentor who has a lot to offer them when it comes to business know-how.
Try to look at the knowledgeable mentor as more of an experienced colleague rather than an industry old-timer. A mentoring program is all about helping the mentees to develop and improve in their career through a mentor's guidance, advice, and support. That's why it's crucial that mentors be experienced in their area of expertise.
Bear in mind this fundamental detail: When it comes to mentoring vs. coaching, mentoring relationships are focused on the relationship itself rather than any aspects of job performance. It involves a mentor sharing their personal experience, understanding, and industry insights with mentees. It's not about bettering any particular methods or skills related to the job; it's about knowledge transfer and practical advice. Then it rests with the mentee to make the most of what's been communicated to them.
In Summary
Emphasis/Focus
Mentor imparts their know-how to the learner
Highlighting a longer, development-focused relationship
Relationship
Long-term relationship
Can turn into a lifelong alliance
Transformative
Ownership with mentee
Approaches
Mentor is adept
Mentee guided by mentor
Questions and exploration by mentor
Focused on experience
Program develops and advances with time
Outcomes
Greater understanding of direction in both career and private life
Increased self-realization
Mentee-led plan
Boost in confidence
Certification
In general, mentorship does not necessitate formal training: it's a regular transfer of knowledge. It aims to transmit certain skills and expert knowledge to another individual to implement in their career.
What Is Coaching?
Coaching involves methods used by a coach to assist a person in developing new skills, learning to make transformations in their work, and realizing new objectives. The trainee enters the coaching relationship with the intention of working towards the fulfillment of their personal and career development. At its core, a coaching program differs substantially from a mentoring or training relationship.
In a professional environment, coaching is often interconnected with leadership development. Executives will consider contracting business coaches with the aim of achieving their full potential. Various employees may also benefit from coaching sessions with CEOs and senior management serving as internal coaches, particularly if they pursue a transformational form of leadership.
For coaching relationships to succeed, HR managers and company leaders need to check in often with employees in ways that establish a solid company culture and promote its goals. What makes for a productive leader-as-coach? They highlight solutions rather than emphasize problems, encourage the team instead of passing judgment, and establish the foundation for professional development rather than barking out orders.
But coaching is not counseling. From time to time, a trainee may require specialized assistance and information in dealing with certain issues. A good coach will figure out when such issues exceed their skill set or the role and purpose of coaching. A responsible coach will advise learners to seek out either external or internal support and expertise.
Coaching focuses on personal and professional development. For example, there are comprehensive life coaches or coaches who are dedicated to fitness and nutrition. It is also considered to be a profitable business if you've developed a winning business model and understand how to successfully set it up.
In Summary
Emphasis/Focus
Elaborate on current skills
Generate confidence
Long-range focus and input
Examine "how" to accomplish something
Improve on the person, not the skill
Relationship
Lengthy, more transformative
Four to six sessions for one to two hours
Ownership of actions lies with the learner
Approaches
Trainee is adept
One being coached holds specialist knowledge
Questions and exploration by coach
Centered on metaphors, experience, opportunities, and strategies
Outcomes
Further implementation of skills
Further attention drawn to behaviors and effect
Additional possibilities of procedures
Procedure plans are regularly available
Boost in confidence
Certification
Specific, specialized training and certification in coaching programs is generally required for anyone wanting to develop coaching skills that will help others reach their objectives, either personal or career based.
What Is Training?
Unlike coaching and mentoring, training involves simply relaying knowledge that can upskill or multi–skill you or your labor force.
If you're looking to expand on a skill set or knowledge base, then you upskill. If your aim is to train employees to perform in new or related work areas, then you multi-skill. This further develops employees' effectiveness and work performance in the company.
Training is very much a team-oriented process with hardly any time spent one-on-one. This boasts some positive outcomes, since training and development encourage camaraderie, and develop interpersonal skills and a sense of responsibility toward the business.
The trainer needs to boast more knowledge and specific skills than the trainee. They're the expert in their field who has all the right answers and solutions. The learning experience flows in one direction: from the trainer to the trainee.
The employee learns to bridge the gap between their current skills and the skills required to fulfill a specific role. This has a twofold reward: positive financial results and job satisfaction, as well as a boost in employees' overall well-being.
Employees are more stimulated and inspired and therefore remain loyal to the company longer than those who haven't been trained in such skills. There are both intrinsic and extrinsic advantages to training your team, as you can see in the above chart.
As an illustration: Assume you're an average cook. You want to improve, and so you enroll for a few training classes on the weekend. There is no doubt that such classes will help you to acquire a great deal of information in a short period of time. But these skills are not consistently reinforced; it's up to you and the others to apply whatever training and new skills you've acquired.
If it isn't promptly applied, such knowledge and skills fade—in other words, use it or lose it.
In Summary
Emphasis/Focus
Expand on new skills
Brief focus and input
Revive old skills
Technical or "soft" focus
Relationship
Very transactional
Temporary, not many days
"Tutor and pupil" setup
Ownership lies with the trainer who communicates their skills and know-how
Approaches
Trainer as adept
Specialized knowledge
Trainer-driven
Activities, roleplay, discussions, exercises
Assistance offered mainly at the time of the training program
Specific goals described at beginning of the program and coaching intervention
Outcomes
Enhanced skill set
Boost in self-confidence when applying skills
Plan for application of skills not always set up
Certification
No comprehensive certification or instruction required. An individual or program is searching for duplication or comprehension of the various methods applied to get a specific result
Your mentorship success story starts with a scheduling app to streamline your calendar
Staying organized has never been easier.
You can now manage your business and grow your brand with a single, powerful software that keeps all of your appointments in line, your clients organized and your business booming.
Trafft is perfect for business owners who need to streamline their booking experience both for their staff and their clients.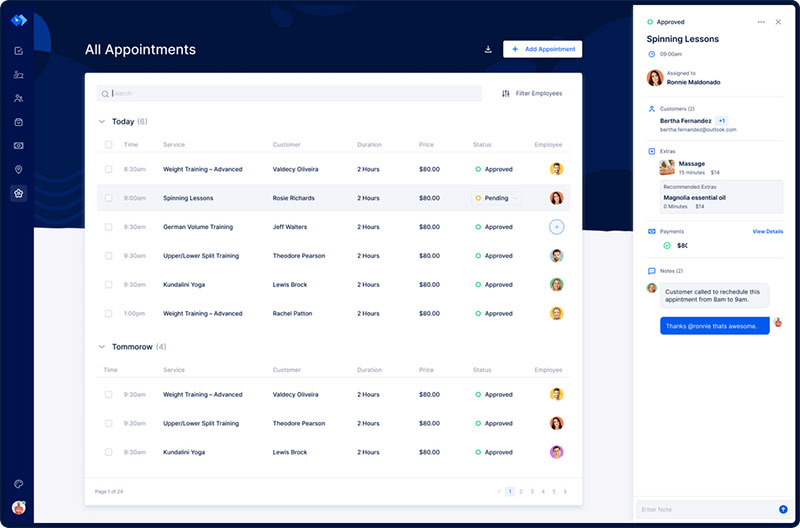 Trafft handles everything for you, even sending automated email or SMS reminders to your clients. No-shows? Not anymore!
The Trafft booking software adapts to different industries for a blissful online booking experience and employee management.
Want to know more? Check out Trafft's awesome features to see what you are missing.
What Are the Practical Differences Between Mentoring vs. Coaching vs. Training?
You've examined the variations between training, mentoring, and coaching, and you want to consider the best program for your company and take into account your business needs and focus areas. Suppose your aim is to pick up a specific skill in a certain industry.
Mentoring will enable you to learn from someone who has walked the path that you're currently looking to get on.
With coaching, you're looking for solutions to urgent problems and issues. Mentoring, however, draws attention to long-term success and a broader view of things. Think of it like this: coaching is about bettering your performance; mentoring is about developing your potential. An effective coach will set your development goals, but a business mentor directs the mentee to establish their own objectives. They illuminate the path in order for the learner to uncover their own knowledge and learn to be self-sustaining.
Coaches hope to boost how employees apply what they know by means of stimulating questions and dynamic inquiry. Coaching has a one-of-a-kind approach, as it highlights fresher and more effective methods to leadership, work, and life. Mentors and trainers are presumed to be masters in their fields.
They impart their own experiences or train you in a particular skill or process. In a nutshell, a mentor or trainer qualifies your skill set and is performance driven, while a coach is development driven, as they aim to guide and motivate you in the right direction.
Undoubtedly, while both training and mentoring promote practical learning and development resources, coaching can alter a person's behavior for the better. It helps you determine how to take advantage of your potential, it produces beneficial activity, reflection, and results that become noticeable to others. They then wonder, "Could I improve myself with a coach?" The answer is consistent and confident: yes!
Training works when your organization has to check boxes when it comes to PII (Personal Identifying Information) or HIPAA (Health Insurance Portability and Accountability Act) Compliance. It is restricted by its range and comprehension of the basics. For the most part, training supports you in developing a particular skill during a brief period. Coaching takes longer, while mentoring can involve years.
FAQs about mentoring vs coaching
1. What is the main difference between mentoring and coaching?
The scope of their respective focuses is the primary distinction between mentoring and coaching. In mentoring, the emphasis is on exchanging personal and professional experiences, advice, and assistance. It is more relationship-oriented.
Contrarily, coaching is more task-oriented and focuses on assisting people in enhancing particular abilities or achieving particular objectives.
2. Can someone be both a mentor and a coach at the same time?
Certainly, a person can serve in both capacities simultaneously. Nonetheless, it's critical to recognize the distinctions between the two roles and know which one is appropriate for a given circumstance.
If a mentor also serves as a coach, they should be clear about when they are giving counsel and when they are assisting someone reaches a certain objective.
3. How do mentoring and coaching differ in terms of goals and objectives?
Whereas coaching focuses on certain goals and objectives, mentoring is more concerned with the long-term growth of the individual. In order to help someone grow through time, mentoring involves offering advice, moral support, and the sharing of experiences.
By concentrating on specific abilities or areas for improvement, coaching, on the other hand, aims to assist someone in achieving specified goals in a shorter amount of time.
4. Which approach is more suitable for personal development: mentoring or coaching?
Depending on the requirements and objectives of the individual, both mentoring and coaching can be successful for personal growth.
While coaching can be excellent for those who need assistance in improving certain abilities or accomplishing specific goals, mentoring can be particularly helpful for people who are searching for direction and advice in their professional or personal lives.
5. How do mentoring and coaching differ in terms of the level of formality?
With a focus on developing a relationship between the mentor and mentee, mentoring is typically more casual. In general, coaching is more formal, with scheduled sessions and an emphasis on particular goals and objectives.
The formality, however, can differ based on the circumstance and the demands of the individual.
6. Can a coach be a mentor to their clients, or is it better to keep the roles separate?
The tasks and responsibilities of a coach and a mentor for their customers should be clearly defined. When serving as a mentor, the emphasis should be on exchanging experiences and offering advice, however when coaching, the emphasis should be on certain aims and objectives.
Separating the responsibilities helps make things clearer and ensures that both strategies work.
7. What are some specific skills and techniques used in coaching, compared to mentoring?
Goal-setting, action planning, and accountability are just a few of the specific strategies and abilities that coaching frequently focuses on.
Contrarily, mentoring is usually more concerned with establishing a rapport, exchanging stories, and offering counsel and direction. Similar techniques may be used by both strategies, but their focuses and accents differ.
8. How does the length of the relationship differ between mentoring and coaching?
Coaching connections are typically more transient than mentoring ties, which tend to be lengthier. While coaching is concentrated on reaching specific goals or objectives in a shorter amount of time, mentoring entails establishing a connection over time.
The duration of the connection might, however, change based on the requirements and objectives of the individual.
9. Which approach is more effective for career development: mentoring or coaching?
Depending on the needs and objectives of the individual, both mentoring and coaching can be useful for career growth.
While coaching can be effective for those who require assistance in improving specific abilities or reaching specific career goals, mentoring can be particularly helpful for people searching for direction and advice on their career path.
10. What are some best practices for finding a mentor or coach?
Determining your goals and objectives, looking for referrals or recommendations, researching possible mentors or coaches, being explicit about your expectations and needs, and setting clear limits and expectations for the relationship are some best practices for choosing a mentor or coach.
Finding someone with the knowledge, experience, and communication abilities required to be an effective mentor or coach is also crucial.
With a mentor or coach, you need to establish open lines of communication, trust, and a desire to learn and develop.
Mentoring vs. Coaching vs. Training: A Journey in Development
If we appreciate the differences in these various development approaches, we'll be able to determine the best fit in helping others to achieve their full professional potential. But don't underestimate the value of flexibility and adaptability of each role, whether it's mentoring vs, coaching or the benefits of specialized training. Take into consideration who, when, and what is required on the development journey.
You may adopt a coaching, mentoring, or training style, but there's always one fundamental principle to keep in mind—respect the individual and their development path. Understand and value their individuality as you continue to shape and promote improvement in their way of thinking.
If you enjoyed reading this article about mentoring vs coaching, you should read these as well: