When you imagine conventional business processes, perhaps you picture long-winded emails, paperwork piling up, and mistakes that generate chaos.
Current markets are ever-changing, the demand for swift decision-making is constant, and future-proof plans are a necessity. An evolving business process requires proposals and outcomes that will take your venture to its next phase. As a comedian once put it, "Modern problems require modern solutions."
It doesn't get more modern than working along with a business automation consultant. They will assist you with setting up a deep learning system or machine learning (ML) formula for your team to implement. They can also work to enhance your existing automation program.
The Roles and Functions of an Automation Consultant
What exactly is business process automation? Digital transformation, also referred to as business automation (BPA), is the application of tech-based automation to intricate business processes. This technology system streamlines business operations through simplification. It facilitates a digital transformation, improving quality of services, boosting service delivery and cutting down on expenses. Automation consultants work to incorporate applications, adjust labor resources, and use software applications across the company.
Automation no longer means running a huge technical infrastructure with a team of trained experts. Now, most companies, big or small, have much to gain from upgrades in cloud-based automation platforms. It's a good idea to contract with a business automation consultant for help to get started.
A good consultant is an analytics expert and productive as both a team player and when working alone. Someone considering this field would have to complete four years of training after high school and gain on-the-job experience with an internship.
Examples of Key Functions for this Role Include:
Being the Salesforce Marketing Cloud (SFMC) virtuoso when it comes to designing, sustaining and developing the digital marketing platform (emails, newsletters, social media posts etc.) alongside the marketing communications team and company 'think tank'.
Knowing the ins and outs of Cvent (software-as-a-service). You'll create, maintain and develop all events, working with both the events team and Cvent end users.
Being on-site to lend your expertise in supporting the continuous upkeep and development of both direct and event marketing technology.
Joining forces with business and marketing teams to develop campaign strategies, share creative input, test design concepts, conduct QA/QC, oversee concept implementation, and get relevant feedback.
Working with the business's marketing and communications teams to streamline critical productivity and creative operations tasks. Increasing the application of templates, active content blocks, and personalization and operational efficiency tools.
Guiding data integration activities using SalesForce (a CRM platform). This entails audience targeting, creating lists, personalization, lead scoring, and campaign feedback.
Assisting the continuous development and improvement of campaigns. Review the outcomes of trial runs, extract practical data from those results, and provide fresh ideas for upcoming tests and program upgrades.
Setting the goal of working along with the company's corporate compliance arrangement. This will enable you to obtain the required approvals, guarantee CAN SPAM compliance, foster best practices for permission and unsubscribe management.
A business automation consultant may need to offer continuous support for applications after their installation. Duties could involve troubleshooting various issues as they occur, and training employees to run automated operations using new tools.
Essential Skills and Know-How
Capable of quickly learning and mastering selected automation software, technology and tools.
Reliable and able to meet deadlines.
Fulfill a variety of functions in a particular project and carry out responsibilities required at various levels, even in unstable circumstances.
Stick to the guidelines and complete work plans; reliable in meeting expectations.
Grasps and applies methodologies, best practices, and procedures.
Emphasizes automation solutions and output.Self-motivated and carries out each task successfully.
Tackle an assortment of technical challenges encountered on the job.
Exceptional analysis skills and good at finding solutions.
Exceptional verbal and written communication skills.
Cooperative and productive team player.
Income and Career Prospects
There are certain factors that determine how much companies pay automation consultants—experience level, size of the organization, and location of the company.
Automation experts are usually paid by the hour. In the US, consultants can earn in a range of $88, 338 to $132, 506, the average salary being about $110, 422.
Currently, there are three trends shaping what automation consultants do. If they want to stand out from their competitors and maintain a sharp set of skills, they have to keep up to date with current advances in automation processes.
First, businesses are looking for that edge to help maintain or boost their position in the global market. To do so, they need an effective team. Automation consultants boost business optimization using automation tools to get the job done.
Second, automation is becoming widespread, and consultants with expertise will are after in every industry. Clients are looking to automate their business' manual processes in order to compete and stay relevant in an evolving economy.
Third, companies are rapidly automating repetitive processes across multiple departments. This means that the demand for automation consultants will continue to rise since current systems will need maintenance and updates to meet business needs.
Automate your booking process with the best app for the job
Staying organized has never been easier.
You can now manage your business and grow your brand with a single, powerful software that keeps all of your appointments in line, your clients organized and your business booming.
Trafft is perfect for business owners who need to streamline their booking experience both for their staff and their clients.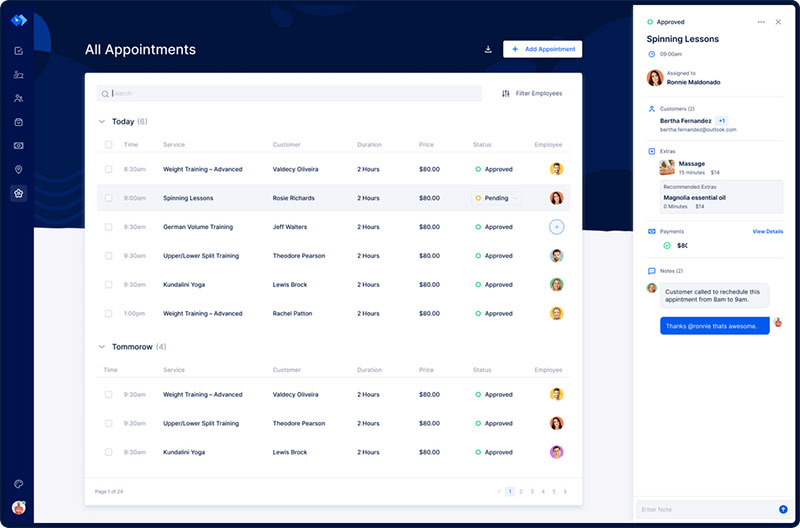 Trafft handles everything for you, even sending automated email or SMS reminders to your clients. No-shows? Not anymore!
The Trafft booking software adapts to different industries for a blissful online booking experience and employee management.
Want to know more? Check out Trafft's awesome features to see what you are missing.
The Necessary Qualifications for Automation Consultants
Education
A four-year bachelor's degree with a focus on engineering or IT is a solid foundation to start with. You would need to submit a high school diploma or its equivalency along with a completed admissions form. They may also request your latest standardized test scores accompanied by a high school transcript.
Training and Experience
A business automation consultant commonly undergoes on-the-job training. They will learn about the company's current processes and the software and hardware applied in their current use of intelligent automation.
Courses
There are a variety of courses that benefit a consultant throughout their automation journey. Areas covered might include technologies and operational systems. Skills like problem-solving and data analysis would boost your knowledge of industry products.
An understanding of such concepts is vital since you'd be called to deliver technical support for the personnel involved in promoting the company's latest tech-based products and services. An in-depth course would equip you with the skill set to pinpoint potential markets for your company's commodities.
Certification and Licensing
Certification can endorse skills that would make any business automation consultant attractive to prospective and current employers. You might hope to enhance your understanding of an automation consultant's day-to-day functions, solidify the skills you've gained ‌or move up in your career. A certificate or licensing seminar might just be the key.
Computer software retailers with products focusing on automation processes offer certification opportunities as well. You would need to pass any exams required in order to receive a recognized certificate.
Perks of Working with a Business Automation Consultant
Offer the Company Instruction in Automation Tools
A company with a business automation consultant has the opportunity to receive specialized personnel and resources to coach and work closely with team members. This enables them torun the latest automated operations.
Detect Any Gaps in the Automation Processes
How do you compare the overall performance with the proposed performance plan? You conduct a detailed gap analysis. It's a vital task to undertake if you'd like to know which ideas work and which fall flat in the application of business process automation.
Economization of Resources and Time
If a company is looking to save time, labor, and monetary resources, they will employ experienced automation consultants to minimize manual labor. Automation consultants focus on workflow by establishing digital systems. This will guarantee the automatic creation of documents and messages. It will also streamline human tasks like supervising the daily work processes.
Access to Current Automation Tools and Industry Trailblazers
Since they are specialists in their field, automation consultants are knowledgeable about state-of-the-art automation software and tools. Clients can take advantage of the best the market offers and benefit from the specialized knowledge shared by industry movers and shakers.
Save Valuable Time on Labor-Exhaustive Activities
Automation consultants help companies save time, using their skills and expert knowledge to find solutions to difficulties in running automated operations.
FAQs about business automation consultants
1. What is business automation, and how can a consultant help me implement it in my company?
Business automation is the process of streamlining and enhancing business operations via the use of technology. Your organization may benefit from automation in certain areas, and a business automation expert may assist you in identifying these areas and implementing the required tools and processes.
2. What types of business processes can be automated, and how do I determine which ones are the best candidates for automation?
Any business process may be automated, but some processes lend themselves to automation more than others. A consultant can assist you in determining which procedures, such as those that need a lot of data entry or are repetitive, will benefit the most from automation.
3. What are some of the most common tools and technologies used for business automation, and how do I choose the right ones for my business?
Business process management (BPM) software, artificial intelligence (AI) tools, robotic process automation (RPA), and other tools and technologies are all used to automate business processes.
A consultant can assist you in selecting the ideal tools for your company depending on your unique requirements and objectives.
4. How do I assess the ROI of business automation, and what metrics should I track to measure its success?
It might be difficult to evaluate the ROI of business automation, but a consultant can assist you in determining the most important KPIs to monitor and evaluate. They could, among other things, take the form of process cycle time, transaction costs, and mistake rates.
5. How long does it typically take to implement business automation, and what are the key milestones and deliverables along the way?
The complexity of the operations being automated and the technology being used will determine how quickly it can be implemented.
A consultant can assist you in creating a realistic schedule and making sure that important checkpoints are reached along the way.
6. What are the biggest risks and challenges associated with business automation, and how can a consultant help me mitigate them?
Data security, process integration, and employee resistance may all be problems that come with business automation risks and obstacles.
A consultant may assist you in identifying and reducing these risks as well as creating a thorough change management strategy to aid in staff members' system adoption.
7. How can I ensure that my employees are trained and prepared to work with automated systems, and what changes to my organizational structure may be necessary?
A consultant may assist you in creating training programs and materials to make sure that your workforce is ready to work with automated systems.
Employee training is a crucial part of business automation success. They can also assist you in determining whether any organizational adjustments are required to improve your workflows.
8. How do I maintain and update my automated processes over time, and what are the best practices for ongoing support and maintenance?
The effectiveness of your automated operations depends on ongoing support and maintenance. In addition to setting up best practices for monitoring and updating your systems, a consultant can also offer continuous support and direction as needed.
9. How can business automation improve my company's efficiency, productivity, and overall profitability?
The effectiveness, productivity, and profitability of your firm can all be significantly impacted by business automation. Your staff can focus on more strategic tasks that benefit your company by automating monotonous and time-consuming processes.
10. How do I integrate business automation with my existing software and IT infrastructure, and what are the best practices for managing data and workflows across multiple systems?
It might be challenging to integrate business automation with your current IT infrastructure, but a consultant can help you figure out the best methods for coordinating data and workflows between various platforms.
They may also assist you in making sure that your existing software tools and workflows are seamlessly connected with your automated operations.
If you enjoyed reading this article about becoming a business automation consultant, you should read these as well: