Technology has changed the way photographers create mood boards. Gone are the days of stacking a handful of printouts on a corkboard. Digital photography mood boards are in. In digital photography mood boards, you can also include video clips, website links, color palettes, and more.
A mood board is an effective visual presentation of concepts and inspirations to develop and evoke a particular style in the project. No mood board looks the same. Every photography mood board is unique and highly personalized. It is created with the photographer's personal vision and style.
If you are not sure how to create one, the following information will guide you to develop a photography mood board that works for you.
What does a Mood Board do?
A mood board is a collage of curated images used to communicate the visual direction of a project. It is also a great tool for collaboration between clients and the creative team. It helps to get everyone working together towards achieving a particular concept or "mood".
Many professionals use mood boards extensively other than interior design and wedding planning. Creating a mood board is in fact, one of the initial steps in planning for any big projects. A mood board is more than just a stack of different images. It visually organizes raw ideas and turns them into a fully conceptualized creative direction.
Nowadays, mood boards are completely virtual, however, some people still create it out of printed photos and cutouts. Digital mood boards are cost-effective and time-saving. They are also easier to create and deliver to people involved in collaboration and feedback.
Mood boards are commonly used in industries such as interior design, wedding planning, advertising, and fashion. But recently, photographers extensively use online pinboards such as Pinterest to save inspirations and form ideas.
Advantages of Using a Mood Board
Some might be thinking what does a stack of images do? They say that a picture is worth a thousand words, and that is true. Every image in a mood board conveys a message and a purpose. A professional mood board is a photographer's valuable tool in every shoot. A photography mood board also:
Establishes a strong, cohesive foundation for a project. It reminds the photographer and the creative team of the target concepts and results;
Enables clients to further understand the concept and have the same idea in mind. It also helps them go along with the visual direction and get more involved;
Creates a clear vision while doing other tasks;
Helps identify the equipment and other resources needed for the project;
Allows photographers to create unique concepts by combining different elements from different photos
Get more bookings with the right tool for the job
Staying organized has never been easier.
You can now manage your business and grow your brand with a single, powerful software that keeps all of your appointments in line, your clients organized and your business booming.
Trafft is the perfect service company scheduling software for business owners who need to streamline their booking experience both for their staff and their clients.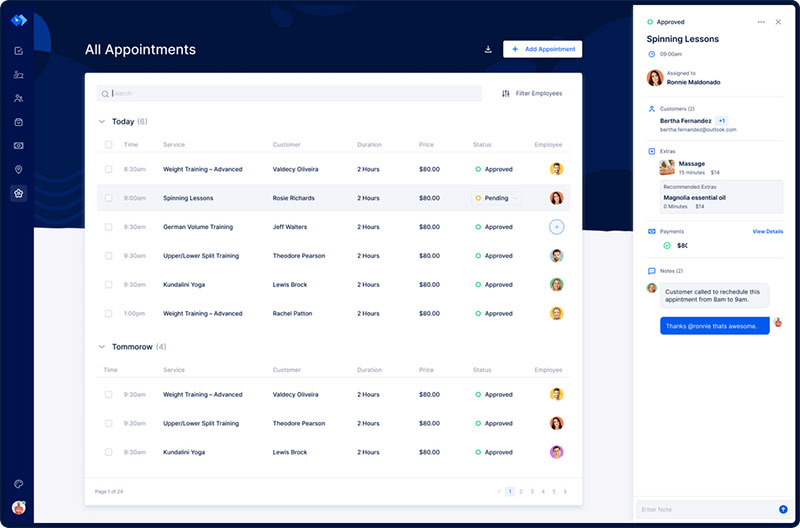 Trafft handles everything for you, even sending automated email or SMS reminders to your clients. No-shows? Not anymore!
The Trafft booking software adapts to different industries for a blissful online booking experience and employee management.
Want to know more? Check out Trafft's awesome features to see what you are missing.
How to Create a Mood Board?
Mood boards are meant to inspire, not to be copied entirely, and most of the time, some elements in a mood board do not appear in the final output. The photos in a mood board only represent the qualities and aesthetics of a brand or a concept. If you want to present yourself as a high-quality brand, you should use the advantages of photo retouching services to make your photos look professional.
When creating a mood board, remember that less is more. The mood boards provided by agencies usually have 5 to 15 images at most. Stick to this range and keep it minimal. Putting too many photos and elements creates confusion on what concept you are trying to achieve.
Most of the time, photographers are provided with information about a concept of a company project. Photographers should keep the branding or the agreed concept in mind when creating a photography mood board. Here are other valuable tips on how to build a professional mood board:
Formulate an Overall Idea and Concept

Image source: Mark van den Broek
Formulating an overall idea and concept for the photoshoot does not mean whipping a completely new concept out of thin air. Identify the details of the photoshoot like the brand, style, location, type of clothing, and more.
If it's for a magazine, is this for an editorial on vintage fashion, a feature section on street outfits, or a look book on swimwear? Are the images supposed to look commercial or not? Are you shooting in a studio or outdoors? These types of questions help photographers create a "mood" and visual direction for the photoshoot.
To formulate the concept, begin by gathering images that contain the elements you have in mind which include the color scheme, ambiance, texture, or style of lighting.
Use Existing Materials as a Starter
After establishing the visual direction of the photoshoot, you may begin gathering materials for your mood board by adding any existing materials you have as your additional references like photos from previous photoshoots, references from clients, design elements from an existing brand, and more. These materials might be discarded in the final mood board, however, these will help you have something to build on.
The source for inspiration is limitless. Photographers may gather images from magazines, blogs, stock photo providers, advertisements, and more. After collecting the materials needed, photographers can use private Pinterest boards to save and organize the images.
Many photographers use Pinterest boards to save any visual inspirations they find online like model poses for photoshoots. They continuously save images in these pinboards to have an archive of inspirations. Aside from Pinterest, photographers can get visual inspirations from Designspiration and Instagram.
Write Important Details and Notes on Every Photo
Image source: Marina
Mood boards don't just contain images, they also contain texts. Use short descriptions to explain such a choice of photos and clarify and fill in any information that photos are unable to provide about the concept. In every mood board, it is important to highlight important elements to make sure the clients understand.
For example, you saved an interior design reference photo for a cooking recipe shoot. Put a note as to why the photo was included in the mood board like it was chosen as a reference for a color scheme.
The contents of a mood board are not limited to images only. Adding texts and keywords can help communicate the ideas and concepts more effectively to the clients.
Be More Creative
There is no limit to what your inspirations can be. You may refer to music, fine arts, and films for visual inspiration, after all, you are creating a "mood" for a photoshoot. You can embed a song from Spotify, audio from Soundcloud, video clip from YouTube, animated GIFs from Giphy or Tenor, or even a meme from 9GAG.
You may also look into museum archives for works of art. If you're looking for something a little bit more unconventional, you may head on to your nearest public library and make photocopies of your chosen materials.
Keep it Organized
Photographers use mood boards to convince their clients and convey a concept, not make them confused. Remember, the rule is to keep the number of images or video clips within the 5 to 15 range, and this is to avoid overwhelming your clients with too many photos. Save the most relevant and prominent ones among your stash of images.
Arrange the design elements according to their importance to the visual concept. Select a key design element to anchor your board. Adjust the size and position of the other elements and arrange them as to how they are relevant and connected to one another.
Be Simple, Use a Document Program
Pinterest is one of the most popular online tools used to create a mood board, but there are countless other tools you can use.
For more creative mood boards, photographers can also use Adobe Photoshop, InDesign, and online graphic design tools such as Canva, to develop a mood board although it will take some time.
However, using these design tools provides a lot of ways to organize design elements and it also enables photographers to get more creative about the mood board. Photographers like you also download mobile applications to arrange collages of your images into a mood board.
Collaborate and Let Ideas Grow
Mood boards are also tools of communication. They help convey the ideas and encourage participation from clients, colleagues, and other members of the production team including makeup artists and stylists in the creative process.
By sharing the mood board and inviting people to collaborate, photographers come up with a broader set of ideas.
Digital mood boards are a lot easier to share with a team and it is best to share the mood board a few days prior to the actual photoshoot to allow more time for minor changes and for the team to get familiar with the concept.
Remember that mood boards are collections of inspirations, thus, the more relevant ideas, the better.
FAQs about creating a photography mood board
1. What is a photography mood board and how is it used?
A photography mood board is a visual tool for gathering and arranging images that represent a particular mood, aesthetic, or style. It can comprise images, illustrations, textures, colors, and other design components. It is widely used by photographers, designers, and creative teams to communicate a visual concept or idea, as well as to inspire and steer the creative process.
2. What are some tips for creating an effective photography mood board?
It's crucial to start with a clear idea of the mood or tone that you want to convey in your photos if you want to make an effective photography mood board. You should also choose photographs that have a consistent style and look, and that represent the visual message you're seeking to portray. Using a variety of pictures, such as photographs, illustrations, and textures, will help you make a mood board that is well-rounded and aesthetically pleasing.
3. How can a photography mood board help me communicate my vision to my team or clients?
Using a photography mood board can help you convince your team or clients of your vision. You can clearly communicate the look and feel you're going for in your photographs by sharing your mood board. This can ensure that everyone is working toward the same objective and is on the same page, which can save time and enhance the quality of your finished project.
4. Are there any tools or platforms that can help me create a photography mood board?
For making photography mood boards, a variety of programs and websites are accessible, including Pinterest, Canva, and Adobe Photoshop. With the aid of these tools, you can quickly gather and arrange photographs as well as make a mood board that looks polished and pleasing to the eye.
5. How can I use a photography mood board to help me plan a photo shoot?
When organizing a picture shoot, a photography mood board can be extremely beneficial. You can make sure that every element of your shoot, from the location to the attire to the lighting, is consistent with the mood and tone that you want to express in your images by using your mood board as a planning tool.
6. Can a photography mood board help me develop my own personal style as a photographer?
Indeed, creating a photography mood board may be a useful technique for establishing your unique photographic voice. You can find patterns and themes that speak to you and that you might want to use in your own work by gathering and studying photographs that inspire you. You can do this to hone your personal aesthetic and produce images that are more unified and powerful.
7. Should I include only photos that I have taken myself in my photography mood board, or can I use other people's photos as well?
It's often a good idea to mix photos you've taken yourself with photos from other sources that inspire you when making a mood board for photography. Just remember to acknowledge the original authors of any photos you use and to abide by copyright regulations.
8. How often should I update my photography mood board, and what are some reasons for doing so?
The needs and objectives you have will determine how frequently you should change your photography mood board. If you want to make sure it stays motivating and current, you might want to update it frequently, like once a month or once a season. Changes in your creative direction, fresh inspiration, or input from clients or coworkers are a few reasons to update your mood board.
9. Can a photography mood board be helpful for post-production editing and color grading?
By offering a clear reference for the general mood and tone you wish to achieve in your images, a photography mood board can be useful for post-production editing and color grading. You can make sure that your final images are true to your original vision by keeping your mood board in mind as you edit.
10. How can I make sure that my photography mood board accurately reflects the mood and tone that I want to convey in my photos?
To ensure that your photography mood board accurately reflects the mood and tone that you want to convey in your photos, it's important to be selective and intentional when choosing images. Examine each image's inclusion in the context of your board's overall mood and aesthetic. You may make a mood board that is both aesthetically pleasing and emotionally stirring by exercising awareness and intentional decision.
Ending thoughts on having a photography mood board
Mood boards are one of the photographer's valuable resources. It is a great tool to use for collaboration between clients and the creative team during the pre-production stage. A photography mood board helps everyone understand and follow the visual direction of a photoshoot or project.
Remember, no one creates a perfect mood board right away. Creating a mood board involves a lot of changes and trial and error before achieving the final concept, especially when working with clients, and it is completely alright. This way, photographers are fully aware of what the clients really want and expect in the results.
If you enjoyed reading this article on creating a photography mood board, you should also read this one about how to get your photography noticed.
We also wrote articles about similar subjects like real estate photography contracts, how to get more clients in a salon, salon dimensions, salon insurance, salon lighting ideas, spa quotes, how much salon owners make, and how to write a personal training business plan.