The health and fitness market is growing and becoming increasingly competitive. So choosing the right personal trainer logo can make a big difference for your business.
Without proper branding, a business has little chance to get enough attention from consumers. On the other hand, a good logo is captivating and memorable. It represents the brand, its vision, and its goal.
Not every small business has a marketing team to take care of branding management. This article presents all you need to know to create a great personal trainer logo to represent your unique brand.
Personal Trainer Logo Designs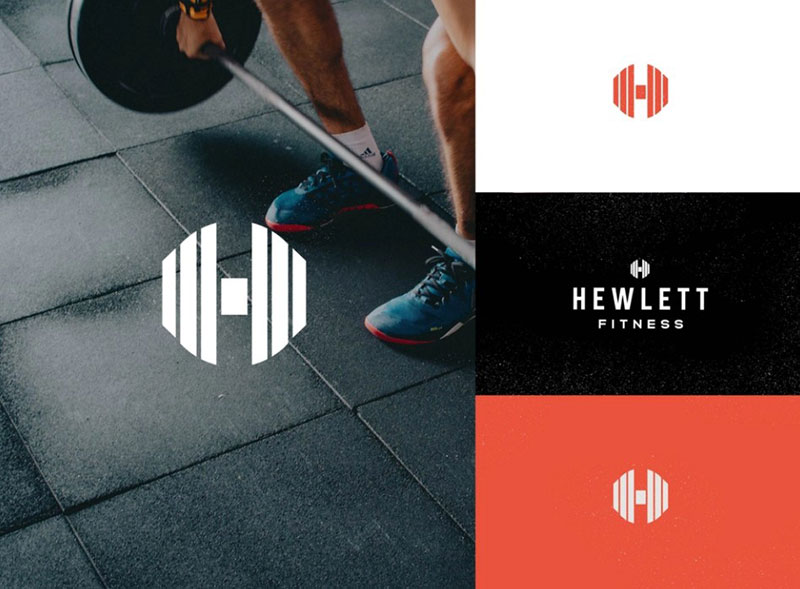 There are different types of logo design, but they all have something in common. A good logo doesn't need to be complicated. It needs to be unique.
Famous brands are easily identified by their logo. People recognize the company behind the design at first sight. Whether the logo stands for sportswear, a favorite coffee brand, or a global technology company, a good design choice makes it unique. Creating unique logos can also mean using animated graphics. If you want to take this approach, you can use motion graphics software.
In the case of personal trainers, a good logo doesn't need to feature a symbol related to the industry itself. Many great brands are recognized by monograms or other simple design elements.
Here are different types of logo design that can make good branding:
Wordmarks
Monograms
Text and graphic logos
Abstract marks and brand marks
Wordmarks
Wordmarks, also known as logotypes or typography logos, usually include only the brand name. For example, FedEx or Google use a wordmark logo. The advantage of this logo design is that it can be easily applied to other branding tools, such as business cards and social media.
Many personal trainers use them on t-shirts, water flasks, and other items that help promote their brand.
Monograms
Monograms are also popular among personal trainers. They often combine the initials of the individual and are easy to create. A typical example of a famous monogram logo belongs to the Louis Vuitton fashion brand, known as LV.
The minimalist design makes monogram logos quickly recognizable. Many start-ups like to use this logotype.
Text And Graphic Logos
This graphic design combines text and a symbol that represents the brand or its specialization. Famous brands that feature text and graphic logos are Adidas and the MacDonald's company.
They are popular in many fields, including the fitness industry.
Abstract Marks And Brand Marks
This logo design has become popular more recently. It consists only of a symbol, sometimes an abstract one, that identifies the brand. Apple, Twitter, Spotify- these are just a few famous examples.
Getting a Logo
For some personal trainers, the easiest way of getting a logo is to search for one on the internet. A free pre-designed logotype could be a quick solution, but not always the best one. The simplest method would be to use a free logo maker tool that guides you through the design process. This is also the most budget-friendly solution.
Creating a brand is essential for the success of the business. A unique customized logo that represents the trainer as an individual will stand out in the overcrowded fitness market. That's why many personal trainers choose to invest a bit more in their brand identity.
Here is what you can do to design your own professional  personal trainer logo:
Create your own personal training brand using apps like canva.com, designmantic.com, and designimo.com.
A graphic designer can create a customized personal training logo for your brand; you can find a professional through online platforms such as Upwork.
Use a website template for personal training business; customize the look and create a matching logo.
Keys To a Great Personal Trainer Logo Design
Get some inspiration 
There are many successful businesses in the personal training industry. Their branding and logos can be a good source of inspiration.
A quick analysis of competitors' logo design may reveal their key to success. A carefully picked concept, color, fonts, and other features play a big role in a perfect logo design. It represents a unique mission that projects into customized design elements.
Get a clear vision
The next important step is to clearly understand your own brand mission. Compare your ideas with your competitors and ask yourself what makes your brand unique. This approach will help you get a clearer vision of your brand look.
The modern fitness industry offers many different approaches and niches. Some businesses provide specialized services. Other brands focus only on a specific type of personal training. And there are also companies that sell other products besides personal training services.
It's important to find your own personal space among them and base the logo design on your USP.
Know Your Target Market
It's equally important to identify the target market. Professional sportsmen and recreational gym members represent a very different target audience. The personal trainer logo must reflect whose attention you're trying to attract.
Simple But Clear
The simplicity of great logos makes them memorable and recognizable. Clean modern design is often minimalistic. At the same time, it should clearly communicate what kind of personal training experience the brand provides.
Cost-Effective Color Choice
An important aspect of logo design is the cost of reproducing it. The brand's logo often appears on marketing collateral. This includes sales brochures and leaflets, promotional pictures, posters, t-shirts, business cards, etc.
The more colorful design, the higher the printing price. In general, businesses tend to use a maximum of 3 colors in their personal trainer logos.
Font Design
A professional personal trainer logo must be easy to read. People won't remember it if it's illegible. Some brands risk losing clarity over originality when not using the proper fonts.
So when it comes to font choice, the San Serif family is perfect for logos. These fonts include Ariel, Helvetica, and Roboto. On the other hand, Comic Script fonts are not recommended.
Versatility
The final tip is to choose a logo design that will look great in varying sizes and on different backgrounds. The brand will be displayed on very different marketing tools, including big banners and small business cards. Make sure your personal trainer logo is versatile.
Personal Trainer Logo Examples
Trainer Scott | Personal Trainer Logo
David Wellness Training
Image source: BOLDE
Fit Coaches approved logo
Image source: Tiamin
Monteil Fitness
Image source: Dan Blessing
Annaliese Mortimer Logo
Image source: Cameron Jennings
Damian Lugones Pt. 2
Image source: Mariano Lampacrescia
DFF Branding Option 2
Image source: Garrett Osepchuk
Flávia Nogueira | Logotype
Image source: BOLDE
Personal Trainer Logo
Image source: Marnie Lines
DFF Branding V2
Image source: Garrett Osepchuk
Brenda Kerolen – Personal trainer
Image source: Érico Tarantino
Elida Pessoa Personal Trainer
Image source: Thalles Borba
Fitness
Image source: Lucian Radu
Kentucky Personal Trainer Logo
Image source: Angela Elliott – Wingard
Damian Lugones Pt. 3
Image source: Mariano Lampacrescia
Diogo Darck Personal Trainer
Image source: Marcius Cavalcanti
Tyronne Hardy – Personal Trainer logo
Image source: Carl Worricker
Ivan Zaprianov
Image source: Gergana Kovatcheva
WIP Logo for personal training business
Image source: Tate Chow
PT³ – Personal Trainer Logo
Image source: Noukka
MARTHA TORRES
Image source: PBLCSR
Priscila Nunes – Personal Trainer
Image source: fixgu
Personal Trainer Logo
Image source: Deluna
Maxx Effort Personal Training Logo Option 2
Image source: Angela Elliott – Wingard
VPTA Fitness logo
Image source: FlowBackward
Logo Design for Alex Penning – alternative lockup
Image source: Alan Liddington
OrthoFit Personal Training
Personal Trainer Logo
Image source: Salma H.
One2One Personal Training Studio
Image source: Craig Morrison for FIT
Ending thoughts on these great personal trainer logo tips
The key features of a great logo include simplicity, clarity, and versatility. Successful brands are memorable. They well represent the USP and the mission of the business.
Personal trainer logos must communicate with their target audience. There are many niches and specializations in the fitness industry, so the design needs to attract the right market.
Some companies decide to design their logo themselves. Other personal trainers are willing to invest a bit more in their brand creation. They realize it's an important step towards their success and recognition.
Get more bookings with the right tool for the job
Staying organized has never been easier.
You can now manage your business and grow your brand with a single, powerful software that keeps all of your appointments in line, your clients organized and your business booming.
Trafft is the perfect personal trainer software for business owners who need to streamline their booking experience both for their staff and their clients.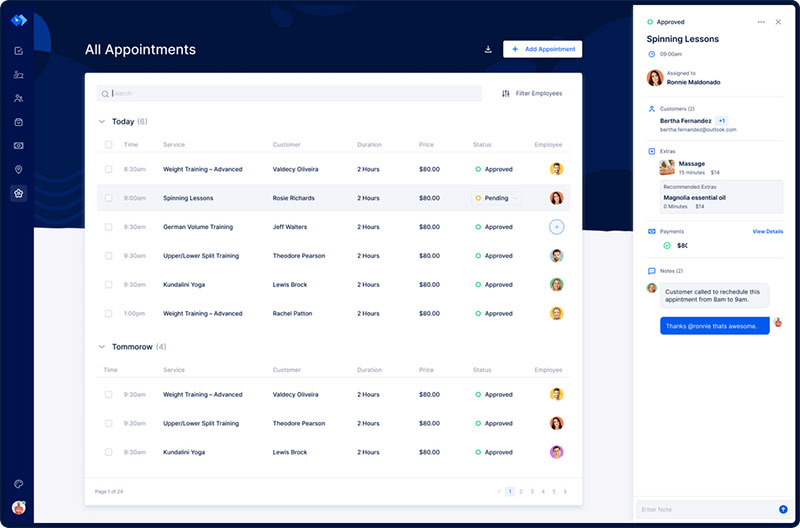 Trafft handles everything for you, even sending automated email or SMS reminders to your clients. No-shows? Not anymore!
The Trafft booking software adapts to different industries for a blissful online booking experience and employee management.
Want to know more? Check out Trafft's awesome features to see what you are missing.
If you enjoyed reading this article about personal trainer logos, you should also check out this one on how to sell personal training.
We also wrote about similar topics like the personal trainer business plan, how to start an online personal training business, gym owner salary, gym mission statement examples, gym slogans, gym logo ideas, fitness hashtags to use on social media, and fitness franchises you can buy.