Starting a wedding photography business can be challenging. Clients tend to look for the cheapest option among existing wedding photographers.
This, added to the competitiveness of the wedding photography market, can seem overwhelming. However, if you are willing to work hard to fulfill your wedding photography career goal, you will find success.
Where can you find reliable guidance to get your new business off the ground? If you're a professional photographer planning to start a wedding photography business, this is the guide for you.
This article will explain the steps needed to make a success of your wedding photography business. It will also highlight the importance of focusing on both the business side of your career and creating beautiful photos.
Understanding The Wedding Photography Business
When starting out the first thing you need to acquire is an understanding of the wedding photography business.
Most professional wedding photographers began as a freelancer who got paid to shoot wedding photos. Then, as time passed they began to realize that they are running a photography business.
They were confident in their photography skills but may have struggled with the business side of things.
Invest the time to get as much information as possible about local wedding photographers. Find out what type of clients they target, their prices, and the packages they offer.
Most wedding photographers have online galleries that showcase their:
Previous Works
Wedding photography packages and services offered
Prices for each wedding photography package, etc.
Use these portfolio websites to gather the information you need. Then find your unique selling proposition (USP). Determine how you can set yourself apart from the wedding photographers in your locale. This could include your:
Photography style
Pricing
Or your wedding photography packages and services, etc.
Gaining Experience As A New Wedding Photographer
Here are some tips you can use to gain experience and build your portfolio. These ideas are useful even if you've never done a wedding day photoshoot.
Second Shooting For A Wedding
Working as a second shooter helps one to learn the ins and outs of the wedding photography business while building a portfolio.
Shooting a wedding with an experienced wedding photographer will give you exposure as well as on-the-job training.
When working as a second shooter, be sure to ask for permission to use the photos on your portfolio website.
Engagement Photo Sessions
Engagement sessions are an opportunity for you to sharpen your posing and lighting skills. As a beginner, try including an engagement session with each wedding.
This makes your photography business stand out and helps you sharpen your posing skills before the wedding day.
Start With Your Family And Friends
Ask family and friends to hire you and to give genuine feedback. Be careful not to dive into wedding photography full-time based on feedback from your inner circle.
A good indication of the right time is when those in your inner circle confidently start to refer your services to outsiders.
Work As A Part-Time Wedding Photographer
Don't hastily quit your full time without first working as a part-time wedding photographer to build up your:
Confidence
Exposure
Portfolio
And demand for your wedding photography business
Once you can earn enough to make the transition to full-time professional wedding photography, go for it!
Expenses Related To Starting A Wedding Photography Business
The expenses associated with being a wedding photographer vary based on whether you're starting out or trying to grow your business.
The minimal expenses for starting a new wedding photography business range from the cost of your gear to your spaghetti number. Here is a list of expenses to consider:
Registering your business
Equipment
Accounting Services
Photography Business Insurance
Invoicing Service
Legal Fees
Photography Contracts
Register As A Legal Wedding Photography Business And Get Insured
Registering your wedding photography business helps you deal with certain legal liabilities. For example, registering as a legal entity protects you from personal liability if your business is sued.
The most popular business structure types to choose from include:
Sole proprietorship
Partnership
Limited Liability Company (LLC)
Corporation
Hire an attorney- if you can- to ensure the registration is done properly. Before starting to operate you will need to register for a variety of state and federal taxes. To register for taxes, apply for an EIN.
Be sure to get liability insurance protection for your business. Shop around for insurance carriers who offer small business coverage.
An option is to seek insurance from the PPA (Professional Photographers of America) if you are a member.
This step may seem unnecessary at the beginning, but it empowers you to keep operating regardless of unexpected incidents, such as:
A client getting injured in your wedding or engagement shoot and decides to sue your business
Photography equipment gets damaged or stolen 
Accounting
Bookkeeping can seem challenging at first but with practice, you'll realize it's quite easy to do. There are three ways to approach accounting.
Do It Yourself Using Microsoft Excel
Search online for a bookkeeping template to keep track of sales vs expenditures. This may be the more cost-effective option at the start of your wedding photography business.
Do It Yourself Using A Paid Accounting Program
There are many accounting software options to choose from, such as QuickBooks. These have a lot of features that make business accounting a simple process.
Hire An Accountant
If you're willing to pay for your business's accounting, hire a certified public accountant (CPA).
Your bookkeeping system is one aspect of accounting but the other aspect includes keeping proof of your sales and purchases.
Store all receipts and invoices in chronological order to make them easy to find. This is easier if you make a lot of online purchases. Your receipts will be stored digitally, making them less likely to be misplaced and easier to recover.
Invest In Your Wedding Photography Gear
Make a long-term investment in your wedding photography business by purchasing reliable equipment. You'll need a camera and two or three lenses.
There is no need to buy the latest, most expensive camera when your business is young. Start with a $200 50mm f/1.8 crop sensor camera, a macro lens, a basic zoom lens, a flash, and a computer that can handle editing software.
As your photography business grows, buy a high-end 24-70mm f/2.8 zoom full-frame camera, and a transmitter for off-camera flash.
Buy backup pieces for your essential gear to prevent malfunctioned or damaged gear from stopping the wedding shoot. Purchase small accessories like:
A flash diffuser
SD cards
A comfortable bag to transport your gear
An affordable camera cover for when it rains
Comfortable dress shoes
You'll need a good computer and editing software from the start of your wedding photography business. Be sure to get a backup storage system like an external hard drive to store your client galleries.
Editing software such as Photoshop and Adobe Lightroom is a must. Your computer should have ample:
RAM for running programs
And good storage for your clients' photos
Build Your Wedding Photography Business Brand
Establishing your brand helps your wedding photography business stand out. This is a vital step to your being recognized as a professional wedding photographer.
Identify Your Unique Style
Two photographers can shoot the same wedding with different results if they've defined their styles. So, strive to be different and sell this difference.
Identifying your wedding photography style is the first step to defining your brand. What makes your wedding photography works unique?
Do you lean more toward fashion-inspired posing? Do you prefer capturing fun candid moments? Or do your finished photos show natural golden lighting or dramatic flash?
List three words that best define your style, such as:
Fun
Candid
Elegant Emotive
Creative
Choose A Wedding Photography Business Name

Image source: Joshua Gibbons
Your business name should be short and memorable. You can name your business after yourself, for example, Jane Doe Photography.
You could choose some other name that you feel best represents your brand. Using your name personalizes your service and makes you sound more accessible.
Whether you use a formal business name or your name, ensure that it represents your photography service and you as an individual. Before making your final decision, verify if 'yourbusinessname.com' is available.
Design A Memorable Logo
Your wedding photography business logo can be simple or complex, based on what you like. The best logos are often made from simple, nicely designed text. Feel free to experiment until you find a logo that suits you.
Get more bookings with the right tool for the job
Staying organized has never been easier.
You can now manage your business and grow your brand with a single, powerful software that keeps all of your appointments in line, your clients organized and your business booming.
Trafft is the perfect service scheduling software for business owners who need to streamline their booking experience both for their staff and their clients.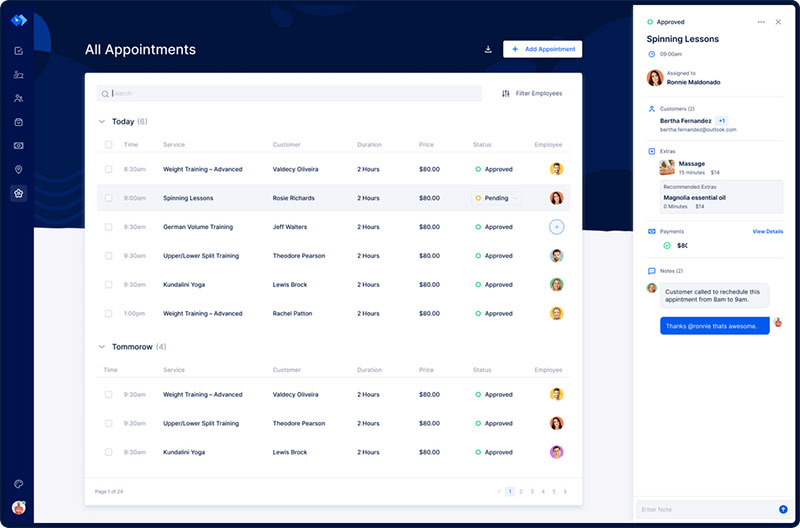 Trafft handles everything for you, even sending automated email or SMS reminders to your clients. No-shows? Not anymore!
The Trafft booking software adapts to different industries for a blissful online booking experience and employee management.
Want to know more? Check out Trafft's awesome features to see what you are missing.
Getting Your First Paying Client
Professional wedding photographers know what it was like trying to get that first paying client. If you find yourself with a new $3,000 camera but no work for months, don't sit around feeling discouraged.
Instead, use this time to attend to the marketing strategy of your wedding photography business. Marketing is not as hard as it sounds. Here are some low-budget marketing ideas for new wedding photographers.
Free Social Media Marketing
Create social media content for a maximum of two social platforms. Instagram is best suited for photographers. Establishing a social media following does much to grow for your business and help you get clients.
Partner With Non- Competing Vendors
Partnerships with other wedding vendors are a great way for both businesses to benefit. For example, wedding photographers and shops that cater to brides could agree to refer their clients to each other.
Contact non-competing businesses that cater to engaged couples and offer to do a stylized shoot with them. These include:
Bridal boutiques
Florists
Wedding planning agencies 
Word Of Mouth Marketing
Referrals are powerful new business-creating tools. Ask family and friends to pass your photography business cards along. Attract clients using photo editing services or by creating a referral program.
For example, refer a friend and get one free photo edit, free print, or a discounted rate for an anniversary shoot.
Email Marketing And Quality Customer Service
Image source: Jonathan Connolly Photography
Collect client emails and build a list. Send out special offers and other information to return and potential clients.
Weddings are stressful events so provide consistent stellar customer service. Be sure to answer your clients' questions in a timely, patient, and respectful manner.
Stay in touch with them throughout the experience. This will motivate customers to refer your business to their friends for their wedding day.
Setting Up Your Wedding Photography Business Website
A website is an important part of any business. For a wedding photographer, a website is a space where potential clients:
Discover you
View your previous works
Book sessions, etc.
If you're doing content marketing, SEO, and social media correctly the first point of contact for potential clients will be your website.
Be sure to build a quality website as potential clients will judge your photography services based on what they see on your website.
Here are the main reasons why you should set up your website early in your wedding photography career:
Legitimate Businesses Have Websites
Regardless of the size of your business, owning a website will tell clients that your service is legitimate and professional.
Social Media Does Not Replace An Online Presence
Social media platforms like LinkedIn and Facebook are not replacements for a business website. A website increases a professional photographer's influx of new business.
Interested Clients Can Find Your Contact Details
Your website serves as a link between you and potential clients. Keep the contact info on your wedding portfolio website updated. Make it easy for customers to reach you. No one likes to deal with complicated websites.
Websites Act As Online Galleries
As you gain experience shooting weddings, create a gallery for your photos on the website. Upload a collection of your best images and videos.
Be sure to use content that best represents the quality of your work, style, and skills. Keep your portfolio website fresh.
Get Legal Protection
Protect your business using contracts and written agreements. An attorney can guide you with the development of your contract. Contracts are important in helping clients know what to expect.
They also protect the photographer when a client deviates from stated guidelines. The more formalized your business is, the more professional you will appear. Create contracts that specify what you are offering each client.
Here are some essential tips to keep in mind when creating a wedding photography contract:
Specify what the client will be getting in their chosen package
State the location of the wedding
Specify how many hours you are booked for and added fees/rates for extra hours
Specify the agreed payment method and deposit amount
Outline the cancellation policy and fees associated with
An Artistic release
Model release
State the price for any extra work or deliverables (prints, album, etc.)
Ensure both parties understand what is included and what is not included in the contract. This is imperative because 99% of the time clients will demand more time and/ or deliverables.
Create A Financial Plan And Set Yearly Goals
How many other wedding photographers operate in your location? What are their average prices like? How does your photography style differ from theirs?
Answer these questions to gain more insight into your prospective market, then draft a financial plan. Identify your projected yearly expenses. This includes the cost of:
Gear
Travel
Taxes
Legal fees
Insurance
Website fees
Marketing costs, etc.
Then identify what you'd like to earn per month. For example, shooting two weddings per month at $2,500 per wedding will mean revenue of $5,000 per month.
Keep in mind that if you shoot a nine-hour wedding, you'll need to spend twice that time editing the photos. Also, factor in the pre-shoot time you'll spend working with the client.
Use this information of expenses vs income to decide how much to charge so that your business can profit.
Of course, you won't be able to charge as much as a photographer with many years of experience. However, be careful not to set your prices too low as this may cause clients to see your photo services as cheap (low quality).
A wedding photographer can charge between $2,500 and $10,000 based on the client's desires and the photographer's level of experience.
Wedding photography packages have a fixed amount of time. This generally lasts for eight hours with an hourly rate for any time above that.
Once you have generated enough business to pay off your equipment, you'll start to enjoy the profits of your business.
A great way to increase the number of weddings you can shoot per month and generate more revenue is to hire photographers.
FAQs about the wedding photography business
1. How much do wedding photographers typically charge?
Several variables, including the photographer's experience, location, and services offered, can dramatically affect the cost of hiring a wedding photographer. For a full day of wedding photography, couples should budget between $2,500 and $5,000, but prices might vary based on the reputation of the photographer, the number of hours of coverage needed, and the kind of products included in the package.
2. How far in advance should I book a wedding photographer?
Couples are advised to reserve their wedding photographer as soon as the date and location are set. In order to guarantee availability, it's vital to start the search early. Many photographers will book up a year or more in advance.
3. What is included in a wedding photography package?
Depending on the photographer, a wedding photography package may or may not include specific hours of coverage, a set number of edited shots, and access to an internet gallery where the photos can be viewed and shared. Also, some photographers might offer engagement sessions, albums, and prints.
4. How many photos can I expect to receive from my wedding photographer?
The number of images a couple can anticipate from their wedding photographer will vary depending on a number of variables, including the duration of coverage, the number of locations, and the photographic style. For each hour of coverage, couples may anticipate receiving 50 to 100 edited photos on average.
5. Will my wedding photographer have backup equipment?
It's crucial for wedding photographers to have backup gear in case something breaks. The majority of seasoned wedding photographers keep spare cameras, lenses, and memory cards on standby to ensure they can keep taking pictures in case of an issue.
6. What is the typical turnaround time for receiving wedding photos?
Depending on the photographer, the turnaround time for wedding photos will vary, but in general, couples can anticipate receiving their photos 4 to 8 weeks following the ceremony. For an additional cost, certain photographers could offer rush services.
7. Can I request specific poses or shots for my wedding photos?
Absolutely! It's crucial to let your wedding photographer know your preferences so they can get the photos you value the most. A shot list or questionnaire is often used by photographers to assist direct the process and make sure no crucial details are overlooked.
8. Will my wedding photographer retain the rights to my photos?
Although most wedding photography contracts include a license that permits the couple to use the photos for personal use, copyright law gives photographers the exclusive right to use and reproduce their images. This indicates that while the couple may print, distribute, and show the pictures, the photographer still owns them and has the right to use them in advertising.
9. How many photographers will be present at my wedding?
Depending on the photographer and the package selected, there may be one or many photographers at a wedding. While some photographers choose to work alone, others might bring a second photographer or assistant to aid in the coverage.
10. What should I look for when choosing a wedding photographer?
Style, experience, and personality are all crucial considerations when selecting a wedding photographer. Check through their work to see if their aesthetic aligns with your own, read reviews and client endorsements, and make sure you are at ease with the photographer's professionalism and communication skills. You may also learn more about someone's personality and whether or not you get along with them by meeting them in person or via video chat.
Ending thoughts on how to start a wedding photography business
Starting a wedding photography business can seem overwhelming. But, as the saying goes 'Rome wasn't built in a day,' so don't be discouraged. Keep using the tips in this article to become a successful wedding photographer.
Gradually build up your business and remain patient and focused. Keep improving your marketing efforts to pull in new business.
As you gain experience and continue to hone your skills, adjust your prices to reflect your professional growth.
If you enjoyed reading this article on how to start a wedding photography business, you should also read this one about how to get your photography noticed.
We also wrote articles about similar subjects like how to get more photography clients, becoming an event photographer, how to become a licensed photographer, appointment scheduling for real estate agents, photography studio management software, how to get your photography noticed, real estate photography marketing and photography mood board.