Working for someone else can be challenging. It has ups and downs, and it's not always easy to please employers.
Employees can't determine their workloads, especially the work hours. Sometimes, bad experiences outweigh the advantages employees receive by working for a company.
With all these challenges, many think it is better to build an independent business. But this is not easy.
If one loves beauty products and making others feel beautiful, then a mobile hair salon is a good option.
"How can my mobile hair salon stand out amidst several competitors?", one might ask. But mobile hair salons have different target markets and offer different services.
Some people prefer to go to the salon to pamper themselves, but other individuals do not have the time for that. They want to save time and feel comfortable at home while having a hair or skin treatment.
Mobile Hair Salon or Barbershop: Types and Benefits
stead of waiting for customers to go to the shop, a mobile hair salon is a convenient for the clients. They receive a visit direct to their homes.
For those starting out in this business, keep in mind that portable equipment is a must. Running a mobile salon can also involve driving distances to reach the client.
Moreover, business owners don't need to rent a salon and have the landlord set the rules.
Here are some of the types of mobile hair salons to consider:
Combined Model
In this type of service, the business owners are willing to operate a mobile hair salon and a salon store. They can set up their shop, and also accept mobile or personal clients. 
For small businesses who want to leverage their income, this is a great idea. Reaching two types of clients has a significant impact on the mobile hair salon.
Moreover, having a combined model improves customer service. It establishes trust, especially for those with mobility issues, time constraints, and age factors.
Clients' Home Visiting
Sometimes, clients prefer a home visit. Instead of taking clients to the shop, the shop will go to the clients.
It is a great idea to go to potential clients. What's more, those who can't go to the salon for some reason can make themselves feel good again.
Client visiting cuts the water and electricity bills salon owners would usually have to pay.
 However, ensure you have enough capital for the travel expense. That will also determine the salon's overall pricing.
Completely Mobile
One of the advantages of a fully mobile hair salon is that the owner doesn't need to incur rent expenses. Trucks and vans allow mobile salon owners to take appointments wherever they go.
Before starting a mobile hair salon, there are things to consider and set up to ensure success.
The Step-By-Step Guide for a Successful Mobile Hair Salon Business
Register The Mobile Hair Salon Business
This is the most important part when entrepreneurs set up their own businesses. They need to abide by the laws and work according to the state's regulations.
After getting certification, they can now start the business.
The business will receive an employer identification number. This is the number to use to submit taxes to the IRS.
It is also essential for the business to have liability insurance. It offers some protection from client complaints and their possible negative impact.
The insurance company will be there to save money and help the owner start anew.
A mobile hair salon is usually an individual business or run by a freelance worker. Therefore, taxes and accounting are the entrepreneurs' responsibility.
Don't forget to keep track of the business expenses and register with HMRC. That will indicate these entrepreneurs are self-employed.
Have a Concrete Business Plan
Before opening a mobile hair salon, entrepreneurs should first outline a solid plan and compute the expenses. It would also be best to test the waters before starting.
Writing a business plan can be a fun process. Individuals put their dreams down on paper and see how to make them a reality.
First, be clear with what types of services the business will offer. The business location is also crucial in planning.
But of course, the first thing to consider is the budget and the financial goal. Set a target date for achieving the projected profit from the mobile hair salon.
Jot down all these goals, meditate on them, and put them into action. A good recommendation is to have a consultant to help achieve the desired success.
One more thing to consider is the competitor analysis. See how they became successful in their field.
Take note of their typography and other marketing strategies they use. Create a unique marketing plan inspired by these competitors.
Research what effective marketing strategies similar businesses are using today. Google and other research guides can help salon owners in that regard.
With a mobile hair salon, it is vital to calculate the total expenses. These will cover the physical store (if there is one), the mobile salon, gas, and more.
But one thing's for sure. Making the business mobile will lessen the expenses compared to renting a shop or store. Make sure to include some moderate expenses for salon software apps that will help you automate and run your business in an efficient way so you can focus on the important things
Prepare the Equipment
Being prepared is important to become successful in any business. Find out what materials are necessary to start a mobile hair salon.
For instance, brushes, flat irons, combs, hairdryers, scissors, shampoos, treatment, and more.
Put together an inventory list every week and month, and see what is missing or what needs refilling. That will give an idea of how many items to add.
When starting a mobile salon business, investing in the relevant materials is a must. Get the right tools and try them first to check the product's effectiveness. 
When buying items to improve clients' hair condition, check the customer feedback. Make sure that they have positive reviews from real people.
If possible, try to have a model or recruit someone to show the effect. It will also serve as a testimonial for future clients.
A supplier will provide all the chemicals needed for the salon. So it's important to find a trustworthy supplier for bulk orders.
This is especially vital for salons offering permanent waves, bleaching, and dying.
Always review the inventories, they will reveal the best-sellers or most-used treatments. Keep a stock for future use.
Look for a brand with the complete tone and effect, whenever the clients ask for different styles.
Don't forget to have a case to contain all the materials. It is portable and allows salon owners to bring it anywhere.
Without a car, having a mobile service can be challenging, but it is possible. However, having a car allows this business to grow, since it is easier to visit different clients on the same day.
Prices Should Be Reasonable
Choosing a price tag is the trickiest part of starting a mobile hair salon. There are a few things to consider when deciding on pricing.
Here are the things that add more value:
Experience
Service
Quality
Convenience
Materials used
Always be realistic with the prices. If the business is just starting, it would be best to offer promotions and discounts.
Once people know about this mobile hair salon, more clients will come and use the service. Build loyalty first, and everything else will follow.
Consider Clients As The Gem Of The Business
Getting clients is not always easy. It takes weeks or even months to establish regular customers.
Without them though, the business won't thrive. Being the owner of the mobile hair salon, it is essential to have a connection with the clients. 
Treat them as the gem of the salon, and give them importance and value. Take advantage of special events, such as weddings.
Have a partnership with various event managers, and become the hairstylist they need.
Establish loyalty rewards for clients. This allows clients to accumulate points whenever they use the salon's services.
Issue a business card to help prospective clients trust the salon, the owner, and the staff.
Download an application from Play Store or App Store that can track all the bookings. Some of these apps also send reminders when the appointment is near.
At this point, knowing the pricelist is crucial to respond to people's queries.
Choose Work Hours Convenient to Potential Clients
With a physical shop, having consistent work hours is a must. In a mobile hair salon, work hours depend on the stylist.
However, it is not always appropriate to set the work hours to suit the stylist's time frame. It would be best to choose the times that are most convenient for the clients.
Sometimes, clients prefer early morning or late at night. As the stylist, it is important to be flexible and fit in with the customer's schedule.
Yes, a mobile hair salon gives freedom when it comes to time management. But it is still important to set boundaries.
It's not okay to have more appointments than can be handled in a day.
Be firm with the schedules, and inform clients on the salon's Facebook page. If appointments are full, be frank and respectful when telling other clients.
Use Different Marketing Strategies
Online marketing techniques aren't new nowadays. Online advertising is better than other forms of ads.
To promote the business, make use of good friends. Inform them about the mobile hair salon, and encourage them to share the news with others.
One of the best practices for online marketing is to create a business website. Here it is easy to include all the pictures, videos, and other samples of hairstyles.
Use social media tools and platforms to advertise the business, products, and services. Creating a blog can also increase traffic.
Experiment with various marketing strategies, and see which works best for the mobile hair salon.
When creating a website, hiring a developer is not always needed. There are website builder tools that will do everything for the website owner. 
Just select the design. Then, provide visitors with information about the salon's services.
Be consistent in the business branding.
From the website, clients can learn everything about the business and its owner. Be sure to include the history, what you do, and who you are.
There are also other traditional advertising–such as newspapers, and local bulletin boards.
Ways To Have a Successful Mobile Hair Salon
It is challenging to run a mobile hair salon or a barbershop. But nowadays, more people are staying at home.
They often look for on-call part-timers for other services. This is the right time to take advantage of this area of business. 
Always show gratitude, respect, attentiveness, and appreciation to loyal customers. These combinations of positive attitudes will help the business to thrive.
Once clients feel special, they will always come back for more.
Get more bookings with the right tool for the job
Staying organized has never been easier.
You can now manage your business and grow your brand with a single, powerful software that keeps all of your appointments in line, your clients organized and your business booming.
Trafft is perfect for business owners who need to streamline their booking experience both for their staff and their clients.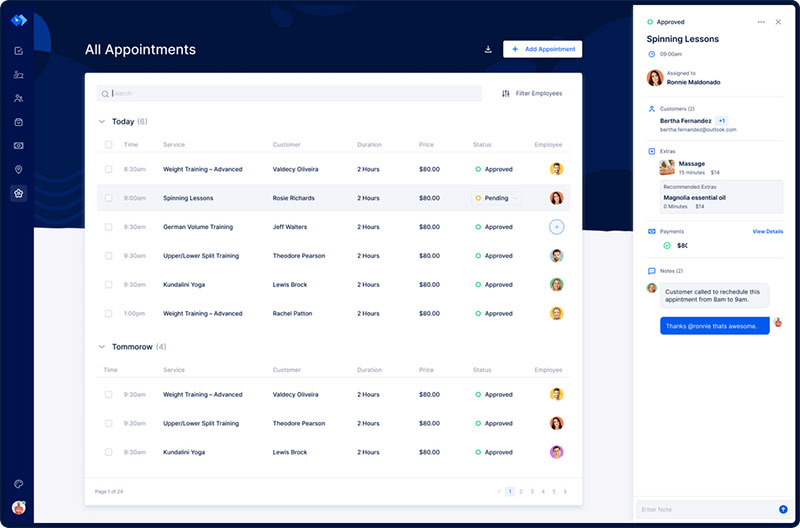 Trafft handles everything for you, even sending automated email or SMS reminders to your clients. No-shows? Not anymore!
The Trafft booking software adapts to different industries for a blissful online booking experience and employee management.
Want to know more? Check out Trafft's awesome features to see what you are missing.
If you enjoyed reading this article on mobile hair salons, you should check out this one about how much do other salon owners make.
We also wrote about a few related subjects like salon cancellation policy examples, best salon slogans, how to get more clients in a salon, how to run a successful salon, and beauty and hair salon statistics.