Your target audience is always changing. There is a vast change in the way people take in information. Nowadays, most people use digital information sources which differs a lot from what people used ten or 20 years ago.
As a business owner, you need to think of innovative ways to bring your product or service to the attention of a broadening audience. Most industries are familiar with strong competition. It is difficult for a single small business to stand out from the rest.
The question is, how to market a service business? A strong brand image is part of an excellent marketing strategy. Here are some tips that will get your service-based business started.
How Is the Service Business Industry Different?
Marketing services is not the same as marketing products. A product is something tangible, and being tangible, people can physically own the product eventually. That is not the case for service. Some consider selling a service as selling an experience.
It can be difficult to determine an optimum price level for a service. The value of a service depends on the value that it has for a client. The client may not care so much about skills or experience. They focus only on the results that those skills achieve.
There are other consequences to the difference between service and product-based business industries. One of them is that they require different marketing strategies.
Building trust and confidence in your clients is a very important aspect of your service business marketing strategy. They need to have the level of confidence that will move them to sign a contract with you. This, in return, would mean they have faith in your skills and knowledge.
Before marketing your new service-based business, you need to do specific things. Listed below is what you need to do and when.
How to Market a Service Business
Define Your Service
This sounds like the easiest task. But really, this is one of the hardest for many service business owners.
Think of an example. Imagine your business designs and develops websites. What does that involve? Does the process include suggesting design options? How much do you leave up to the client? Does the work involve having regular meetings with the client?
It is important to outline these kinds of details on your website and in the contract that you sign with the client. Most clients appreciate a clear list of the services provided. And it will make the process easier for you too.
Define Value
A service marketing strategy includes defining the value of your services. This is an important and complicated issue. After all, you cannot hold or see the service you provide, only the end product.
This is important to avoid disappointments, either on your side or that of the client. Keep in mind that your work is the most valuable part of the deal. That should thus be the focus of your proposition.
During the process, you often need to redefine project goals. When that is the case, you need to sit down with the client and discuss the consequences of the change. The process, work scope, and expectations may change correspondingly
You need to ensure that your clients see the importance of your service. From the very start, explain that you are there to solve their problems. That will get their attention and commitment.
Define Your Customer Segment
Again, a simple task, but an essential one. Decide what market segments you want to put emphasis on.
Start by thinking of your ideal customer. By thinking of a specific customer type, you can determine the best way of targeting your audience.
You can consider factors like:
Age
Area
Gender
Profession
What are the problems they face at work? What might stop them from hiring a service? Then think about the best way to target their problems.
Do a brainstorming session and think of all the potential customers and target industries. Think of the business size you want to target. Where do you want to work? What kind of people do you want to work with? Which technologies are you comfortable with?
After that, consider these questions:
What is the client's reason to buy (CRTB)?
How big is the market segment?
What is the competition like?
How difficult will it be to establish yourself in the industry?
Is the buyer accessible?
Have a Clear Marketing Message
First, think of the message you want to get across. Then you can think of how you want to convey this message. Coming up with ideas is easy. That does not mean that they are all appropriate for establishing your brand voice.
To convince your potential customers, you need to give them a reason to contract your service. Show how you can solve their problems and make their lives easier. Create an experience that grabs the attention of your audience right away.
Once you have decided the message and the content you want to use, you need to think of ways to spread the message. Your marketing strategy does not only focus on expanding the business. More importantly, it aims at converting potential customers into paying customers.
Have Specific Goals with Your Marketing Campaign
An intensive PR campaign can do much good for your startup service-based business. People need to be aware of your company. That gives you an opportunity to inform them about your company and the services it provides.
Consider all marketing strategies:
Magazines
Newspapers
Radio
Social media accounts
Television
Company website
One or more of these platforms are great marketing opportunities, depending on your target audience and budget.
Think of what you want to achieve before you start a marketing campaign. Define your goals in measurable results and then determine which platforms work best for you.
Radio and television advertisements will reach a large audience, but they are rather expensive. Some channels, like magazines and newspapers, place advertisements for free.
Your success story starts with a scheduling app to streamline your calendar
Staying organized has never been easier.
You can now manage your business and grow your brand with a single, powerful software that keeps all of your appointments in line, your clients organized and your business booming.
Trafft is perfect for business owners who need to streamline their booking experience both for their staff and their clients.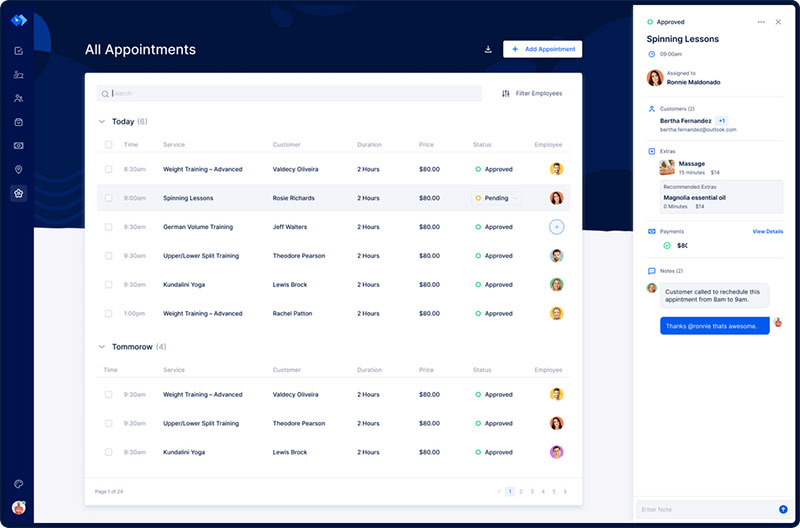 Trafft handles everything for you, even sending automated email or SMS reminders to your clients. No-shows? Not anymore!
The Trafft booking software adapts to different industries for a blissful online booking experience and employee management.
Want to know more? Check out Trafft's awesome features to see what you are missing.
Find a Unique Voice
Analyze the marketing strategies of your competitors. You will soon notice that most businesses are happy with a marketing strategy that offers them one of the many options.
Differentiation is so important if you want to stand out. Create something that makes your service business unique. This could be a special set of services that you can offer as a package. Always make sure that targeted consumers know that you provide the greatest customer satisfaction. Highlight the benefits customers will enjoy contracting your services. Make that the core of your marketing strategy.
Focus on Increasing Value
Product businesses often want to offer the most competitive price in the market. In a service business, marketing strategy price works hand in hand with quality. . The higher the price, the higher the quality. So, be rest assured that your competitor's lower price means a lower quality of service.
An aspect of your marketing strategy could be to add value rather than lower the price. Think of what your clients need and try to address it in one service package. That increases the perceived service value and gives you an edge over the competition. If you market your service right, you can even charge higher prices than your competitors for similar services.
The sky is the limit when it comes to increasing value for clients. It all depends on your creativity. The increasing value will also make you stand out in the market. Here are some suggestions on how you can add value to your services:
Provide the best customer service t
Deliver faster services
Provide expert opinion or advice at no extra cost
Keep Your Website Up to Date
This should be obvious, but many small businesses make a website and then forget about it. Yet, a business website is key in modern marketing strategies. There are often many competitors in an area of the same industry, so they all target the same customers. Not standing out from the rest with an excellent website is deadly for the success of a small business. That is true for photographers, personal trainers, tutors, dog walkers, and others.
A business website is not only a place where you can introduce yourself and the service you provide. It is also a key element of your brand marketing strategy and it is important to attract new customers.
Online marketing means people reach out to you, which makes it easier. Digital marketing strategies offered by professional SEO companies, like Tactica, can help to establish your position in the market and build a solid client base. From there on, it will continue to bring in new customers to your services business. From there on, it will continue to bring in new customers to your services business.
Use Social Media
A business website can work wonders for you. But expanding your online marketing strategies to social media can also be a great tool. Create business pages on LinkedIn, Facebook, Twitter, or other suitable social media platforms.
Don't create social media accounts for your business to forget about them afterward. Stay on top of it. Interact with followers and clients and answer their questions and inquiries. Attract people by posting interesting content regularly.
Social media marketing is a powerful and low-cost strategy for promoting your services. Make sure that people that visit your social media channels see your content and remember your brand.
Make your social media posts do the work. Use content that is interesting and useful. You can use free infographic templates to create visually appealing infographics.
Copywriting
The services you offer are intangible. People that want to hire your services don't exactly know what they get. They will only know after they see the outcome of the service, which is what makes marketing a service business so difficult. But you can create a vision of what you do. This vision can be anything because your services are invisible to your clients.
This is a very broad description of copywriting. Copywriting turns skills and experience into something potential customers can visualize.
Think of questions such as these:
How do I want people to see me?
How do I want them to think of my services?
What are they looking to get out of the service I provide?
Then work to put these answers into words and pictures.
For example, a personal trainer could use the image of a six-pack and link to that the concept of a pleasant 20-minute workout, instead of a painful two-hour session.
Email Marketing
Email marketing is powerful, but you need to be careful. If you bombard them with weekly updates or newsletters, this will send your emails straight to the junk folder.
Create interesting content that is straight to the point. It must be content that people enjoy reading and that has value for them. Make them look forward to your emails.
Another way to improve your email marketing efforts is by personalizing your emails. Use the recipient's first name and keep it brief. Try not to talk only about yourself and direct the reader to your social media platforms, adding clickable icons for your email signature.
Market Your Services as Products
How to market a service business is a tough question. Marketing service is not the same as marketing a product.
The way to market your services as if they were products depends on the kind of services you offer. But it can be very beneficial and create additional revenue streams and target audiences.
This marketing strategy works great for therapists, yoga instructors, consultants, and similar businesses, as well as other service providers. If you are a teacher, you can think of complete packages, instead of single lessons or sessions. Use your website to market or sell those package deals. Another idea could be to offer teaching videos or tutorials.
How successful this turns out to depend on your creativity. Can you turn your service into a physical product? For example,  if you have a nail salon, you could put together home manicure kits and sell them.
Get in the News
Being featured on the news means free advertising for your company. In small communities, changing signboards on local businesses is reason enough to be in the news. If your community is a little bigger, you may need to do something that stands out more, like creating a fundraising event or something similar.
If you decide to do so, you need to make sure that it is transparent and believable. Don't allow room for doubt. That would be counterproductive. Choose the right charity and consider inviting other local businesses to take part. Supporting the right charity can help both your business and a good cause.
Establish a Network of Referrers and Influencers
Service businesses depend on people. You need to build trust in your customers and work hard to establish good relationships. You can then use those relationships to get referrals. This network of satisfied customers is a key element of a service business.
Referrals distinguish the service industry from the product-based business. To look for products, people go online and find what they need. Regarding services, people rely on the experiences of others.
It is thus wise to start a referral program and engage your client base. Create incentives and other reasons for your clients to speak highly about your work.
Your Employees Are Your Brand Managers
You may have a salesperson or team, depending on the size of your company. But outside that team, you also have employees that can prove to be very useful.
Best-case scenario, they value the brand and services they represent. In that case, they can do a lot in terms of recommendations. Besides compliments, they show dedication and determination. Take time and make sure they know the business well enough to represent it.
Make sure the employees have all the information that is relevant to your company.
Improve Relationships with Existing Customers
A major difference between the product and service businesses is that in the service business, the hard work starts after the sale. This means being involved in delivery and customer support for a while.
Keep relationships with existing customers warm and open. Stay in touch by making phone calls, sending emails, coupons, or special offers. How often you do that depends on your kind of business. You can also use a business phone app that will help you simplify and enhance the relationships with your customers.
You don't want to annoy people, but you want to maintain regular contact. Make them feel important and valued. Keep them happy. Word-of-mouth advertisement from satisfied customers is more valuable than all other marketing efforts.
When you establish a solid client base, you can expand your services. You will need to offer existing customers new services to maintain their interest in the business. You will get more revenue from your current relationships than from marketing to new prospective clients.
FAQs about marketing a service business
1. How can I effectively promote my service business to my target audience?
Understanding the needs and pain points of the audience is crucial for marketing a service company to a target market. Provide enticing offerings and use tailored messaging that speaks directly to their requirements to promote involvement.
2. What are the best channels for reaching potential customers for a service business?
Depending on the industry and target market, several channels will be the most effective for reaching potential clients for a service business. Social media sites, email marketing, search engine advertising, and sector-specific directories are just a few examples of prevalent methods.
3. How can I build trust with potential clients in a service business?
A service business can develop trust with potential customers by communicating in a straightforward and transparent manner, sharing case studies and testimonials from happy customers, and providing guarantees or warranties to help customers reduce risk.
4. How can I differentiate my service business from competitors in the market?
By emphasizing unique selling propositions like specialized talents or knowledge, providing outstanding customer service, or offering creative service bundles, a service organization can set itself apart from rivals in the market.
5. What are some effective pricing strategies for service businesses?
The sort of services being offered, the market demand, and the level of competition will all affect pricing strategies for service organizations.
Value-based pricing, hourly pricing, and fixed pricing based on service bundles are typical pricing methods.
6. How can I measure the success of my marketing efforts for a service business?
Monitoring measures such as website traffic, social media engagement, conversion rates, and customer retention rates can be used to evaluate the performance of marketing initiatives for service businesses.
7. What are the most important factors to consider when creating a marketing plan for a service business?
Identifying target customers, setting marketing objectives, choosing the most efficient channels, developing appealing messaging, and using data analysis to change and improve efforts are crucial considerations when developing a marketing strategy for a service organization.
8. How can I use social media to promote my service business effectively?
Social media can be a powerful tool for marketing a service company because it gives you a place to interact with potential clients, share insightful material, and establish a distinctive brand.
9. What types of content should I create to attract and engage potential customers for a service business?
A service company can attract and engage potential consumers by producing valuable content that addresses customer pain areas and offers answers. These can contain blog posts, instruction manuals, case studies, and instructional videos.
10. How can I leverage customer feedback and testimonials to improve my service business marketing efforts?
By giving social proof and insights into areas for improvement, using client feedback and testimonials can enhance a service business' marketing efforts.
Building trust with potential clients can also be accomplished by prominently displaying good comments and feedback on a website or social media platforms.
Conclusions on How to Market a Service Business
The purpose of service-based businesses is to help people. And people always need services. It is up to the service business owner how to market a service business. That includes finding the right service marketing strategies. It will generate more revenue streams and keep the business going even under difficult circumstances.
In the end, the success of service-based businesses depends on the quality of the services and the ability to reflect that quality. Not every service marketing strategy works the same for every industry. So, you will need to see which marketing approach works best for you as a service provider. When you find out what works, invest plenty of time and energy in it.
With the information at your fingertips, it's time to put everything to work. These tips will lead you to success!
If it was up to me, I'd end the sentence in "to your company". The rest of it doesn't make much sense to me.
If you liked this article on how to market a service business, you should also check out this one with service business websites.
We also wrote about similar topics like how to run a service business, how to scale a service business, how to sell a service business, service business vs product business, service business with low startup costs, and services landing page designs.