Every business website or online store must present its products in high quality. By creating a beautiful and functional services page, you won't only highlight your products, but stand out from your competitors.
You can choose the layout that you prefer. This can include bullet points, short sentences, long texts, or videos. Yet, whatever option you choose must spotlight your services first. Don't underestimate the power of a good web design.
If you are looking for ideas that help you get new clients, look at these options. These service business website examples are rich in resources and easy to use.
Service Business Website Options for Your Inspiration
Medallia
Medallia attracts potential customers with this stunning professional website. Their is to work with clients as if they were one team.
Traackr
With Traackr, you can see a small business website in action. They've added all kinds of features, including testimonials, case studies, animations, and images.
Bick Law LLP
Search engines love a user-friendly site, and Bick Law LLP is a great example. This successful law firm has done a great job building their service business website. Check out their bold colors and strong visuals. They convey the message they want and engage prospective customers.
Kea Consultants
Every service provider can learn a great deal from this example. This boutique firm offers alternative investments in the European market.
Arcurve
IT development is a complicated service business, but Arcurve makes it sound simple. Check out this service business page and learn how to make your site straightforward. Site visitors can see a list of the services and access more information with just a click.
Soluce
Based in Quebec, Soluce supports existing clients with a stunning business website. They offer accounting, audit, and tax services.
Mill City
Sometimes, simpler means better. This is the case with Mill City's business website. The layout is clean, showcasing local business listings. Through this format, the site intends to drive visitors across their options.
Your success story starts with a scheduling app to streamline your calendar
Staying organized has never been easier.
You can now manage your business and grow your brand with a single, powerful software that keeps all of your appointments in line, your clients organized and your business booming.
Trafft is perfect for business owners who need to streamline their booking experience both for their staff and their clients.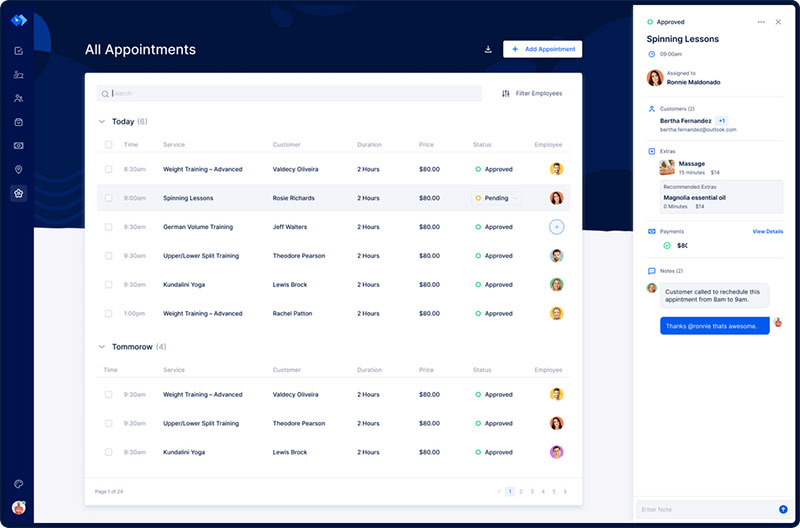 Trafft handles everything for you, even sending automated email or SMS reminders to your clients. No-shows? Not anymore!
The Trafft booking software adapts to different industries for a blissful online booking experience and employee management.
Want to know more? Check out Trafft's awesome features to see what you are missing.
Poetic
Here you'll find screenshots and other visual resources to highlight the company's products. Each piece of content is direct and clear and the information is easy to find. At the bottom of the page, site visitors will find a link to the Facebook page and other social media.
Born & Bred
Any small business website can grow by learning from this example. Born & Bred takes you through a fantastic tour as you scroll down their home page. The content reflects the core values in a colorful and impressive layout.
Zervice
Zervice was created for franchisors rather than small businesses. The company presents its products in a unique, colorful way.
Moniker
This company offers custom retreats for corporations. Moniker created a design fitting the hospitality sector, with plenty of high-quality images. Visitors are welcome to trigger animations by scrolling down the home page. This is everything a successful website should be.
Cart2Cart
A service's page encourages visitors to explore and eventually hire for those services. In line with this, Cart2Cart is a great example thanks to its moving selection feature.
Skylab
If you want to learn how to create pages for your service business website, look at SkyLab. Potential clients will be delighted to find their non-conventional menu and interactive gallery.
Tend
Although Tend's design is non-traditional, it works perfectly. Both search engines and returning customers love the split-screen video showing clips from patients.
Webful Creations
With a unique style and outstanding colors, Webful Creations offers maintenance for your WordPress site.
Julien Derreveaux Photography
Julien Derreveaux created a stunning black-and-white portfolio.
Fortnight Studio
A good design with simple information is important to improve your search engine results. Fortnight Studio knows this and implemented a unique layout with large headings. This design studio offers a great customer experience with all the essential pages easily accessible.
plug & bet consultancy
This business website belongs to a consultancy agency that focuses mainly on digital strategies.
Eleven
Business websites must be nice-looking and user-friendly, especially if they promote an advertising agency. With impressive stock images, Eleven does a good job at showcasing its services for the digital marketing industry.
Prophet
Prophet welcomes potential clients with a time-lapse video. Thus, they add personality to their business website. The services page is neat and well organized.
The Marketing Fix
Check out this example if you want to see good content, a clean layout, and a unique web design.
Stortford Interiors
Only a few business websites grasp their company's essence. Stortford Interiors does it very well with impressive designs and various elements. Being ideal for a contractor, smooth animations enrich the layout. .
AccountingBox
AccountingBox offers a system for both accounting and management.
iVision
Service-based businesses can draw inspiration from this website. The designer organized the services into three categories, under which users can find sub-services. Organized content helps search engines understand your essential pages, improving your search results. It also helps visitors to understand your services faster.
H&H Works
H&H Works combines a video background with a clean layout. The developer chose a soft color to use throughout the website, creating a minimalist design.
Entec Contractors
This company specializes in renewable energy projects. Located in Greece, they offer engineering services.
Demestre Photographie
Noemie Mestre presents a stunning portfolio on her business website.
Domo
Domo offers solutions based on the role you play in a company. They deliveer information covering sales, operations, and IT. Potential customers can hover over the boxes and find out what services the company provides.
Campaign Store
Check out Campaign Store and learn how to use scrolling animations, color schemes, and illustrations.
Nylon Consulting
Based in New York, this agency offers social media and public relations services.
IPA Group
This company combines animations, white spaces, and custom graphics for an excellent user experience. Using geometry and dimensionality, IPA Group exhibits a superb site design.
Epic Teams
Epic Teams is a San Francisco-based company providing team building, executive coaching, and management training services. Their website is user-friendly with attractive calls to action and large fonts. 
Like what you're seeing so far? Keep scrolling to inspire yourself and learn how to make a website for your service-based company (or for a client).
Livy Services
Livy Services is a company that offers duct cleaning and moving services in Ontario.
Inspirica One-on-One Tutoring
This tutoring company offers competitive preparation for admission tests to the best schools in the US. They have offered premium training for over 30 years. . They help everyone who wants to get into the best schools in the country.
WaveOC
WaveOC features well-organized content across their home page. They combined the use of graphics and bullet points with a brief description of their services. Thus, the site provides a comprehensive outline for each separate page.
Tube Secrets
Tube Secrets' business website stands out for its calls to action, contrasting colors, and cool shapes.
Mandy Aileen Photography
Mandy offers high-end wedding photography services. She created her website using pictures with dark colors on a white background.
Wouch, Maloney & Co.
Here is another example of how to use black and white colors the right way. This business website features modern lines and a clean layout. They have highlighted calls to action to increase the conversion rate.
Heroncode Consultancy
Heron Code presents a stunning design with cool scrolling animations.
Stortford Interiors
This commercial interior contractor displays its services through an elegant design. Stortford Interiors offers a wide range of refurbishment solutions.
Boekhoudprogramma Jortt
With graphics, videos, and testimonials, this website offers their accounting services for businesses.
Exotic Gardens
Morgan Hill is a landscape design agency in Silicon Valley, California. The goal of the website is to combine practicality with a high-end layout.
Dina Deykun – Photographer
This European photographer showcases their great pictures with a minimalist design.
Interamark
If you want your potential clients to find your services quickly, choose a design like this one. Intermark has small headers and icons on their upper dropdown menus.
Your Hearing Consultants
Your Hearing Consultants are ear health professionals in the United Kingdom. Their site has a neat and fun design.
Intuitive IT
This IT Service business is located in Melbourne and offers its services in Australia.
NunoPS
A service page can be a great option for small business websites or freelancers. Here, a web developer, programming tutor, and athlete presents his portfolio.
Armor
Testimonials, organized content, and graphics make a great formula for local businesses to use on their sites. Armor uses these tools to market their cybersecurity services.
Acclaro
Check out how this translation company presents its services neatly and stylishly.
.PEAM
.PEAM is an interior design agency based in Germany.
Always Fresh
Always Fresh provides website building services with full search engine optimization, CMS, and user training.
Owings Brothers Contracting
Do you have a remodeling business? Check out this elegant portfolio.
AKT Oil Services
AKT Oil is part of the Iraqi oil and gas industry. They offer construction, engineering, commissioning, and procurement services..
JB10X
This consulting company helps you build your digital identity.
Studio Debuut
With Studio Debuut, companies can find their identity and translate it into their brands.
WardWilliams Creative
WardWilliams provides accounting services to a specific target audience: people in the creative industries.
YMC – Swiss Tech Consultancy
This consultancy agency encourages clients to learn new things while being open to innovation.
Lotus Family Dental
Check out this modern business website. It does a great job at showcasing services with an exceptional presentation.
Wordminds
On Wordmind's website, you'll find plenty of well-organized information.
C2D
C2D was founded in Montreal in 2011. They specialize in international development.
Jet Project
Fly anytime with these jet services available 24/7. You'll see their customized offerings on their website.
Jetty
Jetty's website reflects the feel of its brand right on the main page. By using strong colors, graphics, and calls to action, they convey trust. Check this site out and learn about their insurance services.
QArea
QArea helps mid-sized businesses take their software to the next level. They offer high-end development services through their website.
Ven Agency
Ven Agency offers comprehensive services to grow your business in the digital era. They identify your company's challenges and how to implement solutions.
Travod
If you want to enter a new market, Travod is there to help. They assist over 600 brands in translating their content into 100 languages.
Ochi Design
Based in the city of Lviv, Ukraine, Ochi is a design agency. They work with international businesses and have a stunning website.
Bring on Monday
This accounting company provides services for small business owners. Its service business website is clean and on point.
Berkeley Communications
This marketing agency is based in the UK and specializes in public relations and communication. On their website, you'll see a slideshow of pictures representing the stories they tell. All the essential information is in the right-hand corner.
Navigo Shipping Consulting
Here is a shipping company with a stunning web design. Testimonials, impressive stock images, and a video heading are some of its features.
Lucis Consulting
Lucis Consulting presents an ideal platform for a one-man consulting agency. They are based in Suffolk. Their website boasts sober colors and interesting shade transitions.
Kool It Services Ltd.
This is an air conditioning company active in Manchester and throughout the North West. Kool It has been operating for a long time, providing refrigeration, conditioning, ventilation, and heating.
Lieutenant Guillaume
Lieutenant Guillaume specializes in taxes and automation through AI.
Bagen Law
A clean, minimalist design is the best way to highlight services. Bagen Law, for example, offers legal services for people injured in car accidents.
Chillybin WordPress Web Design
Chillybin is a great option for those who want to create a WordPress website.
Ktenas Law
This criminal law firm has a stylish website where visitors can find information easily.
Lexar Homes
Lexar Homes advertises their services on a clean home page with local business listings. They build sustainable homes for a healthy lifestyle and efficient use of energy. Check out their headline and products displayed on a white background. This way, visitors quickly understand what the website offers.
Kroton
Offering tax advice for freelancers and companies, Kroton has a realistic view of clients' finances. The team is ready to organize your books and give you tax advice.
JM Wilson Solicitors
It's not a coincidence that JM Wilson Solicitors has won so many awards. Based in the UK, they are experts in immigration law. Theirs is one of the most tasteful business websites with yellow, white, and blue as the main colors.
Syl
Syl has a vibrant website with scrolling animations and a nice video background. Check out their platform if you need inspiration.
Bavetting Services
With a corporate feel, Bavetting's service business website has lots of content. The animations and stock images give it a nice touch.
H3P
Here is a great example of how to reflect a brand's identity. H3P uses cool animations and illustrations to promote its auditing services page.
Galo Delgado
Galo Delgado is a photo studio and showcases its portfolio on the front page. By using parallax scrolling, they provide more depth to their design. See how the foreground and background images scroll at different speeds, giving the site a premium feel.
Yellow Dog
This is another marketing agency that knows how to promote its services online. The site stands out for its use of the color yellow. Also, adding a staff picture is a valuable way to convey trust.
Unigesco
Based in Montreal, Unigesco is a great example of a client-driven contractor company. They do a great job with online presence and brand image.
Controva
If you provide high-end services, you want a website that matches your qualifications. With an elegant feel and smooth animations, Controva presents its accounting services.
Navigate
When simplicity and style are combined, you get a website like this. Navigate's team commits to innovation. Notice how the pictures' colors contrast with the white background.
Architecture In Formation
Their website is rather simple, but they present their products in style. The first thing visitors see is a slideshow with impressive pictures of their portfolios. This New York City architecture firm knows how to attract more customers through its website.
Milford Global
This agency helps create urban landscapes in Scandinavia. Their target audience comprises contractors, architects, engineers, and gardeners.
QAccounting
Check out the mouse effects and animations on this service business website. This is one of the leading accounting firms in the UK.
GM Construction
This Scotland-based contractor specializes in timber and has been around since 1989.
FAQ on service business websites
What is the purpose of a service business website?
Well, a service business website is super important because it serves as your online presence, and it's where potential clients can find and learn about your services.
It's like a digital business card, and it helps you promote your brand, build credibility, and establish trust with your customers. And, of course, a well-designed website can help you generate leads and drive sales!
What essential elements should be included in a service business website design?
Alright, so there are some key things you'll want to include in your website design. First off, you need a clear and easy-to-use navigation menu, so people can find their way around your site.
Next, make sure to include detailed information about your services, along with some high-quality images. Don't forget a strong call-to-action (CTA) to prompt visitors to take the next step. And, of course, you'll want a contact form or other ways for potential clients to get in touch, such as calling you on your VoIP number.
How can I make my service business website user-friendly?
To make your website user-friendly, think about simplicity and ease of use. Your site should be easy to navigate, with a clean layout and straightforward menus.
Avoid clutter and keep the number of clicks to a minimum. Make sure your website is mobile-responsive, so it looks good and functions well on all devices. And finally, use readable fonts and colors that are easy on the eyes.
How important is mobile responsiveness for my website?
Oh, it's super important! These days, more and more people are browsing the web on their phones and tablets, so you want to make sure your website looks great and functions smoothly on all devices.
A mobile-responsive website adjusts automatically to fit the screen size, ensuring a positive user experience. Plus, search engines like Google give higher rankings to mobile-friendly websites, which can help you attract more visitors.
What is the role of website aesthetics in attracting customers?
The look and feel of your website play a crucial role in attracting customers.
A visually appealing site with professional design and high-quality images can create a positive first impression and make your brand look more trustworthy.
On the other hand, a poorly designed website can turn potential clients away. So, invest some time and effort in creating an attractive, modern, and professional website that reflects your brand and services.
How can I optimize my website for search engines (SEO)?
Optimizing your website for search engines is a must if you want to attract more visitors. Start by researching relevant keywords and including them in your website content, headings, and meta tags. Make sure your website is mobile-friendly and has a fast loading speed.
Create high-quality, engaging content that's useful to your target audience. And don't forget to build a network of quality backlinks to your site, which can help improve your search engine rankings.
How can I effectively showcase my services on my website?
To effectively showcase your services, it's important to create a dedicated section on your website where you can provide detailed information about each service.
Use engaging headlines, clear descriptions, and high-quality images or videos to showcase what you offer. Include the benefits and features of your services, and try to address any potential concerns or questions your customers might have. This will help establish trust and make it easier for potential clients to choose your services.
How do I incorporate customer reviews and testimonials into my website design?
Including customer reviews and testimonials on your website is a great way to build trust and credibility. You can create a separate section or page for testimonials or sprinkle them throughout your website.
Make sure to display the names and, if possible, photos of the customers who provided the testimonials. Including a mix of written reviews and video testimonials can make the section more engaging and convincing. Plus, there are numerous top-tier video testimonial software tools available that can streamline the entire process, from collecting to showcasing your customer testimonials.
Final Thoughts on the Best Service Website Examples
A successful service business website, such as a Magento Online Store, encompasses three key elements: quality information, good web design, and good user experience. In all the examples listed here, you can see a combination of style, branding, usability, and innovation.
By promptly developing a visually striking services page tailored to your Magento Online Store or business, you can expedite the realization of positive results.
If you liked this article about service business websites, you should also check out this one on how to run a service business.
We also wrote about similar topics like how to market a service business, how to scale a service business, how to start a tree service business, how to sell a service business, service business vs product business, service business with low startup costs, and services landing page designs.