To set up a product business you need to find a unique product and unique marketing opportunities. But setting up a service business can be easy; in essence, if you want to start a service business, you need to let others know on social media that you are offering your skills.
But service businesses are more difficult to scale than product businesses. The difference is that, in a service business, you need to maintain good relationships with your clients. That gets complicated when you take on more clients. It involves much more than only selling something.
Here are some tips on how to scale a service business, starting by explaining in more detail how to start one.
Define Your Services
When you start a business you need to think small first. That is true even if you have ambitions to start a large business. Define your work parameters. What is work and what isn't? Define what your niche is. In other words, how do you specialize your skills to serve a specific audience?
To be successful, you need to focus your efforts. Once you have defined your focus, you need to stick to it.
When you are in this phase, you need to consider the following:
What services do you offer and what services do you not offer?
Who are your target clients and who are not?
How do you plan to help your clients?
What elements do your services include?
Develop a Strategy
Define your short-term goals. What do you want to achieve in three months, six months, or a year? Then think of how to achieve these goals. You can think of the following resources:
Cash flow
Equipment
Inventory
Operating costs
People
But keep in mind that the most important thing is providing services. Your service needs to be something that people need or want.
Define your goals. You need metrics to assess your progress. Adjusting your goals along the way does not mean defeat. Instead, sit down and analyze why you are unable to achieve the goals that you originally set. It could be that you lack the resources or that the marketing is not as efficient as you thought. It could be time to aim your marketing efforts, such as reliable link building.
Select Employees
A service-based business needs to hire people as it takes on bigger jobs. The quality of the employees determines the success of the services business. Employees that want to do the bare minimum do not contribute to the growth of the business. The quality of the work will be low and you will have a hard time getting new clients.
Take your time to interview and analyze your applicants in detail. Qualifications in themselves are no guarantee of a good match. To cut your risk, you can introduce probation periods. That gives you time to evaluate their work and gives them time to get used to your standards and approach.
Create Momentum and Leave a Great First Impression
Many business owners have found the benefits of creating momentum right from the start. That also leaves a good impression on your first clients. Making good impressions is the main goal in the service business.
You can create your own onboarding process by asking these questions:
How can you make an unforgettable and unique impression?
How can you do that in your first interaction?
How can you make your first meeting an overwhelming success?
How can you make that impression and convince your client that they made the right choice in contracting you for the job?
How can you exceed your client's expectations and initial needs?
Use a 60/20/20 Time Management Approach
You could spend your time attacking any task as it comes before you. Or, you can manage your time using the 60/20/20 method. With this method, you arrange it in such a way that you use 60% of your time to proactively focus on value-adding tasks. Then you can use 20% for planning and 20% for developing business strategies.
Planning consists of scheduling time and assigning resources to keep the business running. Developing strategies relates to the process of making your business model better. Improving the customer experience is another important element.
Focus Your Marketing Efforts
In scaling a business, a business owner needs to analyze the marketing strategy. Every aspect is important. Consider email campaigns, business websites, and social media outlets. You might lose customers because you are not convincing them on one of the platforms or because not all your platforms are up to date. Build an omnichannel outreach approach where people can buy, interact, and leave testimonials.
Keep your channels up to date with interesting and relevant stories. In the end, you want people to come back and build a relationship with them. Give them something they can use, such as tips, tricks, or behind-the-scenes stories.
Try to give more than you receive. Share knowledge and insights. When customers need something, they will turn to a brand that they know and trust. That should be your brand.
Your success story starts with a scheduling app to streamline your calendar
Staying organized has never been easier.
You can now manage your business and grow your brand with a single, powerful software that keeps all of your appointments in line, your clients organized and your business booming.
Trafft is perfect for business owners who need to streamline their booking experience both for their staff and their clients.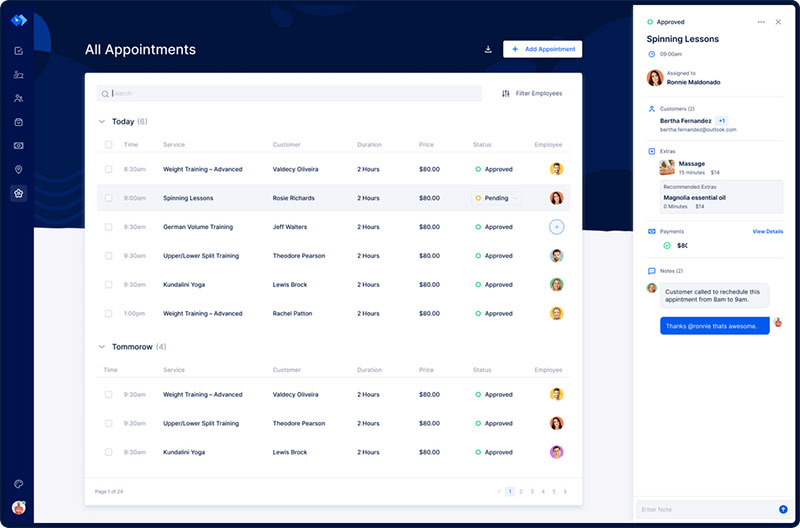 Trafft handles everything for you, even sending automated email or SMS reminders to your clients. No-shows? Not anymore!
The Trafft booking software adapts to different industries for a blissful online booking experience and employee management.
Want to know more? Check out Trafft's awesome features to see what you are missing.
Turn Your Services into Products
Your service should focus on the challenges and needs of your clients. Avoid thinking in hours or work, but rather in solutions. If you know what a typical solution will cost, you can start selling that. If you sell it as a complete package you can ask for payment up front and systemize the process. That is part of the answer to how to scale a service business.
You can market the solution as a product. It wouldn't be something tangible in this case, but rather a complete deal. It will be easier for the client to get an idea of what he is getting: the solution to his problem.
Automate Your Client's Journey
Consider the needs of your clients with care. This is often forgotten. You can automate many of the tasks of your service business. That takes planning and the right systems. You can set up automated communication systems and use platforms like Facebook to grow your entire business. It may sound impersonal at first, but in the end it leads to a better customer experience.
Human capital is the most important investment in the service business. It is the people that provide the service. Streamlining processes is important to make your people more effective. It gives you a clearer picture of when you need to hire more people. Streamlining includes the following:
Client onboarding plan
A team that knows how to execute processes and document them
Standard operating procedures
Delegate and Build Stable Structures
An important factor in scaling a business is whether an organization can function without you. Many owners of service businesses struggle to leave things in the hands of their employees. Make an effort to trust your staff. If you don't, they will never be able to do anything without you. You will stand in the way of your own success.
One solution is to look for someone that you consider as capable as yourself. It is much better to put good systems in place and procedures that your staff can fall back on. That allows them to self-manage and be productive even when you're not there.
Build a Recurring Revenue Model
A time-consuming part of a service-based business is building relationships with new clients. Therefore, a business model that focuses on single projects is dangerous. When one project ends, it will take time and money to find a new one.
It is smart to make special efforts to keep customers coming back to you. That cuts churn rates, increases project value, and lowers acquisition costs.
A good example to think about is Amazon. They have spent a lot of time on Prime Subscriptions because it ensures that people will come back again and again.
Pursue Partnerships
How do you scale a service business in a more effective way? Do it through groups rather than individuals. You can offer discount rates to large organizations, where all its clients and partners can benefit.
You get less money per client, but you're ensuring a steady flow of customers. As you scale, you can get more positive testimonials, which leads to more regular clients.
Maintain High-Quality Service
Nowadays, a services business must focus on high-quality service. You still need to offer skills, knowledge, and results, but a good customer experience will give you an edge over your competition. It will result in good mouth-to-mouth advertising, it builds trust, and it keeps customers coming back to you.
Growth won't be sustainable if you don't focus on good customer service. If you first focus on customer attention, growth will follow.
Measure Your Growth
Measure the effectiveness of everything in your service-based business. It will teach you where your company can grow. It will also show that every element in your organization is important. Each task is important, even the number of calls that your phone operators can handle in an hour. On the other hand, the numbers can tell you when it's time to expand.
These are some things you should pay attention to:
Your time and the time of your employees
KPIs and other important metrics
Your finances
Your cash flow. How much money is coming in, and where is it coming from? This is the most important thing to watch.
Know What Your Brand Stands For
As your business grows, your skills grow, and so should your hourly rate. You have a responsibility to your industry to charge the appropriate rate.
Every year, evaluate your growth and determine how the price of your product should increase. Check the prices of your competition, then average them, and see how you compare to similar businesses.
You need to consider that you might lose some customers due to the price increase. But increasing your price means that you need fewer customers. Try to remove sentiment from the equation. Analyze and decide. Getting emotional is easy, but it could hold you back from achieving success.
Conclusions on How to Scale a Service Business
Service providers always look for new clients and other opportunities for growth. If you work on a freelance basis, you may find that you are at a point where you can expand.
Growing means hiring employees, gaining new clients, creating new products, and making new opportunities. Growth can also lead to more money.
A successful business should aim at growing, even if the economy is less than favorable. By scaling you can help more people and increase turnover. All large companies have humble beginnings. Scaling takes time and concerted effort to get all the pieces in the right place. Diligence will result in sustainable growth. Hopefully, this article has helped you understand how to scale a service business.
If you liked this article on how to scale a service business, you should also check out this one with service business websites.
We also wrote about similar topics like how to market a service business, how to run a service business, how to sell a service business, service business vs product business, service business with low startup costs, and services landing page designs.