Looking for barbershop design ideas?
Oh, we have some really nice ones here.
The idea of the contemporary barbershop has experienced a well-deserved revival in recent years. Both trendsetters and fans of the classics have been getting their hands on the barbershop's perfect mix of functionality and old-fashioned luxury.
The industry is experiencing a rebirth of the idea for a place where a present-day gentleman can clean their face up and indulge in a bit of pampering. While the vintage staff with a helix of red, white, and blue stripes and other traditional elements may remain the same, a new, modern generation of barbershops is surfacing.
We have compiled a list of barbershop design ideas, including fancy, luxury, modern, retro, and vintage decoration styles.
Select Your Furnishing Style
The look of your barbershop is crucial for attracting clients. We encourage you to consider carefully what decor suits and describes your business best.
There is an infinite number of ideas for a barbershop's interior decoration design. The readily recognizable classics include chrome chairs, checkerboard floor, and the obvious red, white, and blue diagonally striped pole.
You can aim to get rid of all unnecessary details and create a neat, minimalistic decor. At the same time, focus on ensuring that both the customers and the staff feel comfortable.
Rival Barbershop
This is a simple yet modern layout with a touch of luxury. A separate lounge area with sharp-cornered furniture gives an artistic and empowering vibe.
Barbershop interior design project in San Pedro (near Marbella, Spain)
This theme was inspired by luxury cars. Concrete wall finishing, work desks and barber stations made of aged wood, and sofas and chairs in dark brown leather give the location a masculine vibe.
Docard Barbershop Renovation
No interference with the existing building architecture may be a weakness or an idea for a great design. This fully exposed architecture style combined with a red-brick wall and shutter-like furnishing elements provides a kind of warmth and comfort for your guests.
Doc's Barbershop
This is an informal, lounge-style design. It creates a relaxed ambiance in which guys can chill, grab a pick-me-up, and get a new haircut.
The layout has a vintage style with a bar in the central location where you can hang out and chill with your mates.
LOFT Barbershop
Limited space should not prevent you from creating something special. This simple layout gives a cabin or coffee shop vibe that makes you feel comfortable in its simplicity. It makes the saying that "less is more" come to life. If you aim to make your customers feel warm and welcome, this is the style you want.
Mành Mành salon
This is a perfect example of a nicely done renovation job. It had previously been a deteriorated hair salon in a busy part of the Van Quan area. The designers decided to reuse available materials like bricks, wood, glass, door, table, and chairs and converted them into a crisp-looking, nature-friendly place.
A.S. Barbershop
This barbershop in Sao Paulo sends out a minimalistic message from the first look you take at it. Straight lines and neutral colors of the layout design highlight the shop's most significant feature: the inclined roof.
FÍgaro & Bartolo Barbershop
The layout of the colors in this design creates an idea of an inviting space with lots of room to breathe. Although the shop is not outstandingly spacious, the way the dark and light colors work together makes the place look more open and adds depth. The sitting lounge-style area invites the guests to sit and relax while they await their appointment.
Flamingo
Flamingo barbershop's design is very creative and more artistic. Contemporary art is displayed across all walls. This creates the atmosphere of freedom of expression – whether through art or your hairstyle and look. The restaurant-style layout also includes the front desk and a seating area for guests.
VIP Hair Club
This place provides health and beauty services to gentlemen. Their second branch is located at Enghelab Sports Complex. It was converted into a barbershop from a semi-ruined building adjoining tennis courts and is located on the other side of green spaces.
Ferrando Barbershop
If you are looking for a fancy man cave look and feel, you've found it. The black leather and dark wood combo make it both sophisticated and homey at the same time. It creates a perfect ambiance for guys to lounge, have a beer, and get a cut.
Voice of Coffee
This is a coffee shop just off a busy district in Kobe used to be a barbershop. Three big letters "A" above the entrance is a reminder of what the shop had previously been used for, thus keeping the history of the place alive.  The front of the shop used to extend all the way to the street but has now been pushed back and opened up as a glass facade.
Barbershop Les Dada East, Paris
Out of the ordinary, this design includes a honeycomb-style ceiling and angular geometric front desk and shelving. The colors are kept inside of the white and beige palette with just a pop of black to make the place look light but balanced.
Walls Barbershop
This barbershop has an attractively old-fashioned and inspiring design. The sitting area is divided in the middle of the room by wood-framed mirrors. One wall is all black with remarkable art in the center. Wood panel lining is plain and simple, yet stylish. A classic.
Barberia Royal
The designers of this barbershop tried to include bits and pieces of a previous barbershop that was once underway but was never finished. The design incorporates seemingly random and ill-matched moldings and wooden elements and gives them a modern look while it still alludes to symbols of European royalty. A lot of mirrors and black and gold have been used to achieve the effect.
Uppercut Barbershop
The creators of this design did everything with one purpose in mind – portray masculinity. The logo, baseball bats on the wall, rough and ready wall texture, black chairs, and simple wooden shelves and front desk create a masculine and chilled atmosphere.
Barber Shop
This is a very unique project with unusual shapes. The idea behind the design is a hair strand and what insights it can provide and how it can influence the layout and design of the interior of a barbershop.
Final Thoughts on these Barbershop Design Ideas
Present-day barbershop designs vary greatly. Some try to mix rock and roll vibes with classic Edwardian style and others keep it as individual as possible. Many utilize intriguing objects and gothic-like art, while others keep their shop austere and spartan. Some opt for a classic design, others go for a contemporary or even futuristic look. One this is sure – there is a suitable barbershop for every gentleman out there.
The above barbershop interior design ideas will give you lots of reference points that can serve as inspiration for your own shop. Use them to create your own vision of the perfect barbershop.
Whatever layout and design you decide to choose, remember to maintain your barbershop in a top state of repair. Your barbershop environment has a direct impact on the client experience, and when they love both the service and the atmosphere they will come back.
Get more bookings with the right tool for the job
Staying organized has never been easier.
You can now manage your business and grow your brand with a single, powerful software that keeps all of your appointments in line, your clients organized and your business booming.
Trafft is the perfect barbershop software for business owners who need to streamline their booking experience both for their staff and their clients.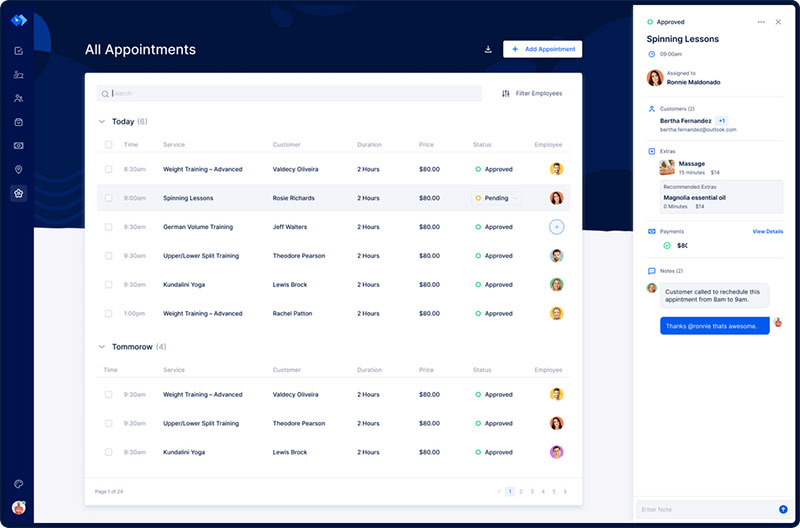 Trafft handles everything for you, even sending automated email or SMS reminders to your clients. No-shows? Not anymore!
The Trafft booking software adapts to different industries for a blissful online booking experience and employee management.
Want to know more? Check out Trafft's awesome features to see what you are missing.
If you enjoyed reading this article on barbershop design ideas, you should also check out this article about hair salon statistics.
We also wrote articles on similar topics, like hair salon business cards, hairdressing consultation tips, hair salon logo examples, famous hair stylists to follow online, hair salon prices list, hair stylist apps, and how to recruit hair stylists for your salon.