In startups and small businesses, owners often have to wear multiple hats all at once – communicator, financial genius, problem solver – the list of jobs can get overwhelming. Finding ways to navigate this workload, increase organization and productivity, and make day-to-day work run smoothly doesn't have to be hard. Thankfully, there are many great apps for small business owners out there that can share the load.
Many platforms, services, and technologies have been developed to help businesses of all sizes. The sheer amount of choice out there can make it difficult to find exactly the right app for you, however. Adopting the wrong app can waste time and money, which is especially valuable to new businesses.
To try and make the choice easier, in this article, we compiled a list of the 36 best apps for small business owners. Each of these is designed with specific jobs in mind that will help take the load off and make life easier and more efficient.
37 Best Apps for Small Business Owners
Appointment Booking Tools
Our best pick: Trafft
Staying organized has never been easier.
You can now manage your business and grow your brand with a single, powerful software that keeps all of your appointments in line, your clients organized and your business booming.
Trafft is one of the small business apps for owners who need to streamline their booking experience both for their staff and their clients.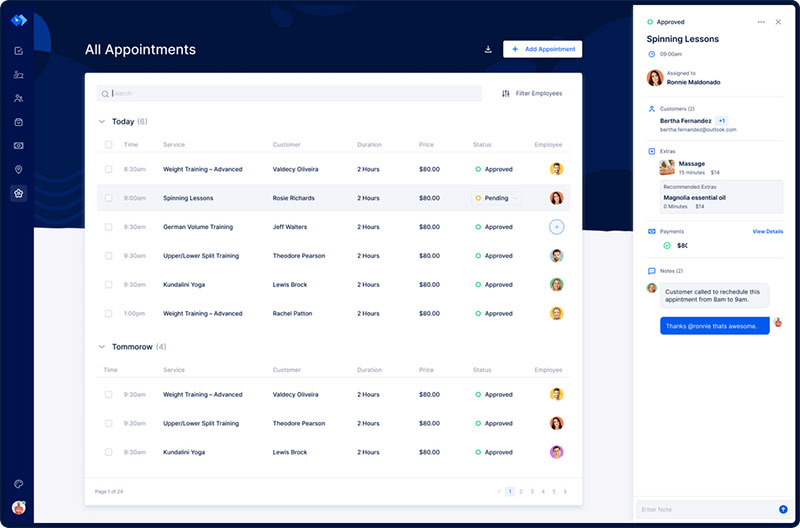 Trafft handles everything for you, even sending automated email or SMS reminders to your clients. No-shows? Not anymore!
The Trafft booking software adapts to different industries for a blissful online booking experience and employee management.
Want to know more? Check out Trafft's awesome features to see what you are missing.
1) Amelia
This trusted and widely-used application is great for those already based on a WordPress-powered site. It transforms your WordPress page into a platform that can take bookings, payments, appointments, and more.
With its ability to integrate directly with Google Calendar, Zoom, send automatic messages to clients, and much more, Amelia is truly a transformative and vital small business tool.
2)   Square Appointments
This appointment booking app is great for those already using the service, Square. It simply adds on to the existing interface.
The big draw of Square Appointments is its ability to take existing clients and allow them to make appointments directly through the Square platform. Clients can request an appointment through the booking page, which the user then approves. The appointment is then automatically added.
3) ScheduleOnce
This appointment booking software is designed to handle multiple appointments at once. For example, if you sell three appointments to a customer, they will need to select three dates. ScheduleOnce is built to handle this.
This scheduling app has all the booking tools and services that you will find in any booking software, but the ability to deal with multiple bookings in one session really sets this app apart from the rest.
Video Conferencing Tools
1)   Join.me
Among the multitudes of options out there for video conferencing solutions, Join.me is a solid free option. The free subscription allows up to 10 participants in any one call and can support up to 5 video feeds. While it is not the most reliable or robust when compared to some other small business apps, the free version of Join.me is one of the best available.
2)   Zoom
Having become synonymous with remote working during the pandemic, Zoom has experienced massive growth in its userbase over the past few months.
At its height in March 2020, Zoom downloads hit a reported 2.13 million per day. The reason for its success is its robust conferencing platform and a great suite of teamwork features. This includes screen sharing, a simple video-meeting interface, and easy file sharing. Truly one of the best small business apps available.
3)   GoToMeeting
Another solid option for video conferencing solutions is GoToMeeting. Users can host an unlimited number of HD video chats and make use of this small business app's many extra features. These include screen sharing, Office 365 and Google Calendar integration, dial-in connections, and much more.
Project Management Software
1)   Asana
Asana has a fantastic minimalistic interface that makes project management a breeze for any small business owner.
This intuitive project management software makes planning and managing multiple large projects at once simple. Make the most of its teamwork tools too, with built-in collaborative functions.
2)   Basecamp
This is probably the most well-known of these best small business apps, and for good reason. Basecamp offers a brilliantly streamlined and intuitive project management interface, paired with a multitude of functions. Create and manage entire workflows in the software, making sure the entire team is on track and up to date.
Basecamp uses categories to organize projects rather than the to-do lists used by most other pieces of software in this field. This can help make work much more collaborative, and along with its great chat room and file sharing features, Basecamp is a great choice for those looking for enhanced remote collaborative working.
3)   Trello
This great small business app is simple to use but powerful once implemented. Track your team's workflow easily and assign a new task when needed. Edit everything easier to keep everyone up-to-date and in the loop. Whenever a change happens, every team member is informed through an automated messaging system.
Time Management Tools
1)   RescueTime
According to this software, a mere 10% of people feel that they are in control of their own time during the working day. RescueTime aims to help solve this by providing a fantastic automated time-tracking solution. It monitors the computer activity of the user and compiles reports on where time is being mismanaged and where time savings can be made.
With RescueTime, you can compare your most productive days with your least productive, and plan how to improve your time management.
2)   Focus Booster
The Pomodoro Technique is popular among productivity enthusiasts and professionals alike. The idea is to organize work into blocks of 25 minutes, with breaks in between, to boost productivity.
This means that work gets done without having to engage in long stretches of work, which is often afflicted with procrastination anyway.
This small business app helps with this technique, keeping track of time, and making sure you stick to the technique.
3)   Toggl
Toggl is another great time-tracking option for anyone looking to intricately map the time they spend. With this small business app, you can track as many clients, projects, or hours as you like. The integrated tools add an extra layer of functionality as well. For example, the graphs, timesheets, and project syncing make the time-tracking data a useable resource quickly and effectively.
While it is free to use for up to five users, there is a Pro version for $5 per month. With this, users can make use of subprojects, add billable rates, and much more.
Productivity Tools

Jotform Apps is a feature-rich mobile app builder that requires no coding skills. use it to collect form submissions and keep track of your data with its form analytics features. Create a company portal to store internal documents and collaborate with your team on your forms. Increase productivity by embedding forms on your website and letting your users input all the data that you need. Access your forms from any device.
Use Jotform's many app integrations to help accelerate your workflow and connect with the apps you use in your daily life. Customize your app to fit your branding and get a head start using templates.
2)   Automate.io
Their tagline says it all: "Automate like a Fortune 500". Automate.io is a great solution for those businesses that are looking to integrate cloud services into one place. It allows for the automation of sales, marketing, and many other business processes. They claim to be able to save users up to 40+ hours per week.
Requiring no IT support, the simple interface means users can navigate Automate.io easily, and make use of its great suite of productivity features.
3)   Podio
This great collaborative tool is one of the most customizable options here, and due to this, it is well-suited to a vast array of businesses in many different industries. It has some great features that make teamwork and collaboration easy, including workspaces, file sharing, calendars, and much more.
The best aspects of Podio are down to its great customization options, allowing users to optimize it to whatever work they are doing.
4)   Proofhub
This brilliant project management and productivity tool is simple to use and great for small businesses especially. It condenses a multitude of productivity tools down into a single streamlined, and easy-to-use interface.
This fabulously minimal interface may seem light, but it has a host of features that make it super-functional. For example, chat support, Gantt charts, Kanban support, custom reports, files, notes, timesheets, and much more.
This instant documentation tool saves significant time developing workflows and training your team. It's both a browser extension and desktop application that automatically turns any process into a step-by-step guide. Rather than recording a video, hosting a workshop, or manually listing each step you take, Scribe captures your process and creates an easily linked or embedded doc.
Quickly hand off a project by adding a Scribe to your CMS or knowledge base. Provide your teams with the information they need to succeed, freeing you up to focus on your business' bottom line.
HR Management Tools
1)   Zoho Recruit
Small businesses that don't often have job openings will find Zoho Recruit useful. It allows businesses to use a recruiter and make and track up to five job positions all at once. Customize everything about the job positions, making it even easier to recruit the perfect candidate. You can create easy email templates to send to recruits once you select the right ones, too.
2)   Gusto
Gusto offers a more rounded approach to HR management. It allows users to manage payroll, compliance, and benefits and has tools to help businesses calculate taxes, track sick days, vacation time, and much more.
To access all that Gusto has to offer it requires a paid subscription, but this includes a free mobile app.
3)   Deputy
This great HR management tool makes tracking candidates easy. It is a cloud-based HR solution that is built for a wide range of business types of all sizes. Schedule shifts, make announcements, set and manage tasks, and more with Deputy.
Marketing and Sales Tools
1)   Mailchimp
This industry-leading software already has legions of loyal users. Mailchimp excels in email marketing, making the whole process a breeze. It is fully customizable and integrates simply and fluidly with most of the tools we have mentioned on this list.
It merges the modern techniques of digital marketing campaigns (automation, analytics, etc.) with a more traditional workflow. It uses a postcard service to send prospective clients and customers beautiful customized and personalized postcards. This extra touch of personality really makes this already powerful email marketing service stand out from the crowd.
2)   BuzzSumo
This software specializes in connecting well-known influencers with businesses, thereby setting up partnerships that can be profitable for all involved. This practice can help businesses that are otherwise having trouble finding their core demographic. The audience brought by influencers can help boost the customer base of a business. This can be invaluable to small businesses as they are just starting out.
BuzzSumo also allows users to see what has been trending, and when paired with its analytics tools, this is a powerful feature that any business could make great use of.
3)   SalesLoft
This brilliant software is designed to help businesses find more customers. With its fantastic tools, it makes researching demographics and zeroing in on potential new customers simple. SalesLoft has a built-in dialer, and email support that is specially built to increase the effectiveness of customer service interaction.
4)   Canva
Visuals are a vital part of the branding of any business. Canva is designed to make the creation of great visuals as easy as possible, even for those without any background in graphic design. With its user-friendly interface, Canva allows users to create unique logos, charts, graphs, shapes, and covers quickly and easily.
5) Placeit
Placeit is an excellent tool to use if you're looking for a platform where you can generate unique graphics for all of your branding-related creatives. You can create an eye-catching marketing arsenal with the +85,000 graphic libraries, video templates, music, and photo assets created by pros every day. Create everything in minutes – from logos and movies to your social media campaign. The main advantages of using this application include unlimited downloads, frequent updates, a stylish design, and ease of use.
Accounting Software
1)   Quickbooks
Quickbooks is one of the most popular accounting software for good reason. It is trusted and widely used by tens of thousands of companies and has many powerful tools that are vital for maintaining the financial health of businesses of any size.
Track sales and expenses, create and view financial statements, pay employees or contractors, track invoices, and much more. It also works with thousands of different bank accounts, including PayPal, credit cards, business accounts, and Square. Quickbooks has all these fantastic tools available in its great interface, and also provides integration with multiple platforms.
Access all of this anywhere, with platform support on iOS, Android, and more.
2)   Freshbooks
FreshBooks is a great option for small businesses and freelancers and provides an easy and customizable way of handling finances. Create invoices, track unpaid clients, set up recurring invoices, accept payments, and more. FreshBooks is a simple and powerful option for anyone but is particularly great for those who work while on the move. It is supported on multiple platforms, including PC, iOS, and Android.
3)   Wave
Wave has been created specifically to be accessible from anywhere, without neglecting the powerful suite of financial tools at its disposal. Create, send, and track invoices, scan receipts, and manage finances from anywhere, with unparalleled mobile support. The free email support service is a great bonus.
Most of these are free tools, however, a couple do require users to pay. For example, the ability to accept credit card payments, and to pay employees are paid features. These are ultimately necessary, but the free features are great for those just starting out.
4) Fyle
Fyle is an expense management platform built for businesses to easily handle expense tracking, corporate card reconciliations, approvals, and reimbursements. With the direct integration with Visa and Mastercard, Fyle will become the first expense management software to offer real-time reconciliations on cards you already have.
Fyle also has two-way, robust integrations with accounting software like Sage Intacct, NetSuite, QBO, and Xero, making it a complete package for SMBs.
CRM and ERP Tools
1)   Streak
Streak is a great and affordable customer relationship management tool that boasts an array of great features to make the managing of your business much easier. It allows users to manage contacts, projects, deals, and send and receive messages, all directly through the interface. Its message-organizing function alone is well-known for being superb.
Streak suits a huge range of businesses, small and large. It can be used to great effect when managing the hiring process, keeping track of investments and projects, and so much more. It is a good all-around solution.
2)   Spendgo
Customer loyalty is a vital element of all types of businesses. Spendgo offers tools to create customer loyalty, as well as create marketing strategies. Its tools include allowing users to create point-based rewards programs and other promotions that can help a business build up a loyal audience.
Integration with great POS and a variety of marketing platforms makes Spendgo a great solution. There are three different types of plans to choose from when signing up for Spendgo, all offering varying degrees of extra features.
Customer Support Tools
1)   Freshdesk
This multi-channel help-desk application is a big boost for customer service and support for any business. With combined email, chat, phone, and social media support features, and the automated services of chatbots, it covers all the bases.
Freshdesk offers overviews of customer interactions that can be an invaluable resource when analyzing the effectiveness of customer service touchpoints. Automation is second to none and really aids in navigating the many repetitive tasks that are involved with running a business.
2)   Zendesk
Beginning in 2007, Zendesk has built up a steady and loyal base of users. It features a strong array of UX features, with skill-based distribution and automated chatbots. This software solution is quick to set up and has a solid support network. It's a great option for any business.
Data visualization
Venngage Report Maker
Data visualization is essential for business reports, strategy, and planning. Venngage Report Maker is an online tool geared toward the creation of reports, plans, presentations, infographics, and more. It's intended for non-designers to make on-brand, professional-looking content by choosing from thousands of templates and using a simple online editor.
FAQs about apps for small business owners
1. What are the best mobile apps for managing finances and accounting for small businesses?
QuickBooks is one of the most well-liked software for small business accounting and financial management. With a mobile device, users may use the app to keep track of their spending, send invoices, and manage payments. Another well-liked tool is Xero, which has capabilities comparable to QuickBooks but a friendlier user experience. Another fantastic choice for entrepreneurs wanting to handle their finances is FreshBooks, which offers time tracking, project management, and invoicing capabilities in one convenient location.
2. Are there any productivity apps that can help small business owners manage their time more efficiently?
Small company owners can manage their time more effectively by using one of the many productivity applications available. With the popular task management tool Trello, users can organize their to-do lists by creating boards and cards. Another excellent program for project management and team communication is Asana, and RescueTime can be used to monitor and assess how much time is spent on different tasks throughout the day.
3. What are some of the most effective project management apps for small business owners?
For owners of small businesses, there are numerous additional efficient project management tools accessible in addition to Asana. While Basecamp is renowned for its simplicity and ease of use, Monday.com offers configurable themes and boards for a variety of tasks. With the use of a computer program, you can utilize the Internet to search for information about a specific topic.
4. Which apps are best for managing customer relationships and communication for small businesses?
For small enterprises, there are numerous apps available for managing client relations and communication. Businesses can manage transactions and tasks, keep track of client interactions, and generate custom reports using the free HubSpot CRM software. Salesforce is a well-liked alternative that provides a wealth of tools for managing sales, marketing, and customer service. Another excellent app for customer service is Zendesk, which provides tools like live chat, email management, and knowledge base building.
5. Can you recommend any inventory management apps for small businesses?
Users of the well-known inventory management program Square Point of Sale for small businesses can monitor stock levels and get alerts when supplies are running low. Another excellent choice is TradeGecko, which provides tools for managing orders, creating purchase orders, and tracking inventories in real-time. With capabilities like batch tracking, barcode scanning, and order fulfillment, Zoho Inventory is another option that should be taken into account.
6. What are the best apps for tracking expenses and receipts for small business owners?
Expensify is a well-known app for keeping track of expenses and receipts that makes it simple for users to scan receipts and track miles. The app also works with a lot of well-known accounting software packages. Shoeboxed is another wonderful alternative for organizing receipts, featuring capabilities such as OCR scanning and expense categorization. The last option is Wave, a free accounting tool with spending tracking capabilities that is a smart alternative for small enterprises on a budget.
7. Are there any social media management apps that are particularly useful for small businesses?
Hootsuite is a well-known program for managing social media accounts that lets users plan posts, check statistics, and keep tabs on mentions all in one location. Another fantastic choice is Buffer, which has a more user-friendly layout and comparable functions to Hootsuite. The well-known Instagram account management app Later comes with tools like post scheduling and hashtag research.
8. Which apps can help small business owners create and manage email marketing campaigns?
With tools like email templates, audience segmentation, and statistics, Mailchimp is a well-known app for developing and managing email marketing campaigns. Another excellent choice is Constant Contact, which provides capabilities for event marketing and social media integration in addition to email automation. A more sophisticated option is Campaign Monitor, which provides capabilities like tailored content and dynamic email campaigns.
9. What are the best invoicing and billing apps for small businesses?
Many programs are accessible for small organizations wishing to automate their billing and invoicing procedures. With features including time tracking, invoicing, and payment processing, FreshBooks is a well-liked option. Another excellent alternative is QuickBooks, which has functions like editable invoices, automated payment reminders, and recurring billing. With features like time tracking, invoice layouts, and online payments, Zoho Invoice is another option to take into account.
The Best Apps for Small Business Owners – One More Thing
Any kind of business can benefit from a certain amount of automation. From large to small, companies have to deal with huge loads of repetitive work, day in and day out. Luckily, as we have seen in the lists above, there are plenty of software solutions to help ease the burden of these tasks. You can also consider using product analytics tools to develop your products and have positive outcomes.
Many businesses find that once they've tried these tools, they could never go back! They all fulfill a distinct role, and many can even allow businesses to run most of their day-to-day functions all from one interface. This is thanks to the ever-increasing levels and sophistication of integration between different types of software. Small businesses, in particular, can stand to benefit hugely from automation. Time is scarce when starting a business, and often there are very few employees to actually do the work at the beginning – if any!
It's important to first consider exactly what help your business needs. Every software option we have mentioned here does something slightly different. Once you identify what the problem is that needs solving, this will help you to decide which of these best small business apps you should try out. We hope that our list of the 36 best apps for small business owners has helped to narrow down your decision!
If you enjoyed reading this article with the best small business apps, you should read these as well: