Documenting workout videos can be an arduous task, especially if you don't have the right equipment. You probably want to shoot the best film workout for your friends, family, partners, or clients. The perfect camcorder for YouTube makes an excellent fitness video.
So searching for the essential features and functionalities of the right camera should be thorough. Research each detail, and see if the specifications fit your needs and preferences.
This article investigates seven types of cameras indicating the specs and features popular on the market right now.
What is the Ideal Gym Camera Type for You?
When your purpose of purchasing a  camera is to film fitness and sports, capturing detailed scenes is crucial. Apart from that, choose the one with the latest features, to support your video-taking needs. You can choose from point and shoot camera or with a viewfinder. Here are the available camera options.
A DSLR

The Advantages
One of the most popular gym cameras used by professional photographers and videographers is the DSLR or Digital Single Lens Reflex. The reason why it catches people's attention is due to its larger image sensors. These result in outstanding image or video results despite low-light conditions.
A DSLR provides a variety of image variations, made possible through its interchangeable lenses, enabling photographers to readjust the camera from different angles.
If image or video quality is important to you this camera is a smart option. However, if you want to shoot sports films, sharper photos or videos might be required.
The Downside
DSLR is undoubtedly a promising camera type. However, the recording time is shorter— about a half-hour. So, if you plan to leave the camera while it is rolling to shoot basketball sports, you can do that for only 30 minutes or so.
The time frame is one of the essential factors when shooting fitness films. However, if time is not a vital factor, you can choose the DSLR camera type for shooting professional videos.
An Action Camera

The Advantages
Action cameras have recently become popular hitting the market fast.  It is specifically designed for use in taking action videos, including hiking or trekking in the mountains, diving to the deepest sea, skateboarding, or working out.
You can also attach the camera to your clothes or cap while hitting the slopes, surfing, or diving. It can capture every moment while giving excellent, clear pictures from different angles.
Most action cameras are compact and portable. They are small,  easy to use, and waterproof.
The video features include electronic image stabilization (EIS), high-definition videos, slow-motion, and burst mode. While enjoying your sport, you can keep the camera rolling for over one hour.
The Downside
If you are filming more professional videos, the quality of the action camera might not be adequate. A DSLR will allow you to adjust the lenses and image focus, so could be preferable. Nonetheless, action cameras are available that provide high-resolution videos.
Fitness and Sports Camera Best Options
DSLR Type
Panasonic Lumix GH4
This DSLR gym camera looks luxurious, and the quality is magnificent. However, the complete package is bulky. It has excellent mirrorless 4K quality and is considered one of the best cameras for video. The films and photography will appear extremely clear. Photographers can zoom in the camera with high-quality lenses without compromising the quality
Its features include the most detailed video quality and very fast autofocus. The price is good, considering its high-quality specifications.
Canon PowerShot G7 X Mark II
This DSLR is perfect for workout and exercise videos. It has a 3-inch tilting widescreen, autofocus system, 20.1 megapixels APS-C sensor, full HD videos capture, and wide ISO ranges—enabling low-light footage.
According to most camera buyers, Nikon 3300 is an excellent choice, because of its impressive autofocusing system, well-designed shape, and stability. This camera is lightweight and portable for gym or fitness centers.
Canon EOS Rebel Series
This gym camera is ideal for photography beginners. Its price and specifications make it a good choice for starting a photography and videography career. The budget is around $600 for the T5i model and you can buy a second-hand model for further savings.
It has modern features, such as the touchscreen LCD for control. It comes with a variable angle screen, enabling you to flip the viewfinder.
Action Camera
Go Pro Hero 8 Black
This model is perfect for stabilized action videography and photography. Four different lenses are available—the Narrow, Linear, Wide Angle, and SuperView. Pick the one that suits your preferences and needs. Its full HD function makes it an excellent choice for shooting videos.
This camera is suitable for biking, skiing, and running, and even with bumpy surfaces, you'll still get smooth video quality.
DJI Osmo action 4k camera
This camera is an excellent choice for workout and training session films, offering very smooth shots. Its overall features are sweatproof, waterproof, and rugged, so it's useful for diving, snowboarding, or wakeboarding.
DJI Osmo comes with a 12-megapixel sensor and 4k HDR videos and easily is easily converted into selfie mode with its dual-screen. The camera's quick switch button allows you to change the view.
The only disadvantage is that it is bulkier and larger than the GoPro Hero 8.
Campark V30 Native 4K Action Camera
The  Campark V30 has strong electronic picture stabilization It looks and feels compact and lightweight. For under $100, you'll have an action camera to film your sports and fitness adventures.
This model connects to WiFi and Bluetooth, allowing you to view your computer's photos and videos. With its 170-degree lens, the viewing angle is exceptionally high. Even in the 30-meter water deep, you can easily film with 4k shooting at 30fps and 16MP.
AKASO EK7000 4K Wi-Fi Sports Action Camera
This sports action camera enables you to adjust the angle to a narrow view, medium angle, standard angle, and super broad angle. Moreover, the video quality is HD, so you'll have smooth video and image in just a few clicks.
It is ideal for fitness videos, having an aspect ratio of 16:9. Furthermore, you can reduce the scale from 12MP to 4MP, and it automatically generates JPGs once you save them on your file.
Save more time by using Trafft to book your schedule.
You can now manage your business and grow your brand with a single, powerful software that keeps all of your appointments in line, your clients organized and your business booming.
Trafft is the perfect gym management software for business owners who need to streamline their booking experience both for their staff and their clients.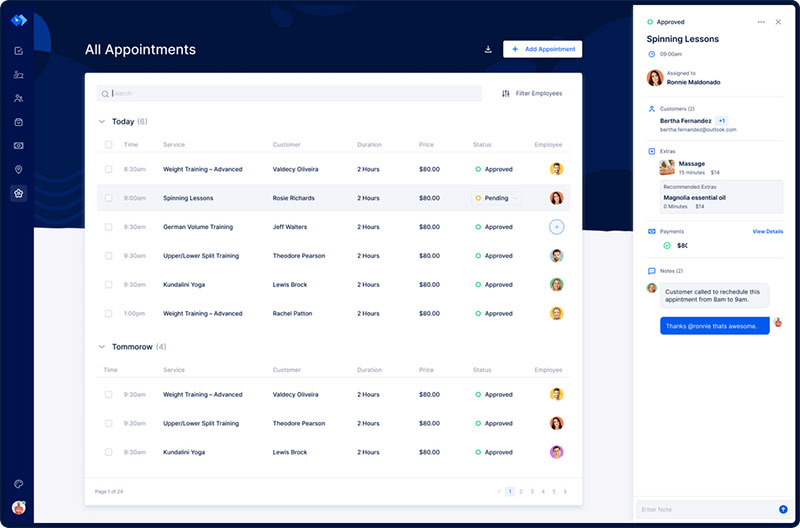 Trafft handles everything for you, even sending automated email or SMS reminders to your clients. No-shows? Not anymore!
The Trafft booking software adapts to different industries for a blissful online booking experience and employee management.
Want to know more? Check out Trafft's awesome features to see what you are missing.
FAQs about gym cameras
1. Why do gyms have cameras installed?
Cameras are installed in gyms for a variety of purposes, including keeping an eye on how the equipment is being used, assuring patron safety, thwarting theft, and identifying unlawful access to restricted areas. Cameras can be employed to monitor gym patrons to make sure they abide by the facility's rules and regulations.
2. Are gym cameras always on or do they have a specific recording schedule?
Depending on the policies and preferences of the gym, the cameras may be set to record continuously or only when a specific time is specified. While some gyms opt to record all the time, others could only do so at peak hours or during business hours.
3. Who has access to the footage recorded by gym cameras?
The footage captured by gym cameras is often only accessible to authorized persons, including management, security guards, and law enforcement officers. Unless there is a specific issue that needs to be reviewed, gym patrons normally do not have access to the tape.
4. Can gym cameras be used for surveillance outside the gym, such as in the parking lot or locker rooms?
Generally speaking, it is against the law to utilize gym cameras to monitor areas outside of the gym's boundaries, like parking lots or locker rooms. Cameras in the gym should only be used to keep an eye on activities there.
5. What kind of technology is used in gym cameras?
The majority of gym cameras combine digital and analog technology. Simple analog cameras to more advanced IP (Internet Protocol) cameras that can send video across a network are all possible. To improve their surveillance capabilities, several gyms also employ cutting-edge technologies like facial recognition and license plate identification.
6. How long is the footage recorded by gym cameras stored and who is responsible for maintaining it?
The policies of the gym and the regulations that apply in their jurisdiction may affect how long the gym footage is kept on file. Generally speaking, the footage is kept for a few weeks to a few months. The footage is normally kept up-to-date and safely archived under the control of the gym management.
7. Are there any laws regulating the use of gym cameras and how they can be used?
Indeed, there are legal restrictions on using gym cameras, and they differ depending on the jurisdiction. In general, gym cameras should only be used for legal reasons, such as guaranteeing safety and discouraging theft, and not to breach privacy laws or target particular groups.
8. Can gym cameras be used to monitor personal training sessions?
Personal training sessions shouldn't be observed by gym cameras since this would be an invasion of privacy. Trainers should be trusted to protect their clients' privacy because personal training sessions are often held in secluded parts of the gym.
9. How do gyms ensure the privacy of their clients while using cameras?
Gyms often only allow authorized staff members access to film in order to protect the privacy of their patrons. Companies might also put up notices warning users of the facility that they are being recorded and informing them of its privacy regulations. To further safeguard their clients' privacy, certain gyms may also offer private spaces for showering or changing.
10. Can gym cameras be disabled upon request by gym members who are uncomfortable with being filmed?
Depending on the gym's policies and the nature of the request, it may be possible for members who don't feel comfortable being videotaped to ask for the camera to be turned off. For instance, the gym might not be prepared to turn off the camera if it is being used for security purposes. The administration of the gym will ultimately decide whether or not to turn off a camera.
What We Learned So Far
People are becoming more health conscious, so they watch and follow fitness videos to help achieve wellness goals.  The right camera for your fitness videos should depict the classes as fun, high-energy, easy to watch, and enticing.
Take your time to choose the best camera for your needs and preferences. They are expensive and a big investment so you need to research and investigate.
Before purchasing, read the labels, descriptions, and product reviews. You can also ask for your friends' honest reviews about the product you are planning to buy.
You need to look for a camera producing high-resolution images and videos to make successful gym or fitness videos. It is best to buy this expensive equipment in a physical store rather than online, so you can personally check all the specifications.
Your chosen gym camera can contribute to your productivity and time efficiency. Having a high-quality camera can reduce the time in editing and production.
If you enjoyed reading this article about the best gym camera to use to record your sessions, you should read about the gym startup costs.
We also wrote about a few related subjects like health and fitness advertisements to inspire you, the digital fitness experience, how to increase gym membership, fitness survey questions, gym slogans, the average gym owner salary, and gym mission statement examples and tips.
Do you want an app for that? We also selected the best apps for personal trainers, and the best group fitness app examples. We also wrote an article about gym membership statistics you should know about.