Are you wondering why your gym gets lesser customers lately? Aside from the pandemic, you might also be neglecting to know about the latest trends. And that is the digital fitness experience. It is not enough that you operate face-to-face workout sessions.
Know the catch of the new wave of virtual fitness washing over the industry. Digital methods have been emerging in our lives day by day. Hence, it is not a surprise that fitness experiences have also coped with these ways.
You can choose from various online fitness businesses existing with just a few clicks even before the pandemic. Do not wait for your club to get outdated and invest in instigating an online platform for future fitness experience. Ultimately, it will result in your utmost members' satisfaction.
Learn how to bring a holistic and accessible wellness experience through mobile phones, laptops, and other fitness industry technology.
Why Invest in Digital Fitness Experience
As adulthood demands hectic schedules, your time to socialize, relax, pursue hobbies, and exercise takes the back seat. Giving time every week for workout sessions can be extremely difficult, even at minimal intervals.
Thanks to digital fitness innovation. A new thriving fitness world provides solutions for people trying to squeeze time for workouts as conveniently as possible. Due to the digital fitness experience, public perceptions have also transformed, making these innovations more in-demand than ever.
As the future fitness experience evolves, new opportunities for this industry also exist to expand and diversify. This way, it can reach more potential customers. Investing in digital fitness upgrades can rival or out-match traditional in-person fitness settings, making your business grow.
The Emergence of FitTech
As virtual programming's success emerges, innovations like FitTech have created a more convenient consumer-based health and fitness realm. Thus, you can now workout without spending too much time going to the gym for a workout session. Moreover, you can exercise virtually in the convenience of your home, workplace, or any place with your friends.
By merely turning on your gadgets, you can now access accurate and exclusive workout sessions. It provided fitness experience hours amidst the pandemic when gyms and studios shut down globally. With the "normalcy" element, fitness experiences can offer in-home solutions to the customers' and fitness owners' convenience.
However, digital fitness can only offer an enhanced and supplementary studio experience, not entirely replace it. The world still needs excellent fitness instructors to demonstrate videos for recorded classes and other third-party content. These things also help retain gym members.
It's evident how fitness professionals and instructors transcended digitized programs using exclusive video content, streaming services, and other personal-branded applications. Access to personalized health and fitness applications through smartphone convenience also attracts more customers.
Ultimately allowing them to see their workout metrics, video content, and gym membership information anytime.
Transcending to Digital Fitness Experience 
Aside from fitness equipment adjustments that might be costly, you also need to adopt and train your gym instructors. They also need to adapt to the changes in the blend of in-club and remote fitness experiences.
However, rest assured that these upgrades are worthy of investments as they create a new revenue system at a more convenient method. Here are some things you should consider to make the best digital fitness network.
Grow a Virtual Community
The secret to an excellent digital fitness club is maintaining an authentic community through your chosen platform's in-person experiences. Keep concise and comprehensive communication when demonstrating the workout routines.
It would also be advantageous to set question and answer sessions to help your members stay on track. Below are some in-demand social platforms where you can conduct online fitness sessions:
It's Okay to Share Personal Experiences
Remember that you are creating a community at a distance, so it is not easy to ensure that your messages get retained in your members' minds. For these cases, it is recommendable to blurt out personal experiences to make your members feel connected to your gym.
Do not hesitate to be sincere and show how you care about your members on a personal level. The power of mouth also enhances intimacy between you and your members. It makes them more likely to stay even at difficult times.
Here are some ways to level-up the bond in your virtual fitness club.
Live Streaming
No matter how professional you are in demonstration videos and fitness sessions, it would help if you still hooked your members' trust. You can do this by showing them your candid side. Cheer up your members through a live stream while seeing them workout to help them get motivated.
Here are some tips on starting a live stream:
Always test your set-up before going live.
Remember copyright laws for background music that might block your video from getting uploaded online.
During live streams, talk more than your regular sessions.
Do not forget to offer progressions to make it harder. You can form cues to help the members complete the movement correctly and modifications to make it easier.
Show the real you.
One-on-One Virtual Coaching
Online exclusive training sessions allow users to access limitless virtual trainers while choosing session times that fit their schedules. It also allows stricter but well-maintained fitness monitoring. Here are some tips for better content:
Make a simple introduction, including your credentials.
State the topic and objectives of the video.
Elaborate but keep it concise.
Make a conclusion that calls for action.
Tech-Enabled Personalization
Hyper-personalization is the most significant and influential trend in the fitness world. It allows consumers to tailor their workout sessions to their biomechanics. It also provides extensive analytics and data opportunities for better fitness experiences.
Utilize Social Digitalization
Online fitness communities are becoming more in-demand nowadays due to the pandemic's inconvenience and busier life. With the help of social digitalization, you can now communicate with your members online without the hassle of meetups. If you create new platforms for private communications, you can consider adopting platforms for the digital version, as those platforms ease the process from offline to digital transformation.
It also provides a better way to support your members on their fitness journeys. At the same time, it gives them a sense of belonging with their collective fitness goals. Meanwhile, this bonding also instigates friendly competition, ideal for members to avoid losing their motivation.
Conduct Online Fitness Challenges
Creating online fitness challenges through an effective platform helps motivate your members. It also simultaneously provides expert guidance and shares sentiments with other members.
Additionally, It is another way to form a friendly digital fitness experience while enhancing your bond with your members. Depending on the time and resources, you can conduct week- or month-long challenges with recipes and printable.
Adapt to New Policies
Lastly, learn to adjust and take advantage of health and fitness technology by effectively combining it with offline experiences. Discover digital fitness software that suits your training session methods. The following can help you assess the current trends in digital fitness:
Convenient fitness options that match flexible and unpredictable hectic schedules
Inclusive fitness platform for all ages, genders, backgrounds, and other fitness barriers
Niche fitness communities cultivated by real-time social media updates and communication.
Updated technological home fitness equipment
These tips are imperative, especially amidst the pandemic, where you have to adjust to various policies, like social distancing purposes. Check-in, booking, and scheduling software like Trafft can help you control and manage digital fitness sessions in just a few clicks.
What to Consider for the Ultimate Members' Fitness Experience 
As the fitness world gets more prominent day by day, the competition also gets more intense. Transitioning to digital methods might be the only thing lacking in your fitness club.
It is necessary to remove the hesitance and grab the opportunity to provide a convenient and updated digital fitness experience. Utilize today's advanced technology while taking into considerations these factors:
Do the current and future digital fitness trends match with yours?
What hardware/software you need for your virtual gym?
Is your website responsive?
Do you provide an optimal payment experience?
Do you need wearable technology?
How do you manage members?
Ending thoughts on how to provide a great digital fitness experience for your members
Creating a futuristic gym needs the best health and fitness technology. Real-time attendance tracking provided by the right software also helps you accurately monitor and organize the flow of your gym's sessions and attendees. It also identifies who is in your gym and informs your potential customers about your gym's current capacity to host people.
Do not disregard choosing an excellent and customer-friendly scheduling platform for your members and members-to-be. This consideration is on top of making considerations on software intended for gym management. Further, you also have to consider the delivery platform, communication hub, live stream channels, and one-on-one zoom sessions.
Get more bookings with the right tool for the job
Staying organized has never been easier.
You can now manage your business and grow your brand with a single, powerful software that keeps all of your appointments in line, your clients organized and your business booming.
Trafft is the perfect gym management software for business owners who need to streamline their booking experience both for their staff and their clients.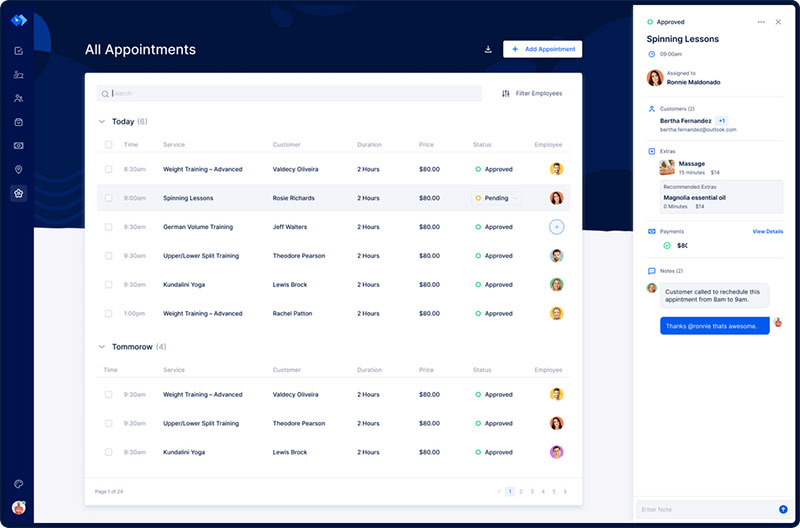 Trafft handles everything for you, even sending automated email or SMS reminders to your clients. No-shows? Not anymore!
The Trafft booking software adapts to different industries for a blissful online booking experience and employee management.
Want to know more? Check out Trafft's awesome features to see what you are missing.
If you enjoyed reading this article about the digital fitness experience, you should read about the gym startup costs.
We also wrote about a few related subjects like health and fitness advertisements to inspire you, the gym membership statistics, how to increase gym membership, gym slogans, fitness survey questions, the average gym owner salary, and gym mission statement examples and tips.
Do you want an app for that? We also selected the best apps for personal trainers, and the best group fitness app examples. We also wrote an article about the best gym camera to film training sessions with.