When you decide to open a private medical practice, you need more than just your degree, you need to understand business fundamentals. Many people focus on the medical aspect, and they forget about actually running the business. However, the proper tools can help.
When you start using the tools for a profitable and efficient business, you will have more time to focus on your patients. This article will discuss how to run a clinic successfully with some good ideas to help you run the business side of your clinic.
Hire Highly Professional Practitioners
Just like any business, who you hire will help determine how well your medical practice will perform, as well as your patient's experience.
Support Personnel
Hiring a manager may at first seem unnecessary. But the truth is, whenever you are managing your business you have less time for helping clients. Delegating the management side of your practice will help you and your employees focus on patient care.
Medical Staff
You can save costs with a private practice in multiple ways, but don't try to cut costs when choosing staff members. More than their education, consider their experience in the relevant fields of your medical clinic. This will not only help your practice run smoother, but it helps build a great team. A great team is the principle building block of a successful private clinic.
Promoting communication has been proven to help alleviate stress, keep employees engaged, and excited. It may be a good idea to have a daily meeting with employees to share what they are working on, as well as any issues they might be having. Working together to solve any issues shows concern for your staff and helps them to feel part of your team.
Establish Employee Incentive Systems
When your employees are motivated, they work harder. Using an incentive system can help your employees to be more efficient and happier. You can help encourage employees to work harder and learn new skills. However, make sure that you don't limit their performance. Fair salaries and rewarding their performance go a long way in keeping employees interested.
Last of all, give your employees opportunities to enhance their skill sets. This can motivate your employees to innovate new strategies in your business and build trust between you and your employees. A happy staff will be much more loyal and more likely to arrive to work on time.
Use High-Tech Health Equipment For Your Medical Practice
High-tech equipment makes clients feel confident whether it be a full hospital or a small private practice. As the owner of your medical practice, it would be a great idea to invest in high-quality machines that can help you offer the best services your team can give.
You don't always need to buy new medical equipment and machinery; That can be expensive. Instead, try to buy refurbished equipment. For example, here are some great quality used patient monitors for sale that can immensely help you diagnose your patients.
Understand Your Patients and Their Journey
It's important to remember that your patient's journeys do not solely begin and end with your medical clinic giving treatments. Your patients are part of a multi-step journey to get to that point, including:
Making appointments
Integrating other services from the healthcare industry
Accessing medical records and other important information
All of this is done almost completely by the patient alone. The healthcare industry is growing and changing, but one thing that patients always look for is a great experience. A great patient experience can help grow your business, a bad experience can push away potential patients.
A good patient experience includes accessibility as well as convenience. It also includes the quality of care from your employees and accurate diagnoses. Of course, any medical clinic worth their salt should be striving to be giving accurate diagnoses, but for better patient experiences you should also strive to make the medical ordeal as pain-free as possible.
Last of all, one of the biggest problems for all medical practices is of waiting. Almost everyone knows what it feels like to wait at the clinic for hours. Therein lies another important step in how to run a clinic successfully Try to break out of the cycle and tone down the waiting time in whatever way possible.
Try Offering Online Scheduling
Continuing on the last point discussed, long waiting times can be very difficult to deal with.
Most clinics have found that offering an online scheduling option lowers the stress for doctors, physicians, and patients. It, in turn, also decreases waiting times and no-shows.
Patients appreciate online booking, and your staff will appreciate the assistance with their administrative tasks.
Get a booking app to streamline your clinic's schedule
Staying organized has never been easier.
You can now manage your business and grow your brand with a single, powerful software that keeps all of your appointments in line, your clients organized and your business booming.
Trafft is perfect for business owners who need to streamline their booking experience both for their staff and their clients.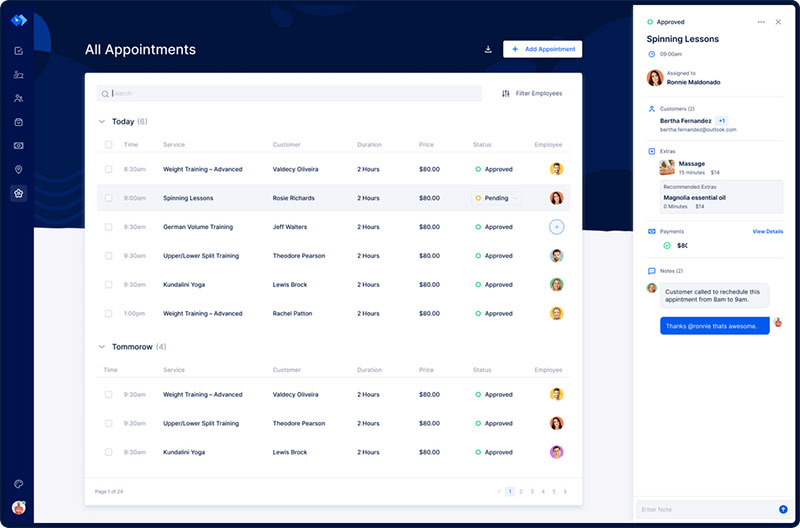 Trafft handles everything for you, even sending automated email or SMS reminders to your clients. No-shows? Not anymore!
The Trafft booking software adapts to different industries for a blissful online booking experience and employee management.
Want to know more? Check out Trafft's awesome features to see what you are missing.
Be Adaptable With Your Private Medical Practice
Changes are bound to happen with all medical practices. Make sure to adapt to these changes and help create better healthcare as a whole.
When you start planning how your medical clinic will run, it's in your best interest to know how to adapt your clinic to the changes that will come.
One of the best ways to achieve this is through a solid business plan that builds confidence when changes arise. Search for relevant information on how others have adapted to change, and your business will start heading in the right direction.
Stay On Top of Your Financial Situation
This may sound obvious, but it can be an easy thing to forget. When you start to run your medical clinic, it may be difficult to keep on top of your financial situation or keep up with the cash flow. This can be very detrimental, as a profitable clinic can easily lose money. The best way to combat this is to check your billing process from time to time, watch where your money goes, and stay vigilant.
A good way to watch the process is to regularly spend time running reports on your clinic's cash flow. But not all reports need to be checked weekly. Financial metrics can be run monthly and workflow analyses can be checked quarterly.
Expand Your Business and Leadership Skills
As the leader of your medical clinic, you will need effective leadership skills to meet patient demands. But this form of leadership does not necessarily mean top-down management.
Research has shown that having a distributed leadership role, where the decisions are shared, helps. It can help the patient load to be better distributed and has shown to be successful in raising customer satisfaction.
Do Some Digital Marketing for Your Clinic
COVID-19 affected most industries, and healthcare was definitely included. Many clinics found that their patient visits dropped, as well as their revenue.
On top of that, many clinics expect costs for medical equipment to increase due to supply chain problems, as well as loss of investments for the producers. All of this can affect your clinic for the worse, especially if you are running a solo practice.
Digital marketing can be a great way to help your clinic deal with these problems. It won't make the problems go away, but it will help you make a more profitable clinic.
First, make a website for your clinic. Not only does it build credibility, but it can attract clients with search engine optimization (SEO).
Next, you can add your medical clinic to Google My Business. This will help increase your chances of appearing in other people's Google searches and bring them to your clinic's website.
Last of all, make sure to create pages on sites like Facebook, Instagram, and LinkedIn. COVID-19 has restricted your ability to engage and talk to your patients, so social media can help you to engage with them online.
Rise to the Challenge
The truth of the matter is, you have two choices. You can either:
Crumble at the challenges of managing a small-scale practice or
Rise to the challenge and adapt
There will be challenges, that's a given. Every industry faces challenges. The only way that you can succeed and make a successful clinic is by facing these challenges and blowing past them.
This means adapting to the problem. This article is too short to be able to go into all of the specifics, but there is always a way to succeed. Flexible hours, making mobile applications, turning to digital tools, etc are just a few solutions.
Try to look ahead, see the problems, and then see how to adapt to survive them.
FAQs about running a clinic successfully
1. What are the most important factors for ensuring a successful clinic operation?
A number of elements must come together for a clinic operation to be successful.
Having a clear mission and vision for the clinic, setting up effective workflows and processes, offering high-quality patient care, upholding a positive workplace culture, spending money on staff training and development, and continuously tracking and analyzing clinic performance to spot areas for improvement are a few crucial ones.
2. How can I effectively manage my clinic's finances and ensure profitability?
You should create a budget and keep a careful eye on your costs and income in order to efficiently manage your clinic's finances and assure profitability.
Also, you should set clear payment standards, bargain with suppliers and vendors for the cheapest prices, and spend money on technology and tools that can help you optimize your financial management procedures.
Also, it's critical to keep up with business developments and laws that could have an impact on your finances.
3. What are some effective strategies for marketing and promoting my clinic to attract more patients?
Establishing a strong online presence through a website and social media, utilizing patient ratings and recommendations, offering promotions and discounts, and collaborating with other healthcare providers and neighborhood organizations are all effective ways to market and promote your clinic.
To raise brand awareness, you might also think about placing ads in regional media or providing sponsorship for neighborhood events.
4. How can I improve patient satisfaction and ensure that patients have a positive experience at my clinic?
Establishing effective appointment scheduling and follow-up procedures, giving thorough and individualized care, keeping a tidy and welcoming environment, and responding quickly and effectively to patient concerns and feedback are all ways to increase patient satisfaction and guarantee a positive patient experience.
5. What are some best practices for managing patient records and maintaining patient confidentiality?
Establishing clear policies and procedures for recordkeeping, making sure that patient data is securely stored and only accessible to authorized personnel, routinely auditing and monitoring access to patient records, and training and educating staff on HIPAA compliance and patient confidentiality are all examples of best practices for managing patient records and upholding patient confidentiality.
6. How can I ensure that my clinic is in compliance with all applicable laws and regulations?
You should regularly review and update your policies and procedures, stay current on changes to laws and regulations, keep accurate and complete records, offer regular staff training on compliance, and seek legal advice as needed to make sure your clinic is in compliance with all applicable laws and regulations.
7. How can I effectively manage my clinic's staff and maintain a positive workplace culture?
Establishing clear roles and responsibilities, communicating frequently and openly with staff, offering opportunities for professional development and growth, fostering teamwork and collaboration, and rewarding staff accomplishments and contributions are all necessary for efficient staff management and the maintenance of a positive workplace culture.
8. What are some effective strategies for reducing patient wait times and improving appointment scheduling?
Implementing an online scheduling system, establishing clear policies for patient no-shows and cancellations, routinely reviewing and optimizing clinic workflows and staffing levels, and promptly informing patients of appointment status and wait times are all effective ways to decrease patient wait times and improve appointment scheduling.
9. How can I effectively measure and analyze my clinic's performance to identify areas for improvement?
Establishing precise performance indicators, routinely gathering and analyzing data on these indicators, benchmarking your clinic's performance against industry norms and best practices, and obtaining patient and staff feedback are all necessary to accurately measure and analyze your clinic's performance.
Following that, you may make use of this data to pinpoint areas in need of improvement and create plans of attack to address them.
10. What are some effective strategies for managing patient feedback and addressing patient complaints?
Establishing clear channels for feedback, responding promptly and professionally to patient concerns, seeking to understand the patient's perspective and directly addressing their concerns, checking in with patients to make sure their concerns have been addressed, and utilizing patient feedback to continuously improve clinic operations and patient care are all examples of effective strategies for managing patient feedback and addressing patient complaints.
You might also think about using focus groups or patient satisfaction surveys to get more in-depth comments and insights from patients.
It's critical to acknowledge and value patients who offer feedback and assist the clinic in improving, as well as to be open and honest about how patient feedback is used to enhance the facility.
What Have You Learned About How to Run a Clinic Successfully?
To conclude, if you want to run a successful and efficient medical clinic, there are many steps that you can take. Some good ideas include letting your doctors and physicians focus on patients, treating your staff nicely, using high-tech equipment, and leveraging digital marketing for your medical practice.
You don't have to use all of these strategies, in fact, please innovate and find some of your own.
Hopefully, you can use some of the ideas that you've learned here on how to run a clinic successfully.
If you enjoyed reading this article about how to run a clinic successfully, you should read these as well: