Chili Piper is advanced scheduling software. It helps business-to-business revenue teams increase productivity and conversion rates. Sales teams can better connect to leads, provide better customer service, and convert them into revenue.
Established in 2016, the Chili Piper company strives to invent better solutions to common problems. It has reinvented the meeting lifecycle. It automates all processes, so teams work smarter and get more out of your pipeline.
This article will discuss features and Chili Piper reviews to see whether or not this product is for you.
Chili Piper Overview
Chili Piper is a suite of automated scheduling tools. These tools help sales teams convert leads into qualified meetings.
One of their products allows prospective clients to book a meeting or initiate a phone conversation after submitting a web form. Chili Piper uses advanced rules to qualify and distribute the phone call to the right sales rep in real-time.
Chili Piper also helps revenue teams automate messages and other necessary actions before, during, and after meetings. It accompanies the sales team every step of the way, from capturing to scheduling, preparing, following up, and reporting.
It eliminates manual scheduling for consistent engagement and increased productivity. Chili Piper helps businesses grow by creating a hassle-free way to engage with consumers.
Who Should Use Chili Piper?
Chili Piper is built for sales teams that need to make fast conversions.
Minimizing the time it takes to capture leads and schedule meetings is crucial. And Chili Piper is well-equipped to reduce this time.
Who Uses Chili Piper?
Chili Piper's clients typically work in computer software and internet technology. Computer software companies make up 41% of Chili Piper's client base.
Some top-performing companies using it include:
Spotify
Square
Twilio
Intuit
Gainsight
Expedia
Chili Piper Pricing
While Chili Piper charges for its four products separately, they also offer a bundle.
Its products include Instant Booker, Concierge, Events, and Distro.
Concierge qualifies and routes your leads to CTAs via web forms
Instant Booker arranges team meetings with prospects
Events automates in-person meetings
Distro is a lead routing software
Concierge:
Concierge charges both user license fees and a platform fee.
User licenses = $30 a month
Spicy platform fee= $150 a month
Hot platform fee= $400 a month
Inferno platform fee= $1,000 a month
It is important to note that the Spicy platform doesn't include live phone and video call routing.
Instant Booker:
Spicy plan= $15 per user a month
Hot plan= $25 per user a month
Both of these plans include CRM integrations and advanced scheduling functions.
Events:
User licenses cost $20 a month, and the platform fee is $250 a month.
Distro:
The Distro software costs $20 per user per month
The bundle:
Users can bundle the Concierge and Distro software for $40 per user and a $150platform fee per month.
Now let's discuss the features of each tool.
Features
Chili Piper's features revolve around the sales process and scheduling meetings. Its features are divided into three primary categories: meetings, events, and inboxes.
Meetings
Chili Piper boasts features that schedule client meetings. In fact, it offers a host of tools that makes this process faster.
The following tools create an outstanding scheduling process:
Instant Booker
The Instant Booker feature, a Chrome extension, allows fast and efficient meeting organization. Instant Booker enables users to schedule meetings with one simple click, eliminating the need for back and forth messages.
The process is simple. You send an email to your customer with available meeting time slots. With one click, the customer selects the preferred time slot and confirms the meeting.
Concierge
The Concierge feature is an automated version of the Instant Booker. When you receive a qualified lead, Concierge automatically sends a form with suggested meeting times based on the sales rep's online calendar and timetable.
Thus, it turns leads into instant meetings. Chili Piper reviews say that this feature doubles converted leads.
Distro
Distro is a routing software that instantly assigns leads to sales reps. It includes round-robin assignment and lead-to-account matching. This routing function saves time and onboards leads faster.
Chili Piper users can choose all three of these features or a combination thereof.
Events
The event app arranges in-person meetings and creates a unique booking link for each sales rep to avoid conflicting appointments. Alternatively,you can utilize a booking system similar to the Instant Booker.
The app seamlessly finds available meeting spaces for group meetings. It matches the number of attendees to the venue so you can organize meetings hassle-free. And it sends automated meeting reminders to all invitees.
Inbox
Chili Piper will soon offer an inbox feature. This feature is an integrated email and chat system that will streamline client inquiries' replies. The inbox feature uses the @ function to transfer emails to the right person for the right response.
It will also offer:
full email and conversation history
text highlighting
synchronization with all major email and messenger systems for full cross-border reach
Security
Chili Piper uses the latest security measures to protect customer data. Their website has a section detailing the exact security systems in place.
Security measures like:
secure OAuth connection between Chili Piper and connected calendar apps
encryption of sensitive data at rest and in transit
hosts data in separate,secure databases
users privacy options
users own their data
Chili Piper Reviews
Positive Chili Piper Reviews
It is very well suited for anyone looking for a scheduling tool that integrates directly with Salesforce and/or Marketo or other marketing automation platforms. Especially if you need to route to teams based on different regions or other criteria."
"The best part of Chili Piper is the booking links and meeting types. It is very easy to customize your meeting type for the needs of your team."
"Chili Piper is well suited to schedule prospects and/or clients with ease. Hyperlinking to emails or social media platforms such as LinkedIn provides more flexibility for both the sender and the person receiving the link. For example, if a prospect is not responsive to email, it could be sent via LinkedIn messaging."
"Chili Piper is being used across the whole organization. I use the tool to schedule calls with prospects on behalf of my account executives. It addresses calendar/scheduling for the entire organization. For example, customer success teams utilize it to meet with current clients to discuss customer complaints and/or positive feedback. Very easy to use."
"I appreciate how seamlessly Chili Piper integrates within Gmail & Google Calendar. It syncs with my calendar, so meetings are only scheduled when I am available and during my office hours. It's easy for clients to book meetings and, on the back end, the user dashboard is intuitive."
Negative Chili Piper Reviews
"The UI isn't always the most intuitive, but the awesome support team is great at jumping in to answer questions and help me clarify any workflows. I always end up with a great solution."
"No meeting templates or different snippets – invites are generic to the team. When rebooking and after selecting the meeting type, I have to edit the snippet in the actual invite."
"I think there are some features missing that can really help with routing. For one, I hope there is more options/flexibility in the queues. Ownership queues do not take different salesforce fields (customer status) into consideration."
"The lack of customization on the admin side. The fact that I can't order assigned meeting queues once they have been established just seems silly."
"As this software is newer and our business is quite complex, not all the features that we have required have been readily available. With that said, the Chili Piper product team has worked with us each time to develop the feature that we need."
"The need for support assistance to simply sign-in was obnoxious."
The conclusion from Chili Piper reviews
Chili Piper reviews reveal a decent software for companies.
Needless to say, the automated features save a lot of time and streamline the scheduling process. Not only do they save your sales team's time, but they also double the number of converted leads. The meeting and event organization apps are a welcome bonus.
Unfortunately, it lacks customization and flexibility, which makes it challenging to adapt this software to a complicated business. However, Chili Piper's mission is to invent solutions to meet your goals. So, its outstanding customer support team may be able to devise a solution specific to your needs.
What other people are saying
Whenever there's a review page, you always see positive opinions about that app. But, what about the negative opinions?
Let's see what others are saying:
Get an even better app to use
Staying organized has never been easier.
You can now manage your business and grow your brand with a single, powerful software that keeps all of your appointments in line, your clients organized and your business booming.
Trafft is perfect for business owners who need to streamline their booking experience both for their staff and their clients.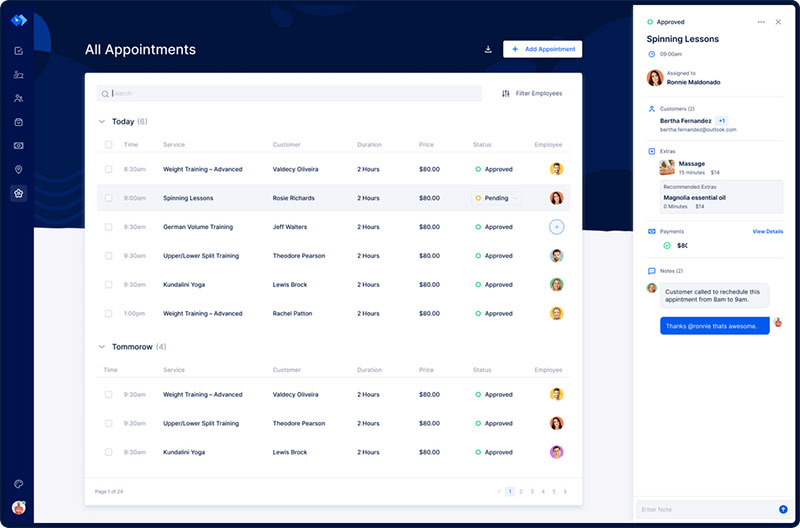 Trafft handles everything for you, even sending automated email or SMS reminders to your clients. No-shows? Not anymore!
The Trafft booking software adapts to different industries for a blissful online booking experience and employee management.
Want to know more? Check out Trafft's awesome features to see what you are missing.
If you enjoyed reading this article about Chili Piper reviews, you should read this one with Doodle alternatives.
We also wrote about a few related subjects like Booksy vs Vagaro, Calendly vs Setmore, Setmore vs Acuity, vcita alternatives, Setmore reviews, Simplybook.me reviews, and Calendly reviews.